December 31, 2010
Goodbye 2010, Hello 2011!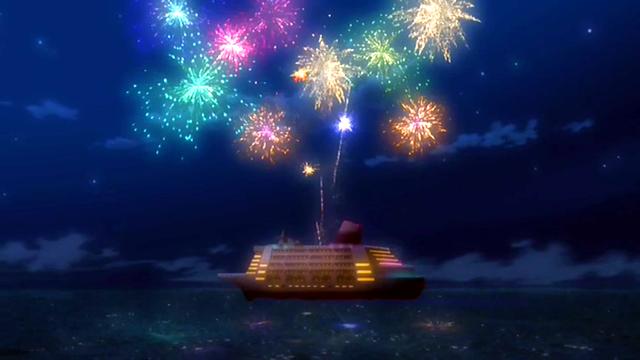 In a few hours, 2010 heads into the record books and we'll take the shrinkwrap off of 2011. With 326 posts (including this one) added to The Pond, what were the highlights of the year?
Formula 1 didn't really get going until February, with the rollout of the cars for the new
Lotus
and
Virgin
teams. The
death
of the proposed American team,
USF1
, came as a sadness that deprived us of a full 26-car grid. Still, the
debut of the HRT
entry a week before the first race of the season gave us 24 cars to lead into the 19 race season. The first race, in
Bahrain
, saw HWMNBN win in his first race as a Ferrari driver, with the returning Slappy Schumacher finishing 6th in his first race back after retiring a few years ago... in a Mercedes this time. Strange to see him in something other than red. Fortunately, we never had to see him on the podium dressed in silver as he had a mediocre season. Jenson Button
earned a strategy win
in Australia in what was probably the reigning World Driver's Champion highpoint for the season.
Button's involvement in horrific F1 accident
was one of
my
personal highlights, however. In Malaysia we saw
HWMNBN put in the drive of the year
, managing to keep his car in contention despite a clutch that stopped working on the parade lap... at least until there were two laps left, when his horribly abused engine grenaded itself.
The race in China
brought us the Moooooo-oove of the Year, but it was in practice that we saw
the strangest accident ever
when Seb Buemi's Toro Rosso shed both of its front wheels at the same time.
A Formula 2 race in Marrakech
introduced us to the concept of open-wheel "formula"-type cars going for a flight, something that we would revisit later in the year. Monaco saw
the rise of Birdy Ecclestone
and
the incredible disappearing Williams steering wheel, along with a contender in the Crash of the Year contest
. The
Turkish Grand Prix
saw the Red Bull team lose an easy 1-2, and the McLarens almost (but not quite) do the same thing in one of the more amazing races of the season. The Red Bull unbroken string of pole positions came to an end in Montreal at
the hands of Lewis Hamilton
, who wound up having to push his car into the pits after he ran out of fuel on his cooldown lap. That race will go down in history as having
the worst coverage of all time
. Mark Webber had
a very very bad day at Valencia
. McLaren continued to show that they have a sense of humor behind all the chrome and stern faces when they let
Jense and Lewis build their own car
.
I got quite het up
over HWMNBN's whining and moaning at the German GP, which then led to Ferrari telling Felipe Massa to let his Spanish teammate go by.
We finally got a look
at the track map for the new US Grand Prix circuit in Austin, TX, which has me jazzed beyond belief.... and a couple of weeks later, we got a car on the new Korean circuit for the first time, which brought
a lot less enthusiasm from me
. The Japanese Grand Prix brought us the
Great Suzuka Boat Races
in quals and a parade of FAILs from the mechanics
during the race
. I had
my first try at liveblogging
during the first ever practice session at Korea, which was run in the dry. But then
it rained for the race
. It rained
a lot
, and
the race ended in the dark
. Red Bull won the Constructor's Championship in Brazil,
complete with silly hat
. The final race at Abu Dhabi saw four men with a chance at winning the Driver's Championship, which was eventually
taken home by Seb Vettel
, becoming the youngest Champion in F1 history. It was also the longest F1 season ever, with 19 races, and boy did I feel it. I've never been happy when a season came to an end, but I was this year. Despite all odds and a running joke, I did do
an Awards post
, so there's that.
In the WWII category, which doesn't actually exist and should, I had a decent enough year. The SB2U Vindicator
got itself a little bit of glory
for once. The USS
Wasp
, on the other hand, earned the distinction of
the worst American carrier in the Pacific
. The USS
Wolverine
actually
had
three
posts
devoted to it
, as befits the
unsung hero of Naval aviation
. Much to my surprise, the "Name That Mystery Ship" contests were actually a hit, leading to posts on the
USS

Hammann
and the
USS

Shaw
. Somehow I managed to wrangle a visit to Courtesy Aircraft, a seller of classic warbirds, and
took my camera along
. What was to be a short post on
some of the books in my WWII library
became something a little longer. The Royal Navy's
Nelson

-class battleships
got some attention despite a lack of recognition from history, and I finished up the category's year with the
fourth entry in the "What If..." series
. That amuses me somewhat, since the carrier battle of Wake Island had been percolating in my brain for a couple of years and I could never get it to come out right... the biggest problem being Admiral Fletcher's order to pull back. He'd never violate that, and I couldn't come up with a good way to circumvent it. In the end, I just said "to hell with it."
On the anime writing front, this might just have been the best year ever here at The Pond. It began with the episode-by-episode recap of
Ga-Rei Zero
(link goes to an index post), an epic series of Pocky, cute schoolgirls, swordplay, Pocky, magic, rocket-powered wheelchairs of awesome, and Pocky. What's not to like?
My Favorite Moments in Anime
got a post, I
analyzed a creepy girl
, and gave
Sora no Woto
some love, too. On the other hand,
Angel Beats
got a well-deserved "meh" for being a big ball of frustration. WWII and Anime came together when I gave a long hard look at
the ships of Strike Witches II ep11
and discovered a couple of unexpected and completely out of character mistakes. It may have taken three years (and being reminded about it), but I finally got around to explaining why I hated
the ending of Rocket Girls
so much. The
Hidamari Sketch
franchise is one of my favorites for many reasons, not least of which is that one of the main characters owns a rubber duckie. I wound up writing an
Appreciation of Yuno's Duck
in one of many collisions of Anime and Rubber Duckies. A surprisingly fun little OVA called
Megane no Kanojo
got a thumbs-up. Finally, to bookend the epic
Ga-Rei Zero
series of posts came the not-quite-as-epic-but-more-important series, Wonderduck's Favorite Anime Series Of All Time. Here's the links:
Honorable Mentions
,
Number Four
,
Number Three
,
Number Two
and
Number One
. A fitting way to end the year, that.
In many ways, a good year for The Pond. Thanks to all of you, my readers, for taking time from your busy schedules and dropping in. We'll see you in 2011!
Now it is time for the party hats and noisemakers!
Posted by: Wonderduck at 10:41 PM | Comments (1) | Add Comment
Post contains 1230 words, total size 11 kb.
1
Thanks again for the F1U posts (as well as all the others). I've been reading your blog for a couple of years and always appreciate the time and effort you put into it.
Posted by: Hypozeuxis at January 01, 2011 12:15 AM (MXy5A)
Comments are disabled. Post is locked.
33kb generated in CPU 0.0115, elapsed 0.0915 seconds.
47 queries taking 0.084 seconds, 276 records returned.
Powered by Minx 1.1.6c-pink.