May 13, 2010
F1 Practice: Monaco 2010
If it's Thursday, it must be Monaco! Second practice started with a clear blue sky and ended with a slight drizzle, perhaps some foreshadowing for the race? We can only hope, as while Monaco is tough enough to drive, rain just makes it ridiculously fun to watch (though perhaps not to drive).
HWMNBN, one of five drivers in the field to have won here, topped the timesheets for both practices in his Ferrari, with Nico Rosberg following in his Mercedes during 2nd Practice. As always, the admonition to take everything in practice with a grain of salt stands: one never knows who's on a heavy fuel load, who's doing quals practice, and who's doing tire testing or one of a thousand other things. Still, the teams you'd expect to be fast here were, and the usual bottomfeeders were slow.
There's one exception, however. The Renaults were unexpectedly quick around the Principality today, with Robert Kubica leading the afternoon session for much of the 90 minutes before slipping to sixth late in the day. Even with that, he was still ahead of both McLarens and Mark Webber's Red Bull. Hard to tell what that means to be honest, though with Kubica behind the wheel one can always hope for the best. Monaco isn't a circuit that rewards the fastest cars, but the most maneuverable.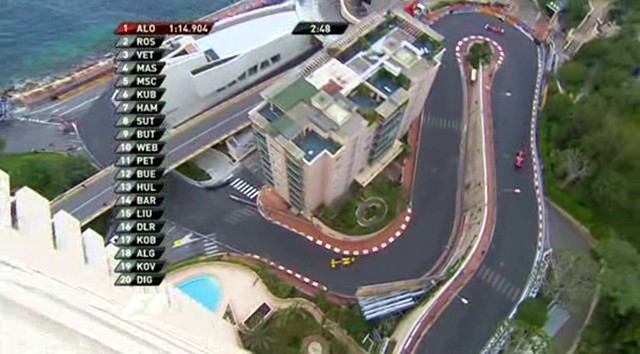 As with all things Monaco, you get some incredible camera angles here, like this one of the Loew's Hairpin and Portier (upper right and upper left, respectfully). In fact, you can almost get a full lap's worth of "aerial shots" from the roofs of condominiums and the like, though the Tunnel is somewhat obstructed. I might try to do that...
One of the main features of the race at Monaco is the appearance of the Beautiful People on race day. Today, though, we had to make do with one of the driving forces of F1.
Ladies and Gentlemen, Birdy Ecclestone is present. No surprise that a McLaren staffer is trying to shoo him out of the pit lane...
Quals on Saturday!
Posted by: Wonderduck at 08:56 PM | Comments (3) | Add Comment
Post contains 348 words, total size 2 kb.
1
You talk about fuel loads, but with this year's "no refueling" rule isnt that less of an issue?
Posted by: Steven Den Beste at May 13, 2010 09:24 PM (+rSRq)
2
Not really, as the teams still need to know how a car will perform with varying amounts of fuel in the tank. A car that runs well heavy may perform poorly light, or vice versa... and of course it all affects tire wear, for example. The practice sessions are the only time the teams get (particularly in Monaco) to find out just what the car'll do with such variables in play... and how to get the best tradeoff for the whole range of fuel loads.
Of course, knowing fuel consumption rates makes a huge difference, too. If a team discovers that for some arcane reason they use less fuel around Monaco, they'll be able to put in less gas to start the race, and thus get a weight advantage, and weight directly controls speed.
So all data is useful... it's not just learning the circuit, though there's a lot of that going on as well.
Posted by: Wonderduck at May 13, 2010 09:33 PM (JWQqT)
3
LOL - Birdy Ecclestone. That bird sure got a lot of camera time.
I'll bring the croissants on Saturday morning.
Posted by: Mallory at May 14, 2010 12:05 PM (WJ2qy)
Comments are disabled. Post is locked.
24kb generated in CPU 0.0303, elapsed 0.2122 seconds.
47 queries taking 0.1928 seconds, 279 records returned.
Powered by Minx 1.1.6c-pink.