December 17, 2010
Wonderduck's Favorite Anime Series Of All Time: Number Two
A favorite show should be like an old friend... someone that you've known for a long time, and that you consider family. In the case of an anime, it should be something that you could pop in the DVD player and sink back into your chair, pleased that you're watching it. Maybe you've even got some routine surrounding the series, like you only watch it once or twice a year... but you know, deep inside, that you
will
watch it, no matter what else is going on. Maybe you know the show well enough to not even need subtitles (assuming you don't know Japanese). In short, it's a series that, just by watching, makes you happy and warm inside.
Even if it's about sad girls in snow.
(Note: here there be spoilers. You've been warned.)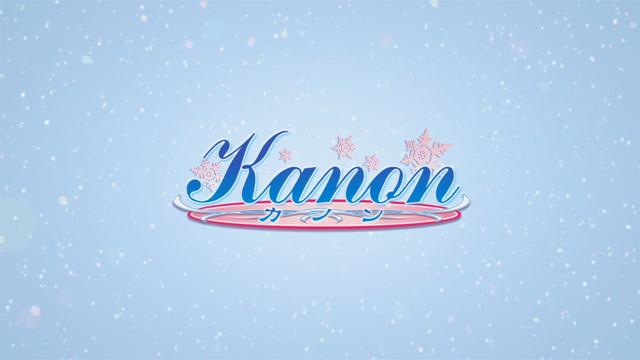 Kanon
, the 24-episode version, was produced by Kyoto Animation (KyoAni) in 2006 from the visual novel of the same name by Key. The second anime of KyoAni's partnership with Key (after
Air
), it cemented their position as the preeminent production company in terms of visual quality. It also proved to be KyoAni's high-water mark in that category, as afterward their shows began to exhibit what I've come to call a general "
K-On
!ification", or a simplified, slightly cartoony look to their characters (note that this is a oversimplification of the matter).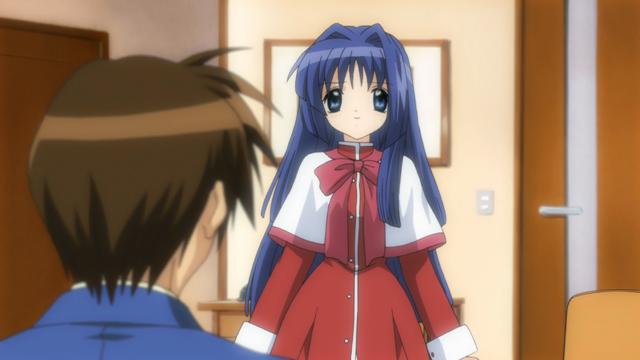 Kanon
follows the story of Yuichi Aizawa, a somewhat cynical 17-year old high school student who comes to live with his cousin and her mother. It had been seven years since he last visited, and he had forgotten all but the minor details of the time he'd spent in the city. After being met by his cousin Nayuki, she attempts to remind him of his past there. Shortly thereafter, he begins to encounter other girls that he had met and forgotten, and his memories start to return.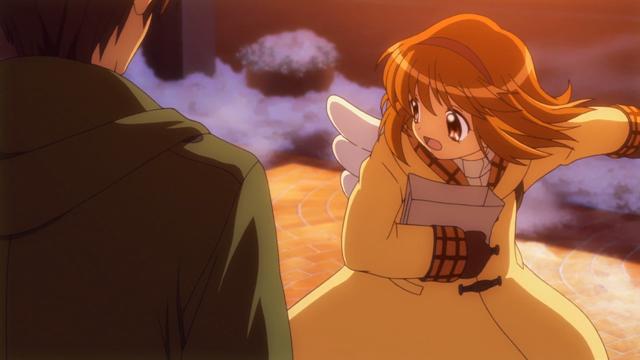 The girls have mysterious backstories that Yuichi needs to understand as they all tie to him in some way. It's this "voyage of discovery" that gives
Kanon
its plot. What does Mai mean when she says she's a Demon Hunter? Why does Makoto seem to have a grudge against him, and why does she seem so frail at times? What is Ayu searching for? And just what's going on with Nayuki? The only girl that Yuichi doesn't have a past with is Shiori, who is two years younger than he but has a case of "anime disease," and isn't expected to live past her 16th birthday.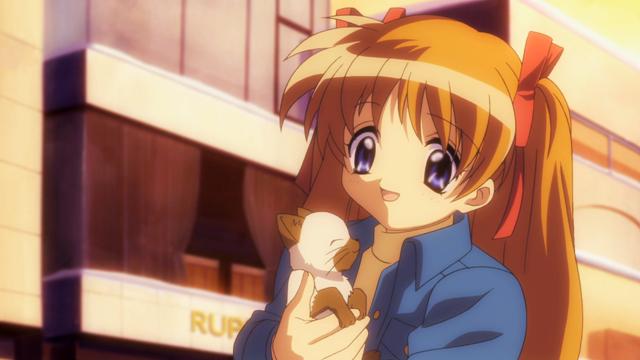 If all of this sounds depressing, well, there's a
reason
why
Kanon
is the genesis of the "sad girls in snow" theme. It should surprise nobody that Yuichi's voyage of discovery leads to understanding and redemption in time. However, it's not all tears and snowflakes, not by a long shot. The amount of humor in
Kanon
is amazing for what is supposed to be a dramatic show. Most of the humor comes from Yuichi's
deadpan snarker
personality, which is used to lightly tease the girls. There's a lot of other funny moments in the series however, enough that the rather dark storylines involved just don't feel grim at all.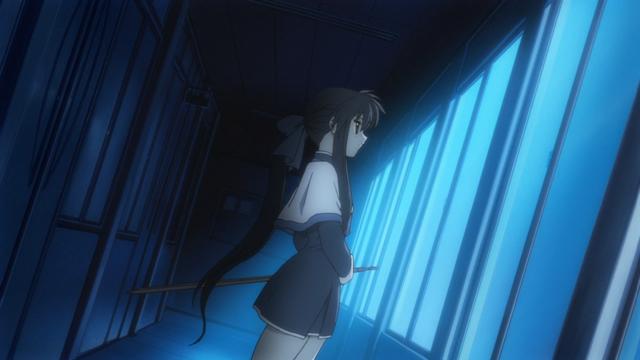 Each of the main girls' stories has an element of the supernatural around them in one way or another. Mai really
is
a Demon Hunter, though demons caused by a magical power contained within her. Ayu
is
trying to find something she lost seven years ago... but she's been in a coma all that time. Makoto's grudge is based on the fact that Yuichi left her seven years ago... when she was a red fox. Shiori really
is
ill with an unnamed disease, and really
is
going to die.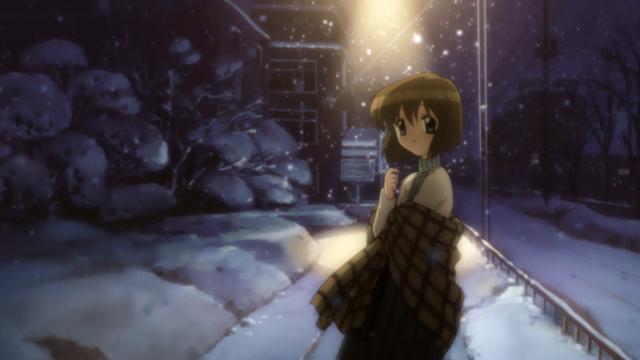 Dialogue between the characters feels quite normal, but is loaded with foreshadowing... if you know where to look. An obvious example is Ayu's line: "
Actually, I'm not good with heights either.
" As such,
Kanon
is a show that rewards multiple rewatches. Even beyond that though, every character has their own distinctive way of speaking that truly makes them individuals. This may sound basic but it's much harder to pull off than you might think.
Kanon
succeeds in making you care about these characters as people in some of the smallest ways, but care you do.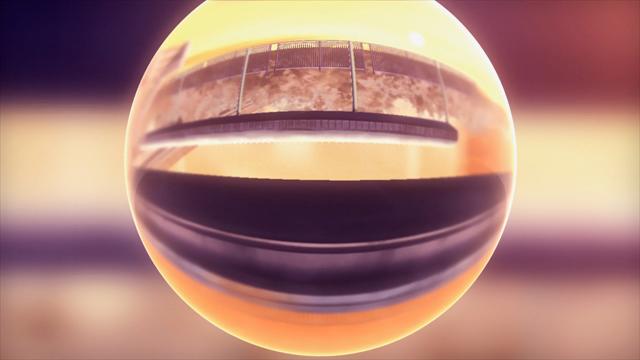 Visually,
Kanon
is a feast for the eyes. The most basic of locations has a wealth of detail inside it, and complex shots fall into the category of scenery porn at its best: Nayuki reflected in a glass marble
and
a window at the same time; Mai silhouetted against the moon; Ayu and a glass of ice water in a coffeehouse; the world reflected in a teardrop.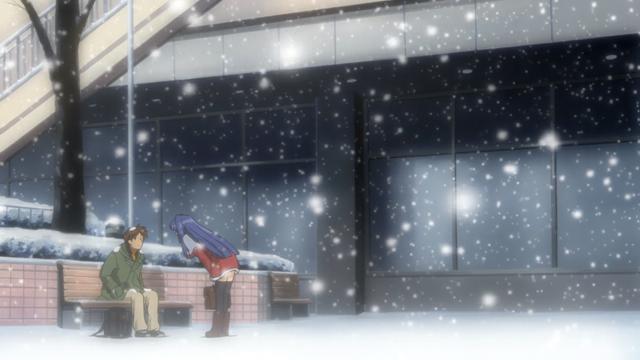 And ever-present in the city of
Kanon
is the snow. It's a wonderful visual that actually means something in the context of the story. Without it, the series would be somewhat dull; without KyoAni's attention to detail, the snow would be an annoyance. With it however, one believes that the world is alive... a belief that plays right into the hands of the supernatural aspect of the story.
As I freely admit to being a sap for this type of story, it's no surprise that I love
Kanon
as much as I do. It's the only show I make a point of watching every year, and always in the week between Christmas and New Year's Day. Not only do the seasons match up, but it just feels right to watch the series as the snow flies outside. Preferably with a cup of hot chocolate in my hand. It's also the only series I've ever felt like I knew well enough to make
an anime music video
with (
watch it here
).
On the whole,
Kanon
isn't the perfect anime, but it's as close as makes no difference for my tastes. But there's one show that beats them all in my book: my Number One Favorite Series Of All Time... coming soon.
Posted by: Wonderduck at 12:09 AM | Comments (3) | Add Comment
Post contains 997 words, total size 7 kb.
1
You know... maybe it's time to re-watch Kanon. I
did
pick up the thinpak set earlier this year...
Posted by: GreyDuck at December 17, 2010 09:55 AM (3m7pZ)
2
Isn't it time to re-make Kanon again? It only took 4 years the first time.
Posted by: Anonymous Coward at December 31, 2010 07:55 PM (twSPV)
3
A.C., if you'd ever seen the 2002 version of
Kanon
, you'd know why there was a remake in 2006. However, if you think there needs to be a remake after the KyoAni version, you've probably never
seen
the KyoAni version.
If someone wants to make a better version of the story though, I'm all for it.
Posted by: Wonderduck at December 31, 2010 10:36 PM (W8Men)
Comments are disabled. Post is locked.
29kb generated in CPU 0.0213, elapsed 0.1048 seconds.
47 queries taking 0.0962 seconds, 279 records returned.
Powered by Minx 1.1.6c-pink.