October 24, 2017
This Time, A Year Ago...
Posted by: Wonderduck at 10:59 PM | Comments (5) | Add Comment
Post contains 8 words, total size 1 kb.
October 19, 2017
"Wait 'til Last Year"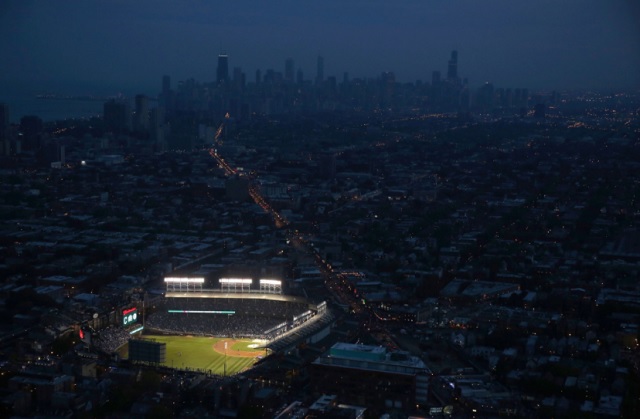 The Cubs have gone to the NL Championship Series three years in a row, and won the World Series once in that time. There is no way anybody can convince me this season, which came to an end at the hands of the LA Dodgers a few minutes ago, was anything other than a success.
And in a few months... spring training!
Posted by: Wonderduck at 10:14 PM | Comments (3) | Add Comment
Post contains 66 words, total size 1 kb.
October 15, 2017
...Just For One Day, We Are All Grape.
If you're the type of person who reads The Pond regularly, then there's no doubt in my mind that you've heard the story of Grape-kun. If you are new here, or read The Pond only for the F1 ("I only read it for the articles!" Kids, get your parents to explain), let me give you a quick version of this tale of devotion and love.
Earlier this year, the Tobu Zoo in Miyashiro, Saitama Prefecture, held a promotion that saw standups of characters from the anime series
Kemono Friends
placed in various animal enclosures. This actually makes more sense than many such ideas in Japan, as
Kemono Friends
is about animals in a large zoo that, due to exposure to unobtanium, have become anthropomorphized. The show was a popular one, and attendance had increased in other zoos that had done the same promotion, so why not? In Ep08, we are introduced to
an idol group called "PPP"
, which is made up of anthropomorphized penguins. At least one of the members of PPP had their promotional standup put in the penguin enclosure at Tobu Zoo. Where it was encountered by a Humboldt Penguin named "Grape-kun".
A little bit of backstory here. Grape-kun was over 20 years old, and ten years ago he had been dumped by his mate. He had been single ever since. However, park keepers quickly realized that Grape-kun was enamored of the standup of Hululu that had been put in the penguin enclosure. He would spend the entire day by the rock she was on, would go into a known courtship pose, and would have to be separated from Hululu so he would remember to eat. When the promotion ended, all of the standups were removed... except for Hululu's, as zookeepers were afraid of what would happen to Grape-kun if they did. The story hit the twitters in May and quickly went worldwide. Grape-kun had a waifu, and anime fans around the globe found they were relating to a Japanese penguin. Hululu's voice actress met Grape-kun, Tobu Zoo's attendance went through the roof, fans made pilgrimages to see the pair, and there were (and are) calls for Grape-kun to become a character in the next season of
Kemono Friends
.
On Friday, Grape-kun passed away at the age of 21. According to the zoo, he had suffered a short illness. He had been removed from the enclosure, but Hululu's standup had been with him until the end.
Posted by: Wonderduck at 10:59 PM | Comments (3) | Add Comment
Post contains 416 words, total size 3 kb.
October 14, 2017
That's A Thing
I've got nothing for ya. Braindead after a long, fruitless week, I'm having problems even thinking about being clever.
"So, pretty much like the last 12 years then, huh?"
That's not fair. I was clever once. Go back and reread the
Ben-To!
writeups, those were pretty good.
I really liked Ep08
's... that's the one with the Claude Rains joke. I should really try doing something like that again. Oh, did you know that the OST for
Ben-To!
is flippin'
amazing
?
I've got this on my playlist at work, and every time it comes on, I wonder if the folks on Sirius/XM's "smooth jazz" channel know about it.
GD, you should like this track in particular. This one came on the mp3 player Friday night, around 9pm at work, I'm the only person in the entire building, and most of the lights were off... I near to wet myself when the whispering started. Good times, good times.
"Why is there a puddle on the floor?" "I don't think I'm hungry now. Ew."
Ah, the clever Wonderduck witticisms. Pee humor, everybody loves that! Anyway, that's all I got, eat some oreos!
Posted by: Wonderduck at 10:26 PM | Comments (1) | Add Comment
Post contains 192 words, total size 2 kb.
34kb generated in CPU 0.0147, elapsed 0.1256 seconds.
48 queries taking 0.1144 seconds, 291 records returned.
Powered by Minx 1.1.6c-pink.