May 30, 2010
F1 UPDATE!: Turkey 2010
What an
amazing
race. We here at F1U! are still buzzing over today's action from the Istanbul Otodrom, and the implications for the rest of the season might be endless. THIS is your F1 Update! for the Grand Prix of Turkey!
*ACTION-FILLED NON-ACTION
: As the race approached, the weather was warm and clear, though a rainstorm was visible off in the distance. The sunny skies made the track very hot, nearly 120° F, and the first casualty was the grid girl of Jenson Button, who passed out from the heat. Jenson's father took up her duties (becoming the ugliest grid girl of all time) while she was carried away. Reports are that she's fine. When the lights went out, and stop us if you've heard this before, the Red Bull of Mark Webber had a rocket start and streaked away from the field. Except this time, three other cars came with him, Lewis Hamilton, Seb Vettel and Button. Together, they left the rest of the field in their collective dust. Unlike the previous races however, Webber just could not open up any sort of lead on the two McLarens and the other Red Bull; no more than a second would cover first to fourth for nearly the first 40 laps. From fourth to fifth however was a different story altogether as the breakaway was about a second a lap faster than everybody else.
While the two Red Bulls and the two McLarens ran away and hid, Hamilton and Webber began a fascinating duel. The MP4-25 was faster in sectors 1 and 3, but the RB6 had the advantage in sector 2. Lewis would close up right onto Webbo's diffuser as they approached Quad-8, but would lose nearly a third of a second going through the classic turn. He would then make the time up as they went around the track, only to have everything repeat as they went into Quad-8. With tiny variations, this process went on for the first 16 laps, and the breakaway had opened up a nearly 30-second lead.
*WON AND LOST
: In a tight race like this, pitstops are crucial and when Webber and Hamilton came in on Lap 16, you got the feeling that the driver that got out first would win the race. Red Bull got their man in and out cleanly, while McLaren had a small hangup on Hamilton's right-rear. By the time Lewis started moving, he was again behind Webbo. If it wasn't for that, it looked like the rest of the stop was fast enough that Hamilton should have come out ahead. In fact, he came out in third, having been leapfrogged by Seb Vettel who pitted on Lap 15. Suddenly we were looking at another Red Bull 1-2. The race continued much as it had prior to the pitstops with Webber in the lead, but unable to shake the three drivers behind him, though the challenger directly behind him was now his teammate, who was being harried by Hamilton. Button was about a second or so behind
his
teammate, an eternity in comparison to the way things had been going.
*MOOOOOO-OOVE OF THE RACE
: And so it went for another 23 laps. Hamilton could close up to Vettel, but would lose out on Quad-8 and drop back. Then he began to lose a tiny bit of time here and there, and while he was still in contention he was no longer an in-your-face (on-your-diffuser?) threat. Meanwhile, it seemed like Webber had either worn his tires a little bit or had stopped trying to push his accelerator through the firewall, as Vettel was beginning to cast covetous glances towards his teammate's lead. On Lap 40 Vettel made his move as the two Red Bulls charged down towards Turn 12. Webber drifted over towards the left, taking them both off the racing line as Vettel pulled alongside. At this point, it looked unlikely that either Red Bull would be able to make the turn cleanly, but it looked safe. And then...
Vettel (left), Webber (right)

The second-biggest sin a driver can commit in autoracing is taking out your teammate. The
biggest
sin a driver can commit in autoracing is taking out your teammate when you're 1-2, and that's what Seb Vettel ahd just done. As he pulled alongside his teammate, he seemed to twitch to the right, taking himself into Webber's left sidepod. Vettel immediately went into a spin that ruined his suspension, taking Webber off-track with him. Miraculously, the Aussie suffered no damage other than a mangled front wing from the whole event, but both McLarens swept by as the two RB6s untangled themselves. The reaction from Red Bull's pit wall had to be seen to be believed.
*MOVE OF THE RACE
: Now it was a McLaren 1-2 as Webber limped to the pits. The domination of the lead pack became clear when you realize that he dragged his injured car into the pit lane, had a new nose and tires put on, and exited the pits still in third place, still with an eight second lead over fourth place Slappy Schumacher, yet was over 30 seconds behind the leaders. And suddenly, it was Jenson Button who got a sniff of first place.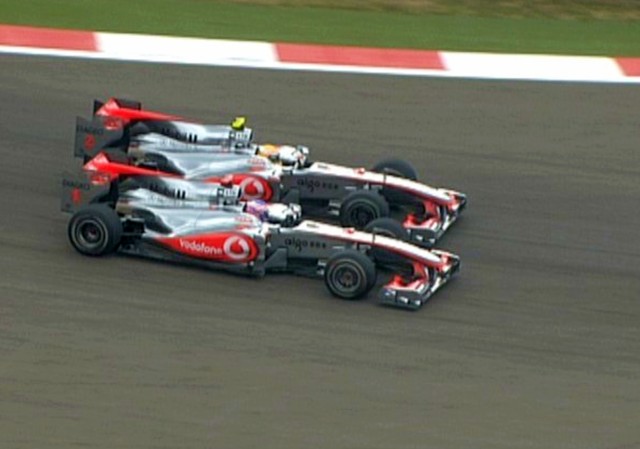 Button (near), Hamilton (far)
The 2009 World Champion threw his car inside the 2008 World Champion's, and they ran side by side through the final complex, with Button taking the lead as they came onto the front straight. Hamilton didn't give up though, as he tucked right behind Button's tail, getting a tow as they charged down to Turn 1. With a brave move, he flicked himself to the inside of the turn and retook the lead from his teammate while everybody on the McLaren pit wall held their breath.
*FINALLY
: Both McLaren drivers were asked to conserve fuel as the race entered its final laps, which allowed the RB6 of Mark Webber to close up to within 22 seconds of Button, who had slipped to about two seconds behind his teammate after his failed dive for the lead. And that's the way this amazing race came to an end, with Lewis Hamilton crossing the line for his first victory of 2010.
*AFTERSHOCKS
: The two Red Bull teammates were pointing fingers at each other for the crash that cost the team the 1-2 finish. It's no secret that Vettel has been complaining about how his car has been having problems while Webber's has been solid. Webber, on the other hand, has been chafing under the thought that Vettel was the #1 driver for the team. Could the acrimony tear the team apart they way McLaren was shredded in 2007 by the HWMNBN/Hamilton fight.
*SELECTED DRIVER QUOTES OF THE RACE
:
"It was great to watch the two Red Bulls. Like watching a movie in 3D, it was fantastic! I got the best view of it! It was unfortunate for them and fortunate for us!" - Lewis Hamilton (
note: real quote
)
"What a crazy race! God, that was fun!" - Jenson Button (
note: partially a real quote
)
"It happened very, very fast and it's a shame for the team. Not an ideal day. I'll have a chat with Sebastian about it, we might have a difference of opinion but we'll be adults about it and press on. And then I'll kick his silly ass all the way to Canada." - Mark Webber
"I used to dominate races like that." - Slappy Schumacher
"I think I speak for everybody when I ask '
was I ever even on camera today
?'" - Nico Rosberg,
spokesperson for every other driver... but one
.
"If you watch it on the TV, you can see what happened. I'm not in the happiest of moods. I was on the inside going into the corner. I was there, I was ahead and focusing on the braking point and then we touched. Mark's car hit my rear right wheel and I went off – there's not much more to say." - Seb Vettel (
note
:
real quote
)
"Oh, there's plenty more to say, Sebastian... and we'll be having that talk on the way back home, believe you me." - Christian Horner, Red Bull team principal
So ends the best race of 2010 so far. Now we've got two weeks to deal with the fallout until Montreal, so that should be
really
interesting. We'll see you then!
Posted by: Wonderduck at 02:48 PM | Comments (6) | Add Comment
Post contains 1399 words, total size 9 kb.
1
Awesome job on the F1 UPDATE. That race had a little bit of everything, including high drama. Can't wait til the sniping starts at Red Bull.
Did anybody notice the looks on the faces on Button and Webber at the post-race interviews? If looks could kill, as the saying goes.
Posted by: Mallory at May 30, 2010 04:43 PM (WJ2qy)
2
It's a good thing Hamilton and Button are more mature than Webber and Vettel, or they might have taken each other out, too.
It's amazing that Webber was able to get his car repaired and still come in third. Their lead over the rest of the pack must have been ridiculous.
Posted by: Steven Den Beste at May 30, 2010 05:38 PM (+rSRq)
3
Schumy made a very good start and was in 3rd by the time they made the first corner, but Button easily retook his place once they hit the back straight. That guy is getting into his element.
BTW, IMHO Petrov should've avoided the contact that sent him 6 places down the field. If he did, he'd still get a few points. But I guess that's what the experience is for.
Posted by: Pete Zaitcev at May 30, 2010 06:12 PM (/ppBw)
4
There was a period of now-prescient-seeming foreshadowing.
BBC paddock reporters Martin Brundle and David Coulthard, speaking to Adrian Newey, Red Bull Chief Technical Officer, at about 35:00 of the 45:00 pre-race show, during the pitwalk:
Brundle: Now you've been in a team situation, in McLaren, where, like David has, two drivers have a dominant car who can both win the world championship and surely the tension is rising there now.
Newey: Uh, no not too bad I think, our drivers are both very professional and they have a good relationship with each other, they recognize that our best chance of success is to work with each other and we've had a good start this season but it's pretty tight as you can see from the times here.
Couthard: Adrian, I remember at McLaren, when we were going toe-to-toe with Mika, I would be on pole, he would would go out and take the pole, and people would jump around with excitement within your own team, that is something that affects the driver psychologically, so you've got experience of that, Christian is new to that situation, so presumably you're not only going to have to design the car, you're going to have to give Christian some advice to deal with that.
Newey: Well, I mean, we're just trying to make sure that we give the same equipment to each driver, that they don't do anything silly with, relative to each other and let them race at this stage really, it's only the seventh race, it would be too far, far too early to start favouritising one driver against the other.
Coulthard: OK, well good luck with it.
Brundle: Have a great race.
Posted by: Ed Flinn at May 31, 2010 07:15 AM (Scyr+)
5
Not that it's any excuse, but as we can see from the way the McLaren's were bouncing around, that track is anything but smooth, I wonder how much that played a part in the Red Bull incident.
Posted by: Buttons at June 01, 2010 06:47 PM (NOsNG)
6
That was an awesome race. On the BBC coverage Vettel gave an interview where he described the incident, and did mutter that he lost it, which doesn't seem to have been mentioned much. He clearly did, quite possibly from hitting a bump or something. Dumb move regardless. So glad Hamilton and Button managed to avoid the same, that was tight beautiful racing.
Posted by: flotsky at June 02, 2010 02:43 AM (63Piy)
Comments are disabled. Post is locked.
34kb generated in CPU 0.0181, elapsed 0.3591 seconds.
47 queries taking 0.3503 seconds, 282 records returned.
Powered by Minx 1.1.6c-pink.