November 30, 2007
Celebrating Steven's Bravery.
Now that Steven has
revealed his true self
to the world, we need to give him all the support and caring we can.
Just remember, Steven, there are many others just like you out there. None is better known, however, than...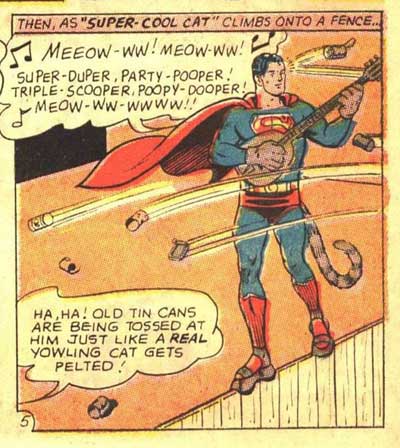 (thanks to Superdickery.com)
To thine self be true, Steven. Now, if you'll excuse me, I have to go preen my feathers.
Posted by: Wonderduck at 07:39 PM | No Comments | Add Comment
Post contains 65 words, total size 1 kb.
November 22, 2007
Happy Thanksgiving!
(From the best sitcom ever, the legendary

WKRP In Cincinnati.

)


UPDATE:
I love
WKRP
. If I could only watch one series (american tv, that is), it'd be this one. Because of
WKRP
, I grew up wanting to work in radio... and I wanted it badly enough that eventually, I did. The studio looked very much like the one in the clip, actually.
So it is to my great sorrow that the recent DVD release of the series is unwatchable. See,
WKRP
was one of the first series to license contemporary rock hits for broadcast... it IS a radio station, after all. The Who, the Rolling Stones, Talking Heads, Supertramp, and dozens of other groups and artists had their music in the show, and in fact, two episodes revolved around a Rolling Stones concert (and so had a lot of their music involved). Then there's the "Les has a date with Jennifer" episode, with Foreigner's "Hot Blooded" playing in the background...
Anyway, the music is a vital part of the show. Unfortunately, the original music license was only for 10 years... and the costs have gone WAAAAAAY up since then. So the DVD release has the original soundtrack removed, and generic (and perhaps royalty-free) music used in it's stead. Further, since the DJs often referenced the music and the groups they're playing, the producers had to edit the episodes by snipping out dialogue in many, many places.
Obviously, that's unacceptable. I have friends at all three tv stations here in town, I'm hoping one of them could find out if they have the syndicated versions (that did have the original music) in their vaults somewhere...
FURTHER UPDATE:
Booger.
Posted by: Wonderduck at 02:30 AM | Comments (3) | Add Comment
Post contains 279 words, total size 2 kb.
November 21, 2007
Now Hear This...
Thank you.
Posted by: Wonderduck at 02:17 AM | Comments (3) | Add Comment
Post contains 5 words, total size 1 kb.
November 11, 2007
Veterans Day
This US Army 1st Lieutenant's name was Chester. He was one of hundreds of thousands of men who fought for the Allies in WWII. Details surrounding this photo are sparse; I know it was taken sometime in 1942 or '43, and it's believed to be somewhere in California.
I don't know much about the man, either. I don't know anything about his personality, his likes or dislikes, his habits. I didn't even know he existed until half a year ago, to be honest.
Chester was my grand-uncle. He passed away many years ago. I never met him.
On this Veterans Day, I'm proud to say that I'm related to him.
And to finally get a chance to say Thank You.
Posted by: Wonderduck at 03:32 PM | No Comments | Add Comment
Post contains 122 words, total size 1 kb.
November 10, 2007
Happy 232nd!
"They call them leathernecks. They call them devildogs. But what they are...
...is Marines."
Semper fi to the good guys!
Posted by: Wonderduck at 07:45 PM | No Comments | Add Comment
Post contains 22 words, total size 1 kb.
Surfboard Problems
As most readers of the Pond are aware, cable broadband became available last month for the first time out here. Everything was fine and dandy until last week, when it appears that my Motorola SURFboard (
model SB5101
) started to have a case of the hiccups.
Once or twice a night, the modem'll just stop functioning. The "send" and "online" lights go out, and access just disappears. Usually a hard reset (unplugging the power cord) will rectify the problem, but at least half of the time, the signal will drop again a few minutes later. Another hard reset, combined with a reboot of Chiyo-chan, will fix the problem... until the next night.
Obviously, the modem still works... I'm posting, after all. It's just annoying as all get-out to have the connection just drop like that. When it IS working fine, I get some flat-out amazing (to me and my many years of dial-up only, your mileage may vary) d/l speeds: 175kbps is quite common, and I've seen it up around 200kbps when d/l'g something with a lot of seeds (I've switched to uTorrent, by the way).
There's a 25' run of coaxial from a splitter connecting the modem (which I'm considering naming "
kamineko
") to the wall, and a ethernet cable connecting the modem to Chiyo-chan.
This sound familiar to anybody out there? The tech from the company came by and left a note saying to "clean the teeth on the ethernet cable" with a q-tip and a drop of denatured alcohol, but to this ex-CowPuters employee, that sounds like a standard brush-off answer ("Take two aspirin and call me in the morning"). If any of my readers have experience with the SURFboard, I'd appreciate your advice.
Posted by: Wonderduck at 02:44 AM | Comments (11) | Add Comment
Post contains 287 words, total size 2 kb.
November 06, 2007
42kb generated in CPU 0.034, elapsed 0.1818 seconds.
47 queries taking 0.1582 seconds, 302 records returned.
Powered by Minx 1.1.6c-pink.