September 18, 2010
F1 Pr0n First Look: Korean International Circuit
Usually, F1 Pr0n deals strictly with the rollout of the cars for the new F1 season. However today we've got something special on tap: a whole new circuit. The Korean International Circuit at Yeongam is due to play host to the first GP of Korea on October 24th, but there's been talk of the place not being finished in time. Well, I'm here to tell you that it sure as heck looks like the talk is true. But first, here's the track map: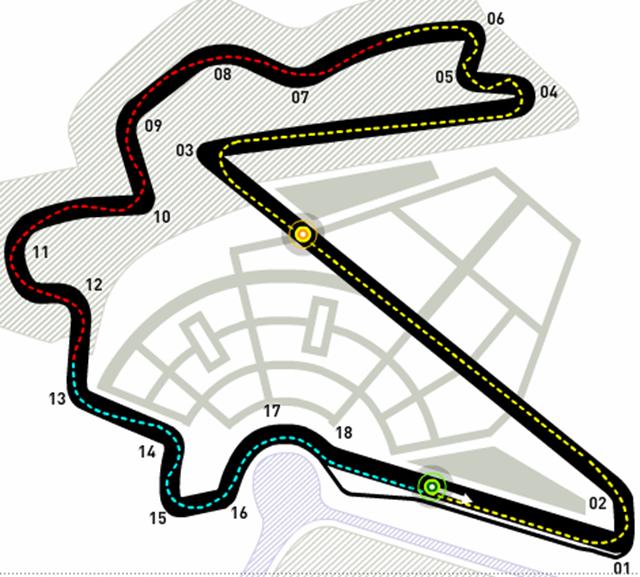 Okay, let's play "Guess The Track Designer," shall we? Nah, what's the point, it's pretty obvious that Hermann Tilke's scat is all over the layout. There is one series of turns that I'm fascinated with on here, Turns 4, 5 and 6. I'm fascinated because I can't imagine anybody thinking that a hairpin followed by a tight 90-degree turn followed by another 90-degree turn in the opposite direction could
possibly
make for good racing.
I can see Tilke's design process at work here: "First let's draw some straight lines. Then I'll let the cat push a piece of charcoal around the paper. Okay, that's the layout!" Remember once upon a time I mentioned how all the good circuits in F1 had a
flow
to them, how one part of the track should lead to another in a natural, organic way? Well, the KIC doesn't do that anywhere. It honestly feels like Tilke set out to avoid that at all costs.
To make matters worse, there's much doubt in my mind as to whether or not the whole place will be finished in the five weeks remaining until race weekend. "But Wonderduck," I hear you asking, "how do you know that???" Well, allow me to show you an interesting picture:
This is the view of the main straight from right around where the start/finish line is marked on the trackmap. That's the main grandstands on the left, the paddock area is to the right. Does that look even remotely like someplace you'd want to go to to watch a race? Does that grandstand look like it's completed? Other structures around the track are much the same, looking like concrete shells with nothing inside, just the exterior walls. The actual race track asphalt is laid, but the curbs, the runoff areas, everything that allows cars to race safely? Missing or incomplete. But don't take my word for it, just take a look at this video.
The race organizers and Red Bull had a demonstration run a couple of weeks ago using the 2008 Red Bull chassis and the FIA's super-hard demo tires. Surprisingly, Cowboy Karun Chandhok was the driver (the usual RB drivers weren't allowed to run, as it'd be an unfair advantage, I guess). The FIA and Hispania Racing, Chandhok's normal team, let him do it, which is a pretty clear indicator that we won't be seeing him again this year. I can only imagine what he must have felt, actually getting into a real F1 car and being allowed to turn some laps.
Anyway, watching that video just confirmed all my opinions from the track map: it looks like disaster-in-the-making, as far as racing goes. Now
driving
the circuit looks like it'd be a blast, but that's not the same as racing around it.
We'll see in about five weeks. Stay tuned.
Posted by: Wonderduck at 08:35 PM | Comments (3) | Add Comment
Post contains 562 words, total size 4 kb.
1
It sounds like, in the twisties, he gets about 1 good second of throttle stabbing in before he has to let up before the corner. Now he's obviously not running qualifying laps, but that doesn't look like it will be very fun.
Posted by: Will at September 18, 2010 11:32 PM (5CqDH)
2
Why do they have the walls so close to the track? I can understand doing that for the pit straight, but here they have walls right next to the track for what looks like half the circuit; the track looks more like a street circuit than a dedicated race track. I hope the walls have some give to them, like the safety walls in NASCAR, and aren't just concrete. Also note there's no place for a car to pull over in the walled-in areas if it has a mechanical failure; they'll need more cranes than Monaco to get busted cars off the track quickly.
What happens if the track isn't ready for the race? Has the FIA ever canceled an F1 race due to an unsafe circuit? This could be a bigger mess than Donington Park, since the race is coming up so soon and AFAIK there's no other suitable track available in Korea, even if they could change venues in short notice. At least when the Donington Park organizers dropped the ball, they could move the British GP back to Silverstone.
Posted by: Peter the Not-so-Great at September 19, 2010 08:59 PM (c62wM)
3
Peter TnsG, a lot of the walls are there specifically to keep out-of-control cars from leaving the course, then returning in a dangerous way. Imagine someone blowing Turn 5, skittering across the
grass
dirt, then sliding back on track near the exit of Turn 6.
Most of the walls seem to be Armco barriers or something similar. They most assuredly have give, though not enough to allow a car to get through them. The concrete walls are mostly on straights where there is going to be seating or facilities (for example, the second pitlane on the run from Turn 3 to Turn 4; that's becoming more and more common, to accommodate 'support series' races, like GP2, without encroaching on the F1 pits). If you look carefully, each of the concrete sections have openings every so often that'll be faired over. That will allow broken cars to be pushed off the track. While I didn't notice similar gaps in the Armco, I'm sure there'll be something.
None of the walls in F1 are
S.A.F.E.R. barriers
, though. Europe and F1 tend to use "compression barriers", aka "tire walls", to serve the same purpose.
SAFER barriers are a uniquely American design, used here primarily because of the higher speeds associated with oval racing. Watkins Glen is the only road course in the world with SAFER barriers, and that only because NASCAR runs there, now a requirement for the marque. F1-style road courses just don't see the sort of speeds that a SAFER barrier would substantially help with. They wouldn't hurt to have, and it won't surprise me if the new track in Austin has them, but tire walls do the same thing at lower speeds, and cost a helluva lot less.
As far as Korea goes, the track itself is done. All they'll need to do is put down the curbs and finish the pitlane and they can race there. Of course, there's practically no seating, and the parking lots and access roads and extra buildings aren't anywhere near being done, and I'd bet whatever permanent cabling is needed for a F1 broadcast isn't in place either. In effect, they can run the race, but nobody can see it.
If that's the case come race weekend, I don't know what they'll do. If it gets canceled, there's nothing to be done, no other place to run it. Oh, they could go to the Mt Fuji circuit instead, I suppose, assuming it's not booked already, but that throws in massive headaches of its own, not the least of which is "what do you do with the tickets sold?"
Posted by: Wonderduck at September 19, 2010 10:46 PM (blg68)
Comments are disabled. Post is locked.
29kb generated in CPU 0.012, elapsed 0.0817 seconds.
47 queries taking 0.0738 seconds, 279 records returned.
Powered by Minx 1.1.6c-pink.