December 31, 2008
Happy New Year Everyone!
So 2008 is passing into history, and there's a big part of me that is happy to see it go. I can't overstate the effect the arrival of my elderly, stroke-ridden Grandmother at my folks' place had on the family. You, the readers of The Pond, were only exposed to it
towards
the
end
, but during the 11 months she was in Duckford... well, there were more unpleasant times than good ones. It was hardest on Momzerduck, of course, but she handled things the way she always does: strongly.
In the two mainstays of The Pond, though, 2008 was another banner year. In Formula 1, McLaren's Lewis Hamilton won the Driver's Championship in the final turn on the final lap of the final race of the season;
the F1 Update! for that race
wound up being The Pond's 1000th post. We also saw the first wins of
Sebastian Vettel for Toro Rosso
in a fun (and rare) wet race at Monza,
Robert Kubica for BMW
at the same track (Montreal) where he had a serious crash in 2007, and
Heikki Kovaleinninnie for McLaren
in Hungary when Felipe Massa blew an engine with three laps to go. We also had new tracks in
Valencia, Spain
and the first night race in F1 history
through the streets of Singapore
. Then there was the terrible decision at
the swimming pool at Spa-Francopants
which torpedoed a very exciting race and put the
decision in the hands of the FIA
. We also saw Adrian Sutil, driving for the new team Force India, have
a shot at a podium at Monaco ripped from his hands
by some terrible driving from Kimi Raikkonen, the
passing of the SuperAguri team
at Turkey, the
retirement of F1U! favorite David Coulthard's Chin
, Rubens Barrichello driving in
a record-breaking 257th race
, and FIA supremo
Max Mosley having some woman trouble
. All in all, an amazing season of F1, perhaps the best of all time.
On the anime front, the simply fantastic series called
ARIA
came to an end
, but not before it aired what I consider
the best episode of anime I've ever seen
. A few months later came the announcement that it had
been licensed by Nozomi
, which made me very happy. 2008 also saw the near-death-experience of ADV, with the final
Kanon '06
dvd unreleased, and the subsequent arrivial of white knight Funimation (for which I haven't thanked them enough). We also saw the first (and currently only) AMV from Wonderduck Productions,
"...Angel"
,
make it to the Semifinals of the animemusicvideos.org Viewers Choice Awards
, only to be
denied the Final round
by at least one AMV that had subtitles in it. Nice... not bitter, though!
Strike Witches
and
Ikkitousen Great Guardians
also debuted, resulting in people looking at me weirdly as I loved both series. The best series of the year, however (non-
ARIA
division), was a tossup between either
Clannad
or
Bamboo Blade
: two completely different shows, but both good in different ways.
Hidamari x365
, a peaceful laid-back show, proved to be historic in the "Ducks In Anime" category, with nearly every episode
having a rubber duckie
in it somewhere. Surprisingly, the undead anime (we'll have to drive a stake through it's chest, cut its head off and bury the body at a crossroad to get it to go away) known as
Evangelion
came out with
a new retelling in movie form
that was pretty good (and looked great). And in what was probably my
Crowning Moment Of Awesome
for the year, I got to
metaphorically slap around an anime n00b
at the Duck U. Bookstore.
No year can be complete, however, without a big thank you to
Big Papa Pixy
for his letting The Pond sully his servers for another year. Couldn't do it without him... or you, my readers! May we all have a better 2009!
...now, where's those party hats?
Posted by: Wonderduck at 10:03 PM | No Comments | Add Comment
Post contains 648 words, total size 6 kb.
December 28, 2008
Bloggingblogging
I'm waiting for inspiration to strike, because at the moment, I'm out of things to blog about, and don't really want to blog much anyway.
Something will pop up soon. Something always does. Then I'll be back. Probably Wednesday night.
Posted by: Wonderduck at 11:00 AM | No Comments | Add Comment
Post contains 43 words, total size 1 kb.
December 26, 2008
Weatherblogging
Just once, I'd like a day where the weather is
normal
this winter. Three heavy snowfalls, three days where the high barely broke zero, dangerous windchills, and now? It's going to be 50 on Saturday. Sounds nice, except A) we're supposed to have thunderstorms, and B) it's going to drop below freezing Saturday night.
Oh, and did I mention the fog? Cold snow + warm air temps = heavy, heavy fog. Driving home from my folks' place tonight was... exciting, in an unpleasant way. At one point, I had one eye on the yellow line to my left and the other eye on the faint pair of brakelights a handful of car-lengths ahead of me. 30mph was the top speed I reached.
So, yeah, I'd like a nice, normal sort of winter day: high 20s, partly cloudy, maybe a flurry... that'd be nice.
UPDATE 12/27/08 @ 1016am
:
The view from my balcony Saturday morning.
Posted by: Wonderduck at 10:50 PM | Comments (2) | Add Comment
Post contains 155 words, total size 1 kb.
December 17, 2008
Content? Oh yeah, that...
Astute readers may have noticed a lack of actual
content
at The Pond recently. Fact of the matter is, I've not watched much anime (or much of anything else) recently. I've been far too busy at the Duck U. Bookstore (Buyback week), dealing with the weather and car problems, and enjoying the company of my
houseguest
to really do such things.
Example: Monday morning, my car was completely frozen shut. All four doors and the trunk, entirely iced over. Wound up having to take a taxi into work, but only after the driver's side door-handle had come off in my hand. Might have had something to do with the nigh-on-zero temperatures we had Sunday night... and the rain we had Sunday afternoon. We had a fifty degree temperature swing in under six hours: iceblox city.
So today, my car went into the dealership to get both handles on the driver's door fixed, and while the door now has handles, they screwed up the lock and mangled the car key. Fortunately, I have a spare, but that's the sort of luck I'm having.
Monday night I watched some
Akane-iro ni Somaru Saka
, but I couldn't tell you anything about the episode. It was funny, it made me laugh, but if someone put a gun to my head, I wouldn't be able to say why.
So until my life slows down a little bit, expect light and fluffy, mostly content-free posting... for example, here's a picture of Alice from
ARIA
:
She's crying over the lack of content, too...
Content-Free!
Posted by: Wonderduck at 09:20 PM | Comments (2) | Add Comment
Post contains 261 words, total size 2 kb.
December 09, 2008
The ANGRIEST Car Ever.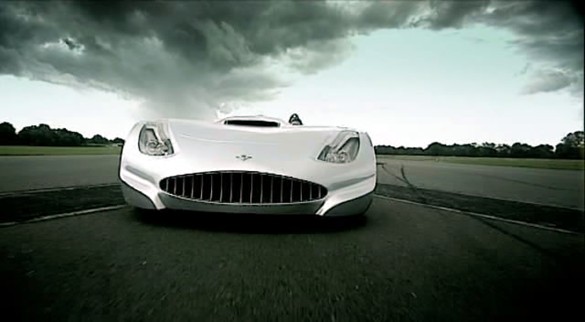 GRRRRRRRRRR!!! GRRRRRRRRRR!!!
Posted by: Wonderduck at 10:05 PM | Comments (3) | Add Comment
Post contains 16 words, total size 1 kb.
December 08, 2008
I Sing The Praises...
The past 48 hours have been kinda ugly around Pond Central.
First, Saturday was the memorial service for my grandmother. It was very nice, but more than a little stressful.
Meanwhile, the Official Car of Wonderduck's Pond, a 1996 Toyota Camry, has been feeling a little ill. Instead of purring like a kitten, over a period of a couple of months its begun purring like a lion. It was still a purr, yes, but louder than normal. Unfortunately, last Friday I began to smell the unmistakable odor of hot oil. A lot of it. So, I called the Official Mechanics of the Duck Family,
Ricotta Automotive
. We've been going to Ricotta's for nigh on 20 years, and we're all at the point with him where if he says something has to be done, we say "do it," we trust him that much. Tom Ricotta, the owner himself, said "have it here Monday morning, I'll work on it personally!" So, I traded cars with Ph.Duck, since I had to be at work Monday morning, and began to fret.
Sunday night, I visited Fark.com, specifically a Pearl Harbor thread that I'd made a couple of comments on... and my various anti-virus/spyware programs started freaking out. They said they caught a bit o' venom called
Vundo
(on my anti-virus program) and
Virtumonde
(on the spyware). Please note, I said that they
said
they'd caught it... nuh-uh. While I wasn't getting the popups, I was getting this symptom as described at the wikipedia page:
"Another symptom of Vundo may be the desktop icons will disappear and so will the taskbar and reappear after a short period. This becomes very frustrating if you are trying to run programs as they get automatically aborted."
Yes, quite frustrating. Vundo is EVIL, and nothing but. Five hours of trying to remove this beast, I had to go to bed, as today was the first day of textbook buyback at the Duck U. Bookstore.
Yes, buyback is here, and Wonderduck is in for a busy, busy time. Meanwhile, my computer is looking more and more like it'll need to have the C drive scraped clean and Windows reinstalled, and my car is in the shop (and lord knows what Tom is going to find, and how much it'll cost).
Around 11am, Tom calls. The oil smell is coming from some leaks on the cylinder heads, an easy fix, and relatively cheap at ~$250. Even better, he'll have it done today! Great! Do it! I hang up, humming, and go back to servicing students selling back their books. A lot of them. An awful lot of them. So many that I don't even get a chance to sip my gatorade. And then the phone rings again, an hour later. Caller ID says "Ricotta Automotive", and I'm suddenly worried again... much too fast. It's Tom again, saying there's another problem, much more serious. As he got the car up on a lift to change the oil, he discovered that the
CV Boots
on the Official Car of Wonderduck's Pond were both ruined. This is very bad, as it can make steering difficult. During the summer, it's not too bad, as there's little bad stuff to get into the joint/driveshaft, but during the winter, the lubricating grease leaks out and is replaced by snow, slush, and most importantly, road salt. This causes corrosion, as well as interfering with the steering... and, as a matter of fact, my steering WAS stiff last winter. My wallet screaming in agony, I tell him "fix it." Tom says he'll try find some rebuilt parts, try to save me money. A few hours later, he calls back: success! The Official Car is fixed, and the total cost is $500... the CV stuff could have cost as much as $900
alone
! Fortunately, only one of the CV joints was bad, the other was still in good shape. Phew. One problem solved.
But then there's the computer. I do some research at the folks' place, find a couple of tools that might help, a set of instructions on manual removal of Vundo, and as a last resort, clear instructions on how to reinstall Windows.
I get back to Pond Central, metaphorically roll up my sleeves, and download a little thingy creatively entitled
Malwarebyte's Anti-Malware
("it's like bringing a M4 to a knife fight"), freeware and with good reviews. Crossing my fingers, I tell it to run.
Nine minutes later, it reports that it has found 25 infected files and registry entries, and would I like to remove them? I'm not excited as I hit "yes", as the other tools also said much the same thing. It removes most of them, and it claims that the remaining three will be removed on reboot. Sure, okay, reboot. Whatever.
It worked. IT WORKED! This thing actually worked! After a few minutes of doing the Happy Ducky Dance, I run it again: nothing found! A few minutes of the Exultant Ducky Dance of Victory, and I hit the blog.
So I sing the praises of Tom Ricotta and Ricotta Automotive, and I sing the praises of Malwarebyte's Anti-Malware! Thank you, thank you both! I'll recommend either of them to anybody!!!
Posted by: Wonderduck at 09:57 PM | Comments (3) | Add Comment
Post contains 871 words, total size 6 kb.
December 07, 2008
December 7th, 1941...
Mr Vice-President, Mr Speaker, members of the Senate and the House of Representatives:



Yesterday, December 7, 1941 – a date which will live in infamy – the United States of America was suddenly and deliberately attacked by naval and air forces of the Empire of Japan.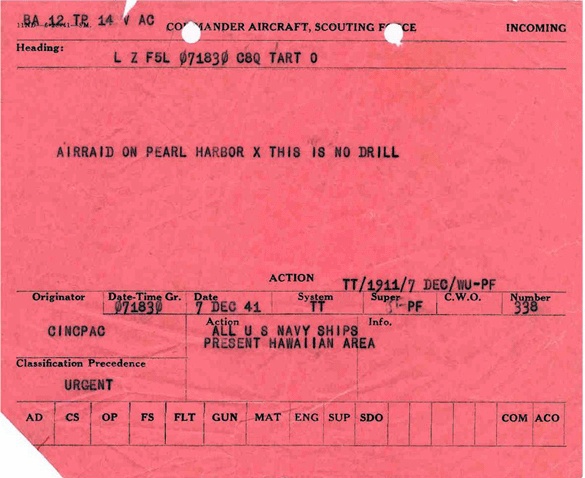 The United States was at peace with that nation and, at the solicitation of Japan, was still in conversation with its Government and its Emperor looking toward the maintenance of peace in the Pacific.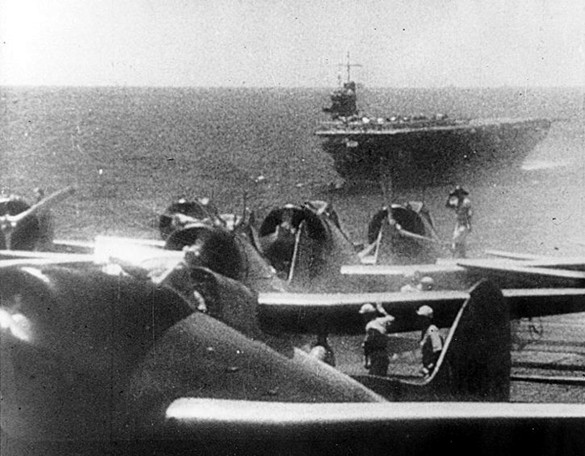 Indeed, one hour after Japanese air squadrons had commenced bombing Oahu, the Japanese Ambassador to the United States and his colleague delivered to the Secretary of State a formal reply to a recent American message. While this reply stated that it seemed useless to continue the existing diplomatic negotiations, it contained no threat or hint of war or armed attack.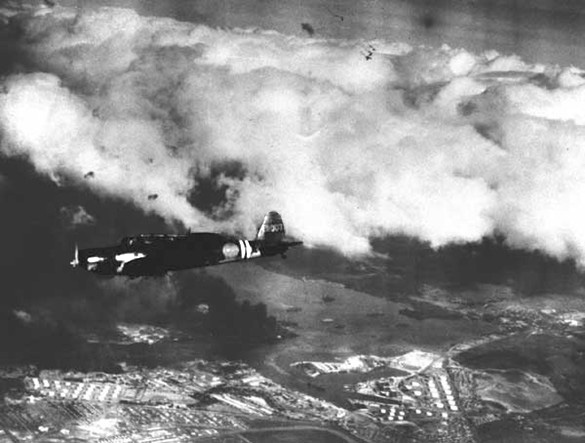 It will be recorded that the distance of Hawaii from Japan makes it obvious that the attack was deliberately planned many days or even weeks ago. During the intervening time, the Japanese Government has deliberately sought to deceive the United States by false statements and expressions of hope for continued peace.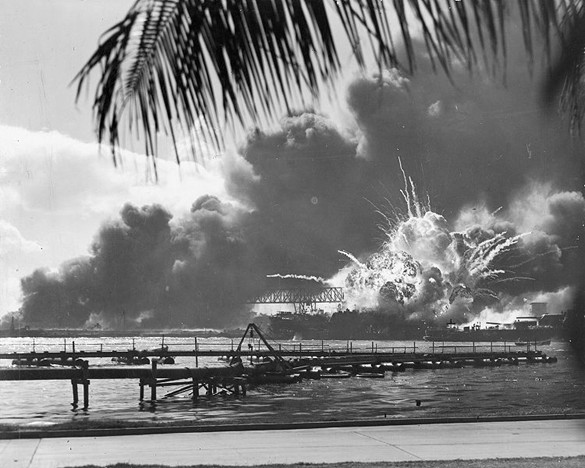 The attack yesterday on the Hawaiian Islands has caused severe damage to American naval and military forces. Very many American lives have been lost. In addition, American ships have been reported torpedoed on the high seas between San Francisco and Honolulu.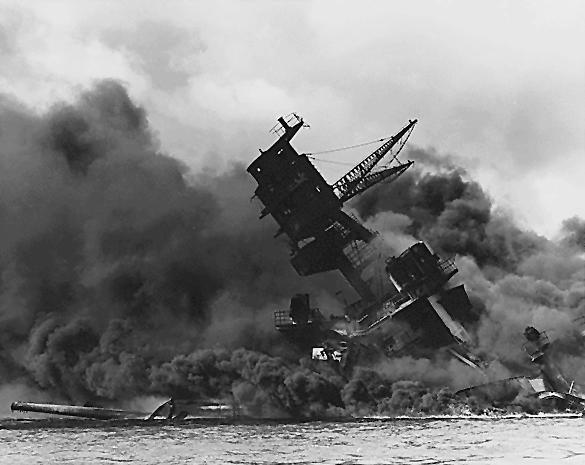 Yesterday the Japanese Government also launched an attack against Malaya. Last night Japanese forces attacked Hong Kong. Last night Japanese forces attacked Guam. Last night Japanese forces attacked the Philippine Islands. Last night the Japanese attacked Wake Island. This morning the Japanese attacked Midway Island.
Japan has, therefore, undertaken a surprise offensive extending throughout the Pacific area. The facts of yesterday speak for themselves. The people of the United States have already formed their opinions and well understand the implications to the very life and safety of our nation.

As Commander in Chief of the army and navy I have directed that all measures be taken for our defense. Always will we remember the character of the onslaught against us.

No matter how long it may take us to overcome this premeditated invasion, the American people in their righteous might will win through to absolute victory. I believe I interpret the will of the Congress and of the people when I assert that we will not only defend ourselves to the uttermost but Will make very certain that this form of treachery shall never endanger us again. Hostilities exist. There is no blinking at the fact that our people, our territory and our interests are in grave danger.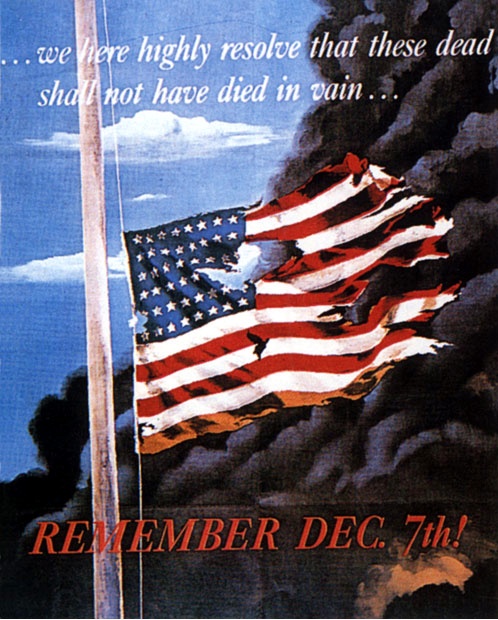 With confidence in our armed forces-with the unbounding determination of our people-we will gain the inevitable triumph-so help us God.
I ask that the Congress declare that since the unprovoked and dastardly attack by Japan on Sunday, December 7, a state of war has existed between the United States and the Japanese Empire.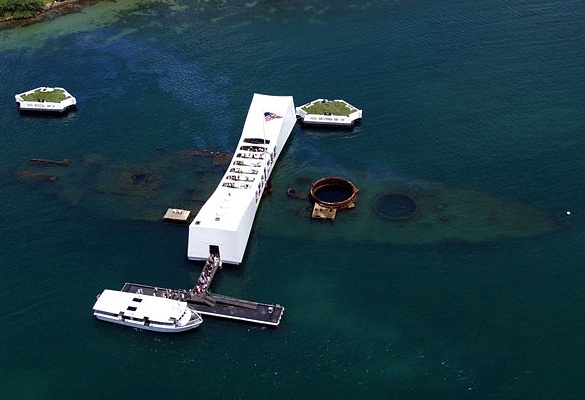 Posted by: Wonderduck at 12:10 PM | No Comments | Add Comment
Post contains 496 words, total size 4 kb.
December 01, 2008
53kb generated in CPU 0.0176, elapsed 0.1165 seconds.
49 queries taking 0.1038 seconds, 299 records returned.
Powered by Minx 1.1.6c-pink.