June 24, 2013
June 23, 2013
A Duck Attends Conference!
Every few years, the company I work for throws a big event. Every store manager, all 930-plus of us, and a couple hundred home office personnel, in one place for four days, learning about the strategic plans for the company, undergo training, and network network network! This year's event was in Orlando, FL, which meant one thing: Wanderduck was comin' with! Wanderduck, as longtime readers may remember, is the rubber duckie that comes on trips with me. He's a traditional yellow duckie, small enough to be easily portable, but still large enough to show up nicely on a photograph. So Wednesday morning rolled around, and off we went!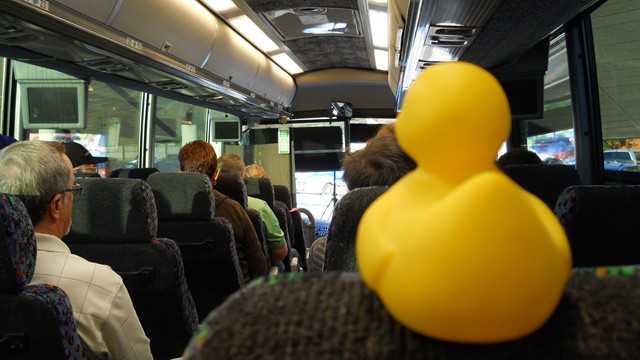 The first leg of the journey was from Duckford to
Chicago O'Hare International Airport
. While easily drivable, being only about 70 miles or so, I surely didn't want to leave my car in long-term parking there... it'd cost something like $80! Instead, we piled onto a bus and off we went! As a note, people complain that airline seats are uncomfortable? By comparison, they're sheer luxury in comparison to bus seats. Plus, those aisles are about 18" wide. Ugh. After a 90 minute trip (lots of roadwork)...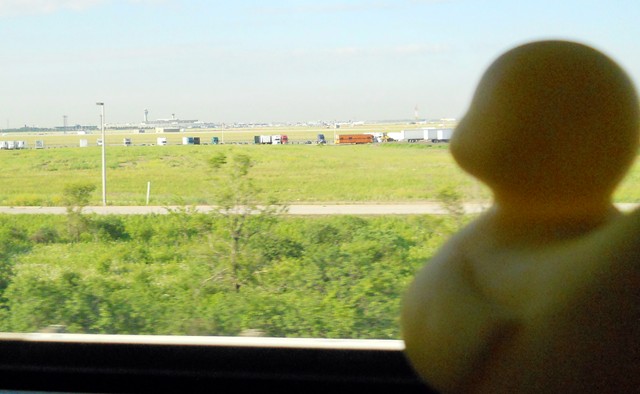 It's O'Hare! If you want a better look at the control towers, click for a bigger version. Once off the bus, we dropped off our bag and headed through security. I'm fairly sure I've seen more people in line for, say, concerts, but on the whole I'd rather not do that very often. It took nigh on a half-hour to get through. However, I had plenty of time to make it to my gate... or so I thought. The problem is that the airline I was flying
had their own terminal building
. I was in the right place, exactly where I should be, but had to trek underneath the airport to get there.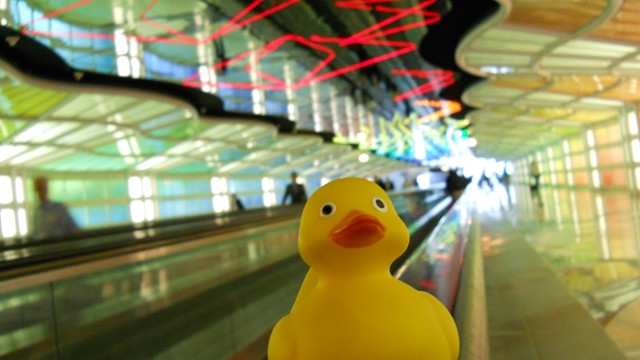 Artistically, I love this walkway. Neon tubes and art-deco glass brick wallpieces with lights behind them... it's gorgeous. AND it's all undergrond. Physically? Not a fan. It's a couple hundred yards long, it's not overly well air conditioned, but it looks nice. By the time I made it to the other end, I was NOT in a good mood... the slidewalks weren't working. Oh, and my gate was at one of the ends of the terminal building. But eventually I made there with five minutes to spare.
more...
Posted by: Wonderduck at 09:15 PM | Comments (6) | Add Comment
Post contains 986 words, total size 7 kb.
June 22, 2013
Duck Home!
I have returned from my business trip. Orlando looks very much like the inside of a huge convention center. I'm exhausted. I've turned on the 24 Hours of LeMans, and I am probably going to collapse before I have an idea of what's going on.
Stay tuned: on Sunday, there will be a special post on the trip!
UPDATE: Oh no... a LeMans driver, Allan Simonsen, was killed early after only about 10 minutes had passed. He was driving an Aston-Martin V8 Vantage, #95, it looked like he got a tire just off the track. The car snapped left at the fast Tetre Rouge corner, went hard into the barriers, and while medics were on scene almost instantly, he passed away from his injuries.
It was his seventh 24 Hours of LeMans, and his third with Aston Martin Racing. At the specific request of his family, the team is still competing in the race. He was the first driver to die during a LeMans race since 1986.
Posted by: Wonderduck at 08:06 PM | No Comments | Add Comment
Post contains 169 words, total size 1 kb.
June 19, 2013
I Can Feel It Coming In The Air... um... Today?
After waking up at four in the morning to catch a 6am bus for a 90 minute trip to O'Hare International Airport, a ridiculously long wait through security (only two metal detectors?
Really
?), and then being stuffed into a pressurized metal tube, I found myself, once again, experiencing the miracle of flight in a manner not intended by either duck nor god (but I repeat myself). As I experienced all the burbles and bobbles of imbalanced air over a major city in a big metal French bird, I glanced out my window... and frantically grabbed for my camera. What disaster caused this reaction? Did the Airbus begin to shed pieces of wing and engine? Did it begin to flooble and flounce through the air as if a software problem caused the flight controls to do bad things for reasons unknowable? Nah, something cooler than that: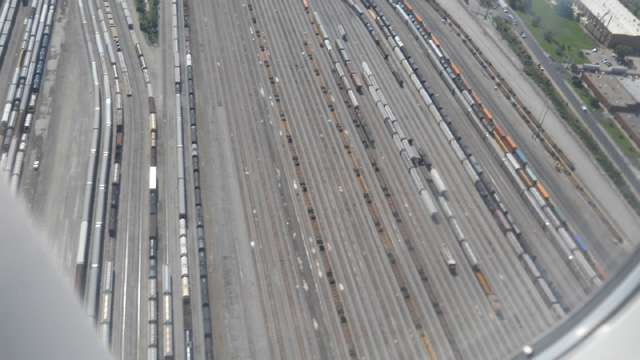 Clicky-poppy for biggy making
Allow me to introduce to you the Belt Railway of Chicago's
Clearing Yard
. 250 miles of track in a five mile area, it's one of the largest such places in the world. I didn't see anything moving, but I also have no idea how high we were at the time, either. Couldn't have been very high, though... it's on the flightpath out of O'Hare after all, and not all that far, either.
Railfanning from a jet plane... welcome to the 21st Century!
Posted by: Wonderduck at 07:58 PM | Comments (3) | Add Comment
Post contains 241 words, total size 2 kb.
June 18, 2013
Doesn't THAT Just Take The Biscuit?
I actually had something I wanted to post tonight. It was going to be clever, thought-provoking, funny, and accessible to all my readers. And then, while I was at work, I completely forgot what it was. I have no idea anymore. You could hold a gun to my forehead and I couldn't come up with it. So instead, here's a bit of news I dug up a few days ago...
There's a new
Sunshine Sketch
book coming out September 24th, 2013. This pleases me... and saddens me, because it might very well be the final one. Still, we should get one more
HidaSketch
anime, which is great.
Next post will be from the Land of the Mouse.
Posted by: Wonderduck at 09:36 PM | No Comments | Add Comment
Post contains 123 words, total size 1 kb.
June 15, 2013
An Explanation
Over at Steven's place,
he apologizes
for not providing his usual bountiful amounts of free ice cream. I, on the other hand, am
not
going to apologize for not give you much in the way of deep meaningful free ice cream as of late, because I'm actually doing you a favor by not writing.
Cute duckling picture counteracts the darkness
Collectively I hear your eyes roll like so many 14-pound balls down a well-waxed bowling alley. "Oh look, Wonderduck is going to whine about how bad he is at writing again." Nope, I'm not. What I
am
, however, is in a rather hideous mood. It was only brought to my attention recently, but enough people confirmed it so it must be true.
See? Cute duckling versus evil Wonderduck = cute duckling flawless victory!
In some of my various notes and such, I can see that these people are correct. I do appear to be in something of a snit (or is that a bolotomus?), and I fear that it has leeched into my scribblings. Or will, if I let it... and I would. This is not a good thing, even on an Episodic Writeup, and don't think I don't remember that I'm supposed to be working on the
Eva
movies.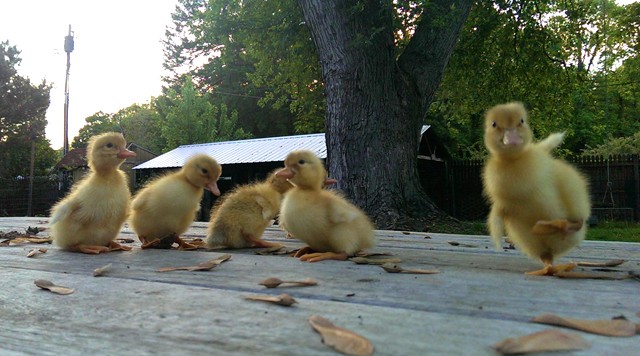 I'll be in Florida for half of next week... big company shindig. I'll take Wanderduck with me, probably get some "rubber duck at 30000 feet" pictures. Unfortunately, I won't be back until Saturday evening, meaning I'll be missing a good portion of the 24 Hours of LeMans. Drat, etc. So that's the story from my end. It's for your own good. Remember that.
Duckling happily contemplating how to kill everybody.
Posted by: Wonderduck at 10:18 PM | Comments (6) | Add Comment
Post contains 286 words, total size 2 kb.
June 12, 2013
A Pleasant Afternoon
It's a little after four in the afternoon. I'm sitting in my office at the Duck U Bookstore, having just gotten off a conference call with twenty-some-odd other managers. It's warm and kinda humid, but I've got a fan close at hand to keep me from boiling away like liquid nitrogen in a fireplace. And then my Assistant Manager comes in, saying "the tornado sirens just went off. Everybody's heading to the basement."
You might see the white cross next to the word "Rockford" up there... that's roughly where Duck U is located... and that big red splotch directly on top of it is roughly where the multiple funnel clouds were seen. No reports of damage other than branches and flooding yet, but it did get somewhat tense. Okay, a
lot
tense. "Hand me my brown trousers" tense. We sat in the basement for about a half-hour or so, half the people staring at their smartphones, the other half staring at the people staring at their smartphones. Some gallows humor floated about: "we're all down here so it'll be easier to find the bodies when the building collapses," that sort of thing.
Obviously, we survived. There's more storms coming through... in fact, there's a tornado on the ground as I type this, near Sterling (headed south-east, though)... but the bad stuff is supposedly over for the night. We can only hope.
UPDATE: There was, apparently, another tornado in the same place later.
We're not talking Oklahoma-scale things here
, mind you, but the National Weather Service is sending out investigators in the morning. Looks like worst is over, but if you're in the way of this storm line, hunker down!
Posted by: Wonderduck at 06:27 PM | Comments (5) | Add Comment
Post contains 282 words, total size 2 kb.
June 02, 2013
Intrigue, Danger: Family Version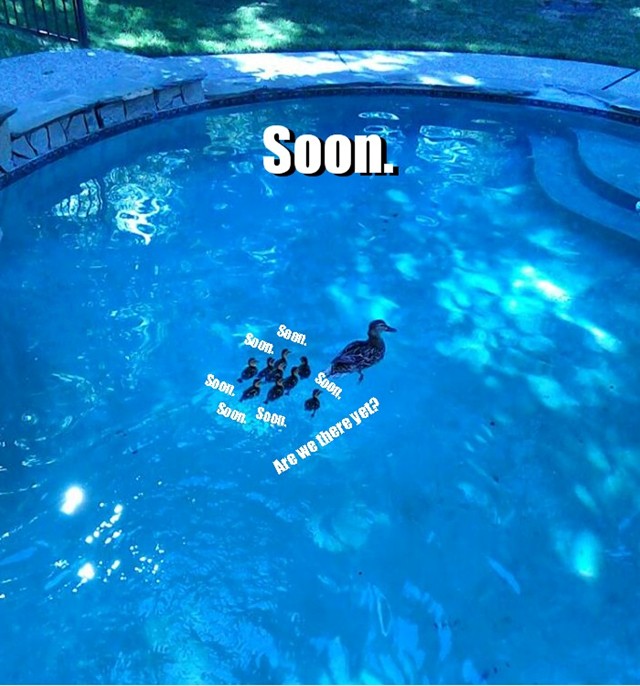 Posted by: Wonderduck at 06:59 PM | Comments (2) | Add Comment
Post contains 4 words, total size 1 kb.
June 01, 2013
Taste the Danger. Feel The Intrigue.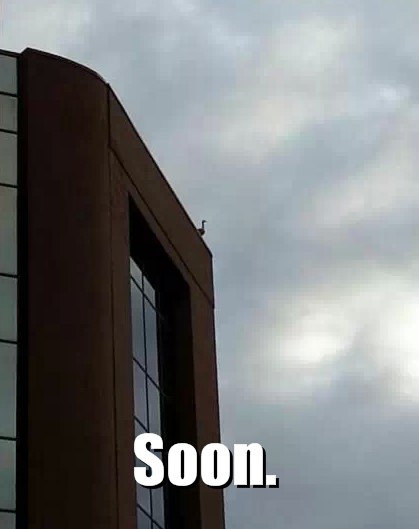 Posted by: Wonderduck at 08:02 PM | Comments (4) | Add Comment
Post contains 6 words, total size 1 kb.
Thank You, Quacked Panes
Back in 2009,
I wrote a little post
about a new webcomic named
Quacked Panes
. Written and photographed by a member of the Pond Scum named GreyDuck, it was
a little strip
about a small collection of rubber ducks trying to make their way through life. As time went on, it became a twice-weekly staple of my interweb readings... to be sure, to begin with it was simply because of the rubber duckies, because I'm nothing if not all about the rubber duckies, but I very quickly realized there was an extremely snarky wit behind the cute ducks, too.
I'm proud to say that I played a tiny part in the success that was Quacked Panes, via
duck donations
and one short, forgettable
series of replacement strips
while GD was on holiday. I'm glad GD let me play in his world a little bit... he certainly inspired me to do
my Halloween Event... thing
.
Today, after 400-plus entries and four years later to the day, GreyDuck posted
the last Quacked Panes
strip. The entire Pond has a gigantic sad, and it just got really really dusty in Pond Central.
Go over there and give the archive a read, won't you? You really won't regret it.
Thanks, GD. Thank you, Quacked Panes. We really did have fun.
Posted by: Wonderduck at 07:54 AM | Comments (1) | Add Comment
Post contains 220 words, total size 2 kb.
54kb generated in CPU 0.0416, elapsed 0.1822 seconds.
52 queries taking 0.1555 seconds, 319 records returned.
Powered by Minx 1.1.6c-pink.