July 29, 2008
JCP is DEAD to me.
THIS... this is just frickin' EVIL.
EVIL
. With a capital "EVIL." Foul, nasty, dark, scummy, defiler of dreams, JC Pennys will never, EVER get my money again.
I HATE whomever created this monstrosity, this vile pile of filth, with the heat of a thousand suns. Rabid, hungry stoats down his pants is not even close to being enough pain to recompense what he has done to the memories of my youth.
I don't like it, is what I'm trying to say.
Posted by: Wonderduck at 07:19 PM | Comments (6) | Add Comment
Post contains 86 words, total size 1 kb.
July 27, 2008
Smaller, Better, Faster, Stronger
It hasn't all been Wonderduck hiding under the covers recently. On Saturday, I ventured forth to the BigBlueBox on a mission... a mission to upgrade
Chiyo-chan
.
Don't get me wrong, Chiyo-chan is still the smartest and fastest computer on the block, and with her new 19" LCD monitor, the prettiest too. However, it's been two years since her last upgrade (420w PSU, 7600GT graphics card), and I've been meaning to do this particular upgrade since the day I got her.
So now, Chiyo-chan has all her DIMM slots filled, and a total of 3gb of RAM. She's a lot peppier than she was (and she was pretty zippy then), lemme tell ya.
Next step, a new external hard-drive...

Posted by: Wonderduck at 08:24 PM | Comments (4) | Add Comment
Post contains 122 words, total size 1 kb.
July 25, 2008
Abusive Ducks
I'm still in something of a dark place, but I couldn't not do this. The good folks over at
B3ta
are currently running an image contest entitled "Abusive Ducks." I took the liberty of stealing the best of them, so y'all could have a laugh.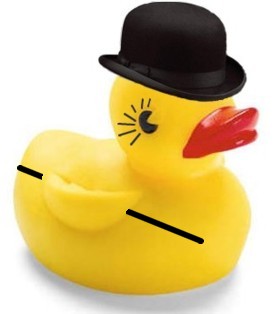 Duck a la Orange, of course...


Click "more" for... um... more.
more...
Posted by: Wonderduck at 06:13 PM | Comments (1) | Add Comment
Post contains 101 words, total size 2 kb.
July 23, 2008
Where's Wonderduck?
1) Playing
Clannad
.
2) Dealing with a bout of depression.
3) There is no number 3.
I'll be back when I snap out of #2.
Posted by: Wonderduck at 05:18 PM | No Comments | Add Comment
Post contains 27 words, total size 1 kb.
July 11, 2008
Fun With Weather!
So Thursday night's weather here at The Pond was... oh, let's call it
exciting
, shall we? Around 6pm, it went from being bright and sunny in Pond Central's living room to dark and surly, like someone threw a switch on the sun.
I opened the door to the balcony, and got hit in the face with a bucket of water. It was POURING out there, and the clouds were moving every which way... but just a few miles away, there was blue sky. A very definite cloudline... and I was on the wrong side of it.
Lots of lightning, both the traditional air-to-ground ZOT! (for a genuine Pond No-Prize, what comic strip used to use that descriptor?) type and the kind that makes it look like the Mothership from
Close Encounters of the Third Kind
is hiding behind the clouds. Very neat, very cool... and more than a little terrifying, to be honest. Anyway, I've heard that some parts of Duckford got up to three inches of rain in a couple of hours... just what we need after the flooding of a couple of weeks ago.
Somewhere around 815pm, I noticed something weird... the light from outside seemed to be orange through the curtains. I stepped outside, and saw that the stormline had just as neatly organized back to it as it did a front... the sun had been revealed! Since it was almost time for it to set, though, it looked orange, and that color was being reflected off the clouds. Very weird look to everything... and then I saw it.
A horizon-to-horizon, sharp-edged, DOUBLE RAINBOW! I'd never seen such a thing before... and particularly not one that looked like it had been drawn with a marker! I went out to The Pond's parking lot to get a better view of the whole thing...
...meanwhile, The Librarian was in Wal-Mart's parking lot, frantically calling my cellphone to tell me to look out my balcony to see the doublerainbowitsgreatandhugeandwow!
More importantly, though, she had the presence of mind to take a photograph of it with her cellphone's camera: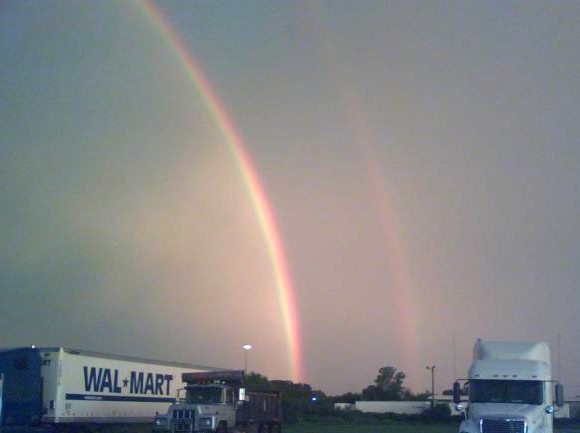 They're after me Lucky Charms! Both of 'em!

So, not a bad way to end a stormy day, eh?
Posted by: Wonderduck at 05:21 PM | Comments (4) | Add Comment
Post contains 370 words, total size 2 kb.
37kb generated in CPU 0.0306, elapsed 0.3594 seconds.
48 queries taking 0.341 seconds, 296 records returned.
Powered by Minx 1.1.6c-pink.