June 12, 2010
F1 Quals: Canada 2010
FINALLY!
For the first time this season, a Red Bull is
not
on pole. It took a last-gasp lap from Lewis Hamilton to kick them out of the first spot on the grid, done on the super-soft tires and with so little fuel on board that Lewis had to literally push the car back to the pits, but they did it.
But then, this
is
Formula 1 so there just had to be speculation that Hamilton would be penalized for running out of fuel. Since he did not return to the pits within
X
amount of time, he was in violation of Article 15.1 in the Sporting Regulations. In theory, he could have had his fastest time ruled invalid. Instead, he was reprimanded and given a $10000 fine; chump change in F1 terms.
However, this won't be a McLaren walk in the park. Both Webber and Vettel are on the "hard" compound (actually the medium rubber), which is the tire that the teams universally prefer this weekend. The softs are a smidge faster, but are dying off after about six or seven laps while the hards are more durable. Bridgestone is saying that the teams will pretty much have to stop twice for tires this race, that there's no way a car can stretch the tires to last the whole distance. Of course, there's rain forecast so that might throw everything into a cocked hat, but at the moment I'd have to lean towards the Red Bulls.
A laugh and a shot to the ribs to Slappy Schumacher who couldn't do better than 13th and just as easily could have been a lot farther down than that. It might not get much better from now on as it sounds like Mercedes has run out of cash for developing the 2010 car. In F1, if you're standing still, you're falling behind. Wave bye-bye to Slappy for this year, kids.
A special "yahoo!" goes to the Force India team. Both cars in the top 10, which might be the first time they've done that (I'm not sure about Spa, last year). Certainly it's the first time this year! I knew they were fast.
But today goes to McLaren and Hamilton! Nicely done, lads.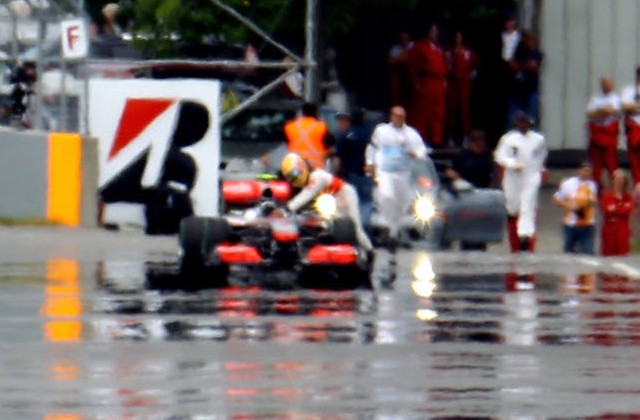 Posted by: Wonderduck at 05:07 PM | Comments (3) | Add Comment
Post contains 533 words, total size 15 kb.
1
Force India at 6th and 9th?
That
is genuinely awesome!
Posted by: Steven Den Beste at June 12, 2010 06:01 PM (+rSRq)
2
Lewis is cool and everything but I'm rooting for Webber. We've not had a driver who was genuinely nice to fans since Gerhard Berger, at least not on the forward side of the grid.
Posted by: Pete Zaitcev at June 12, 2010 09:56 PM (/ppBw)
3
You misunderstand my giddiness, Pete. It's not because I like Hamilton, but because someone kicked the Red Bulls off pole for once. I'd be happy about it even if it was HWMNBN or Slappy.
Well, maybe not Slappy...
Posted by: Wonderduck at June 12, 2010 10:07 PM (iJfPN)
Comments are disabled. Post is locked.
36kb generated in CPU 0.0118, elapsed 0.1067 seconds.
47 queries taking 0.0993 seconds, 279 records returned.
Powered by Minx 1.1.6c-pink.