October 23, 2010
It's Raining In Korea! (UPDATE #10)
It's raining at the Korea International Circuit, 24 minutes before the lights go out. Cars are spinning during the recon lap... we just saw a shot of Felipe Massa moving at maybe 40mph, on full wets, and still skidding sideways off-track.
Of course, the dust/dirt off-track is now mud. Oy.
This might prove to be a nightmare race. Fun, yes, but a nightmare.
Oh, and HWMNBN's engineers found a leaking waterpump in his Ferrari. They're working replacing it right now. They'll get it done, but will it hold together? Yeesh.
UPDATE
: There's a 10-minute delay to the start, and it'll begin behind the Safety Car. Rain is supposed to stop in about an hour or so. Hoo-hah.
UPDATE 2
: Lap 3, and the race is Red Flagged. The cars have stopped on the grid, and we're halted until the the powers that be decide that the rain has stopped enough. To be honest, even running behind the safety car must have been terrible. HWMNBN called back to the pit wall, claiming that this was "the worst conditions (he's) ever driven under." This race might just be called.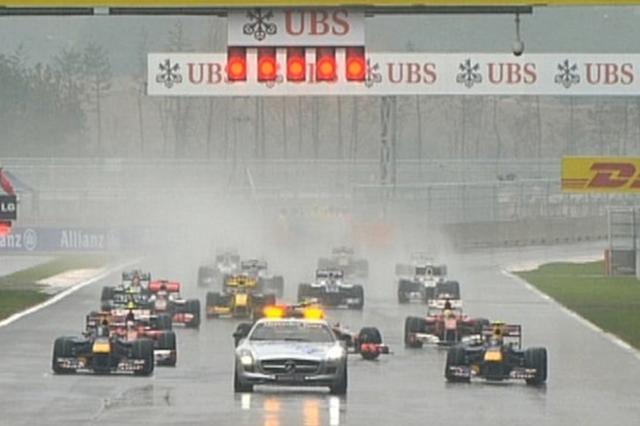 UPDATE 3
: The race will be resumed at 205am Pond Time! They'll do one more lap under Safety Car conditions, and they must be on full wet tires (not that anybody would be silly enough to do anything else *coughferraricough*, of course), but then they'll be really running for the first time. Now we're up against the setting sun, will they get it in before it gets too dark to race.
UPDATE 4
: Here we go, and Berndt Maylander leads them all into Turn 1... but we're racing again.
UPDATE 5
: Still behind the Safety Car. The asphalt is to blame here; it's got a higher percentage of oily bitumen than normal, so the water is just floating on top of that. Slappy just spun off.
UPDATE 6
: Lewis Hamilton just radioed in: "The track is good, improving all the time!" The sun is to begin setting in about 40 minutes, or about 3am Pond Central time. This is getting ridiculous.
UPDATE 7
: 12 laps in, some parts of the track look okay, but the two long straights may as well be swimming pools. Still, the Legendary Announce Team make a good point: "we've raced in worse." Lucas di Grassi just set fast lap, with a blistering 2m36sec. Still behind the Safety Car.
UPDATE 8
: Hamilton: "Start the race." McLaren Pit Wall: "We don't think other drivers have the same enthusiasm, Lewis." How much fuel does Berndt Maylander have?
UPDATE 9
: Greengreengreen! Real racing now on Lap 18.
UPDATE 10
: Race over after three hours, with the last laps run in the dark. No F1U! until after I get some sleep, but it was an...
interesting
... experience.
Posted by: Wonderduck at 11:40 PM | Comments (3) | Add Comment
Post contains 470 words, total size 3 kb.
1
They were... rather stubborn about not just calling the race, I take it? Wowza.
Posted by: GreyDuck at October 24, 2010 10:01 AM (7lMXI)
2
I'm glad no one got hurt!!!
Posted by: Steven Den Beste at October 24, 2010 11:10 AM (+rSRq)
3
It looks like Mother Nature tried her best to slap some sense into the Powers That Be.
Posted by: Mallory at October 24, 2010 02:01 PM (WJ2qy)
Comments are disabled. Post is locked.
24kb generated in CPU 0.0309, elapsed 0.0926 seconds.
47 queries taking 0.073 seconds, 279 records returned.
Powered by Minx 1.1.6c-pink.