June 29, 2012
Five Words You Never Want To Hear...
...during the Summer in the Midwest: "Boy, the sky looks weird."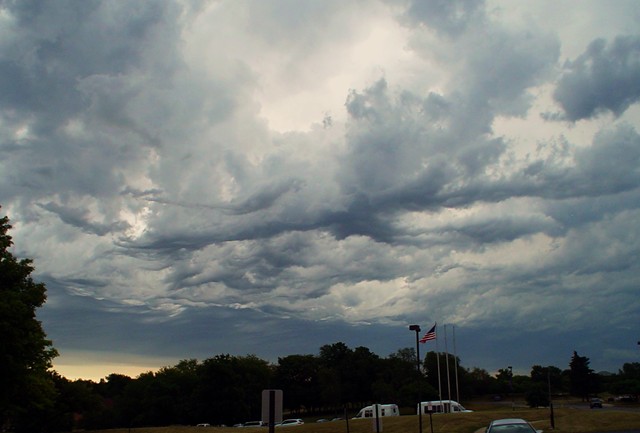 Click for apocalyptic size

This was what I saw when I went outside after a customer said the above five words. A few minutes later the skies opened up like Noah had been building an ark down the street. Fortunately, that was ALL that happened... I was expecting funnel clouds, a hail of frogs, a hail of hail, an Elder God to crawl up out of the ground, that sort of thing.
What you can't see in these pictures is the
rolling
at the forward edge. Yeesh. I nigh on wet myself with fear. The Midwest: don't like the weather? Just wait a few minutes, it'll change.
Posted by: Wonderduck at 03:13 PM | Comments (6) | Add Comment
Post contains 125 words, total size 1 kb.
June 21, 2012
Critical Internet Fail
Everything is loading but slowly. Very slowly. Glaciers move faster. The "Help Desk" tells me that my internet connection is limited. No, you don't say? Really?
Blogging will resume... eventually. I think. No idea when. You don't wanna know how long it took to load in the "Create Post" screen.
Posted by: Wonderduck at 08:16 PM | Comments (3) | Add Comment
Post contains 53 words, total size 1 kb.
June 15, 2012
Still Creepy?
I've
been informed
that the
second picture
was even worse than
the first
. I deeply and humbly apologize. Let me fix that.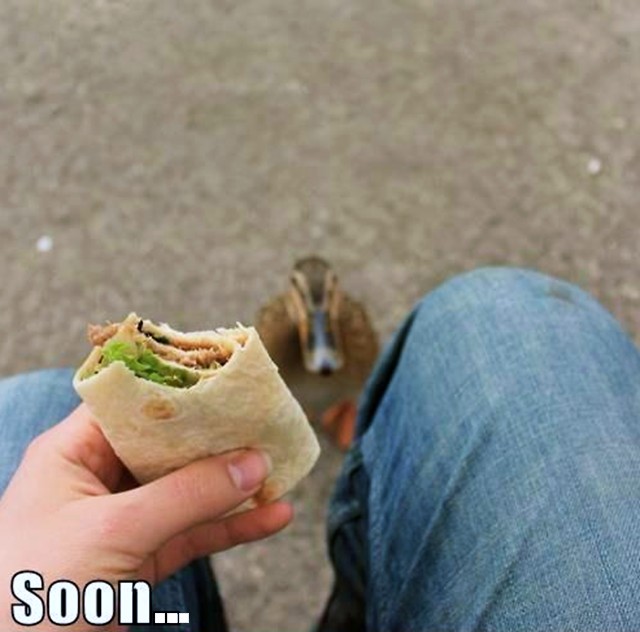 Posted by: Wonderduck at 07:01 AM | Comments (11) | Add Comment
Post contains 24 words, total size 1 kb.
June 13, 2012
A Public Service from your friends at The Pond
It has been brought to my attention that the owl
in the preceding post
is, and I quote here, "creepy." Well, far be it for your friends at The Pond to be creepy in any way, shape or form, heavens no! We hate creepy in all its myriad forms and guises. To the last, Creepy, I will grapple with thee... from Hell's heart, I stab at thee! For hate's sake, I spit my last breath at thee, Creepy! And I replace thee with another picture.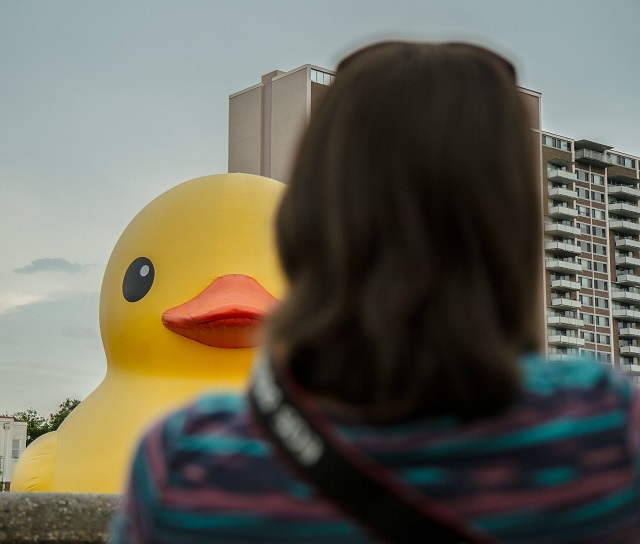 Thank you for your continued patience.
Posted by: Wonderduck at 09:54 PM | Comments (4) | Add Comment
Post contains 100 words, total size 1 kb.
June 12, 2012
HSotD Ep10 Is Coming...
This episode is harder than all the previous ones combined... too much talkytalk, not enough zombie. Workin' on it.
Posted by: Wonderduck at 08:49 PM | No Comments | Add Comment
Post contains 23 words, total size 1 kb.
June 07, 2012
Whar Wonderduck? WHAR?
Some of you may have noticed an odd lack of Wonderduckage on Tuesday. "Oh, but you just didn't put up a post," I hear you saying and could you turn your head a few degrees to the left to improve sound quality, "there's nothing unusual in that. In fact, if you could do that a little more often, we'd all be quite grateful."
To which I reply with lighthearted laughter and another note in the Duck Vengeance book. But enough of this entertaining but essentially pointless banter! The whole thing is that I usually do my F1 on SPEED/TV! post on Mondays. With the 70th Anniversary of the Battle of Midway being Monday, logically I should have moved the F1 on (MEDIA TYPE HERE) post to... Tuesday. Nothing of the sort occurred... it ended up on Wednesday, and not early on Wednesday either. When it comes to my F1 posts, that's quite the uncommon occurrence. So just what in the world was I doing?
more...
Posted by: Wonderduck at 07:51 PM | Comments (2) | Add Comment
Post contains 620 words, total size 5 kb.
June 02, 2012
T-Bird Saturday
So I'm sitting around Pond Central, pointedly not accomplishing anything, when I hear a haunting moan from outside. I immediately grabbed my camera and dashed to the balcony, for this is Duckford AirFest weekend, and that moan was the sound of the six F-16C (block 52) Fighting Falcons of the USAF Thunderbirds. Minutes went by, and I realized that this was probably not going to be a good day for them to overfly Pond Central: the wind was all wrong. My guess turned out to be correct; the route they took to clear the airfield wound up being to the south, instead of directly overhead. Which didn't mean that they didn't surprise me once. See, one of the problems with jet fighters is that from the front, they're actually quite quiet. They don't get loud until they're heading away from you and those big honkin' engines (F-110-PW-229, in this case) are staring you in the face. So when the Diamond blew past Pond Central just east of me, I didn't expect it... and then they curved around to the south at high speed, passing by a gap in the trees in about a millionth of a second (or so it felt). I raised my camera and pressed the shutter button... and hoped I got the shot.
Sometimes you get lucky. Here's what the full picture looked like:
Click on the pic to see it in full 3968x2232 resolution... and see just how lucky I got. The forecast for tomorrow isn't swell... though if it gets better, I might just head out, see what I can snap.
Posted by: Wonderduck at 03:47 PM | No Comments | Add Comment
Post contains 268 words, total size 2 kb.
June 01, 2012
"You're Old!" Milestone #2 Reached
Milestone #1: turning 40. Did that four years ago.
Milestone #2: bifocals.
Or, in my case,
progressive
lenses. Three distinct zones: far away,
not
far away, and reading. Computer screen falls into the "not far away" category, but only barely. It's like looking at the world through a fishbowl.
I suppose I shouldn't be surprised. My last eye checkup was
over six years ago
, and I've noticed a distinct amount of fuzziness around objects for the past half-year or so. So I hied myself over to LensCrafters on Wednesday for a trip to the OptyDoc. She said "your left eye hasn't gotten any worse. The astigmatism in your right eye has, however." Just how much worse? One full diopter's worse. The technicians told me that I now have four times as much vision correction in that lens as I did. However, I was right on the edge of needing bifocals. My vanity, of course, said "nope, no bifocals for me!" And out the door I went with my new glasses.
...and immediately realized two things. 1) everything seemed farther away, and B) everything was sharper and clearer. Neat! And then I misjudged the distance to a curb and sprained my ankle when I stepped off a stride earlier than I expected. I went through all of Thursday with the glasses, and noticed that I was having problems seeing mid-range things... like computer screens, or the dashboard of the DuckMobile. I figured it was just a case of my eyes adjusting.
This morning, I realized it wasn't an adjustment thing, I needed something bigger than that. So back I went to LensCrafters this afternoon, where they took more of my money and gave me back a new set of progressive lenses... and boy, is it gonna take time to get used to these. On the way home, I stopped at Walgreens and realized that I was... nodding... as I'm looking at the shampoo, trying to figure out what part of my lenses I needed to look through to not be blurry. And walking through the aisles. And being rung up. And in my car. I feel like one of those
drinking birds
.
But at least I can see, right?
Posted by: Wonderduck at 10:16 PM | Comments (5) | Add Comment
Post contains 373 words, total size 3 kb.
48kb generated in CPU 0.0313, elapsed 0.1618 seconds.
50 queries taking 0.1396 seconds, 318 records returned.
Powered by Minx 1.1.6c-pink.