November 14, 2010
F1 Update!: Abu Dhabi 2010
The past week has seen fans all around the world trying to figure out who would, at the end of the race, be the World Driver's Champion. After Qualifying, the wondering got louder and louder. But today all the questions would be answered, for today was the last race of the season and four men were still in the running for the Championship. Would it be the Spanish matador in his red car? Would it be one of the two Bulls, one old veteran, one young hotheaded charger? Or would it be the swashbuckling longshot and his flashing silver rapier? THIS is
your
F1 Update! for the 2010 Grand Prix of Abu Dhabi!
*PRERACE
: There was no question that the four men still in the running for the Championship and their teams were feeling the pressure. As HWMNBN brought his car up to the grid, his mechanics swarmed around to push him into his slot, forming a phalanx of bodies and flying elbows to prevent anybody from accidentally touching the car. They even shoved the Legendary Announce Team's gridwalker out of the way. The Spaniard got out of the car and disappeared from the grid, not to be seen again until just before the parade lap. Polesitter Seb Vettel, driving for Red Bull, did the same instead of hanging out by the track wall as he usually does. McLaren's Lewis Hamilton got to his slot and stayed in the car with his helmet on the entire time. Only Australian Mark Webber stayed available to the pointing cameras and microphones, but he looked even more drawn and wan than he normally does. When the LAT's gridwalker got an interview with the man in second place in the Championship, Webber actually sounded depressed. But those not directly involved in the high-level fight were somewhat more relaxed; one Sauber mechanic was seen wearing a bushy wig, while the Mercedes braintrust was joking and laughing with nearby dignitaries. But eventually the grid cleared and the cars rolled off onto the parade lap. And then, at last, the time had come.
*LIGHTS OUT
: When the five red lights were extinguished, it looked very much like all the frontrunners had clean getaways. However one driver, McLaren's Jenson Button, had a great start and jumped ahead of HWMNBN for fourth place going into Turn 1. Just ahead of them, Hamilton and Vettel dueled going into the first turn, but the Red Bull held off the McLaren and surprisingly began to pull away. The rest of the Thundering Herd made it through the always dangerous beginning turn and everybody breathed a sigh of relief. Until Slappy Schumacher, making his first visit to the Yas Marina Circuit, got on the gas a little too early coming out of Turn 5 and wound up stopped and facing the wrong way with more than half of the field staring him in the face at 130mph. The first few drivers managed to avoid the stopped Mercedes, but Vitantonio Liuzzi, sandwiched by racers on either side of him, had nowhere to go.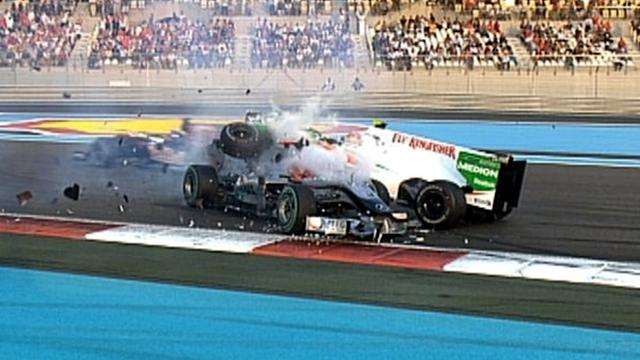 The Force India ran directly up the nose of Slappy's Mercedes, Liuzzi's front wing aimed directly at the head of the German. In slow-motion, you can see Schumacher ducking down as low as he could and the left element of the wing pass just over the top of his helmet. The Force India ended up stopped on top of the Mercedes, and the Safety Car was called out almost immediately. While the Mercedes pitwall was visibly pale, neither driver was hurt and they were seen minutes later laughing and patting each other on the back.
*SAFETY CAR
: The field trundled around for five laps as the debris was broomed off the track. Six cars, Nico Rosberg's Mercedes the highest in the order amongst them, took advantage of the Safety Car to change from the soft to the hard tires. While that felt early, none of the drivers had anything to lose. As the restart approached, Lewis Hamilton did everything he could to stay close to Seb Vettel, not wanting him to get a jump when the Safety Car left the track. Unfortunately, he failed badly as he nearly passed the leader two turns too early and had to slam on the brakes. At that point, the Red Bull driver jumped on the gas and left the McLaren wallowing off-track.
*RACING AGAIN
: Strung out behind the Safety Car, the field ran peacefully for a few laps. Then Championship contender Mark Webber swung a little too wide coming out of a turn and brushed the armco with his back-right tire.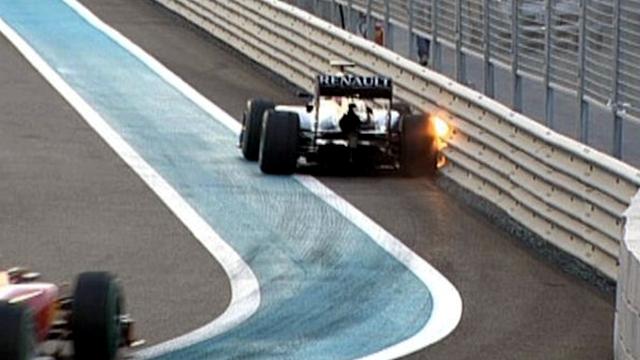 While it looked dramatic, there didn't seem to be any obvious damage immediately. Four laps later, on Lap 12, the Aussie called into the pit lane: "I'm losing the right rear." He made it in and out of the pits cleanly, but rejoined the race in 16th place, just behind NKOTT. Although he had to get past the Toro Rosso driver as fast as possible, for one entire lap he just couldn't do it, losing time on track in the process. Webber's stop seemed to pull the cork for the rest of the field, many of whom made their stops over the next couple of laps. When HWMNBN came in on Lap 16, Ferrari got him back out blisteringly fast and he rejoined in 12th, about a second ahead of Mark Webber. That was a little less than the amount of time Webber lost on his one lap stuck behind the Toro Rosso. At that point, the Aussie made a desultory charge at the red car, failed, and dropped back, never to be a threat again. Hamilton pitted on Lap 24. Vettel came in on the next lap, and his pit crew got him back out in 3.5 seconds. This was hugely important as the young German came out just barely ahead of Gandalf Kobayashi and Robert Kubica, both obviously running long, and both nearly impossible to pass. Gandalf tried very hard to get past the Red Bull but couldn't manage it, losing a place to the Polish driver in the process. Farther back in the field, HWMNBN was also tangling with a Renault driver, in his case Vitaly Petrov. As desperately as he needed to get past the yellow car, the Ferrari pilot just couldn't seem to make it happen. For lap after lap he'd get close, but for lap after lap he would fail to get close enough. Indeed, he would try so hard that he'd throw the car off-track, letting Webber close up behind him. But not enough, never enough.
*STRESS RELIEF
: On Lap 32, Hamilton's radio crackled to life. "My left front tire is bad, I need to pit." The reply from the pit wall was restrained, but could be boiled down to three words: "Aw,
hell
no!" The F1U! team just sort of fell about the place with laughter.
*FINALLY
: On Lap 48 of 55 the last of the long-runners, Adrian Sutil, came into the pits. The standings at this point were Vettel, Hamilton, Button, Rosberg, Kubica, Petrov, HWMNBN, Webber. The Ferrari driver's job was clear: if he wanted to win the Driver's Championship, he needed to pass three cars in seven laps. The magnitude of this task was clear: Rosberg was nearly 10 seconds ahead, and not only did HWMNBN
still
have to get past Petrov, he had to get past the
other
Renault driver as well. THEN he'd have to pass the Mercedes driver to boot. There was no chance of that happening, and seven laps later Vettel swept across the finish line, 10.1 seconds ahead of 2008 Driver's Champion Lewis Hamilton, who was less than a second ahead of 2009 Driver's Champion Jenson Button. With that, the Red Bull driver became the youngest F1 Driver's Champion ever.
*STANDINGS AND NOTES
: Vettel had ended up with
256
points, followed by HWMNBN's
252
. Webber was third with
242
, and the longshot Hamilton, who drove a fine race, finished in fourth with
240
. Amazingly, the only time the Red Bull driver led the Championship standings the entire year was today. After the race was over and his crew had told him that he had won the championship, Vettel obviously didn't know how to react. One second, he was obviously crying and choked with emotion, the next he'd be screaming at the top of his lungs. During the podium ceremony, you could see his face go from tears to exhilaration back to tears in the course of a handful of seconds. It turns out that his race engineer would not tell him where he stood in the Driver's Championship until the final lap had begun. After the race, HWMNBN looked stunned, like he wasn't entirely sure how it all got away.
*DRIVER OF THE RACE
: While Vettel drove a flawless race under a lot of pressure, he did it from the front and, other than the first turn and the Safety Car restart, never had to worry overmuch about being passed. While he (obviously!) deserves the DotR, we here at F1U! are instead going to give it to someone farther down in the field. Vitaly Petrov has had an up-and-down rookie season, one race showing some talent, the next looking like the second coming of "Fast" Yuji Ide. Today however, he had a desperate HWMNBN all over his gearbox for nearly 30 laps, and not only did the Russian not flinch, he drove
better
than the two-time world champion, despite having the lesser car. There surely was no reason for him to pull aside for the Spaniard, as some think he should have done, for it was a points-bearing position. He fought with HWMNBN, showed that he can go toe-to-toe with the best, and in the process may have earned himself a seat with a decent team next year. Good job, that. Vettel probably doesn't mind not getting the award, all things considered.
*TEAM OF THE RACE
: McLaren. Two podium positions and second in the constructor's championship? All in all, that's a pretty good day, and a lot better than that of Red Bull (1-
, Mercedes (4-dnf) or Ferrari (7-10). They nearly did everything right.
*MOVE OF THE RACE
and
MOOOOOOOO-OOOVE OF THE RACE
: For once, it's impossible to give either of these awards. There were no passes worth speaking about, except for Button's pass of HWMNBN off the start, but we don't give MotR honors for anything on the first lap. Conversely, nobody drove like a cow today. While Slappy Schumacher didn't exactly cover himself with glory with his groundloop on Lap 1, F1 cars are notoriously difficult to drive, and it's not impossible that his teammate Nico Rosberg gave him a light touch; video is inconclusive. Likewise, Liuzzi is not to blame in that accident; he had nowhere to go and his reaction on the brakes may have saved Slappy's life. So neither award goes out today. Pity, that.
*SELECTED DRIVER QUOTES OF THE RACE
:
"To be honest, I didn't know anything until I passed the chequered flag. I was wondering, because my race engineer Rocky was trying to give me advice every lap to help me carry the car home and I was thinking 'Why's this guy so nervous, we must be in a bloody good position!' Then crossing the line he came on the radio and very silently said 'it's looking good, we have to wait until all the cars finish'. I was thinking 'what does he mean?' I hadn't seen the screens - I just wanted to make sure I didn't get any distractions during the race and focused on myself. Then (team principal) Christian (Horner) came on the radio and screamed at me that we had won the world championship." - Seb Vettel (
note: real quote
)
"Not a bad end to the year; not like I had a real chance to win the championship anyway. 15 weeks to the 2011 season!" - Lewis Hamilton
"It was nice to be on the podium with the new world champion, and with Lewis, who was of course the 2008 world champion. Y'know, three world champions on the podium... that's pretty cool!" - Jenson Button
"I'm just wondering... if I was going to be stopping very early for the hard tires, why didn't I just qualify on the hards to begin with, and use the softs for the last few laps instead? Doesn't that make sense to you? It does to me, but not, apparently, to my bosses." - Nico Rosberg
"Ding-dong, Ferrari calling!" - Robert Kubica
"If there's one award I never thought I'd win, it's the Driver of the Race award. Thanks, F1U!" - Vitaly Petrov
"It's a shame to get to the end of the season and then lose the title at the final moment, but that's racing, that is sport. Everything went wrong today, from the start itself to the strategy. With hindsight, it would have been better not to pit so soon, but it's easy to say that when you have all the facts." - HWMNBN (
note: real quote
)
"I tried my absolute hardest and in the end it didn't work out. Good lord, who the h*ll thought to have the final round of the season in a dry country was a good idea? I'd friggin' murder someone for a friggin' beer right now. Maybe Dieter Materschitz." - Mark Webber
"I am very happy with this result, my third points finish of the season. To be honest, I am not quite sure how I ended up ninth. But arguably, by holding HWMNBN behind me for a lap I allowed Seb Vettel to win the driver's championship. I expect a payraise, Dieter!" - NKOTT (
note: mostly real quote
)
"It's a real shame how the season ended up. I feel
so
bad for HWMNBN. Really. I do. Sort of makes me wonder why I pulled over for him that one time. Really. It's a shame for him." - Felipe Massa
"I wonder if that was enough for me to have a drive next year?" - Grizzly Nick Heidfeld
"Hurray, we beat Force India in the Constructor's Championship. Whee." - Rubens Barrichello
"Yeah, for sixth place. That's not exactly the same as 1992 to 1997, is it, Williams?" - Adrian Sutil
"Not as good a race as the one I had here last year." - Gandalf Kobayashi
"Switzerland has never turned out many great racers, and I'm happy to continue that tradition. Wait..." - Seb Buemi
"Remember when I was on pole that one race? Yeah, good times, good times. Too bad I've already been told I don't have a seat with Williams next year." - Nico Hulkenberg
"Everything went according to plan. Yes, 17th was our plan." - Heikki Kovaleinninninnie
"I finished. Mission accomplished, I guess." - Lucas di Grassi
"What a year! I'd like to thank the team for all their efforts, and I hope to high heaven I'm driving somewhere else next season." - Bruno Senna
"I sure deserve a seat more than Bruno. Maybe it'll keep the Zsolt off my back." - Zoroastrian Klein
"My rear wing fell off. How does
that
happen?" - Jarno Trulli
"Ever heard a gearbox try to select two at once? It's not a pretty sound... kinda like a rhino getting forced into a blender." - Timo Glockenspiel
"AIEEEEEEEEEEEEEEEEEEEEithinkijustwetmyselfEEEEEEEEEEEEEEEEE!" - Slappy Schumacher
"AIEEEEEEEEEEEEEEEEmycareerisoverEEEEEEEEEEEEEEEEEE!" - Vitantonio Liuzzi
And so the 2010 season draws to a close. Believe it or not, there's some testing beginning next week, then the new Pirelli tires take the track, then off-season testing a few weeks after that! So we're done, but we're starting again soon. Thanks for reading along, thanks for all your comments and questions, and we'll see you for the 2011 season!
Posted by: Wonderduck at 08:49 PM | Comments (8) | Add Comment
Post contains 2627 words, total size 17 kb.
1
I heard Alonso gesticulated anglily at Petrov after the finish, not sure if it was on TV. He probably wanted DoTR for himself.
Posted by: Pete Zaitcev at November 14, 2010 10:02 PM (9KseV)
2
As I was reading this and reached that first picture, I gasped and wondered if there were fatalities. I'm
really
glad neither of those guys was hurt. Truly amazing, and a testimony to the safety gear.
Posted by: Steven Den Beste at November 14, 2010 10:17 PM (+rSRq)
3
Steven, in this particular case the safety gear may actually have made matters worse. The cars are so strong that one was able to run over the other, and actually drive up onto it. If the Mercedes front end had given way, the FI wouldn't've gotten its guillotine blade up towards Slappy's head in the first place. In no way am I suggesting that the monocoque or front end be made less strong, of course, as this is a very very rare occurrence, but the cars' very strength was nearly the cause of Schumi's demise. I gasped when it happened too; I did have the advantage of seeing Schumi moving around and trying to get out immediately, so I had no fears of his death. It was only in slo-mo that you could see how close it really was.
Pete, I'm sure HWMNBN
did
gesticulate angrily at Petrov, but what would he have had the Russian do? It's not like Petrov is Felipe Massa or anything...
Posted by: Wonderduck at November 14, 2010 10:37 PM (vW/MM)
4
The announcers actually mentioned that Renault had really good meta reasons to keep Ferrari behind them - RBR runs on Renault engines!
It's perfectly emblematic of the season, though, that a good race can have been so uneventful that there was no stand-out good pass. The course layouts are such that passing is damned hard, even if you're in a car with better performance; it has to be a LOT better, or the guy in front of you has to goof, or you have to drive like Adrian Sutil on meth.
Almost all the action today was in pit row, and that just goes to show you... why in the nine hells did they remove refueling? If you're relying on race strategy to keep the races exciting, you shouldn't take steps that remove strategic elements from the race...
Can't wait for the season recap posts. ;p
Posted by: Avatar_exADV at November 14, 2010 11:37 PM (mRjOr)
5
I didn't realize that Schumey's call with Liuzzi was such a close one. Whew!
Congrats to Vettel. Quite a year for him and I was delighted to see him win!
As for HWMNBN, I loved the references by the Legendary Announce Team to previous seasons where, among other things, Himself kept Schumey stuck behind him. Payback sucks HEHEHEH.
And a big thanks to WonderDuck for a season's worth of Class A coverage. Well done!!!
Posted by: Mallory at November 15, 2010 03:29 PM (WJ2qy)
6
Thanks for another wonderful season of posts, Wonderduck! I actually got to watch one race this year, but it's even better with the Update! Not to mention that I still don't have a clue what I'm looking at without your posts... ;-)
Posted by: Ben at November 15, 2010 05:36 PM (gze3w)
7
At some point when HWMNBN was chasing Petrov, he went too hard on a left hander and went off track momentarily losing some ground. Then later at some point he almost drove into Petrov who seemed to break way too much in a slow corner. It looked like the move completely surprised the Spanish. Not that it would have change anything but what happened there?? Counting the days to Bahrain practice!
Posted by: dogbox at November 15, 2010 07:31 PM (Fkvrp)
8
Dog, I remember the moment you're talking about. To me, it looked like Petrov missed his braking point and had to stomp hard on the brakes to make the turn. I didn't think anything of it then, and I don't think anything about it now.
Ben, we'll make a F1 fan outta you yet!
Av, it's not emblematic of the season, it's emblematic of the sport as a whole, and has been for the entire time I've been doing this. Unfortunately, nobody can figure out how to fix it short of scrapping the current marque of cars and starting from scratch.
Which I'd be okay with.
Posted by: Wonderduck at November 15, 2010 09:28 PM (vW/MM)
Comments are disabled. Post is locked.
43kb generated in CPU 0.0136, elapsed 0.1596 seconds.
47 queries taking 0.1501 seconds, 284 records returned.
Powered by Minx 1.1.6c-pink.