December 31, 2007
Happy New Year, Everybody!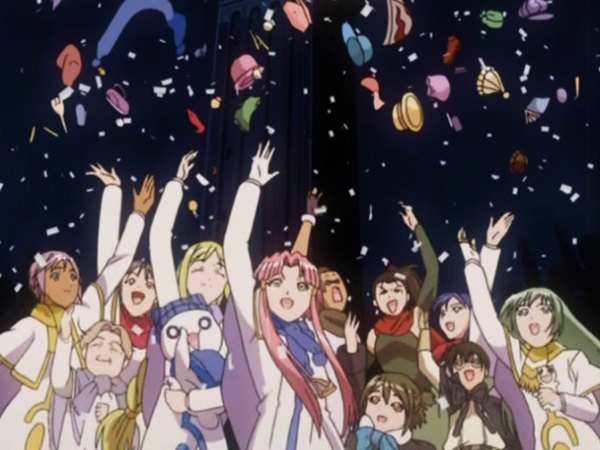 On

Mars

Aqua, hats fall from the sky when the clock strikes midnight.
It's considered good luck to catch one.


So another year draws to a close. 2007 will go down as quite the interesting one for The Pond. Consider:



more...
Posted by: Wonderduck at 07:01 PM | Comments (2) | Add Comment
Post contains 421 words, total size 5 kb.
December 29, 2007
Odds and Ends
Things I've neglected to mention:
Thanks to
Robert
for his efforts on the behalf of all the
Kanon
istas out there. He somehow managed to convince ADV to let him sell the
first DVD
of the show a couple of weeks ahead of the streetdate (1/1/200
... of course, as soon as I found out, I placed an order (along with four boxes of Chocolate Decorer Pocky). A few days later, it arrived in good shape, with only ONE Pockystick broken. He's the bestest!
Now, if I can only convince him to get the
Kanon
soundtracks in stock...
I've been watching
Zipang!
recently, and the Pacific War otaku in me is giggling like a schoolgirl. I had a post about half-done, but I pressed the wrong button and poof, all gone. Still, here's a preview:
Yep, that's the
Yamato
there in the center of the harbor at Truk... guess
Yurie
's been around, huh? Actually, the anime's set in 1942-43, so the
Yamato
hasn't been sunk yet. The show is full of "anatomically correct" technical details, the type that would make Tom Clancy drool in recognition... like the revelation that the
Rufe
carried an auxiliary fuel tank in it's mail float, for example. Watch for the post soon.
Oh, and because I know you've all been wondering, the cookies the Librarian's Mom gave me are quite yummy.
Posted by: Wonderduck at 11:57 PM | Comments (13) | Add Comment
Post contains 227 words, total size 2 kb.
December 25, 2007
Merry Christmas!
Sorry 'bout that...
Posted by: Wonderduck at 09:03 AM | No Comments | Add Comment
Post contains 5 words, total size 1 kb.
December 16, 2007
Two Questions For The Peanut Gallery
I'm looking for a good, free, Flash-to-Video (wmv/avi/whatever) converter. Can anybody out there recommend one?
Now, here's the other question for y'all. I'm wanting to watch an anime series that I can also write about here at The Pond... is there anything anybody is curious about, or wants a review on? I'm open to just about anything, be it currently running or available on DVD.
For both questions, of course, leave your choice(s) in the comments, and thanks in advance for your help!
Posted by: Wonderduck at 09:36 PM | Comments (4) | Add Comment
Post contains 89 words, total size 1 kb.
December 11, 2007
A View From The Pond
Ice storm last night, more predicted later today. Duck U. is closed, so I've gotten an unexpected day off, hurray! It's a good thing, as long as the power stays on...
Oh, who am I kidding? It's a good thing, period. I've got me some anime to watch...
Posted by: Wonderduck at 10:10 AM | No Comments | Add Comment
Post contains 53 words, total size 1 kb.
December 04, 2007
Here We Go Again... AGAIN!
SNOWMAGEDDON
2007, Part II!
They're saying we're supposed to get three-to-seven inches of snow tonight, and the way it's coming down at the moment, I'm leaning towards the bigger number. Of course, idjits out there can't drive in snow.
Honestly, it's not that bad out there, but there's still people WHO CAN'T DRIVE IN SNOW on the roads. I mean, there's maybe a quarter-inch on the ground, and I saw five or six cars in ditches, fender-benders, whatever.
I swear, humans can't drive safe.
Posted by: Wonderduck at 06:22 PM | Comments (2) | Add Comment
Post contains 89 words, total size 1 kb.
December 01, 2007
Sad Duck In Snow, 2007 Edition!
Here we go again!
Exactly one year to the day of the last Snowmageddon
, The Pond is in the grips of another potentially big Winter Weather Event. Last year, it was twelve inches of snow... this time around, they were forecasting five inches of snow, followed by up to a half-inch of ice.
Well, the snow part has proven to be a bust. Oh, it did snow, but it wasn't more than a light dusting... now I think it's sleeting, and it has been for a few hours. The wind is steady around 20mph, with stronger gusts. Local media is warning that tree damage and power outages are possible.
This isn't pleasant, but it's really small potatoes in comparison to the winters The Pond experienced when it was in Minnesota. 200 inches of snow in a winter, -100 degree windchills, two weeks where the HIGH temperature was never above fahrenheit zero... now THAT's winter, my friends.
As is, I'm well stocked with supplies. On Friday, I discovered another source of Pocky and other Japanese treats (including two flavors of
Ramune
soda, which I was previously only able to get at a local sushi place... for $3.50/bottle!), so I'm set for a long winter's night.
To keep with the new tradition of the Sad Duck In Snow posts, here's my favorite photoshop:
O'Hare has delays up to an hour, with
150
450 (as of 6pm) flights canceled to this point. Here's hoping it just "blows over".
UPDATE 705pm:
Roads are reportedly quite ice-covered across Duckford, and the authorities have strongly discouraged travel except for emergency purposes. Lots of crashes on the highways in the Chicago area, with a 20-mile stretch on one closed completely. The trees around The Pond have become popsicles... it's quite pretty, honestly. The news says that temperatures are slowly rising, and the freezing rain should be stopping any time, changing to regular rain. Until then, though, cross your fingers.
UPDATE 958pm
: I think the worst is past, though the wind is still blowing hard, so trees and powerlines are going to be at risk. One of the trees outside The Pond is audibly creaking (though I'm not sure which one). Fortunately, it's nowhere close. One of the local TV stations is off the air, which isn't surprising; it was on generator power back at 530pm. There's at least two known dead from the storm. About 12000 people are without power in Duckford. It's not just downed lines, but quite a few transformers have gone boom. In Iowa, a plane bound for O'Hare
skidded off a runway
, with no injuries. The lights flickered here around 830pm, but so far so good.
UPDATE 210am:
All clear. Wind has died down, the rain is now just rain, and the tree is still up.
Posted by: Wonderduck at 04:02 PM | Comments (2) | Add Comment
Post contains 469 words, total size 3 kb.
52kb generated in CPU 0.0281, elapsed 0.2154 seconds.
50 queries taking 0.1962 seconds, 311 records returned.
Powered by Minx 1.1.6c-pink.