November 07, 2010
F1 Update!: Brazil 2010
Sunny skies over the penultimate race of the F1 calendar, but will it be the final one in the Driver's Championship? Would surprise polesitting rookie upstart Nico Hulkenberg's delusions of grandeur transfer over once the lights went out? Would we have a tense, tightly fought contest? THIS is
your
F1 Update! for the 2010 Grand Prix of Brazil!
*NOPE
: As anybody could have predicted, once the lights went out, Red Bull's Seb Vettel immediately took the lead from Hulkenberg. By the end of the fourth turn, Mark Webber had gotten by the pilot of the Williams... and then the two blue cars streaked off into the distance. It took Ferrari's HWMNBN seven laps to get past Hulkenberg, by which time the Bulls had opened up an eight second lead... which would continue to grow by nearly a half-second a lap. Suddenly the only questions remaining was if Red Bull would let Webber pass Vettel, and if so, how'd they arrange it. Not even the late Safety Car made the race any closer, and that's how it ended: Vettel, Webber, with HWMNBN a distant third and Lewis Hamilton even farther back in fourth.
*HOPE? OR DOPES?
: Perversely, Vettel's win may very well have prevented him from winning the Driver's Championship, and made it much harder for his teammate as well. Consider the championship standings after today's race:
| | | |
| --- | --- | --- |
| 01 | HWMNBN | 246 |
| 02 | Mark Webber | 238 |
| 03 | Sebastian Vettel | 231 |
| 04 | Lewis Hamilton | 222 |
First place gives you 25 points, second 18, third gets 15 and 12 points are earned for finishing fourth. Fifth earns 10 points. If Webber had won today he would have 245 points, and Vettel 224. Vettel would be in third, and realistically would need a miracle to win. But
now,
he's in third, needs to win,
and
beat HWMNBN by 15 points... then it would come down to tiebreakers, and lord knows how
that'd
work out. In other words, he still needs a miracle, just one that's not quite so big. Instead of a race in Abu Dhabi that would have come down to a straight fight between Webber and HWMNBN, higher finisher wins the Driver's Championship, now Webber needs to win and hope that the Ferrari finishes in third. That's hardly impossible of course, but now the Australian needs help from someone else. And yes, we here at F1U! are quite aware that we're being hypocritical here, advocating for team orders when we decried Ferrari's use of them at the German Grand Prix. If you remember though, we weren't screaming about the team orders themselves, as we're realists and know that they're used in F1, but in the flagrant way Ferrari broke the rules.
*DRIVER OF THE RACE
: We aren't particularly chuffed about any of the drives put in today, so we should probably give it to Seb Vettel for winning when he needed to. But we're not excited about it.
*TEAM OF THE RACE
: Red Bull.
But then, all they did was finish 1-2 in the race and clinch the Constructor's Championship. Pretty good day when all is said and done. Shame they practically handed HWMNBN the Driver's Championship in the process, but you can't have everything.
*MOVE OF THE RACE
: On Lap 12 McLaren's Jenson Button was the first driver to pit for new tires. He came in from 10th and rejoined in 18th. The next lap, hometown hero Felipe Massa pitted from 9th and came back out on track in 17th, just ahead of the McLaren and with a decent amount of space between them. He should have been perfectly safe, but Button had other ideas. Running down to Turn 4, the reigning World Driver's Champion basically depantsed the Brazilian by using his slight speed advantage and taking advantage of the Ferrari driver's complacency, popping by so quickly that the red car didn't maneuver to block. For this surprise pass, we're happy to give the MotR to Button!
*MOOOOOOO-OOVE OF THE RACE
: There can be only one. Late in the race Force India's Vitantonio Liuzzi, reportedly driving for his career in F1, was all alone on track, nobody pressuring him from behind, and nobody distracting him to the front. So what does he do? Crashes in one of the more unlikely places on the track, Turn 2.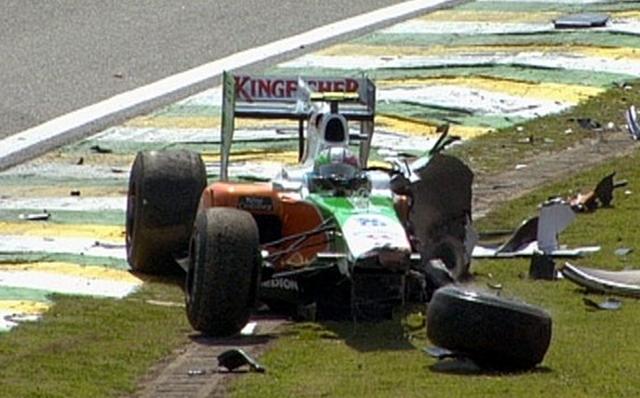 In the wet Turn 2 is horrible, near the bottom of a hill and often swept by torrential rivers of water. But in the dry, it's about as benign as it's possible for a F1 turn to be. So for wrecking your car, for bringing out the safety car, and for throwing what little chance you had to be in F1 next year away, Vitantonio Liuzzi, you've won the Mooooooooo-oove! Good luck in your next career, and watch out for those deep-fryers, they tend to throw grease.
*SELECTED DRIVER QUOTES OF THE RACE
:
"No, I'm not favored in this team, not at all, what gave you that idea? Dieter, pour me some more juice, please." - Seb Vettel
"*incoherent sobbing*" - Mark Webber
"All things considered, I'm pleased with this result. *snigger*" - HWMNBN (
note: real quote
)
"We've seen many times before that almost anything can happen in the last race of the season. It'll take a miracle - but miracles can happen!" - Lewis Hamilton (
note: real quote
)
"I finished fifth last year and won the championship. This year, not so much." - Jenson Button
"After the team screwed up my pitstop, Slappy let me past which was nice. He's the king of fair play." - Nico Rosberg
"You owe me, Rosberg, and to be sure, I
will
collect. Oh yes, yes I will. Mwah-hahahahahaha
hahaha
!" - Slappy Schumacher
"What, you thought I'd have a chance for a podium today? Because I was on pole? Just what were you smoking?" - Nico Hulkenberg
"Remember when I was being talked about as the next Ferrari driver? Whatever happened to those days?" - Robert Kubica
"Ash Nazg Durbatuluk, Ash Nazg Gimbatul, Ash Nazg Thrakatuluk, Agh Burzum-ishi Krimpatul" - Gandalf Kobayashi
"*stares at Kobayashi*" - NKOTT
"I think 12th is pretty good, considering I started P22. It's no Raikkonen Special, but I'll take it." - Adrian Sutil
"You can't be happy with 13th place, can you?" - Seb Buemi
"I let all my fellow Brazilians down today. But I'm still faster than the Stig" - Rubens Barrichello (
note: mostly real quote
)
"At least the wheel didn't come off." - Felipe Massa (
note: a crewman didn't put the front-right lugnut on correctly during Massa's first pitstop, and he had to limp around the track with the tire wobbling
)
"My race was over on the first lap. Then all I could do is block the road for everybody else. I'm good at being slow." - Vitaly Petrov
"Finishing 17th is certainly disappointing." - Grizzly Nick Heidfeld (
note: real quote
)
"When you need to win, get a Finn." - Heikki Kovaleinninninninnie
""When you need to be slow, get a Lotus. Wait, that doesn't rhyme." - Jarno Trulli
"Not a very exciting race today." - Timo Glockenspiel (
note: real quote. So say we all, Timo, so say we all...
)
"Somewhere, my Uncle is watching... and weeping sadly while shaking his head in disgust." - Bruno Senna
"My fuel pump stopped pumping fuel on the recon lap. God, I love driving for HRT." - Zoroastrian Klein
"The Brazilian fans were incredible, the grandstands were full and it was an amazing experience. That's a lot of fans." - Lucas di Grassi
"AIEEEEEEEEEEEEEEEEEEEEEEEEEEEEwouldyoulikefrieswiththatEEEEEEEEEE!" - Vitantonio Liuzzi
It'll come down to Abu Dhabi! We'll see you in seven days for the end of the 2010 F1 season!
Posted by: Wonderduck at 01:56 PM | Comments (2) | Add Comment
Post contains 1272 words, total size 10 kb.
1
Red Bull has done well, and it's nice to see someone,
anyone,
make Ferarri and McLaren nervous.
Posted by: Steven Den Beste at November 07, 2010 04:36 PM (+rSRq)
2
After looking at the points standings, it explains the twinkle in HWMNBN's eyes during the post show comments. He's probably already dusting off a place to put the winner's trophy. ;-)
Posted by: Mallory at November 09, 2010 08:19 AM (WJ2qy)
Comments are disabled. Post is locked.
31kb generated in CPU 0.0301, elapsed 0.0993 seconds.
47 queries taking 0.0857 seconds, 278 records returned.
Powered by Minx 1.1.6c-pink.