December 31, 2009
Happy New Year To All!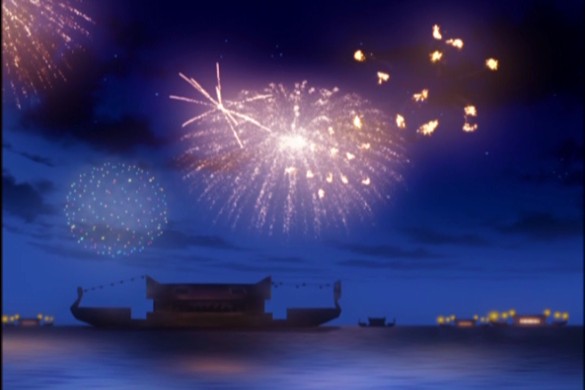 So 2009 heads into the record books, and I, for one, am glad to see the back of it.
The passing of Momzerduck
made this the worst year ever, personally, and sure makes 2010 look bleak. Still, there were some good things that occurred in the past 365 days. Consider:
In Formula 1, the season started off with
Honda kicking the bucket late in 2008
.
The pieces were picked up by Ross Brawn
, however, so we had a full 20-car grid. However, something strange happened a week later, something that became the story of the year:
nobody could touch the Brawns' pace
at the final testing session. It seemed to be because of
their twin-level diffuser
, which four other teams protested (and were denied), but nobody really thought anything about it, really. A rookie team based on the bones of a bad team? Still, it was a nice story...
...and then
Jensen Button took pole
for the first race of the season, followed closely by his teammate Rubens Barrichello.
Brawn won the Australian Grand Prix
with a 1-2 finish to boot... in their first race ever. Button
won the next race, in Malaysia
, which became F1's first rain-shortened race since 1991. If that wasn't enough reason to declare it Bizarro Season,
Red Bull took the next race
with a 1-2 finish of their own. Throw in the fact that Ferrari at this point hadn't collected any points at all, and we knew we had the oddball of all oddballs on our hands.
The only thing that put a damper on the season as a whole was
the horrible incident involving Felipe Massa
and a spring off the rear of Barrichello's car. His season was over, and for a while it was thought his career as well.
Michael "Slappy" Schumacher was named to replace Massa at the same time BMW announced they were withdrawing from F1 at the end of the year
. Schumacher had suffered a neck injury in a motorcycle racing accident some months previously, however, and couldn't handle the physical aspect of driving, leading to his
pulling out of the seat... which was then given to Luca Badoer
. Badoer promptly peed the chance down the leg of his firesuit, recalling the legendary
"Fast" Yuji Ide
in the process.
Renault wound up in the midst of scandal when Nelson Piquet Jr
accused the team of forcing him to crash in the 2008 Singapore GP
.
They were found guilty
and team principal Flavio Briatore was given a lifetime ban. Ever since, Renault has been making noises like they intend to quit the sport; it hasn't happened yet, though they sold a major stake in the team recently.
The Grand Prix of Belgium brought us the most Bizarro occurrence in a Bizarro season:
Force India took pole
! Even more incredibly,
they finished the race in second
, the team's first points-paying result, and their first podium.
Giancarlo Fisichella promptly bailed on the team
(in what ended up being my headline of the year) and took over Luca Badoer's place at Ferrari... where he was almost as slow.
The Japanese Grand Prix brought us
the weirdest qualy session
I've ever witnessed, with some repaving in the Degner Curve being the main culprit for the three red flags and multiple yellows. One of the red flags was for
Timo Glock's accident
, which knocked
him
out for the season with a fractured vertebra.
The penultimate race in Brazil
essentially brought the Bizarro Season to an end in fitting form: Jenson Button clinched the Driver's Championship for Brawn, which also clinched the Constructor's Championship. Not too bad for a team that didn't exist a month before the season started. A few weeks after the season ended, so did BrawnGP:
they were sold to Mercedes-Benz
... who then
signed Michael "Slappy" Schumacher
to drive for them in 2010.
Three new teams were tabbed
to join the F1 Circus in 2010 as well, including America's very own USF1.
Toyota withdrew
and
was (essentially) replaced by Lotus
, while
Sauber took over BMW's old slot
. All of this sets the stage for an incredible season in the new year!
On the Anime front, The Pond was a little... sparse this year. I didn't stop watching, far from it, but I didn't really write much about it.
The world's first

doujin

anime
, based on the Touhou series of games, was released with an incredible voice cast but lackluster animation.
Kurokami

's first episode
promised great things, but
the show quickly managed to disgust me
with fetishistic levels of violence meted out against the main character.
ADV
Sentai Filmworks released
Clannad
on DVD, but
I had a few complaints about the actual release
. Please note that this wound up not stopping me from getting the rest of the series, or the followup
Clannad ~After Story~
for that matter.
It's not exactly anime, but the visual novel
Katawa Shoujo
had a demo released. Many people were disgusted by the subject matter, but
I liked the game quite a bit
. But then,
I found myself enjoying

KissxSis
, which has somewhat "iffy" subject matter as well. Unlike most of the rest of the anime blogosphere,
I also liked the new Haruhi Suzumiya series
. Finally, my long-hoped-for wish for a crossover between Formula 1 and anime came to light, in
not one
but
two different
series! There was even
a F1 reference in the second Haruhi Suzumiya novel
. I also
met a fellow anime blogger for lunch
one day.
Then there was my WWII musings.
The

Hosho

got a post
that was nearly as long as it was. I found myself fascinated with
the

Sangamon

-class "Jeep" carriers
, a nearly ignored type of ship. My best writings, though, of course were based on the Battle of Midway. The third in my "What If...?" series dealt with
the issue of timing on that June 6th morning
. Correcting the conventional wisdom regarding
the

Tone

#4 scout plane
actually earned me a mention in an issue of the
Battle of Midway Roundtable
, much to my surprise. I also turned my thoughts to
dive bombing and why it worked so well, yet disappeared so quickly
.
So, that about covers the year here at The Pond, but I can't end it without thanking
Big Poppa Pixy
for his hosting of this blog. I would be remiss if I didn't also thank you, dear readers, for coming back here every so often. You've made it all worthwhile, and you're helping me make it through the worst stretch I can imagine. Thank you.
Happy New Year, everybody!
Posted by: Wonderduck at 10:03 PM | Comments (1) | Add Comment
Post contains 1095 words, total size 10 kb.
December 30, 2009
The Flock Has A Sad Today
Twenty-two years ago, Christine Christopher and Ian Knight of Ringwood, England, rescued a small, injured duckling that had been abandoned by its mother as the runt of the litter. They named it Edward, a name that turned out to be a poor choice when the duck began laying eggs.
Renaming the duck Edwina, the two nursed the little duckette to full health then returned it to the lake where they had first encountered it.
Edwina followed them back home, where she became fond of tea and toast.
For two decades, Edwina lived with the couple. This past July, the British Trust for Ornithology claimed she was the oldest known wild mallard in the U.K.
"She hadn't been well over Christmas. Her legs were a bit wobbly, and she wasn't her normal self. We were planning to take her to the vet."
This past Monday, Edwina was found dead in her duckrun at the age of 22. She was buried in the family garden with an ornamental duck placed on top of her final resting place as a memorial.
The Pond sends its condolences and thanks to the Knights for their care of Edwina.
Posted by: Wonderduck at 05:03 PM | Comments (4) | Add Comment
Post contains 199 words, total size 1 kb.
December 28, 2009
Bears Beat Vikings In OT
...and the NFC road to the Super Bowl now has to go through New Orleans.
Say "thank you",
Ubu
!
Posted by: Wonderduck at 11:11 PM | No Comments | Add Comment
Post contains 24 words, total size 1 kb.
December 27, 2009
The "Win A Book From Wonderduck" Contest!
Last year around this time, I stumbled upon and purchased a copy of
A Dawn Like Thunder
by Robert Mrazek. This book, an oral history of Torpedo Squadron 8 off the USS
Hornet
, amongst others, may have been the best piece of military history to come out in 2008. Certainly it was the best that I read! I liked it so much, I
reviewed it here
, only the second book review I've ever done here on The Pond. Well, my uncle JoeDuck gave me a copy of the trade-paperback version of
A Dawn Like Thunder
for Christmas! A fantastic gift indeed, but I surely don't need two copies of the book... but here's YOUR chance to Win A Book From Wonderduck!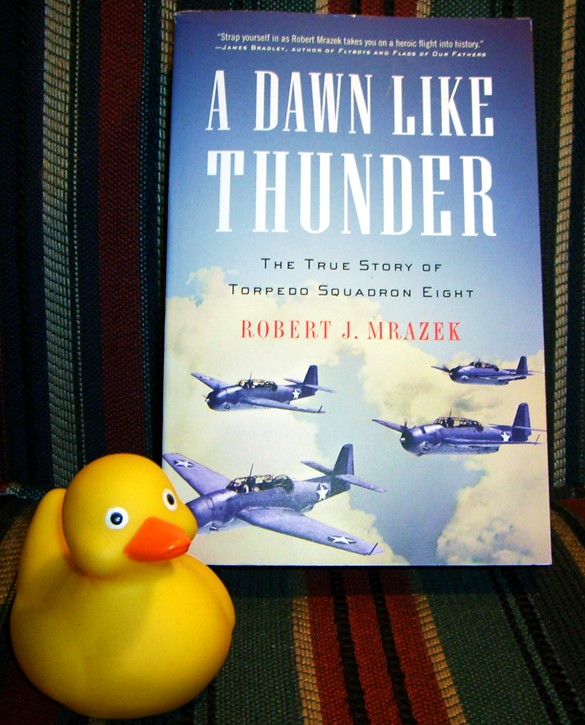 The book in question. Duck not included.

Tell me why I should send you a copy of this book for your library! You can write it on your blog if you have one (just include a link to the post here), or you can write it here if you don't. Feel free to accompany the post with charts, graphs, pictures, bribes, ducks, whatever you think it'll take to win the contest! As long as it's legal. One entry per person. Do not taunt happy fun ball. Entries must be in by 1159pm (Pond Time) on January 2nd, 2010. I will be the sole judge of this contest and my decision is final. Other than that, there are no rules! Go wild!
I'm looking forward to this!
UPDATE: I forgot to mention that I'll handle the shipping, so no fear that way. As long you've got a location that FedEx ships to, that is. US residents only, I'm afraid, as I can't handle the cost of shipping this to, say, Australia. Sorry,
Pixy
.
Posted by: Wonderduck at 09:39 PM | Comments (3) | Add Comment
Post contains 300 words, total size 2 kb.
December 24, 2009
Home Again, Home Again
I've made it back from Albuquerque. I've been home for about an hour or so... about 10 hours after Ph.Duck and I left Uncle JoeDuck's place. Read that again:
10 hours
!
We got to the Albuquerque International Sunport at 1145am Mountain time for a 1pm flight. Breezed through security while giving the screener a good laugh when he saw the World Market holiday rubber duckies in my carry-on, went right to our gate... and saw that the flight had been delayed until 2pm. Weather at O'Hare was piss-poor and getting worse.
Oh, great. JUST peachy.
Still, we
did
board at 2pm and
did
take off at about 215pm, so American Eagle got that part right. A rather bumpy climb to altitude later (it was actually
snowing
in Albuquerque today), and we were on our way. It was on the descent to O'Hare, however, that the flight took an ugly turn. As soon as we left cruising altitude, we were in the clouds, and we wouldn't escape them until a minute or so before we landed. That, my friends, was not pleasant... not in the least.
Turned out that we had some exciting crosswinds across the runway. It's rather disconcerting to feel the plane heel from port to starboard and back a few times when you're about to touch down, lemme tell ya. We touched down fairly hard, the pilot slammed on the brakes immediately, reversed the engines, threw out the anchor, and even dragged his feet to get us to stop. Slipping and sliding, but eventually we did stop. Then we starting taxiing to our gate... and went right by it. One nice scenic tour of the O'Hare "back lots" later, we approached our gate again... and again, went right by it. WTF??? The Captain then gets on the intercom and says, essentially, that American Airlines couldn't get their act together and there were a few extra jets blocking the gate. Oh joy.
So again, around we went. About halfway through this third circuit, I look out the window and see a BIG PLANE!!! RIGHT THERE!!! MOVING FAST!!! Our pilot slammed on the brakes, the BIG PLANE!!!, a Continental Airlines widebody, slammed on the brakes, and disaster was avoided... but not by enough to suit me, everybody on the right side of the plane, and our collective bladders. Meanwhile, the head flight attendant is chatting on her cellphone and snapping her gum. Oi.
At 7pm Central time (about 2 hours late), we deplaned into chaos. While Ph.Duck went in search of the loo, I found myself chatting to a pilot. According to him, O'Hare had been screwed up all day. Seems flights are scheduled so tightly at the world's busiest (or second busiest, depending on how you measure it) airport that one little problem causes a cascading series of backups and delays... and the weather had been causing havoc. Depending on when you were looking outside, it had been raining, snowing, sleeting, freezing rain, ice storming, rain of frogs, meteorites, hail of fire, you name it. Again, according to this pilot, at one point there were four hour delays on some flights east.
Bladders emptied, Ph.Duck and I went off to catch the bus back to Duckford. When it finally showed up, 20 minutes late, the driver told us that the roads were "sheer ice" and it might take two hours to get home. Well, it didn't... it only took 100 minutes, instead of the hour it usually takes. The roads in Duckford were... well, wet and sloppy. I suspect by sometime on Xmas Eve, they'll be ice rinks. At 1045pm, I walked through the door of Pond Central exhausted, tired, and hungry... and home.
There's no place like it.
Posted by: Wonderduck at 12:31 AM | Comments (8) | Add Comment
Post contains 624 words, total size 4 kb.
December 22, 2009
Lunch With A Blogger
The staff of
The Japanese Kitchen (Sushi Side)
had not a clue the importance of the two people who walked in around noon today. One,
a tall man with a Russian accent
. The other, a duck from the Midwest. Both are anime bloggers and greatly enjoy Japanese food.
The orders were for simple fare: croquettes for both, gyoza for the human, cali rolls for the duck. While the croquettes and gyoza were tasty indeed, the sushi wouldn't've made it to the table without inquiries as to where it had gone to.
In between bites, they chatted mostly about either linux or anime... go figure. It turns out that, for the most part, what show one liked, the other did not... save for
Azumanga Daioh
and
Kampfer
, of which the duck had only yet seen a couple of episodes.
Still and all, a good time was had. Comestibles were masticated, beverages were imbibed, and the tall one was kind enough to pick up the tab.
Thanks for lunch, Pete! A pleasure to meet you, and my offer stands: you ever make it out Duckford way, lemme know!
Posted by: Wonderduck at 05:59 PM | Comments (2) | Add Comment
Post contains 190 words, total size 1 kb.
December 17, 2009
Xmas With The Librarian
It's the last Thursday before Christmas, and since I'm going to New Mexico for a few days on Saturday, The Librarian and I decided to make tonight our Christmas celebration. So, after watching
Dr Horrible's Sing-Along Blog
, which is great by the way, we exchanged gifts.
She got the book
I Slept With Joey Ramone
, written by Joey Ramone's brother, and the box set of
Monster
(thank you VERY much, Robert!). And me?
Look, The Librarian gives the best presents. Last year, she conspired with Momzerduck to give me the
Rubber Duck Factory
. This year, though, she nearly beat that. She gave me this:
It's a body pillowcase, in case you can't tell, featuring Nagisa and Sanae Furukawa! Even better, it's a promo item, meaning it wasn't actually for sale. Better still, I think it's from the game as opposed to the anime, since KyoAni's logo doesn't appear anywhere on it. That's far from certain, though.
Yes, I have no idea what I'm going to do with it, but it's amazingly cool anyway! Thanks, The Librarian!!!
Posted by: Wonderduck at 11:11 PM | Comments (3) | Add Comment
Post contains 180 words, total size 2 kb.
December 13, 2009
Posting For Posting's Sake
So the past few days, I've felt a little disinterested in posting here at The Pond. Obviously there isn't much going on in Formula 1 right now, points payout change notwithstanding. My anime watching has sort of trickled away. And despite a link to
the

Tone 4

post
of a few months back in the
recent Battle Of Midway RoundTable newsletter
, I don't have any pressing need to write about the War in the Pacific at the moment.
However, I
am
happy to announce that Monday will see the beginning of the annual 12 Days of Duckmas series. So you've got that to look forward to.
It'll be interesting, as I'm going on vacation next Saturday, and will be gone until the 23rd. Well, my destination has a computer, I suppose. I'll just have to upload everything ahead of time.
So I guess this post is just to say I'm alive and don't go anywhere! Oh, and the following picture is completely unrelated to anything:
-Banner of the Stars
, ep03
Posted by: Wonderduck at 11:04 AM | Comments (1) | Add Comment
Post contains 174 words, total size 1 kb.
December 09, 2009
Snowmageddon 2009: The Snowmanator: Snow Day!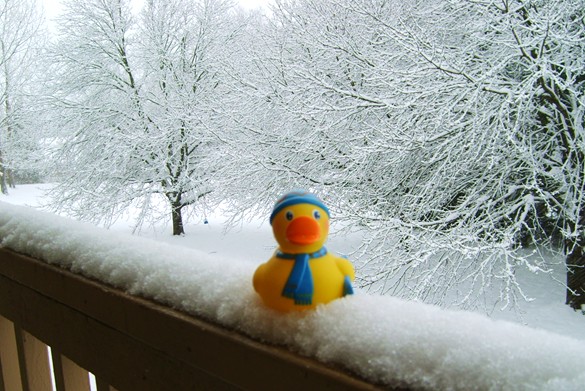 Snow day! Yesterday morning, there was nothing on the ground... the above is what greeted me when I stuck my head outside. The University of Wisconsin-Madison, about 70 miles north of here, has closed for the first time since 1990. Duckford has gotten around 10 inches, with another 1"-4" expected by the noon.
However, the bad part is going to be the wind. We're expecting whiteout conditions later as the wind picks up. Roads are lousy, according to the live chat taking place on one of the Duckford TV station's website, with pretty much everything outside of the city itself being dangerous and impassable. In city, only the major East-West streets are clean; North-South are bad because of drifting. The plows come through, but the wind just blows it over again.
A couple hours to our west, in the Quad Cities, Iowa, they're reporting blizzard conditions and emergency vehicles stuck in city centers. That's what we've got to look forward to, yay! I'll update occasionally during the day.
Posted by: Wonderduck at 08:07 AM | Comments (3) | Add Comment
Post contains 174 words, total size 1 kb.
December 08, 2009
Snowmageddon 2009: The Snowmanator!
Winter has returned to Duckford, with a frickin' vengeance. The drive home from the Duck U Bookstore took me nigh on 25 minutes instead of the usual 10-12. About half of the trip was done blind; the snow was coming down so heavily that, when the wind blew
just
right (i.e.: at all), I could see maybe past the hood of the Duckmobile.
I'm glad I made it home, but I feel fearful for the ducklings back at Duck U. This is Finals Week, y'see, and there were quite a few scheduled tonight. Hopefully, the kids realized that their safety is more important than their grades and called their professors.
Still no word on if Duck U will be in session tomorrow... snow days are even better when you're an adult.
Posted by: Wonderduck at 09:09 PM | Comments (2) | Add Comment
Post contains 135 words, total size 1 kb.
December 07, 2009
68 Years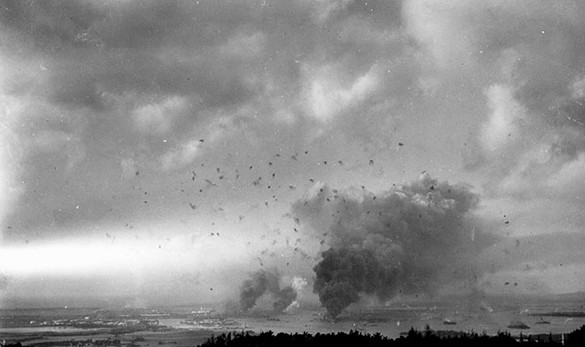 Pearl Harbor, 12/7/1941
Ceremony for those killed at NAS Kaneohe, Memorial Day 1942.
Posted by: Wonderduck at 09:34 AM | Comments (1) | Add Comment
Post contains 15 words, total size 1 kb.
December 04, 2009
Now THIS Is Editing!
I'm in awe of this video. So much win, so little time.
Posted by: Wonderduck at 08:35 PM | No Comments | Add Comment
Post contains 16 words, total size 1 kb.
68kb generated in CPU 0.0387, elapsed 0.1048 seconds.
54 queries taking 0.0824 seconds, 323 records returned.
Powered by Minx 1.1.6c-pink.