September 30, 2008
Playoffs Time!
So Wednesday, October 1st, the Chicago Cubs begin the 2008 National League Playoffs against the LA Dodgers. In a year where the Cubs were pretty clearly the best team in the National League, this looks like their best chance ever to go to the World Series (knock on wood).
In tribute, I bring you what is probably the best 'baseball song' of all time. Ladies and Gentlemen, may I present Steve Goodman's "A Dying Cubs Fan's Last Request":
It appears likely that this clip was shot in 1984, the last time the Cubs were really favored to go to the World Series (knock on wood), and performed on a rooftop just outside the left field bleachers (Waveland Avenue, as mentioned in the song).
The song is particularly poignant when you realize that Steve Goodman, writer of such tunes as "
City of New Orleans
" (made famous by Arlo Guthrie), "
You Never Even Call Me By My Name
," and "
Go Cubs Go
" (sung after every Cubs victory at Wrigley), was dying of leukemia in 1984. He passed away four days before the Cubs clinched their first ever NL East pennant (back then, there were only two divisions, East and West), and was to sing the National Anthem at the first playoff game at Wrigley Field since 1945.
It's not just a good baseball song, but a good
song
in general. Sure, it helps if you're a Cubs fan (who else would know who
Keith Moreland
is, and why he should "drop a routine fly"?), but if you've ever lived and died with a sports team, you'll hear something that resonates with you in "A Dying Cubs Fan's Last Request."
Go Cubs Go!
Posted by: Wonderduck at 07:43 PM | Comments (2) | Add Comment
Post contains 282 words, total size 2 kb.
September 27, 2008
Rumpole
For fifteen years, Rumpole was the greatest cat ever. He wasn't the smartest of cats, and there's no way anybody who saw him try to jump on the couch would call him graceful, but he was everything you'd want in a cat. Affectionate, playful, funny, and almost never grumpy. Essentially, he was my cat. When I went to visit Momzerduck and Ph.Duck, he'd always come running and be waiting at the door for me. When I was sick, say from having a tooth removed, he'd come stay with me at Pond Central for a week or two, just to help cheer me up. He was my buddy, my pal, and a great friend. Just a week ago, he came back from the vet, with a diagnosis of "okay, but old." He'd lost a few pounds since his last visit, and had slowed down dramatically.
Over at Fark, someone made a LOLcat out of his picture that perfectly summed him up:
Today, we had to put Rumpole to sleep. I can't stop crying.
Posted by: Wonderduck at 12:42 PM | Comments (3) | Add Comment
Post contains 173 words, total size 1 kb.
September 20, 2008
Cubs Win! Cubs Win!
The Cubs
are heading back to the postseason
! Not only that, but this is the first time in 100 years that they've made it in back-to-back years to boot. AND, just to make it a little bit sweeter, they clinched today by beating the hated Cardinals, 5-4, at Wrigley.
It's a big first step, but it's just a first step... next, they've got to win the first round of the playoffs. Then the league championship series. THEN the World Series.
But
boy
, it was nice to see 'em win today!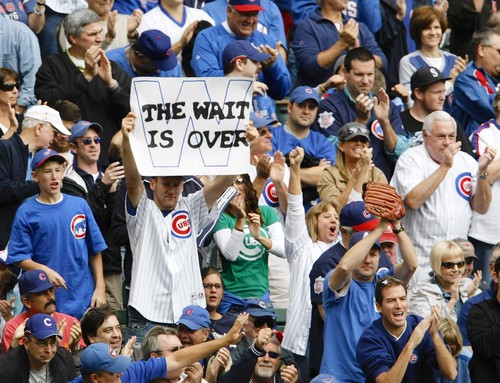 ...I hope.


UPDATE:
The view outside Wrigley Field just after today's game: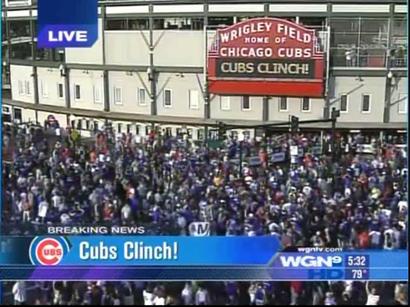 Posted by: Wonderduck at 05:09 PM | Comments (3) | Add Comment
Post contains 106 words, total size 1 kb.
September 19, 2008
Yarrrrrrrrrrrr... *UPDATED*
Avast ye bilge rats! 'Tis International Talk Like A Pirate Day, yarrrr.
UPDATE:
Yarrrrrrquackrrrrrrrrrrr...
Posted by: Wonderduck at 07:29 AM | Comments (1) | Add Comment
Post contains 16 words, total size 1 kb.
September 18, 2008
No Content
...so here's an animated gif of Daffy Duck from the legendary cartoon "Duck Amuck," the greatest piece of animation ever.
So we're even, right?
UPDATE:
Oh, why not? Here's the actual cartoon itself... enjoy!
Posted by: Wonderduck at 11:54 PM | Comments (1) | Add Comment
Post contains 36 words, total size 1 kb.
September 16, 2008
The Shortest Trial In History
It was so short that
we the jury
never even made it into the courtroom. Plea bargain... we sat around in the jury room for a couple of hours twiddling our thumbs. It appears, however, that the defendant had a poor attitude towards the legal system, as he apparently caused a little ruckus in the courtroom. Exciting, yay. Of course, we weren't there, but that's what the judge told us when he came in to tell us that we were free.
So, my jury duty has been discharged for at least a year, and so ends my fourth experience in the jurist pool... in 10 years. I'm just lucky, I guess.
Really, I'm not complaining. This country doesn't ask us for much in return for being citizens... taxes and the occasional stint on a jury. I'm okay with that. It's not like mandatory military service or the like.
Though the setup in Heinlein's
Starship Troopers
seems pretty logical to me*...
*now let us see how long it takes for the calls of "fascism" to show up.
Posted by: Wonderduck at 08:35 PM | Comments (4) | Add Comment
Post contains 181 words, total size 1 kb.
September 15, 2008
Those Fools Know Not What They've Done...
I was empaneled for a jury. The trial begins tomorrow morning.
What fools these mortals be.
Posted by: Wonderduck at 09:31 PM | No Comments | Add Comment
Post contains 23 words, total size 1 kb.
September 11, 2008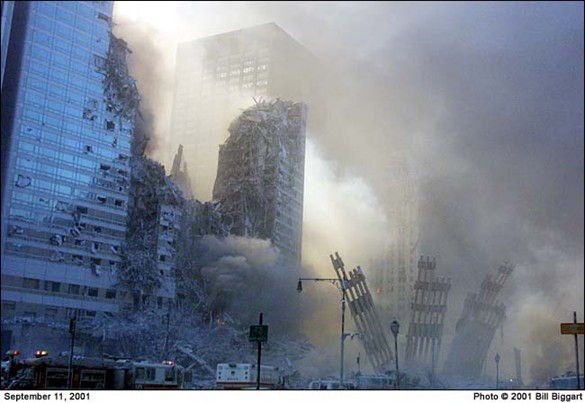 (
via
)
Posted by: Wonderduck at 08:56 AM | No Comments | Add Comment
Post contains 1 words, total size 1 kb.
September 03, 2008
Phantom Phan!
Back in 1976, when I was just a young duckling, my family moved from Chicago to Duckford. On July 4th of that year, Momzerduck and I went downtown for the parade, and that is when I was first exposed to the wonder that is drum & bugle corps.
More specifically, I heard and saw a corps known as the
Phantom Regiment
, which is based in Duckford. In fact, their offices are just down the hall from the Duck U Bookstore these days. I've usually managed to catch their full show at least once every year since then, and with them on campus during the summer, a bunch of their practices to boot. I never got the chance to see this year's program, "Spartacus", though.
That's a damned shame for a couple of reasons. First, it broke my personal string of 32 years of seeing them. Second, they were picked to be one of the teams in this year's Drum Corps International. See, DCI is the SuperBowl of Corps competition; you take the top 10 "World Class"-level corps, and in the course of one night, all ten do their routines while judges grade their performances. It's the Big One... and while the Regiment has tied for first once, they've never won it flat-out. They've come in second and third a number of times, and they are probably the single most popular corps, but they've always fallen just slightly short of winning. These days, there's almost a feeling that they'd never win one... not that they're not good enough, but, just like a batting champion getting close calls from an umpire, teams like the
Santa Clara Vanguard
or the
Blue Devils of Concord, CA
might get a break here or there... because they've won before, and the Regiment hasn't. Now, I'm not knocking those other teams, don't get me wrong. The Blue Devils have won 12 DCI championships, the Vanguard six. You don't do that by being lucky. But bigger fans of DCI than myself have said that the Regiment has deserved to win more than a few times, but haven't for one reason or another.
So this year looked like maybe more of the same. A great program of classical music and the Regiment's usual precise staging, a killer performance, and a solid third place. But then... something special happened:
Posted by: Wonderduck at 09:34 PM | Comments (4) | Add Comment
Post contains 422 words, total size 3 kb.
Tales from the Duck U Bookstore
So now that the new semester is in full swing and things are slowing down a tad, we actually have time to relax a little bit. Instead of running around at full speed from the moment we walk in to the moment we close the doors, we can now do things that are not exclusively work-related... like use the bathroom, or have lunch.
Earlier today, I stepped outside for some fresh air and to admire the beautiful Duck U campus (no sarcasm there, by the way... it really is gorgeous). So imagine my surprise when I saw THIS sitting in the middle of the Quad:
Whiskey
...
Tango
...
Foxtrot
?
A... submarine? First I had to make sure I wasn't seeing things... submarines just don't exactly appear in front of the Library at Duck U... or, in fact, in front of any of the U.'s buildings, not even the Arts Center, where weird things happen every day.
A pleasant stroll brought me closer to the thing, revealing the strangest markings for a submarine I'd ever seen:
Well, the name is appropriate, at least. But who's ever heard of rocket pods on a submarine? Or what appears to be a face on the side? Before I could investigate further, however, a
horde of kiwis
approached, and I had to get back into the Bookstore. By the time I got back outside, the submarine had vanished as mysteriously as it had appeared.
It is a puzzlement.
Posted by: Wonderduck at 06:27 PM | Comments (1) | Add Comment
Post contains 247 words, total size 2 kb.
49kb generated in CPU 0.0193, elapsed 0.3352 seconds.
52 queries taking 0.3217 seconds, 310 records returned.
Powered by Minx 1.1.6c-pink.