February 03, 2010
F1 Pr0n: Virgin Racing VR-1
The virgin Virgin Racing team debuted their first car online today, and it's different...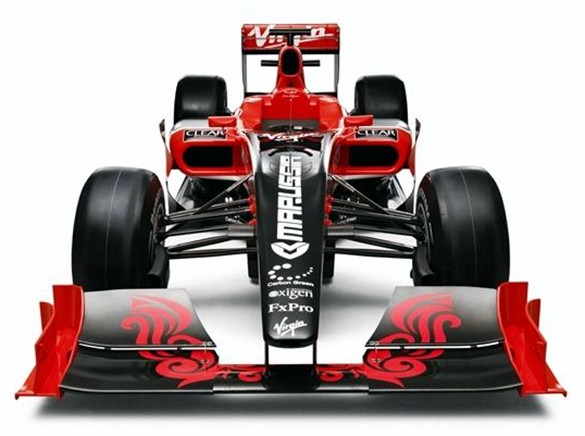 Touted as the first F1 car designed entirely in computer with zero wind tunnel testing, the VR-01 appears to have some roots in the
IRL
. Which makes perfect sense, considering that Virgin's technical designer, Nick Wirth, did a lot of work with Dallara on their IRL chassis. Specifically, that nose! Mosquitos have wider probosces. Compare the VR-01's needle-point nose to the humongous beak on the Renault, for example.
Yep, that's an IRL nose all right. The car was designed solely using
CFD
, with no models or wind tunnels. The first time the car was ever in physical form was what you're seeing above: the real chassis. I hereby declare that the "VR" stands for "Virtual Reality"... particularly since the rollout was to be entirely online. I say "was" because technical difficulties prevented it from being broadcast. Oops. Let's hope the car's design doesn't have any "technical difficulties" either.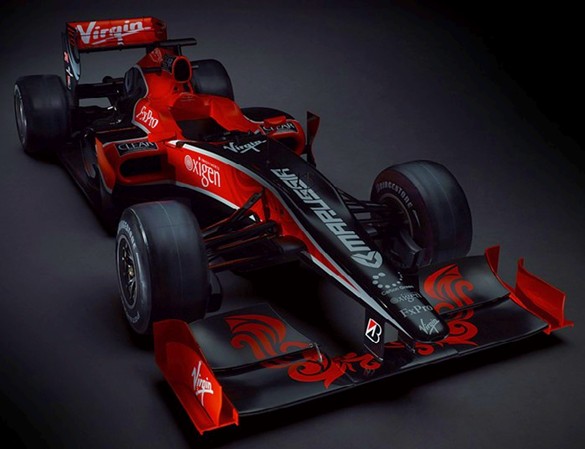 Car designed by computer. Livery designed by a 16-year old boy. But I'll be darned if I don't like it. As far as the chassis goes, other than the pointy bit at the front, it appears to be pretty conventional. As with Toro Rosso, that's probably a good decision for a rookie team. Heaven knows that the team won't want for cash, what with the Virgin Group owning them. I have a feeling that this is going to be the best of the new teams' cars, and I might even think it might just have a chance to play with the older teams. Not the big boys, but the Force Indias and the like. Time will tell... and they'll be on track for the second round of test sessions at Jerez.
Posted by: Wonderduck at 03:50 PM | Comments (1) | Add Comment
Post contains 298 words, total size 2 kb.
1
I must say I like it, especially the curly-cue design. I hope it gets some testing somewhere along the way, though.
Posted by: Mallory at February 03, 2010 04:24 PM (WJ2qy)
Comments are disabled. Post is locked.
23kb generated in CPU 0.0107, elapsed 0.0792 seconds.
47 queries taking 0.0711 seconds, 277 records returned.
Powered by Minx 1.1.6c-pink.