October 21, 2010
F1 Practice 1: Korea
1:28:00 - Hello, and welcome to the first ever F1Update Liveblog! We're looking at the first practice session for the new Korean Grand Prix. We're two minutes in, and so far nobody has crashed!
1:25:45 - First radio transmission from the runners. Toro Rosso's NKOTT called in and said "It's a very dirty track, very very slippery." As expected, of course. The place looks like the grand prix circuit in Australia, just without any of the scenery and a lot of construction work around.
1:20:00 - After an initial flurry of activity, suddenly it looks like nobody is on track. NKOTT just went into the pits, and his tires were just covered with dust. Hideously so, like he went for a run in the desert or something. Here, take a look:
1:16:00 - Kubica is on track, and every so often he's hitting dust puddles... including one right at the start/finish line. Pitlane seems narrow-ish.
1:12:30 - Button out on track for the first time, looks like he's driving very gingerly. Then again, everybody is. And it's an installation lap, just to make sure everything's working. I expect a lot of that for the first every now and again.
1:09:43 - HRT takes to the field! DJ DNF looks... well, slow.
1:06:47 - ...and DJ DNF becomes the first to go off-track.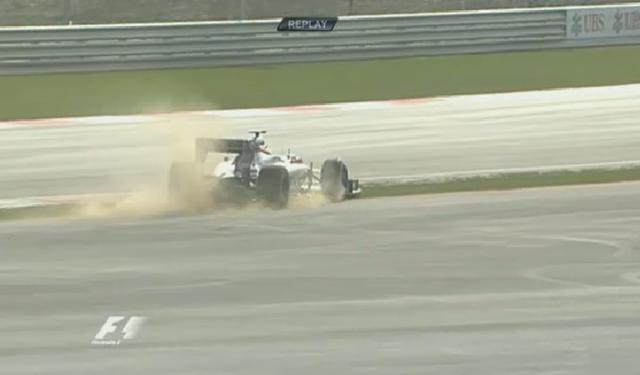 1:02:30 - Looks like playtime is over, and the teams are starting to get down to the business of figuring this place out. Gawd, but there's a lot of bare dirt visible...
0:58:05 - ...and Jarno Trulli becomes the second off of the day. Getting quite a bit of traffic out there now, starting to see just how the track races. Initial impression: poor, particularly through the "city" section.
0:52:52 - Felipe Massa becomes the third victim of the slippery track. See, it's not just the crappy cars! The Ferrari is actually one of the more stable runners out there, but Massa looked like he was ice skates.
49:50 - Who told HRT that "pigment-spill brown" was a good color?
46:08 - There's a strange little hillock at the end of the second straightaway, like they paved over an elephant or something. Terrible place for it, right in the braking zone for the hairpin (I think. It's hard to tell without a trackmap handy), and it's bumpy as all hell. I could see an accident occurring there, even on a grippy track.
42:01 - Nope, it's the end of the looooooong straight. Still a weird spot for it though. Nico Rosberg went over it and almost looked like he was going to fly out of the cockpit.
41:07 - Gandalf Kobyashi just had an off... in the pit entry. Oy. Nah, this asphalt isn't slippery at all.
34:03 - The Elephant isn't the only elevation change on this track. Actually, there's a surprising amount of little rolls and dips around the place... kinda nice, actually, and quite unexpected. The Demon Tilke seems to prefer to scour the landscape down to a pool-table-like smoothness.
29:21 - The simulators were predicting a laptime of around 1m44s or thereabouts. Jenson Button just did a 1:43.096... then put it in the dust.
27:14 - I must say, the feed has bee BUFFERING 22% n pretty good so far.
24:45 - If you can avoid looking anywhere but the track itself, the Korea International Circuit looks pretty good. But then you see a camera shot of two piles of dirt and a crane...
23:33 - Yellow flag!
22:00 - Looks like Bruno Senna either had his rear suspension break on him, or it broke when this happened:
Pretty impressive high-speed spin... good thing there's a lot of run-off area there. Bad news is that it's taking FOREVER for the marshalls to get it craned away.
17:31 - Yellow flag is gone after six minutes or so... at Monaco, the thing would have been back in the pitlane after that long.
14:33 - Nico Hulkenberg did a 1:42.678 for fast lap honors so far... then Rubens Barrichello, his teammate, did a 1:42.800 (I think it was, it flashed up so quick) for 2nd fastest. Could Williams have FINALLY gotten it right, with three races left? Or are they just looking good because nobody has a clue yet?
10:55 - Allskate, everybody allskate. Place looks like I-90 near O'Hare on Friday afternoon.
4:16 - Button does a 1:41.940. The sims are looking a little shabby...
0:44 - Hamilton pulls a 1:40.887. Great googly moogly.
0:00 - I suspect I know what the drivers will say. They'll be positive and upbeat, but I suspect in private they'll have some serious reservations about the circuit. As for me, it looks like a great track to drive on, but to race? Not so much. Hamilton, Kubica, Rosberg, Vettel, Button, Slappy, Webber, Heidfeld, Hulkenberg and Barrichello are your top 10 for the first practice session fast laps. I think that might be legit, in fact. After all, you probably won't be sandbagging on this track; nobody knows the place!
I wonder about the attendance... look at this:
Yes, it's first practice, but the stands are empty. Still, the four or five people who showed up got a decent show.
So, P2 in just about 2.5 hours, and I won't be liveblogging that... not even sure if I'm to watch it until tomorrow morning. Hope you enjoyed this, the Pond's first ever LiveBlog, and stay tuned for more coverage later!
Posted by: Wonderduck at 07:02 PM | Comments (4) | Add Comment
Post contains 914 words, total size 6 kb.
Comments are disabled. Post is locked.
27kb generated in CPU 0.0161, elapsed 0.0798 seconds.
47 queries taking 0.0721 seconds, 280 records returned.
Powered by Minx 1.1.6c-pink.