October 21, 2012
There's No Place Like Pond Central
I spent most of the last week in Chicago, going through a training session for new managers. I was put up in
a wonderful hotel
, in a single room, with a ridiculously comfortable bed (once I got the sleep-number thing sussed out), fed
outstanding meals
, and it was almost all paid for by the company. We worked hard during the four days of the training and the company knows that. As a result, they made sure we could relax well during our off-times.
I spent a good bit of my off-time blogging and catching up on various anime series, not to mention doing the F1U! for Korea. I did take advantage of our one free night on Wednesday to take the hotel's shuttle-bus (how cool is that?) to a nearby
World Market
, and my duck-aware readers are already drooling. Come to think of it, so are my pockyfriends.
It's been three years
since I was last at a World Market, and nearly five since they closed the store here in Duckford. In all that time, none of their holiday duckies have made their way to The Flock, so there was no way I was going to let this opportunity pass! You might be seeing the three Halloween duckies in a few days, if I don't get some
photojournalism
finished in time...
But the best part of the trip was the performance of The DuckMobile. As long-time readers of The Pond are aware, she's a 16 year-old Toyota Camry, and to be fair, she's showing a bit of her age. I didn't take her on
the trip to Wisconsin
back in June for fear that she'd not be able to make the 400+ mile journey through mostly uninhabited northwoods. On Monday afternoon, I left the Duck U parking lot with wingtips crossed and some apprehension in my heart... the longest drive I'd taken The DuckMobile on in years was 15 miles round-trip.
I need not have worried. She was a
champ
! Never a complaint, no drama, indeed she seemed to relish being unleashed upon I-90 and getting to show her legs a bit. We never got above 70mph or so (there's a
lot
of construction between Duckford and Chicago), but we rocked out. Once we got home, I praised her to the heavens... The DuckMobile is a good girl indeed!
So while it was a good week, and I learned a lot, and all that sort of good stuff... it's good to be home. Sure, it's messy. Sure, my mattress is probably older than I am. Sure, the food isn't as good. Sure, the chair in front of my computer isn't as good as the one in the hotel room. And the TV in the room is a darn sight better than the one in Pond Central. But I'll be damned if I'd rather not be here, typing this post, than there.
There's no place like Pond Central, that's for sure.
Posted by: Wonderduck at 07:10 PM | Comments (3) | Add Comment
Post contains 496 words, total size 3 kb.
October 14, 2012
Meet Nayuki
If you're wondering where the F1U! is for Korea, well, I've got something more pressing to deal with. Meet Nayuki!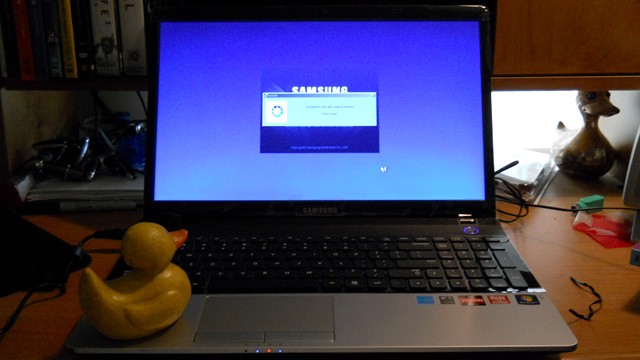 Nayuki is a Samsung...
this one, point of fact
. She's a smart girl, but I've got to get her up and running... and I desperately need a nap. I stayed up to watch most of the race, and now I'm running on 3 hours of sleep. So I'm gonna let her battery charge up while I sleep, then get her all updated and stuff. I might wind up doing the F1U! on Monday from my hotel room. We'll see! It's all fun!
UPDATE: By request...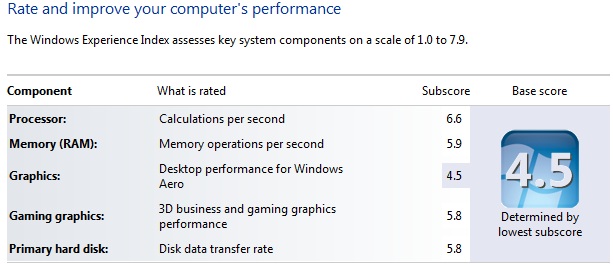 She runs really fast (just like the character from the show!), but she's "eh" on the desktop... which doesn't bother me in the least. If that's the biggest problem Nayuki has, I think I can live with it.
Posted by: Wonderduck at 01:03 PM | Comments (5) | Add Comment
Post contains 145 words, total size 1 kb.
October 09, 2012
Tech Wonks, I Need An Opinion!
I'm seriously thinking about doing something I once swore I would never do: purchase a laptop.
They cost too much for the hardware you get. If you get one that actually has some horsepower behind it, it weighs a metric farkton. They'll never play a game as well as a desktop. BUT, and this is an important "but", they're portable. When you're going to be traveling, that's important... and I'm going to be traveling. Next week, I'm attending a five-day-long training session at the home office of the company that runs the Duck U Bookstore. It'd be nice to have access to a computer I trust.
This is where y'all come in. After doing some research, I've found a laptop that fits the pricepoint I'm looking at (~$400), without being neutered by lack of throw-weight.
Here's the link to it
. I know it's not going to be a desktop replacement, but I
don't want
a desktop replacement. I'd like a supplement to my desktop. To be honest, it'll probably be more powerful than good ol' Chiyo-chan... after all, she's a six year old, dual-processor system.
But, and this is the thing, I know
nothing
about laptops anymore. Sure, nine years ago when I worked for CowPuters, I could tell you the ins-and-outs of them, but not now. So help me out here. If the linked laptop isn't good, show me another! One catch: I want to be able to lay hands on it before I buy... which means it has to be at
BigBlueBox
(use zipcode 61108; that's not Pond Central's, but it's close enough) or
HH Gregg
(I know, not a lot of choices out here in Duckford). Oh, and nothing a Disciple of Jobs would own.
And thank you for your help!
Posted by: Wonderduck at 08:00 PM | Comments (11) | Add Comment
Post contains 300 words, total size 2 kb.
October 06, 2012
Music While You Wait
While the hours tick down until the Grand Prix of Japan, I am enthused to bring you some music that I've never heard before this morning. For all of you who don't like music, here's a shaved alpaca: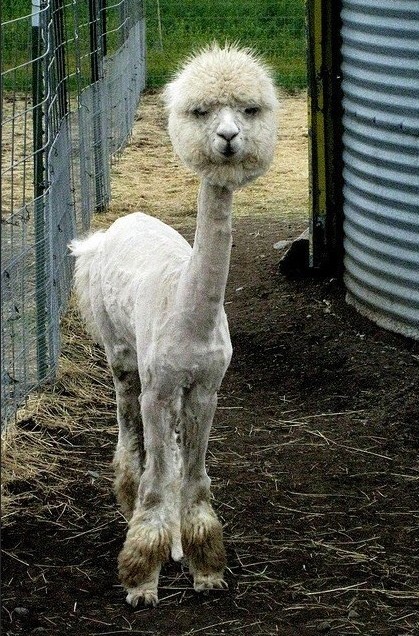 For those of you who do like music, click and let's go!
more...
Posted by: Wonderduck at 08:35 PM | Comments (3) | Add Comment
Post contains 224 words, total size 2 kb.
45kb generated in CPU 0.0162, elapsed 0.3404 seconds.
48 queries taking 0.3298 seconds, 301 records returned.
Powered by Minx 1.1.6c-pink.