March 29, 2018
Up To Here, I Tell Ya... Up To Freakin' HERE
This isn't banality such as what
friend Brickmuppet talks about
... that, at least, has a basis in reality. No, this is just flat out frustration, anger, and all-round poor temper, tempered by what appeared to be a moment of emotional insanity. For all of you that are interested, just click
more
for the scoop. For all of you that aren't interested, here's the bestest character introduction scene in anime ever:
Thanks for reading, enjoy the rest of your day.
more...
Posted by: Wonderduck at 08:33 PM | No Comments | Add Comment
Post contains 673 words, total size 5 kb.
March 18, 2018
We Want YOU For The League!
Back in 2014, friend Ben contacted me about beginning a fantasy baseball league. In short, he had never played and wanted a... mentor, I guess. Someone to ask for advice on how a league works, what it all means, etc etc etc. I actually had to think about it for a while. I had literally just quit a league I had been in for 25 years the day before because I hadn't really enjoyed myself for three years or more. Now I'm being asked to play again? Oh, and it was going to be full of rookies, too.
Of course I said yes. Unsurprisingly, I won that season pretty handily. At various points during Season Two, I believed I was going to finish first in all 10 categories (five batting, five pitching). I didn't, in fact, but it was a near thing. Season Three saw my team move into first place for good on my birthday... but I could see that some of the other players in the league had "got it." Season Four was not going to be the walkover I'd had the previous three. I was right. I finished in second, but only after having to fight tooth-and-glove for it. Now I'm looking for revenge.
And this is where YOU come in. We've lost a player and need to fill the slot... and get more owners, too! Rookies and experienced players, it's okay, we'll take anybody! It's not even a big time-sink... once you're used to the interface, you can manage your team in just five minutes per day more or less. It doesn't cost anything to play, all you have to do is listen to my bloviating during the season! What could be better? For those who have played before, it's a standard 5x5, AL-only, snake-draft league. If you haven't played before,
general information can be found here
. Most of that post applies, the part about the auction doesn't.
So whatddya say? C'mon, let's play! Leave me a comment here, then head over to
Midnite Tease
and leave a message there... Ben'll get back to you! It'll be fun! Really. It will.
Posted by: Wonderduck at 12:27 PM | No Comments | Add Comment
Post contains 361 words, total size 2 kb.
March 15, 2018
Figure Foto Test Too
That's better.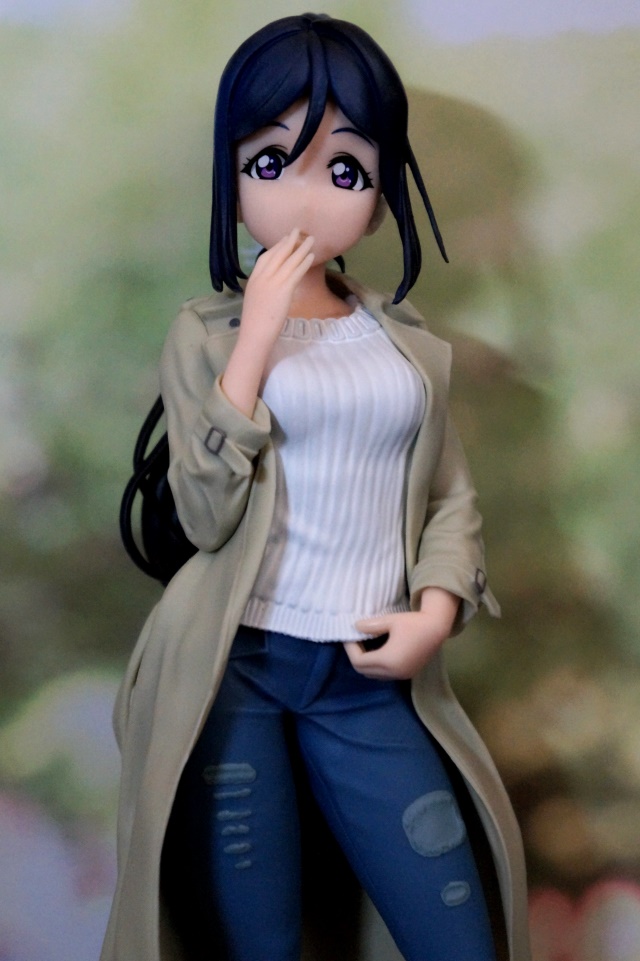 Not thrilled with the shadow on the backdrop, but other than that I'm not complaining. It probably helps that the figure isn't as colorful as the last one. Actually, this figure just tickles me... "Hey, we've got a character from
Love Live Sunshine!
, a show about idols. She's statuesque, mature in appearance and attitude... let's put her in a sweater and bluejeans. And a trenchcoat." Classic, just classic.
Posted by: Wonderduck at 07:16 PM | No Comments | Add Comment
Post contains 74 words, total size 1 kb.
March 14, 2018
Stephen Hawking 1942 - 2018
I need to dig out my copy of
A Brief History Of Time
, I think. For old times sake.
Posted by: Wonderduck at 01:51 AM | No Comments | Add Comment
Post contains 31 words, total size 1 kb.
March 11, 2018
Figure Foto Test
I can't shake the feeling that there's still something... off... with the colors. Oh, they're all correct, but... well. Since the whole thing only took a minute or two, I'm thinking it isn't bad at all.
UPDATE: This picture was taken using my Sony A3000 in Auto mode, using the ambient light at my computer desk at mid-afternoon. Sunlight, but filtered through a less-than-thick curtain, in other words. No fill light to speak of... this very literally took me two or three minutes tops to shoot, and that includes moving the figure and unpacking the camera. The resulting picture was then run through GIMP and Paint.net... each of them can do some things the other can't.... to process brightness/contrast and make some minor adjustments therein. The upshot of all of this was that the skintone now
better matches the figure
.
Posted by: Wonderduck at 07:44 AM | No Comments | Add Comment
Post contains 143 words, total size 1 kb.
March 09, 2018
This Week... This Week Will NOT Be A Keeper
I went to sleep Sunday night, all set to meet the coming week head-on and full of ginger.
The week went to hell immediately thereafter. Monday morning, I woke up a just long enough before my alarm clock that I could plod to the bathroom, do what needed to be done, then go back to sleep for... 40 minutes. Ugh. Right on the midpoint between getting up to start the day or going back to bed. Either way, I needed to use the facilities so I levered myself up out of bed... and came very very close to faceplanting into the floor. Ugh. Guess I'm still a little asleep, my balance is off.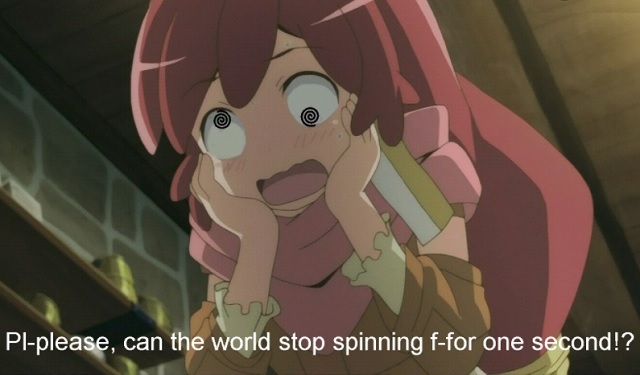 No it wasn't. Well, actually, yes, yes it was, but not because I was still a little asleep. I made it into the bathroom by strength of will only... and the fact that the hallway that leads to it is relatively narrow. I sat on the throne, trying to figure out what was going on, and shook my head side to side... and very nearly ended up in the sink. Holy crepe. Eventually I made it back to my bed, at which point I discovered that, if I kept my head
very
still, there was very little spinning. Otherwise? Massively dizzy. Fortunately, I have a pillow made of very cheap memory foam that doesn't so much cradle your head as take a casting suitable for a highly detailed representation of your face. Even when I'm NOT dizzy it's sometimes difficult to turn my head in that thing. Using that, I was able to not move for about an hour (after adjusting my alarm). Eventually though I was forced to reach for my phone to turn the alarm off.
Once I managed that incredible feat, I cradled it gently in my hands. I had a decision to make. Do I call in sick to work? Do I just lay there, wait it out, then go into work? It didn't take overly long to make a decision. I called in at 830a, and much to my surprise my boss actually answered her phone on a Monday morning when payroll needed to be completed. I explained what was going on, she pointed out that I sounded congested, somewhere along the way I had the presence of mind to make a joke: "I'm going to have to play it by inner ear. Get it? Inner ear? Ha ha." She told me to get better and keep in touch.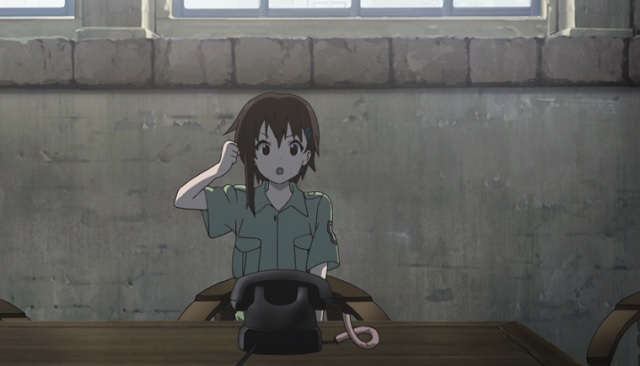 So I stayed there, immobile in bed, for the next hour or so. Or, really,
mostly
immobile. It's very hard to stay completely still in my bed, mostly because it's old and a little not comfortable when you're trying to stay in one position for long periods of time. I generally have to refit my fitted bedsheet every few days because the way I toss and turn during the night pulls it free on one side or the other. Fortunately there was only one "I've gotta roll over" moment, about 15 minutes after talking to the boss.
After that hour was up, I gingerly attempted to sit up in bed... nothing. No spins, no nausea, no feeling of falling out of an airliner, nothing. It was like it had never happened. Except it had, and it freaked me the heck out. What if it came back when I was driving? That wouldn't be very good at all... and forget about processing claims, when it happened I would have had problems not falling out of a chair, let alone do anything that required thought. I didn't do much that day, though I took two intentional naps and one unintentional (sitting in front of the computer... zzzzz....).
The rest of the week was better than that, but that was hardly a high bar to clear. The claims were awful on Tuesday, we ran out of claims on Wednesday, Thursday I discovered that my paycheck had been shorted by about 1/3rd. I wasn't the only one, there had been a glitch in the system that played hob with the payment rates for some of us. I wasn't worried about it... I knew I'd get what I was owed sooner or later and I had enough in my account to keep me functional until then... but it's still not a nice feeling.
And today? Today wasn't bad. One good day, four not so good. Nope, not gonna put this one in the ol' scrapbook.
UPDATE: I forgot to mention something. I mentioned in passing somewhere or another that I think
Radio LeMans
's back catalog of races is something wonderful for people like me (ooh! The 24 hours of Silverstone is this weekend!) who need something to listen to. Well, on Wednesday this week, I began to listen to a new race. Yep, I had picked a random LeMans race, and had chosen...
the last race to have a driver fatality, 2013
. Ugh. Still, it was fascinating to listen to. I had forgotten most of the details, and even that it had happened in 2013. I'll tell you though, the minute of "silence", really just racing noise, at the finish of the 12th hour was surprisingly emotional. So, yeah... surprise!
Posted by: Wonderduck at 07:26 PM | No Comments | Add Comment
Post contains 881 words, total size 6 kb.
March 03, 2018
VR... Finally Something GOOD
VR computing hasn't, for the most part, impressed me overmuch.
Nerd³
has played a sizable assortment of such games... I'm not sure if my reaction to the games is because of his comments while playing, or just the games themselves, but either way the VR game experience just doesn't seem...
ready
... yet. It can look cool, and the potential is there to be amazing (a truly well-done VR
War Thunder
anybody?) but on the whole it seems more entertaining to watch than to play. An exception to this seems to be the better racing games... with a full steering rig
it seems bloody amazing
. That's almost certainly because you and I and Bob down the hall know what driving feels like and can interpolate that into the game itself.
And then there's
Beat Saber
.
Because wielding a light saber isn't enough, you've got to use a pair of them as drumsticks. OF COURSE! My first reaction when I saw this teaser was "that's a darn good track". My second was "let me see someone playing it so I can believe this isn't just some animation.
Request answered.
Now that just looks darn fun. I'd be crap at it, but it'd be fun anyway.
Posted by: Wonderduck at 01:53 PM | No Comments | Add Comment
Post contains 207 words, total size 2 kb.
40kb generated in CPU 0.0118, elapsed 0.1242 seconds.
43 queries taking 0.1156 seconds, 284 records returned.
Powered by Minx 1.1.6c-pink.