October 28, 2016
Long Draining Week
This week probably could have been worse, and I'm extremely relieved that it wasn't.
Steven's death
has hit me harder than I expected, even though as
last week's research
went on it became obvious that bad things were likely. Still, its weighed heavily upon my furrowed brow.
Tuesday, I had jury duty. I was originally called back in April, but I postponed it twice "because of my job". It wasn't untrue, I just would have rather pushed claims than go do jury stuff. Not that I'm opposed to doing my civic duty... I've been called four, now five, times after all. Except I know plenty of people who haven't ever been summoned, why not give them a chance? Ah well. So Tuesday morning found me in downtown Duckford, trudging my way to the County Courthouse, barely noticing how gray the environment looked. Anywhodles, I made it to the holding pen for us fortunate folk, and was exposed to an hour of
HGTV
banality. And here I was, thinking I was doing something good for the community. Instead, I was clearly being punished. Eventually we had to sit through a video on how wonderful jury duty is, which was a mixed blessing. On one hand, HGTV was turned off. On the other, a video made by people who had never even heard of the concept of "acting", let alone doing it professionally. After another hour, during which time I started Max Hasting's
Battle for the Falklands
, then promptly dozed off. Then a judge appeared in our midst! Turns out the threat of a jury trial caused the defendant to strike a deal... turns out it was a felony case we had been summoned for, one that the judge had expected to take all week. Oy. So as it turned out, my jury duty lasted just under three hours. I promptly came back to Pond Central and went back to sleep. And then the Cubs lost the first game of the World Series. They did come back to take the second, which is exactly what you'd want when you start on the road.
Wednesday and Thursday were terrible at work. A mixture of garbage claims and worsening problems on the client's end made processing any claim a (pardon the pun) trial. Until, inevitably, the client's server farm caught fire just before it fell over into the swamp. Wednesday, after an hour of literally sitting around doing nothing, we were sent home in late afternoon. Thursday was more of the same, without sitting around for an hour. Now it was only 15 - 20 minutes at a time. But today! Today, the server farm, stacked on top of the other farms in the swamp, didn't fall over! Too bad all it was serving up was reversal after corrected claim after "screw you, here's a thirty line, $25000 total corrected claim... in Barzani Jewish Neo-Aramaic!"
And now the Cubs have lost Game Three of the World Series, and I have 10 hours of overtime to do next week. The two are not related, but I just had to say something. The week could have been worse.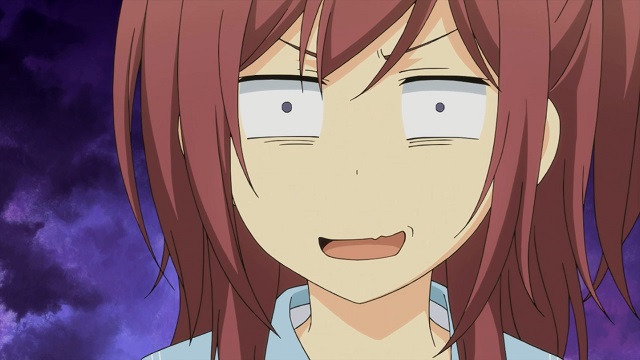 Posted by: Wonderduck at 10:10 PM | Comments (4) | Add Comment
Post contains 525 words, total size 4 kb.
October 24, 2016
The Crying Of The Catgirls: SDB
Steven Den Beste was not the reason I became a blogger.
But if it wasn't for him, I wouldn't have been a blogger for long. I began Wonderduck's Pond back in July of 2005, primarily as a way to entertain the Official First Reader of The Pond, Mallory, with expanded versions of the Formula 1 emails I sent her. Along the way, I began to work some anime into the mix. The Pond muddled along, read by practically nobody, for a couple of years.
And then something odd happened. Steven linked to one of my posts and people came from
Chizumatic
to read it. Then he did it again. And again. Every time he did, people came to read what he linked, some stayed around, and by The Pond's glory years of 2010/11, I was getting perhaps 5000
real
hits/day.
I doubt that he ran an intentional campaign to send readers here, but that was the effect. Because
HE
had a loyal fanbase that made almost all other animeblogs look small. A link from him would be a boon for a small blog. A permanent place on his small blogroll
made
you. I was tremendously flattered when
he put The Pond there
ten years ago.
Which is not to say that all was sweetness and light. He and I had a few arguments, some blog-based, some e-mail. He could be an irascible old coot, entirely unwilling to change his opinion on something once he got it in his head. He refused to say much about his health... when I e-mailed him once to see how he was doing, he wrote back saying that people who asked that weren't really interested so he wouldn't say. I suspect a lot of his "cootness" stemmed from his old USS Clueless days, when he was hated by roughly half the blogosphere. Death threats weren't unheard of. And if you knew what's best for you, you never
ever
made suggestions.
All of this was part of a brilliant thinker that also had the ability to take those thoughts and write them legibly. He didn't do straight humor very much, perhaps his only weakness and perhaps the only category I would say I was at least his equal in. Everything else, however? There's a reason he was one of the first bloggers to wind up published semi-occasionally in the mainstream media. When I started The Pond, one of my conscious decisions was to never write about politics. There were plenty of people writing about politics out there, and they were infinitely better at it than myself. When I thought that, I was thinking about Steven in particular.
Over the years, I know he and I became friends despite never having met. He became a Formula 1 fan due to my writings, almost against his will. When I first thought about closing this place down, he was the first to say that he'd miss reading what I wrote. Imagine that: a legend of the medium saying he'd miss my writing. He was a willing participant in the continuing story of the Anatidae Liberation Front, a bit of whimsy that never failed to amuse the hell out of me.
His last comment here at The Pond
was about the history of failure that surrounds the Cubs, a common theme from him.
This afternoon brought the news that the man I was pleased to call my friend, Steven Den Beste, had passed away.
I'm going to miss reading what he wrote.
Posted by: Wonderduck at 09:15 PM | Comments (4) | Add Comment
Post contains 588 words, total size 4 kb.
October 22, 2016
Cubswatch 2016: Seven!
The Chicago Cubs are going to the World Series
.
Holy crepe, I don't believe I finally got to type those words.
Kyle Hendricks threw a gem against the Dodgers tonight, pitching 7.1 innings of shutout baseball. He was relieved by Aroldis Chapman, who got a sweet double play to end the game. On offense, they beat the crepe out of the best pitcher in baseball, hitting two homers and scoring five runs off Clayton Kershaw. It was never close.
Next up, the Cubs will be facing the Cleveland Indians. First game of the World Series will be Tuesday. Seven down, four to go!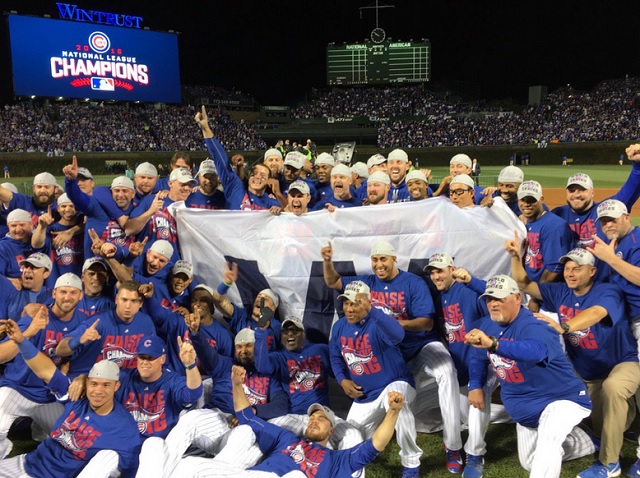 Posted by: Wonderduck at 11:15 PM | Comments (3) | Add Comment
Post contains 108 words, total size 1 kb.
October 20, 2016
Cubswatch 2016: Six!
21 innings without scoring a run has been forgotten, that's for sure!
Addison Russell hit his second homer in two nights to give the Cubs a 3-1 lead in the sixth inning. Two innings later, they broke it open with five runs, and ultimately cruised to a 8-4 victory over the Dodgers. They now have a three-games to two lead in this best of seven series as the NLCS moves back to Wrigley for a possible clinching game on Saturday. Six down, five to go!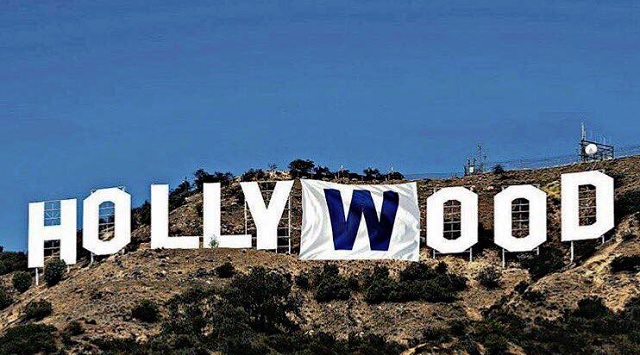 Posted by: Wonderduck at 10:50 PM | No Comments | Add Comment
Post contains 89 words, total size 1 kb.
Cubswatch 2016: Finally Five!
The last two games in this here NLCS were kinda grim. The first time the Cubs had ever been shut out two games running in the playoffs. Including the first few innings of this game, they reached 21 straight innings without scoring a run. And then this happened: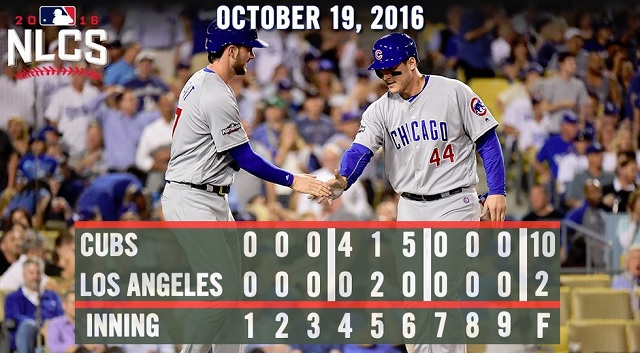 Now that's the curbstompin' Cubs we've come to know and love during the regular season! More importantly, Anthony Rizzo and Addison Russell, both mired in post-season long slumps, broke out tonight. Both went deep to lead the team to victory and tied the series 2 - 2. Seeing Rizzo start to hit is good news for the Cubbies indeed, for while Kris Bryant is probably going to be the MVP of the league, Rizzo is the guy that leads the team. With him hitting, this team just doesn't lose very often. Five down, six to go!
#FlyTheW
Get it?

Posted by: Wonderduck at 12:03 AM | Comments (1) | Add Comment
Post contains 151 words, total size 1 kb.
October 15, 2016
Cubswatch 2016: Four!
When everybody is looking up and out...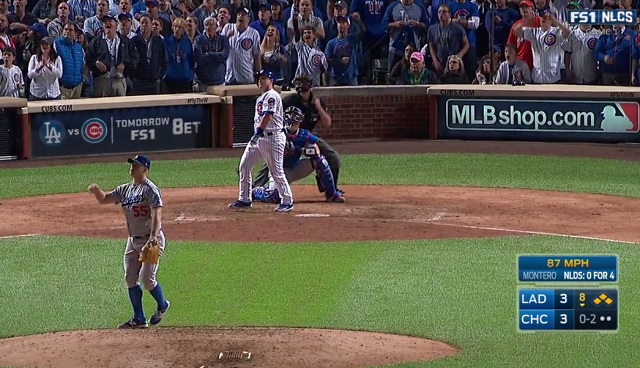 ...say it with me: you know it's
gone
. The Dodgers intentionally loaded the bases with two outs to bring up the pitcher's spot in the order. Which, at the moment, was occupied by the Cubs ace closer Aroldis Chapman. Manager Joe Maddon brought in pinch-hitter Miguel Montero. There was some question as to whether Montero would make the roster for the NLCS, for he was suffering from a sore back, but he talked his way on. And then
he hit a pinch-hit grand slam
on a 0-2 count, putting the Cubs ahead 7-3.
If you've followed the Cubs this season, you knew what was coming. They've already hit a granny, why not add on? Center fielder Dexter Fowler, who had already had
a spectacular catch
under his belt,
went back-to-back
to make make it 8-3. That the Dodgers scored a run in the top of the ninth meant nothing in the end. The Cubs won it 8-4, in a game that also had
a Javy Baez steal of home
. Four down, seven to go!
#FlyTheW

Posted by: Wonderduck at 10:49 PM | No Comments | Add Comment
Post contains 185 words, total size 2 kb.
October 11, 2016
Cubswatch 2016: And THAT Makes Three!
Last night, the Giants beat the Cubs in 13 innings to stay alive in the NLDS. Tonight, they were ahead 5-2 in the 9th inning, at home, with their closer coming in.
And then magic occurred.
The Cubs scored four runs in the top of the 9th,
their
closer, Aroldis Chapman, came in and struck out the side, and not one pitch was below 100mph. Next up is the winner of the Dodgers / Nationals series. The NLCS starts Saturday. Three down, eight to go.
#FlyTheW... in McCovey Cove

Posted by: Wonderduck at 10:48 PM | Comments (5) | Add Comment
Post contains 95 words, total size 1 kb.
October 08, 2016
Cubswatch 2016: That's Two.
When everybody is looking up and out...
...you know it's
gone
. Kinda like a repeat of Game 1, except this home run was hit by relief pitcher Travis Wood to make score 5-2. In doing so, he became the first reliever since 1924 to hit a playoff home run. In fact, Cubs pitchers drove in three runs by themselves. Unlike last night, this game never felt like it was ever in danger of getting away from them. That's more like it! Two down, nine to go.
Posted by: Wonderduck at 09:34 PM | No Comments | Add Comment
Post contains 91 words, total size 1 kb.
October 07, 2016
Cubswatch 2016: That's One.
When everybody is looking up and out...
...you know it's
gone
. Javy Baez took Johnny Cueto to the basket in left to break a scoreless tie in the bottom of the eighth. That's the way the game ended, Cubs 1, Giants 0. One down, ten to go.
#FlyTheW
Posted by: Wonderduck at 10:34 PM | Comments (2) | Add Comment
Post contains 52 words, total size 1 kb.
56kb generated in CPU 0.0157, elapsed 0.0796 seconds.
50 queries taking 0.068 seconds, 308 records returned.
Powered by Minx 1.1.6c-pink.