October 30, 2013
October 22, 2013
Librarian & Duck Do Dinner
So just before the Duck U Bookstore closed for the day, I got a phone call from The Librarian. As it'd been a month or so since we last saw each other, she was like "hey, dinner," and I was all like "hey, cool, where," and she was like "sushi," and I did the whole "ace nifty" thing and hung up and got the store closed and, like, boogied out to go meet her.
I'd like to apologize for that sentence.
I showed up a couple of minutes late, as I am old and slow, but as it turns out it didn't matter. The place of sushi was as crowded as I've ever seen it... on a Tuesday, no less. It took nearly a half-hour for us to be waited upon, another half-hour for the food to be delivered. But when it arrived... oh, when it arrived...
Special Guest Appearance from the hands of The Librarian!

Okay, yeah, my phone's camera sucks. Chicago Board of Tourism Duckie was a gift from The Librarian, by the way, not part of the food. I wasn't all that pleased with the Philadelphia rolls, but everything else was nummy. My phone's obvious shortcomings as a camera aside, the sushi looked
exactly
like it was supposed to be used as a promotional picture for the place.
Sorry, Vauc, we didn't get the BBQ Beef Rolls.
Posted by: Wonderduck at 09:11 PM | No Comments | Add Comment
Post contains 235 words, total size 2 kb.
October 18, 2013
Sleep Good... Not For Blogging, But Good.
As terrifying as it is to think about, Duck U's midterms ended this past Tuesday. The rest of the week was this odd beastie called "Fall Break." Similar to Spring Break in that the Duck U fledgelings got a few days off from school, but completely dissimilar in that the weather is cold and ishy. Anyway, on the Friday of Fall Break, the Duck U offices are closed... and when that happens, the Duck U Bookstore is closed as well!
Which meant that I only worked for a few hours today,
after
a meeting with the Duckford Visitor Bureau of course. I was home by 4pm, and after some breakfast (no, I didn't mis-type; what else do you call the first meal of the day?) decided to take a nap. Just a couple of wonderful, wonderful hours of blissful slumber, unconscious to the cares of the world, refreshing both the mind and the body. Afterwards, I'd sit down and finally close out the first
Evangelion
movie writeup. It's a good plan, let's go with it! On three... one, two, three,
sleep
!
Four hours later, the plan had been crumpled up and thrown into a trashcan. I can only assume I needed the sleep, but geehorseyfat, that sort of thing does play hob with the whole blogging thing. Maybe tomorrow night... after working the football game, then dinner with Ph.Duck.
Hey, it could happen.
Posted by: Wonderduck at 10:43 PM | Comments (3) | Add Comment
Post contains 240 words, total size 2 kb.
October 15, 2013
Pacific Rim
After having missed the movie
Pacific Rim
in the theatres this summer, I vowed that I would purchase a copy of it as soon as it became available. This, I did not do. In actuality, I pre-ordered the film in a Blu-Ray / DVD package close to three weeks ago. When it was delivered this morning, I was very much like a duck in a rye bread store. Sure, I couldn't actually DO anything with it until I got home, but it was here and that was all that mattered.
I came home, made some dinner, fired up the DVD player, and sat down to watch. Now, understand something. When it comes to watching movies at home alone, I tend to pause the film a few times... run to the bathroom, get something to drink, y'know, that sort of thing. Not tonight. Tonight, I didn't even notice the time passing. From moment one to the post-credit scene, I was locked into the film.
Pacific Rim
gave me everything I hoped for from this particular movie: giant robots punching giant monsters in the face. Repeatedly. In clever ways. There are going to be two types of people who see flick: those who hate it, and those that realize that it's the best movie ever.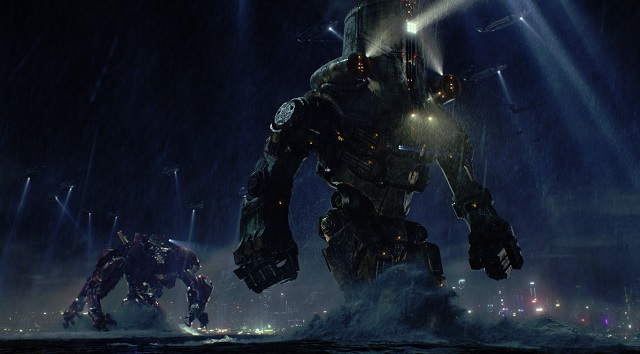 Let me stay that again, in a stylized way that makes it look like I'm shouting each word, then pausing dramatically afterwards or something:
BEST.
MOVIE.
EVER
.
Now that I've gotten that out of the way... for an anime fan,
Pacific Rim
is probably the closest we'll ever get to a live-action
Evangelion
(giant robots punching giant
angels
monsters in the face), but without the whiny hero and with more Rinko Kikuchi.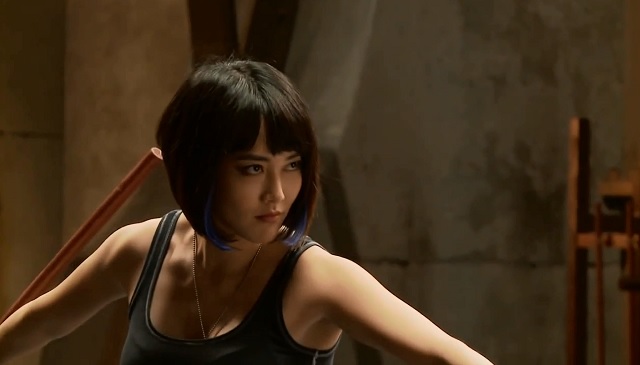 Look, the film is full of cliches. I got that, but here's the thing: you don't care. It resonates with the kid in you and makes it jump up and down like it's full of chocolate and mountain dew.
Watch it. Love it. Thank me later. If I didn't have to go to work in the morning, I'd watch it again.
Posted by: Wonderduck at 10:22 PM | Comments (5) | Add Comment
Post contains 348 words, total size 3 kb.
October 10, 2013
Nori Is Improved
So the only problem I had with my new computer, Nori, was that the keyboard that came with her was absolutely terrible. Oh, don't get me wrong, it worked fine, and the wirelessness of it was a pleasant experience... but it was a chicklet. That is, the keyboard is of chicklet-style, little square keys, like a laptop's keyboard except slightly less pleasurable to use. You're expecting something comfortable to type upon when you have a desktop computer, after all. However, all my keyboards still had PS/2 connectors, and Nori only had USB... so I had to use the terribad keyboard for a while.
Until today.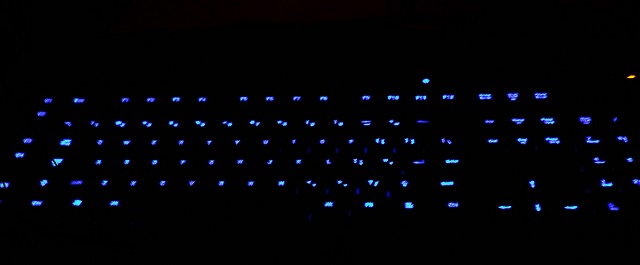 Not only is it a full size, full key keyboard with keys that actually CLICK! when you press down on them, but the
Logitech G105
has LED backlighting as well! It's lovely, particularly when you look at it through the viewfinder of my camera and it looks like the LEDs look like they're pulsing right-to-left due to what I assume is a weird frequency thingy between the LEDs and my camera.
I happily packed away the wireless keyboard and laughed when it gave a quiet *beep* when it was taken out of range of the computer. I'm a cruel duck.
Posted by: Wonderduck at 08:18 PM | Comments (7) | Add Comment
Post contains 208 words, total size 1 kb.
October 04, 2013
Just A Note
On the whole, this has been a really bad week. I might even be able to tell y'all about it sometime. As a trade, here's Rio Tachibana in her sugar glider outfit.
Why do I like such a stupid, stupid show?
Posted by: Wonderduck at 10:59 PM | No Comments | Add Comment
Post contains 44 words, total size 1 kb.
October 02, 2013
RIP Tom Clancy
News came out today that Tom Clancy had passed away at the age of 66. He was probably best known for "inventing" the Techno-Thriller genre of writing in books such as
The Hunt For Red October
,
Red Storm Rising
,
The Sum of All Fears
, and many, many more. He was also a part-owner of the Baltimore Orioles baseball team. The books in the so-called "Ryanverse", based on the adventures of Jack Ryan, all hit #1 on the bestseller lists, and here at The Pond, he has a couple of shelves all to himself in the library. It's safe to say that once his books began to be ghostwritten, their quality dropped, but until that point he was clearly one of the giants of the literary world. I remember when the book
Rainbow Six
came out... I was running a Waldenbooks here in Duckford, and I bought the first copy out of the box. I then took it home and put it in a difficult-to-reach location for three weeks, just so I wouldn't read it. See, I was about to take a week's vacation, and I wanted it to be my vacation read...
I just looked back at the release history of his books...arguably, he hasn't released a good book since 2002's
Red Rabbit
or 2003's
Teeth of the Tiger.
I don't think it matters, though. Even if you stop right there and include his non-fiction titles (mostly co-authored with "researcher" John Gresham), he has an enviable back catalog to say the least. Not too shabby for an insurance salesman who sold his first title to a history press for $5000...
I'll have to put him up there with Heinlein on the short list of my favorite authors. Now, where is my copy of
Red Storm Rising
anyway...?
Posted by: Wonderduck at 08:36 PM | Comments (3) | Add Comment
Post contains 300 words, total size 2 kb.
46kb generated in CPU 0.016, elapsed 0.1433 seconds.
48 queries taking 0.1335 seconds, 303 records returned.
Powered by Minx 1.1.6c-pink.