September 25, 2013
America's Cup Winner!
I remember, back in the day, the America's Cup sailing race was A Big Thing, when Dennis Conner brought the Cup back home in 1987. Heck, Ted Turner (yes,
that
Ted Turner) captained an America's Cup boat in 1977. But today, one of the greatest comebacks in the history of sports in general occurred, when Team Oracle USA won the Cup 9 - 8, after being down 8 - 1 to Team New Zealand. Yep, they had to win eight races in a row to hoist the trophy, and they did. Simply incredible.
Even more incredible are the boats the teams are using now. Back In The Day,
they used boats that looked like yachts
. Now? Ladies and gentlemen, I give you Team Oracle USA's boat!
It's a damned F1 car is what it is! Carbon fiber multi-hull design, hydrofoil-capable, and a 13-story tall hard wing! They don't even bother calling it a sail, it's a bleedin' wing! But, oh, can these things fly. The Kiwis hit 44kts in a 16kt wind, for example.
I know nothing about sailing, and little of the America's Cup, and care about the same amount, truth be told... but I just needed to express both my amazement and disgust with the new boats. Oh, and to congratulate Team USA, too. Woo yay!
But next time? Use real boats, 'k?
Posted by: Wonderduck at 10:04 PM | Comments (1) | Add Comment
Post contains 228 words, total size 2 kb.
September 21, 2013
Saturday Night Tunage XVIII
It's time! Get your greasy little face up next to the speakers, kids, because DJ Wonderduck is back with another installment of Saturday Night Tunage!
More fun than a barrel of monkeys, more educational than a box of lincoln logs, less metal than an erector set, that's SNT! I've got a batch of new songs for ya, so let's get right to the tunage!
more...
Posted by: Wonderduck at 09:43 PM | Comments (3) | Add Comment
Post contains 662 words, total size 5 kb.
September 20, 2013
The Good And The Bad
I interrupt what would normally be a look at F1 Practice from Singapore for a story. A story about how things can be happy one night, and sad the next. I come to tell you a story of Wonderduck's Thursday and Friday.
As those of my readers who have an unhealthy obsession with me may remember, my friend Vaucaunson's Duck makes his way back to Duckford once or twice a year. As is usual, we got together for sushi last week, along with his lovely and talented wife, Geese. As she is a busy executive-type-person at a major special effects company in San Francisco that you may have heard of, she returned there last weekend, but Vauc stayed behind. As he's my bestest friend (not-living-in-Duckford division), we planned to get together again for dinner.
In the bestest friend (Duckford-resident division) category, we find The Librarian. Long-term, not obsessed, readers will remember her as a fixture around these here parts for quite a while, and while we're not getting together as often as we used to (work work work work work), we still have an active and goofy friendship. We had plans to get together for dinner.
And then it hit me... my two bestest friends, who have never met but have heard much of the other from me, could actually get the chance to be in the same place at the same time! RAWK! WOO! And so, at a place called the
Stone Eagle
(so named for the concrete eagles scattered around the facility), a longtime wish of mine came true... The Librarian and Vaucaunson's Duck finally met each other, and a three hour long conversation, punctuated by flurries of eating (try the Reuben Spring Rolls!), took place. Fortunately for my sanity, the two of them were kind to my poor wretched self and DIDN'T haul out the truly embarrassing stories they could have. I'm fairly sure they actually liked each other... to the extent that two fairly dissimilar individuals can like each other on such short exposure, that is. For some reason, that was important to me. I mean, sure, if they didn't hit it off, they'd both still be MY friend, and in my tiny little Wonderduck-centric mind, that's all that matters, but... well. Y'know.
So that's the good... what's the bad?
Today, Friday, September 20th, marks four years since Momzerduck passed away. It still hurts to realize that she's never going to call at 7pm again, or never make chocolate chip cookies, or even just give me a hug again. I miss her every day.
Long four years. Four really long years.
Posted by: Wonderduck at 10:21 PM | Comments (1) | Add Comment
Post contains 440 words, total size 3 kb.
September 13, 2013
September 01, 2013
Here She Is!
Ladies and Gentlemen of the Pond Scum, allow me to introduce you to
Nori
, my new computer.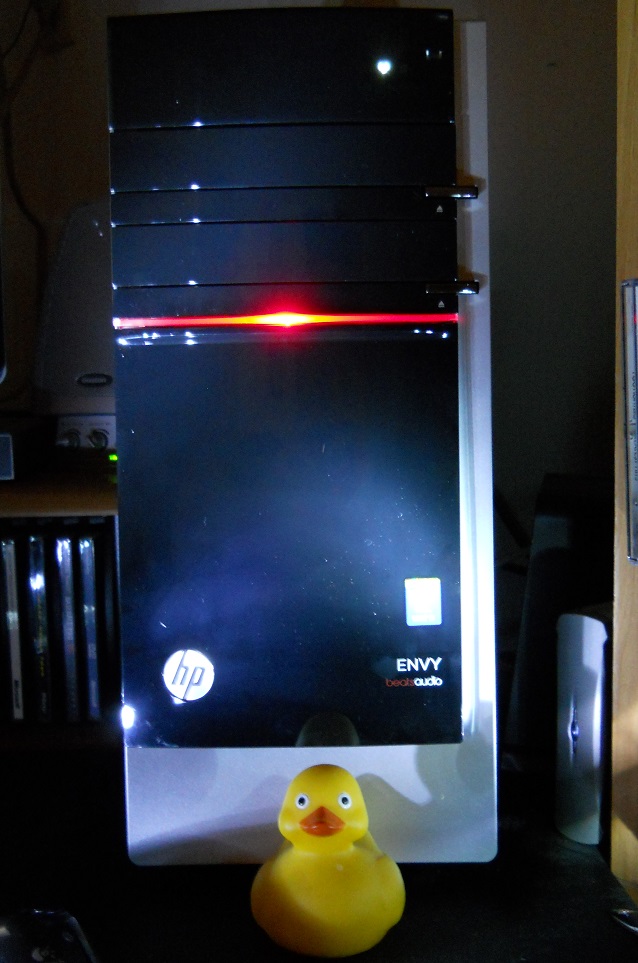 Nori is a HP ENVY 700-074. She's loaded with a 4th Generation quad-core
i5
chip from Intel, running at 3.0GHz. There's 12GB of RAM, a 2TB hard drive, built-in wireless networking (which I'm not using), and a pretty case that attracts fingerprints like nobody's business. It also came with a wireless keyboard that I'm honestly not fond of (it's essentially a laptop keyboard) but I don't own any USB keyboards, a wireless mouse that I'm not using because the one from Logitech that I own is a lot better, and built-in graphics that... well, they aren't great. I've discovered that I am in love with USB 3.0, and am very glad that my external hard drive came equipped with it. The only problem is that two of the four USB3 ports are top-mounted behind a fairing, while all the USB2 ports are front-mounted, behind a drop-down panel that doesn't leave enough space to insert a wireless mouse thingy and still be able to close the panel. As a result, I've got the Logitech mouse thingy plugged into one of the USB3 on top, which is silly. I think I'll be able to survive, however.
It also comes with Windows 8. Fortunately, it also comes with HP's "Quick Start" program, which does most of what the missing START button does.
Click to see a better look at the QuickStart menu... and some of my music collection.
Setup went the way it usually does, mostly waiting for Windows Update to figure out that yes, I really DO want it to install the updates, please. I'm a little afraid to add the graphics card... what I don't need is a repeat of what happened LAST time.
But that's dwelling on the negative. So far, I'm pleased as punch with Nori, and suspect she'll be with me for a good long time!
Nori's namesake, from Hidamari Sketch.
Say hi, everybody!
Posted by: Wonderduck at 07:08 PM | Comments (12) | Add Comment
Post contains 336 words, total size 3 kb.
42kb generated in CPU 0.0172, elapsed 0.6184 seconds.
49 queries taking 0.6083 seconds, 302 records returned.
Powered by Minx 1.1.6c-pink.