October 03, 2009
F1 Quals: Suzuka 2009!
Now that was a weird quals session! Let's take a look at the grid, then we'll talk about it:
Okay, we've
already talked
about the goings-on in Q1, what with Webber breaking his car ahead of time and two drivers going off in the Degner Curve. It was Q2 where everything started to go pear-shaped for the event.
First NKOTT went off (say it with me) in the Degner Curve, and while it was a fierce accident, he jumped out unhurt. The session was red-flagged for eight minutes, however, while the car was craned out of the kittylitter.
Once the session restarted, Jarno Trulli was the first man out, closely followed by his teammate Timo Glock... which is why Trulli was the only man to complete a timed lap before the second red flag came out.
Glock's appeared to have steering problems as he accelerated out of the Casio Triangle and into the final turn, either because something broke or because of massive understeering due to the soft tires "chunking" in 130R. Either way, his steering wheel was cranked hard to the right to no effect when he augured into the tire wall.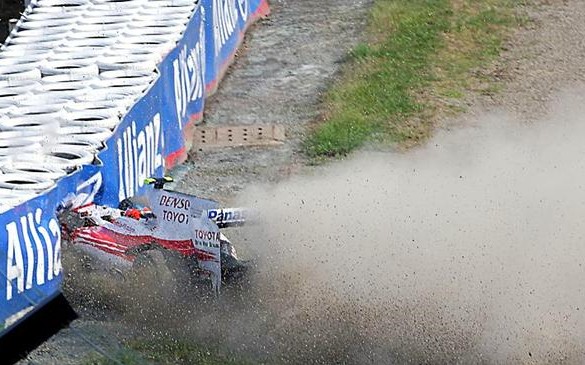 While he quickly got the steering wheel detached, it took over two minutes for the medical car to get to him, as it had to do nearly an entire lap to reach the crash site. He was removed from the car and flown to a nearby hospital, where he was treated for a cut on his leg and some back pain. The session was eventually restarted...
...when Sebastien Buemi, already a victim of a crash in Q1, lost it on the exit from the Spoon Curve and spent most of the run down to 130R grinding the right side of his car away.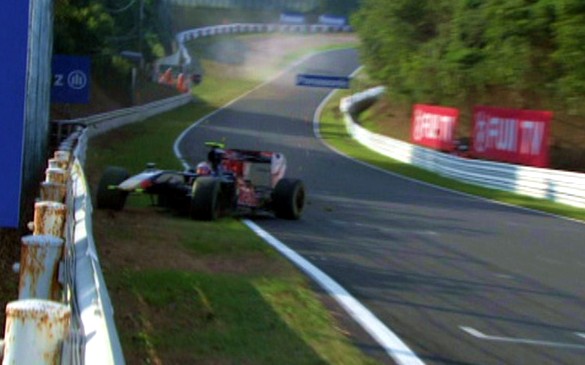 This wreck actually began back where the two orange-clad track marshals are standing, and he was pressed up against the barrier for most of the intervening space. He came to something approximating a halt some distance past the camera, then slowly took the car into the pits... all of which brought out a local yellow flag, just as many cars were bearing down on the crash site in their first, and because of the red flags,
final
hot laps for the session.
Once the session was over, HWMNBN, who was 12th and out of Q3, went and bitched at the stewards that many drivers didn't lift and slow down for the yellow flag... more about that later.
Q3 got started, and...
...oh for heaven's sake.
This time, it was Heikki Kovaleinninninninnie who got waaaaay too much curb under his chassis in (again, say it with me) the Degner Curve while on his first hot lap. The McLaren actually got airborne for a moment, then splatted into the tire wall. He was fine, but his car was broken. The red flag came out with about five minutes left in the session, throwing all the usual plans into a cocked hat. The fuel-burning laps suddenly were gone, and drivers would really only get one, maybe two shots at setting a time. After all, on this track the out-lap takes around 2 minutes, a hot lap about 1:32... if a driver gets out on track immediately, he might be able to get a second hot lap in, which is what Jarno Trulli did, but nobody else. The final results are on the grid above.
Now, back to HWMNBN's complaint. Indeed, the FIA stewards agreed with him that some cars didn't slow down as they came upon the Buemi accident, and they've handed down five five-grid-spot penalties.
The first went to Buemi himself, for not parking his car and strewing debris all the way from 130R to the pits (the part before 130R was okay; he wasn't under control then).
The next four five-grid-spot penalties were for not slowing down for the yellow flag, and they went to Adrian Sutil, Jenson Button, Rubens Barrichello.... and HWMNBN.
Methinks the gentleman doth protest too much, hmmm?
Anyway, Ross Brawn confirmed that his drivers didn't slow down. "They swerved to avoid debris, yes, but they didn't slow," said the team boss. Good show, Ross... we here at F1U! love good sportsmanship. HWMNBN, on the other hand, continued to claim that he DID slow down.
Which is why he's called HWMNBN.
Race report tomorrow!
UPDATE: More five-grid-spot penalties! Yayyyyyyy!
Timo Glock's crash was worse than everybody thought, comprehensively damaging his Toyota's chassis; if he's allowed to start the race (since he'll be in a new car, he may not be allowed to. The regs say it's okay to change the chassis before quals, but they're a little vague beyond that...), he'll be doing it from the pit lane.
Heikki Kovaleinninninnie's crash ruined his gearbox, and he'll need to take a 5-spot to change it out. Vitantonio Liuzzi, who wound up with a gearbox full of neutrals in Saturday Practice, had to change his as well, and will now be starting 24th... or last on the grid, one of the two.
The official grid has yet to be released because of all the penalties, but the good folks at SPEEDTV.com thinks it'll look like this:
1 Vettel
2 Trulli
3 Hamilton
4 Heidfeld
5 Raikkonen
6 Barrichello
7 Sutil
8 Rosberg
9 Button
10 Kubica
11 Kovalainen
12 Buemi
13 Alguersuari
14 Fisichella
15 Nakajima
16 Alonso
17 Grosjean
18 Liuzzi
Pitlane: Webber and Glock

We'll see.

Posted by: Wonderduck at 07:50 AM | Comments (9) | Add Comment
Post contains 1046 words, total size 15 kb.
1
HAHA!!! Delighted to see that HWMNBN suffered from his own bitchy complaint.
Despite a lot of black coffee, I fell asleep before qualifying started and woke up near the end of Q3. Thanks as always for your outstanding report, since it filled in some of the blanks that the LAT were discussing. Sorry I missed qualifying, but at least the race will be reaired two more times on SPEED.
Posted by: Mallory at October 03, 2009 08:04 AM (WJ2qy)
2
All those wrecks! I was afraid this might happen.
What's the deal with the Degner curve catching so many cars this way? From the flat overhead view it doesn't look particularly special. Is there an elevation aspect to it (e.g. just at the top of a hill) which makes it more nasty?
Posted by: Steven Den Beste at October 03, 2009 12:17 PM (+rSRq)
3
I'm just glad nobody got hurt. That's a lot of cars into the wall...
Posted by: Avatar_exADV at October 03, 2009 02:18 PM (pWQz4)
Posted by: Steven Den Beste at October 03, 2009 02:33 PM (+rSRq)
5
I just looked at that part of the track in Google Earth's tipped-down view that lets you see elevation, and turn 8 is flat level. I guess it's just that it's pretty sharp, and the drivers aren't slowing down enough for it.
Posted by: Steven Den Beste at October 03, 2009 02:37 PM (+rSRq)
6
Vettel says it's a tricky curb and the borders of the truck are such that if you take the curb wrong and start flying, there's no time to catch the car after landing before it goes off the hard surface. So a driver cannot save with a powerslide if things go wrong, no space.
Posted by: Pete Zaitcev at October 03, 2009 02:42 PM (/ppBw)
7
Well, there's "back tomorrow" hurt and there's Massa hurt.
Posted by: Avatar_exADV at October 03, 2009 03:26 PM (pWQz4)
8
Sorry to take so long answering; just got home from work. Homecoming, don'tchaknow?
Glock's injury is reportedly nothing more than "a long scratch," so it's pretty clear that he'll be driving in the race. "Back tomorrow" hurt... though with Glock's history of back injuries (remember that crash he had at Australia last year?), one must be careful when he reports "back pain."
According to the Legendary Announce Team, the owners of the Suzuka track (Honda, would you believe?) did some resurfacing work... which ended just short of the Degner Curve. If so, there's probably an unsuspected grip difference between the new surface and the old. Combine that with Pete's curbs and the fact that the runoff area isn't asphalt, but kittylitter, and you have a ready-made accident waiting to happen.
Posted by: Wonderduck at October 03, 2009 07:38 PM (/O6qY)
9
...and, having said that, I just checked Formula1.com and Toyota has announced that they're keeping Glock out of the race
because
of the back pain. Combine that with the flu that he was fighting, and there you go.
It doesn't appear that they'll be able to replace him with third driver Kamui Kobayashi, for the same reason that Ferrari couldn't replace Massa at Hungary.
Posted by: Wonderduck at October 03, 2009 07:44 PM (/O6qY)
Comments are disabled. Post is locked.
40kb generated in CPU 0.0168, elapsed 0.1507 seconds.
47 queries taking 0.1383 seconds, 285 records returned.
Powered by Minx 1.1.6c-pink.