July 25, 2009
F1 Quals: Hungary 2009, Massa Seriously Injured
Okay, here's the results, then we'll get to the important stuff:
However, that's all secondary. Felipe Massa was involved in a very hard crash right towards the end of Q2. At first, it was thought that there was some malfunction with the car, as tiremarks showed that he never even tried to make the turn at Turn 4, and went straight into the barrier at Turn 5.
Then came the news that Rubens Barrichello, who went out in Q2, was hampered by rear suspension problems: something important, but not crippling, came off the suspension, something called a damper spring, which is the F1 version of a shock absorber. It weighs about two pounds and is made of steel, "about the size of a microphone" as the BBC reporter put it.
Then came the video: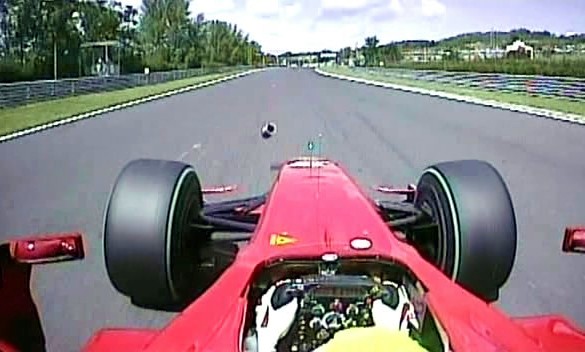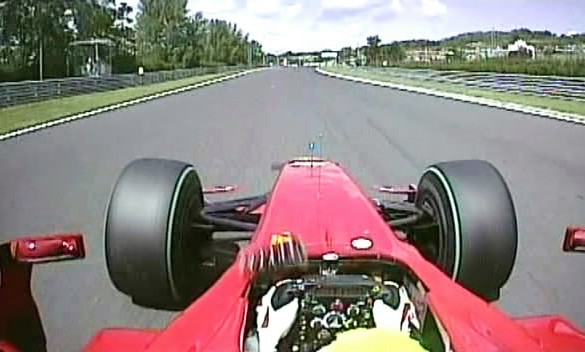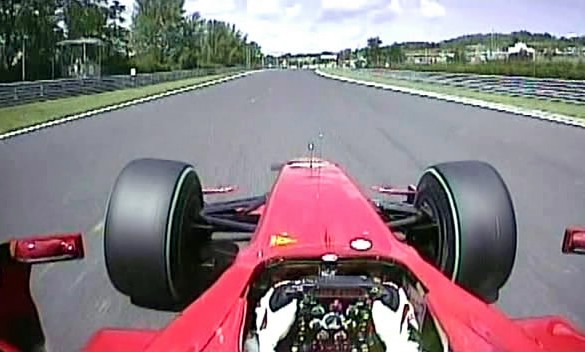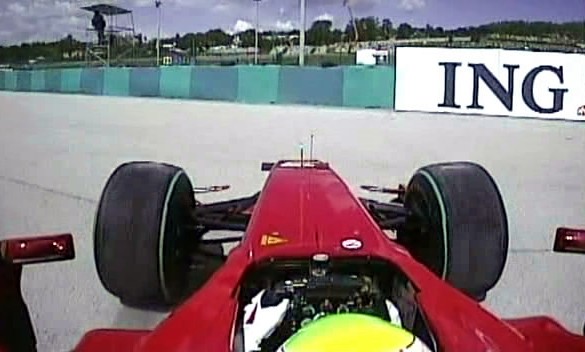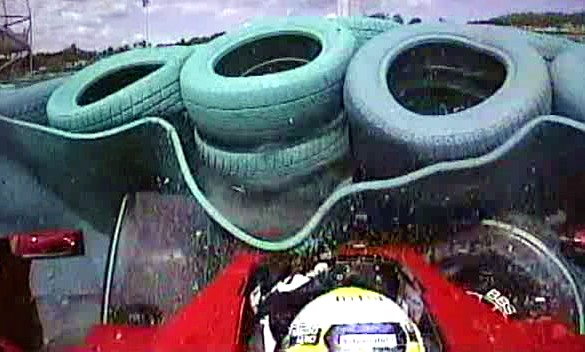 Felipe Massa was last known to be in "serious, life-threatening, but stable condition", after requiring surgery to fix a skull fracture, cuts to his chin and forehead, and a concussion. He was sedated and on a respirator, in intensive care, and was expected to be woken up on Sunday morning. Obviously, he's out of the Hungarian Grand Prix, and may be out of the next race in four weeks. The latest news is that his life is no longer in danger.
A dreadful coincidence, coming so soon after
the death of Henry Surtees
.
Race tomorrow.
Posted by: Wonderduck at 09:53 PM | Comments (6) | Add Comment
Post contains 369 words, total size 12 kb.
1
Uh-oh. When I looked at the F1 site this afternoon, they were saying that Massa was just shaken up. They even suggested that it was possible he might drive tomorrow.
Man; I had no idea it was so bad. I'm glad he's not going to die, though.
If Vettel keeps doing as good as he has been, and Button as poorly, Button's lead in the driver championship could be in serious peril. He's only 21 points ahead of Vettel now.
Posted by: Steven Den Beste at July 25, 2009 10:15 PM (+rSRq)
2
Watching qualifying this morning, the gravity of the accident didn't hit me until I saw the slow-motion film of that suspension component striking Massa in the head. I know it's been 15 years since Senna was killed... and as I sat here with tears in my eyes, I realized that I'm just not ready for another death. Media is reporting that he had a skull fracture in the forhead area and a basal skull fracture. The object tore the visor out of the helmet and left a long gash down the side of the helmet. Chances are that the basal skull fracture could have been caused by the impact with the wall. If so, the HANS device may have saved his life. My prayers are with him.
Posted by: madmike at July 25, 2009 10:44 PM (9+cXm)
3
Mike, I knew it was bad when the cameras cut away from the accident site after a track marshal did the "crossed arms X". It seems the FIA uses the same indicator as World Wrestling Entertainment for a "legit" injury.
I haven't seen the report of a basal skull fracture. If he DID suffer one, he's remarkably lucky to be alive: that's the same injury that killed Roland Ratzenberger during that terrible weekend and Dale Earnhardt Sr.
Steven, until the report comes out saying that he'll make a full recovery, I'm not taking anything for granted concerning his life. Fortunately, medical science has come a long way when it comes to brain injuries and it's not likely he'll die. However, in 1975 there was an American driver named
Mark Donohue
. He crashed in a practice session, and while he seemed fine at the time, he died the next day of a cerebral hemmorage after complaining of a headache.
I hope that, in this case, the surgery Massa has already undergone took care of that possibility.
Posted by: Wonderduck at July 25, 2009 11:23 PM (ZpwKm)
4
"At the time he was admitted to [the] hospital his condition was stable and he was breathing and blood circulation was normal," the Hungarian defense department said in a statement. "During the course of his examination they established that he suffered serious, life-threatening injuries, including loss of consciousness and a fracture of the forehead on the left side and a fracture on the base of the skull."
Posted by: Steven Den Beste at July 25, 2009 11:55 PM (+rSRq)
5
I've seen the video, and you basically can't see the part at full speed, given how small it was and how fast everything was moving. But it's clear that it knocked Massa cold and he just continued in a straight line from that point into the wall. Fortunately it looked to me like his foot came off the gas and he was coasting for those 5-10 seconds, it could have been worse.
The picture here
http://i213.photobucket.com/albums/cc278/flood1_01/MassasHelment.jpg
(a little blood, but I don't consider it 'graphic') shows just how hard his helmet got hit, whether or not he owes his life to his HANS, he definitely owes it to that helmet.
The concept of getting hit by a part at that speed is just frightening, and it's happening more often these days, some people are accusing the proliferation of carbon fibre for producing more fragments and weaker mounting points. I'm not sure what can be done to solve the issue or at least reduce the risk, but if anything can be done in terms of improved safety, F1 has a good history of figuring it out.
Posted by: David at July 26, 2009 12:01 AM (n/RK7)
6
As soon as I saw the track marshal do the crossed armed "X" I wondered if it meant the same thing as the WWE signal for a real injury. The fact that Massa wasn't moving was scary and put me in mind of the dark day that Dale Earnhardt, Sr., speared a wall in much the same way.
May prayers are with him and his family during his recovery.
Posted by: Mallory at July 26, 2009 10:13 AM (WJ2qy)
Comments are disabled. Post is locked.
38kb generated in CPU 0.0232, elapsed 0.2222 seconds.
47 queries taking 0.2059 seconds, 282 records returned.
Powered by Minx 1.1.6c-pink.