December 03, 2009
Sauber In, But Renault Out?
It's about bloody time:
The FIA has written to inform BMW Sauber AG that their application for an entry in the 2010 FIA Formula One World Championship has been successful. Subject to their signing the Concorde Agreement, BMW Sauber will be awarded the 13th entry in the championship, taking the place of the departing Toyota team.
-From the official FIA announcement.
Good news all around, as Peter Sauber is one of those motorsports legends that nobody really hears about, but everybody on the inside respects immensely. How much? When BMW purchased an 80% stake in what was then known as Sauber-Petronas F1 from Credit Suisse, they could have just gone ahead and renamed the team after themselves (see "Mercedes Benz"), and nobody would have blinked an eye. Instead, they decided to call themselves BMW-Sauber, even though Sauber himself was to be naught but a "consultant" for the team.
In a related note, you may remember
this post
that included a picture of some
die-cast F1 cars
I picked up in the toy aisle of a local grocery store. Two of the cars were obviously based on the Toyota and McLaren liveries, but I couldn't place the third one. I now believe that it was a half-hearted attempt to match the old Sauber-Petronas paintjob.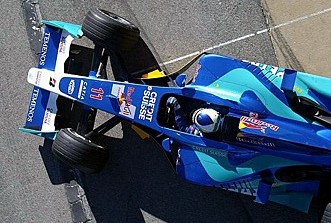 There's even an animal on the air scoop. Okay, sure, it's a white bear on the toy and a red bull on the Sauber, but it's in the right place. The "flames" even kinda match up. So until someone comes up with with a better answer, I'm going with Toyota, McLaren, Sauber.
According to
PlanetF1.com
, Renault appears to be on the verge of getting out of the sport as a race team. Of course, this has been rumored ever since Crashygate came down and they got their wrists slapped, but now there's actually some names attached to it. The story is that Renault will sell their team to the Prodrive company, which had been
granted a slot on the grid
in 2008. That attempt fell through, but if this is true, well, they're a team with a lot of history and background.
Renault would still be an engine provider, at least through 2012, however, so they wouldn't be completely gone.
Silly season... almost as much fun as the
real
thing!
Tip o' the helmet to reader Madmike for the pointer!
Posted by: Wonderduck at 11:21 PM | Comments (3) | Add Comment
Post contains 398 words, total size 3 kb.
1
Uh-oh. I hope Kubica can find a ride.
Posted by: Steven Den Beste at December 04, 2009 12:48 AM (+rSRq)
2
I can't say I'm not loving the recent "rise of the independent" team. I love having the manufacturers involved... as engine suppliers. But I love the fact that the team that wears Bruce McLaren's name is now its own again. It's also fantastic to see Peter Sauber back in the game. Can Eddie Jordan be far away? ;-)
Posted by: madmike at December 04, 2009 11:22 AM (fEpey)
3
Can Eddie Jordan be far away?
Dear god, I hope so. Far, far away.
Posted by: Wonderduck at December 04, 2009 06:42 PM (C32SO)
Comments are disabled. Post is locked.
25kb generated in CPU 0.0127, elapsed 0.0659 seconds.
47 queries taking 0.058 seconds, 279 records returned.
Powered by Minx 1.1.6c-pink.