March 29, 2009
F1 Update!: AUSTRALIA 2009!
Welcome to the new season of Formula 1, and the new season of F1 Update! It's been a wild offseason, full of rules changes and political manueverings, but that's all over with. Now it's time to go racing, and there's no better place to start than the more-or-less traditional place to begin a season, Australia!
*A DAY AT THE RACES
: With the two Toyotas relegated to the back row for technical infringements (and choosing to start from the pit lane) and Lewis Hamilton's McLaren nursing a gearbox change, the field took to the grid and we got our first taste of the sun shining right into the driver's eyes due to the 5pm local start time. When the lights went out, the polesitter Jenson Button made a good getaway, but his teammate Rubens Barrichello did not. His BrawnGP lurched forward, then freewheeled before accelerating again. By that time, though, he had already dropped five places and jammed the entire field together as those behind him scrambled to avoid rear-ending the 'mobile chicane'. The first six cars made it through the first turn unscathed, but Barrichello proved to be a catalyst for danger. The Brawn, Mark Webber's Red Bull, and the BMW of Grizzly Nick Heidfeld all tried to be on the same racing line at once, which never works. When Rubens' car was bumped from behind by Heikki Kovaleininninnie's McLaren, a chain reaction occurred, sending the BMW spinning with a rear puncture, the Red Bull needing a new nose, the McLaren to the garage with a snapped front suspension, and the Brawn with a damaged front wing... which still managed to hold together long enough for Rubens to break off the damaged bits on Kimi Raikkonen's right rear tire 10 laps later in an ill-considered manuever.
By the end of the first lap, Button had a nearly-four-second lead over Sebastian Vettel's Red Bull... and that's about where it stayed for the first stint. Vettel couldn't get closer, Button couldn't (or wouldn't) get farther ahead.
On lap 17, Vettel pitted from second and the Williams of Nico Rosberg pitted from third while Button turned in fast lap of the race, making one wonder if this was going to be a complete runaway for the Brawn. It was then, however, that Kazoo Nakajima got a little too much curbing under his Williams, sending him careening nose-first into the wall at the exit of turn four with the remains of the car ending up dead on the racing line. The safety car took forever to be called out, allowing Button to pit beforehand.
It then took forever for the SC to go away, with the front of the field being Button, Vettel, Felipe Massa, Robert Kubica, and Kimi Raikkonen, with Rubens Barrichello 10th. It was during this round of stops, though, that the lowering sun first began to play hob with the drivers, as the Force India of Giancarlo Fisichella completely missed his pit box, having to be pushed into the correct position. It was obvious that he simply couldn't see which was his until he was nearly past it.
Once the SC dove back to the pits on lap 24, the Renault of Nelson Piquet Jr and Nico Rosberg's Williams were dicing for position into turn one when the Renault suddenly snapped into a spin and sailed off into the kittylitter for no reason that anyone could see. While the cars had been close to touching, there was still daylight between them. Local yellow only, and the race continued. Again, Button opened up a 3.9 second advantage, but Vettel again hung with the Brawn at that point.
The final round of pitstops was nearly a disaster for Button, and he couldn't get the car out of second gear, preventing the fuel rig from being installed until after the tirechange was done. This reduced his lead over Vettel to less than two seconds, and made the race very close. Felipe Massa's Ferrari retired at this time with an unexplained problem, while his teammate brushes a wall and has to retire with one would expect to be suspension damage a few laps later.
With four laps to go came the defining moment of this race. Button and Vettel were on the super-soft tires which worked well... for a couple of laps, then would go off. Third-place Robert Kubica in the BMW, on the other hand, was on the medium compound tires and making up gobs of time on both cars. In the space of one lap, the Pole managed to make up nearly three seconds on Vettel and began to harry the Red Bull driver badly. On lap 56, Kubica makes his move, but the two collide and tie up with each other. Vettel loses his entire front wing and ends up in the grass, Kubica loses half his nose and steams onwards. A few hundred yards later, the two of them lose their cars at the same time, the lack of downforce sending them skittering into the wall. The BMW is a total loss, the Red Bull somehow keeps moving, though with one tire at right angles to the direction of travel. Vettel eventually has to park the car, though not until he turns nearly a half-lap in a dangerous state (he is later fined $50000 for this transgression).
The race essentially ends at this point... and Rubens Barrichello, who had been steadily working his way back from the disasterous start, is in second place, for a Brawn One-Two. Jarno Trulli is in third after starting from the pit lane, and Lewis Hamilton is fourth after starting from the back of the grid.
*CHANGE WE CAN BELIEVE IN
: At this point, it looks as if all the changes to the technical regulations accomplished exactly what the FIA intended, that of allowing cars to be able to close up to one another more easily, so as to be able to pass. We saw a lot of nose-to-tail racing, and a plethora of passes. For once, the FIA got it right.
*DRIVER OF THE RACE
: We were quite prepared to give this to Toyota's Jarno Trulli. From the pit lane to the podium? Heck, that's a drive for the ages! Then came the news that he had been handed a 25 second penalty for passing behind the safety car. Y'see, during the safety car brought out by the Vettel/Kubica kerfluffle, Trulli lost the heat in his tires and had a gentle spin in a corner. This brought him to a halt on the track and let a car go by him (which is the ONLY time you can pass under safety car conditions). Trulli got going again and retook his place in line... after passing the car that had passed him. That's a bad thing, and that got him dropped from third to 12th overall.
The person who he passed? Lewis Hamilton, who started 18th... and who is our DotR. Even though his car is, currently, rather lackluster, he still managed to get six points out of the day? Yep, that's a heckuva drive, and well deserving of this award.
*TEAM OF THE RACE
: Is there's any doubt? Brawn GP didn't even exist a month ago, Button and Barrichello thought they were unemployed, and yet there they were, on the podium, hosing down team principal Ross Brawn with champagne after being the first debuting team to go 1-2 since Mercedes in 1954. While there were some dodgy moments (the very start, Button's second pit stop), all in all it was a dominating performance.
*MOVE OF THE RACE
: There were plenty of choices here, but late in the race Timo Glock was hunting down HWMNBN. On lap 52, he made the Renault choose the inside line into turn three while also having to brake late. This forced HWMNBN to swing wide. Glock dove underneath the Renault and just flat outdrove the ex-world champion, making the pass stick through turn four, even though the Toyota was on the outside of the turn. A brilliantly executed pass on perhaps the best driver in F1 today (as much as it pains us to admit that).
A special honorable mention goes to Ross Brawn and his use of the Australia GP Constructor's trophy as a shield against the champange spray of his drivers:
*MOOOOO-OOVE OF THE RACE
: Celebrating the best race drivers in the world's worst moments, the Mooooo-oove is given to the most bovine manuever executed during the course of the race. Today, we have
two
to give out. The first goes to both Robert Kubica and Sebastian Vettel for their late-race schmozzel which took them both out of a podium finish. Kubica earns his half of the award for forcing the issue when he didn't have to; he had plenty of time to get past Vettel, and should have waited for a better place. Vettel earns his half for not letting Kubica past when he was obviously in an untenable position; he had no chance of holding second as his tires had gone, and instead cost his team valuable points. Bravo to both... eesh.
The second MoootR goes to the FIA and Bernie Ecclestone for insisting that the race start at 5pm local time. Tell us, does this look like something you'd want to experience when you're whipping around a racetrack at 170mph: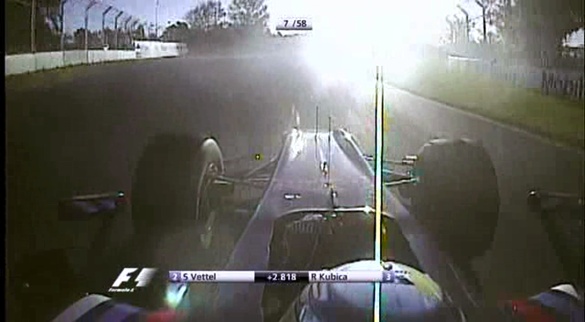 Oh, by the way? There's another car up ahead, see if you can spot it!
*DRIVER QUOTES OF THE RACE:
"Woo-haaaaaaaa! Yeah! Ross, you're a legend!" - Jenson Button
, in radio conversation after the race.
"Well, I'll be damned... so this is what the podium is like. I'd almost forgotten." - Rubens Barrichello.
"Well, a really fantastic race for Toyota and mysel... hey, get your hands off me! Where are you taking... HEY!!!" - Jarno Trulli (
getting dragged off the podium
)
"Probably the best race I've ever had." - Lewis Hamilton (
we agree
)
"A heckuva lot better'n
last year's race for me
, that's for sure." - Timo Glockenspiel.
"Glockenspiel made me look like a rookie. Fifth place is no consolation." - HWMNBN.
"Now that we know what the tires'll do, we might actually win a race or two. Wow." - Nico Rosberg.
"Is it always going to be this easy?" - Sebastian Buemi (
nope, rookie, it ain't
)
"Just... can I drive a ChampCar again? Just once?" - SeaBass.
"Exciting race! I think we can be happy with this!" - Adrian Sutil (
ah, lowered expectations...
)
"But in the end it didn't matter much because who cares if you finish 10th or 13th?" - Grizzly Nick Heidfeld (
note: real quote
).
"I'm very disappointed with the mistake I made in the pit stop. I'm really sad about this as I think we could have got a good result. Like eighth." - Giancarlo Fisichella.
"Just for sodding ONCE, I'd like a good finish in my home race. Is that too much to ask?" - Mark (Bruce) Webbo, Australian.
"I'm sorry. I'm an idiot. I'm very sorry." - Sebastian Vettel (
note: real quote from radio communications
)
"Yes. Yes, you are." - Robert Kubica.
"mrmmbl mrlmrbrlbbll mrblmbrlmblrr rrmrb. mbl." - Kimi Raikkonen.
"What he said." - Felipe Massa.
"My brakes went crazy." - Nelson Piquet Jr (
note: real quote from radio communications. Sure,

that'll

happen
)
"AIEEEEEEEEEEEEEEEEEEEEEEEEE!" - Kazoo Nakajima.
"My race was very short." - Heikki Kovaleininninninnie (
note: real quote
)
And so ends the start of the F1 season! Tune in next week for coverage of the Grand Prix of Malaysia... will Brawn continue their domination, or will Toyota learn the rulebook by then? We'll all find out in just seven days!
Posted by: Wonderduck at 08:33 PM | Comments (10) | Add Comment
Post contains 1934 words, total size 13 kb.
Posted by: Avatar at March 29, 2009 09:06 PM (7TgBH)
Posted by: Wonderduck at March 29, 2009 09:50 PM (tMdKd)
Posted by: David at March 29, 2009 10:47 PM (n/RK7)
Posted by: Steven Den Beste at March 29, 2009 10:50 PM (+rSRq)
Posted by: Wonderduck at March 29, 2009 11:05 PM (tMdKd)
Posted by: Mallory at March 30, 2009 10:41 AM (3sife)
Posted by: Pete Zaitcev at March 30, 2009 10:42 AM (/ppBw)
Posted by: Wonderduck at March 30, 2009 06:42 PM (tMdKd)
Posted by: Steven Den Beste at March 30, 2009 11:40 PM (+rSRq)
Posted by: Wonderduck at March 31, 2009 01:04 AM (tMdKd)
Comments are disabled. Post is locked.
39kb generated in CPU 0.0159, elapsed 0.1293 seconds.
47 queries taking 0.1173 seconds, 286 records returned.
Powered by Minx 1.1.6c-pink.