August 30, 2009
F1 UPDATE!: BELGIUM 2009!
Once again, Spa brings us the best race of the season. Action, drama, neck-and-neck racing, even a little bit of controversy, all of it could be found at the 2009 Grand Prix of Belgium.
This
is YOUR F1 Update!
*LAP ONE HIJINKS
: We here at F1U! try not to mention the events of the first lap of any race. Too many cars trying to go into too little space usually sends one or two of them back to the pit lane for a replacement nose or new tires; it happens almost every race. Today, though, was a little different.
When the lights went out, fourth on the grid Rubens Barrichello's anti-stall system cut in, reducing him to little more than a slowly moving obstacle as the rest of the thundering herd bore down upon him. Ferrari's Kimi Raikkonen twitched past him narrowly, but the others got past him clean. Into La Source, polesitter Giancarlo Fisichella kept clean, and indeed, began to pull away from Jarno Trulli's Toyota and hot-starting Robert Kubica's BMW. However, they and Grizzly Nick Heidfeld managed to pretty much block La Source as they went through. Kimi Raikkonen, showing both the wisdom of experience and a total disdain for the rulebook, barely bothered to turn, instead going wiiiiiiiiide into the runoff area outside turn 1. Then, with nothing but clear asphalt in front of him, he mashed the "go-really-fast" button and voomph, he was in second by Les Combes.
While Kimi mumbled "rulebook? What rulebook?", chaos reigned in La Source. Three cars, including Adrian Sutil's Force India, wound up requiring new noses as everybody ricocheted off each other. Actually, the surprise is that
only
three cars suffered damage. One cockpit camera shot showed Lewis Hamilton's McLaren being jostled from either side by other cars... at the same time. Still, nobody was knocked out, so no blood, no foul. That, however, would soon change.
Into Les Combes, Kimi went a little too hot into the turn, scorching his tires and cutting across the curbs. Kubica, unsure what was going to happen in front of him, slowed up and missed
his
braking point, also going across the grass and throwing a cloud of dust into the air. Further back, it seems that Jenson Button saw the dirt flying and maybe slowed up a small amount. Almost instantly, the Renault of Lettuce Grosjean plowed into the back of the BrawnGP racer, sending them both spinning into the tire barriers. An instant later, the same thing happens to Lewis Hamilton's McLaren, with NKOTT's Toro Rosso sending both of them off into the tires, narrowly missing the stricken Renault.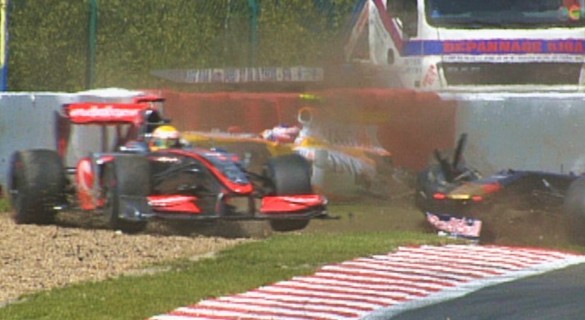 Almost instantly, the safety car was deployed, bringing the breathless antics of the first lap to a remarkable end. The damage toll: four cars out, three cars visibly damaged, and one, HWMNBN'd Renault, with some subtle wheel damage that'll only become apparent during his pitstop on lap 21. At that point, his left-front tire could only be changed with much difficulty and the team sent him out after a nearly 20second long stop. They then recalled his Renault, saying they couldn't be sure that his tire was secure (see Grand Prix of Hungary, 2009). He retired shortly thereafter.
*MEANWHILE
: Once the safety car peels off to begin lap 4, the Force India of Giancarlo Fisichella manages to stay in front of Kimi's Ferrari through La Source, but in Eau Rouge the Ferrari driver again puts his thumb on the "go really fast" button and nearly runs into the back of Fisi. Another snap to the side clears the Force India, and Kimi took the lead, a lead he would never relinquish.
*HOWEVER
: This was not a runaway victory for the Scuderia. Grimly, Fisichella hung onto the back of the mumblin' Finn. The lead that Kimi had opened during the KERS-assisted pass stretched no farther than 1.8seconds, and then the Force India began to slowly wind him back in. The Ferrari had a small advantage in the fast sectors (1 and 3), but the slower sector 2 belonged solely to Fisichella, usually to such an extent that he would make up the time deficit of the other two and a little bit besides. The lead was down to less than a second when the two came into the pits on lap 14. Both stops were clean, though the Force India mechanics seemed to take a little bit longer. The two cars rejoined the race the same way they entered the pits: Kimi in front of Fisi by less than 1.5seconds. On they went, with the story progressing as it had earlier: the Italian slowly reeling in the Finn, but never quite being able to get close enough to challenge for a pass. The 31st lap of the race brought both back into the pit lane, Raikkonen leading by about a second. Both Ferrari's and Force India's mechanics got their respective chargers out in 7.1 seconds, and again, they were only a second or so apart back on the track.
*THEN
: It all somehow
got better
. Lap 35 saw Seb Vettel's Red Bull come out of the pits in third place, just about 5 seconds behind Fisichella, who by now was only .7sec behind Raikkonen. Vettel, free of challengers behind him, was able to concentrate on running down the dueling Ferrari and Force India. Quickly, the gap to second place dropped to three seconds, while Kimi's lead was down to about a half-second on Fisi.
*FINALLY
: The church bells in Maranello pealed in happy celebration as the Ferrari of Kimi Raikkonen crossed the finish line still about a half-second ahead of the Force India of Giancarlo Fisichella, who remained about three seconds ahead of the Red Bull of Seb Vetttel.
*BUT
: With three laps left to go, the sixth place Brawn of Rubens Barrichello, who had been pushing hard to take 6th place away from Heikki Kovaleinninninnie, suddenly begins expelling a plume of smoke.
Behind him, 8th and 9th place, Nico Rosberg and Mark Webber, begin to salivate at the prospect of a free point. The Brawn backs off of Kovaleinninninnie, but he can't take it too easy, since the other two drivers are breathing down his neck, hard. Still, the car seems to be running okay, and the smoke doesn't seem to be getting worse, so Rubens presses on. With one lap to go the pitwall calls him on the radio, saying that it's just an oil leak, and he'll
probably
make it to the end of the race. Maybe. They hope. Knock wood. Well, Barrichello must have run over a rabbit on-track and gotten one of its feet stuck in the bodywork somewhere, because the Mercedes engine held together to get across the finish line.
*AND THEN...
: Break out the smores!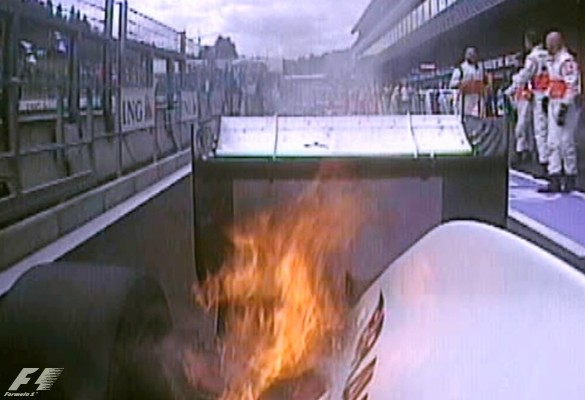 The Brawn caught fire in parc ferme, seconds after the race had ended. Someone once said the perfect racecar would run at 100% right until it crossed the finish line, then it would fall into a billion pieces. Guess the Mercedes engine is pretty perfect then, eh?
*DRIVER OF THE RACE
: He didn't win, but there's no way in the world anybody but Giancarlo Fisichella could get this award today. The only reason he didn't win was because of the KERS system in the Ferrari. If it wasn't for that, Fisi would have overhauled Kimi. Well done, Giancarlo... you DO realize that leaving Force India for Ferrari will probably be a step
down
, right?
*TEAM OF THE RACE
: Force India. Your first ever pole, your first ever points, your first ever podium... need I say more?
*MOVE OF THE RACE
: No contest here, either. Kimi Raikkonen's pass of Giancarlo Fisichella on lap 4 using the KERS system in an offensive mode put the Ferrari in the lead, allowing him to use KERS
defensively
for the rest of the race, securing the win but only barely. The "go really fast" button made this an exciting race, no question about it.
*MOOOOOOO-OOOVE OF THE RACE
: Kimi Raikkonen wins this one, too. His blowing of Les Combes started the chain reaction that led to four piles of carbon fiber sitting on the side of the road. Good job, Kimi! I'm not sure anybody's ever won a race AND the Mooooo-ooove in the same race!
*DRIVER QUOTES OF THE RACE
:
"mrmrmbblm mrmlrblrbrbll mrmlblbmmmrmzoom. mrmbeblblemm mrmmmlb. mrl." - Kimi Raikkonen
"So, tell me more about this KERS system... I hear I might be using it in a couple of weeks?" - Giancarlo Fisichella
"I got points, Jenson didn't. I'll take it." - Sebastian Vettel
"Fourth. Last year, I would have been disappointed with fourth. Next year, maybe Force India will have an opening..." - Robert Kubica
"Meh. I should have done better." - Grizzly Nick Heidfeld
"Can I PLEASE keep my job now?" - Heikki Kovaleinninninnie
"Mmmmm, smores!" - Rubens Barrichello
"I'm still spitting up oil, Rubens." - Nico Rosberg
"Look, guys, next time DON'T SEND ME WHEN THERE'S A CAR RIGHT NEXT TO ME IN THE PIT LANE, OKAY? I SAID 'OKAY???' " - Mark Webber,
who got a drive-thru penalty for unsafe release which cost him at least two points
.
"The fuel rig cost me points. Can't we do anything right? We don't have much time left, y'know..." - Timo Glockenspiel
"Wasn't I supposed to be the hotshot of this team?" - Adrian Sutil
"I drove a consistent race, making no mistakes and everything on the car worked well. In short, it was dull." - Sebastien Buemi
"It's Formula Nippon for me next year, isn't it?" - Kazoo Nakajima
"I hope the Maranello McDonalds needs a drive-thru cashier." - Luca Badoer
"Look. Guys. Is it so hard to change a
frickin
' tire? Do I have to do everything around here? Here, lemme show you. Hey, how come it's not coming off?" - HWMNBN
"I retired from the race, and nobody knew about it. How 'bout that?" - Jarno Trulli
"AIEEEEEEEEEEEEEEEEEEEEEEEEEEEEE!!!!!!" - Jenson Button, Lettuce Grosjean, Lewis Hamilton, NKOTT
So that's it for the 2009 Belgian Grand Prix! We'll be back in two weeks for La Pista Magica, "the magic track", Monza. See ya then!!!
Posted by: Wonderduck at 06:31 PM | Comments (6) | Add Comment
Post contains 1693 words, total size 11 kb.
Posted by: David at August 30, 2009 07:59 PM (n/RK7)
Posted by: Wonderduck at August 30, 2009 08:48 PM (gW8Fx)
Posted by: Steven Den Beste at August 30, 2009 08:57 PM (+rSRq)
Posted by: Pete Zaitcev at August 30, 2009 10:02 PM (/ppBw)
Posted by: Wonderduck at August 30, 2009 10:12 PM (gW8Fx)
Posted by: Mallory at August 31, 2009 10:24 AM (WJ2qy)
Comments are disabled. Post is locked.
34kb generated in CPU 0.032, elapsed 0.4813 seconds.
47 queries taking 0.47 seconds, 282 records returned.
Powered by Minx 1.1.6c-pink.