October 11, 2009
Timo Out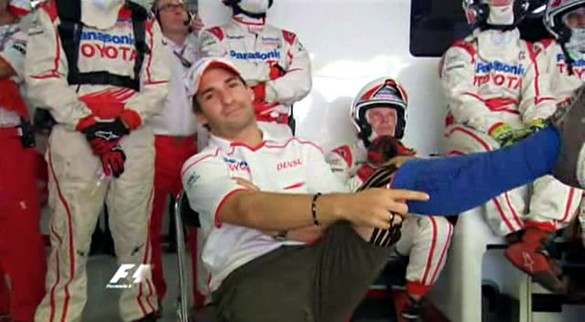 Timo Glock, the official favorite driver of Vaucaunson's Duck's wife, Geese, will not be racing at Brazil. While he was held out of the Japanese Grand Prix because of the gash he suffered to his leg in his huge shunt in qualifying, further medical tests back home in Germany revealed he
also
suffered a fractured vertebra.
This is troubling for a number of reasons, but the biggest is that this is becoming a trend for Glock. If you remember, he's suffered a couple of spine-crumbling crashes in the past. The first was at Australia in 2008:
He got off-track, then discovered what could almost be called a curb in the grass, at which point it was launched into the air. On landing, we all discovered two things: 1) F1 cars have no shock absorbers, and 2) drivers sit directly on the floor of the chassis, with no padding beneath them. The impact to his spine can only be imagined in its intensity.
Four months later, in Germany, his suspension broke and he wound up going backwards into the front straight's inside wall:
This impact was so hard that the Toyota wound up careening all the way back across the width of the track. While F1 cars have a crash structure built into the rear of the chassis, designed to absorb a lot of the impact, there's no way it can take all of it.
While he missed no time from either crash, and indeed finished a career-best second at the race following the German Grand Prix (Hungary), after both accidents there were concerns about his back.
It's possible that the previous crashes had done some unseen damage, weakening his back to where any suitable accident could do serious injury. The doctors don't seem all that concerned -- they still expect him back for Abu Dhabi-- but it's something that's got to be in the back of his mind.
Posted by: Wonderduck at 08:22 AM | No Comments | Add Comment
Post contains 320 words, total size 2 kb.
Comments are disabled. Post is locked.
22kb generated in CPU 0.0318, elapsed 0.1764 seconds.
45 queries taking 0.1559 seconds, 275 records returned.
Powered by Minx 1.1.6c-pink.