June 03, 2009
Bad Anime! Bad, BAD, B A D !!!!!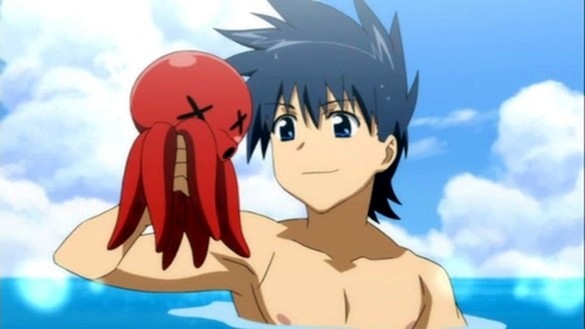 "Hey, look! I just caught a baby octopus-thing! I bet my twin sisters (who aren't related by blood to me at all!) will think it's cute!"
"Awww, onii-chan (who isn't related to us by blood at all!), I bet the baby octopus-thing's parent will be sad."
"Oh no! A giant octopus-thing, and it's not sad, it's angry! Whatever will us identical twins starring in an anime do?"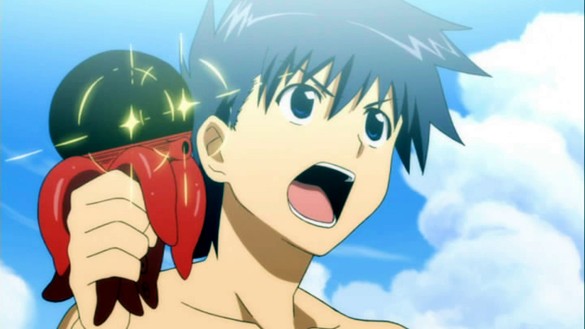 Wonderduck: "You have got to be kidding me. Don't do it, anime, I'm warning you!"
Wonderduck: "Damn you Japan, damn you straight to hell."
To give the show
Kiss x Sis
credit, this episode, packaged with a volume of the manga in Japan, is lightyears better than the OVA that was released a few months ago. While the entire concept of two sisters (that aren't related by blood to their brother at all!) that lust after their older brother (who isn't related to his sisters at all!) is, to put it mildly, icky, the execution of the show was...
...it hurts me to say this...
...actually pretty good. I did laugh out loud a couple of times, which is more than I can say for the OVA (which was pretty out there, ickyness-wise).
If
you can forget about the main premise, and that's a mighty big "if", the ecchi is played for laughs, and succeeds about half the time. It actually helps that the guy ISN'T into it at all, running for cover whenever possible.
But then there's that whole "it isn't what it seems, we're not
really
related!" thing. Throw in the parents' wholehearted approval (to the point of mom taking bets from the neighborhood wives as to which one of the twins the guy'll pick), and it becomes
really
icky.
The fanservice is entertaining, I'll give it that.
NOT recommended for anybody. You'll hate yourself for watching it, just as I do now. I doubly hate myself for enjoying it occasionally.
Posted by: Wonderduck at 09:29 PM | Comments (3) | Add Comment
Post contains 329 words, total size 2 kb.
1
Why did Octo-junior's head turn green?
Posted by: Steven Den Beste at June 04, 2009 01:17 AM (+rSRq)
2
(Aside from the obvious: the guy is squeezing Octo-junior in the sensitives...)
Posted by: Steven Den Beste at June 04, 2009 01:30 AM (+rSRq)
3
Look at the gleam in its eyes, then the upper left corner of the final pic... It's gotten
angry
!
Posted by: Wonderduck at June 04, 2009 08:11 AM (DcSb+)
Comments are disabled. Post is locked.
24kb generated in CPU 0.0421, elapsed 0.303 seconds.
47 queries taking 0.2943 seconds, 279 records returned.
Powered by Minx 1.1.6c-pink.