September 10, 2009
When Anime & Formula 1 Collide... Part 2
So in the previous post,
Avatar mentioned
a show entitled
Yakitate Japan
. It seems it's an anime about competition bread-baking... and if you're not rolling your eyes or thinking "yeah, that's a good concept to base a show around, sure", you're just not telling the truth to yourself or others.
Anyway, the whole second half of the series takes place in Monaco... at the same time as the Grand Prix of Monte Carlo. So of course, there must have been an episode showing F1 cars, right? Well, right! Episode 44 contains the relevant 26 minutes, and while I watched it for the F1 aspect, at least the first half of the ep was pretty decent if you like
shonen
-style shows.
"But what about the visuals", I hear you asking. A good question! Here's an example:
...yep, not only is it pretty clearly a F1 car, it's from the timeperiod appropriate to the production date of the show (2004). Not at all bad, actually.
But Avatar mentioned that David Coulthard's Chin makes an appearance, and while I'm sorry to say that he doesn't, there is a driver that does...
Some say that he thought
Star Wars
was a documentary...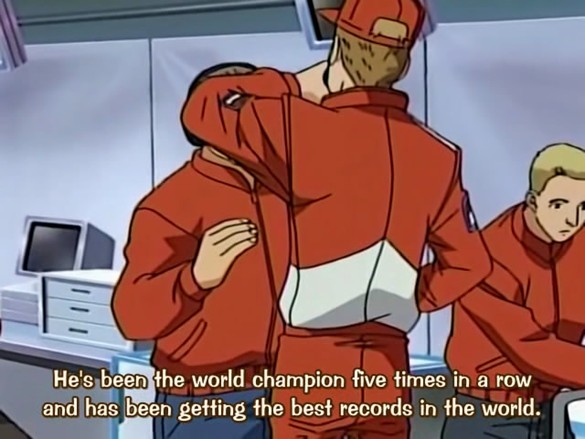 Some say that when he slows down, brake lights come on on his buttocks...
Some say that he only knows two facts about ducks, and they're both wrong. All we know is, he's called...
...
Mikhail "Slappy" Schukapper!!!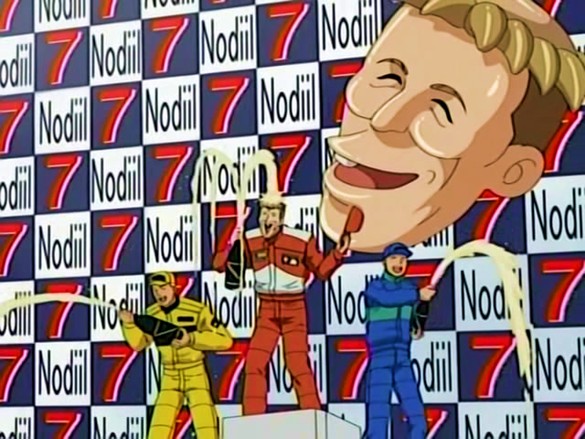 That's just embarrassing, and I'm giving the animation team a demerit for this shot. No, not because of the giant Schukapper head, but because of the victory ceremony. Monaco doesn't use a podium!
For what it's worth, the animation of Schukapper's car is really quite decent: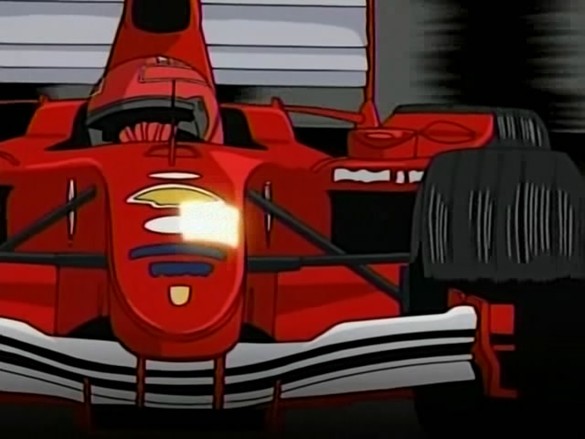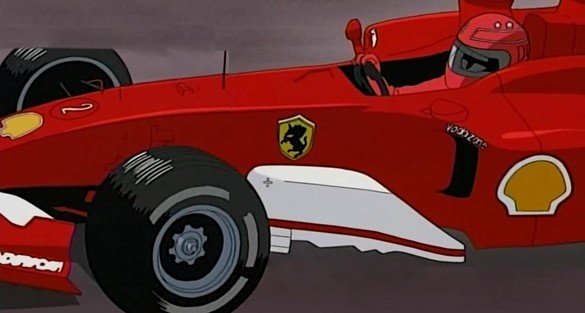 One has to love the "Vodazone" logo and the prancing unicorn badge.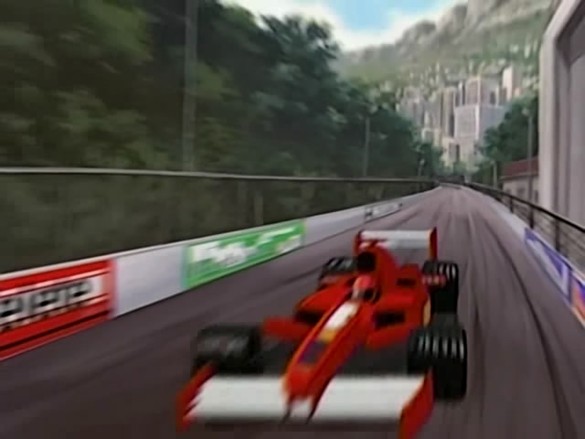 Someone there in the animation office took their time on some of these scenes, I'll say that. As previously mentioned, the race scenes take place in Monaco, and I'll be darned if that isn't the
run up to Beau Rivage and Massanet
right there.
And, annoyingly, Mikhail Schukapper wins everything in sight, just like the racer he's based on.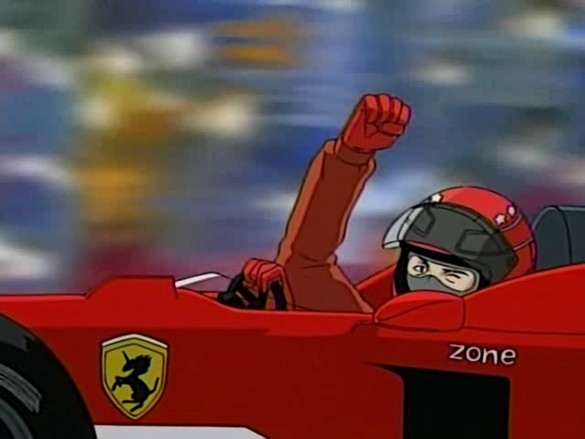 In the show, this is his 100th consecutive victory. I'm fairly sure I'd have to kill myself if that ever happened in real life.
Thanks for the tip, Avatar! Fun stuff here.
Posted by: Wonderduck at 04:13 PM | Comments (3) | Add Comment
Post contains 393 words, total size 3 kb.
1
Awww, man, too bad I broke after the hands of gold episode.
Posted by: Pete Zaitcev at September 10, 2009 04:45 PM (/ppBw)
2
I didn't get that far into the show, but I'm busting a gut here at your, ah, thinly-veiled fast-cars entertainment-show references. *cough*
Posted by: GreyDuck at September 10, 2009 05:30 PM (3q5Q5)
3
Ah, see, I was reading the manga. ;p
Posted by: Avatar at September 10, 2009 11:17 PM (vGfoR)
Comments are disabled. Post is locked.
25kb generated in CPU 0.0238, elapsed 0.3329 seconds.
47 queries taking 0.3237 seconds, 279 records returned.
Powered by Minx 1.1.6c-pink.