April 05, 2009
F1 Update!: Malaysia 2009!
An unique race to say the least! THIS is your F1 Update! for the Malaysian Grand Prix!
*A DAY AT THE (SWIM) RACES
: If anybody at the FIA had bothered to ask a local, they would have been informed that, in Kuala Lumpur, every afternoon around 6pm there is usually a heavy downpour that lasts for some time. They also would have been informed that the sun tends to set around the time the race would be coming to an end.
The FIA asked neither of these questions and started the race at 5pm local time, so as to give the European audience a chance to wake up at a half-way decent time and still be able to watch live. So what happened?
The heavens opened up, the rains bucketed down, and the track began to flood. As reader The Wondering Brit said, "There's rain, and then there's
rain
."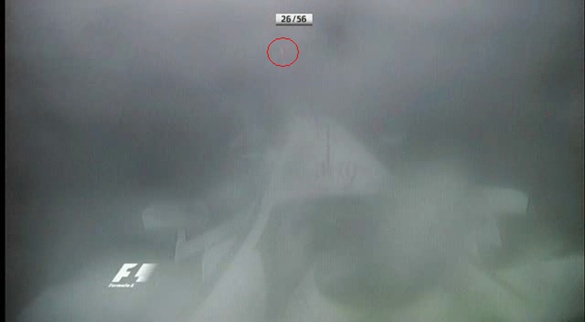 You'll note the red circle in the picture above. That circle is highlighting the Rain Light of the car in front of the Brawn, which might give you an idea of how hard it was coming down. Here's another example: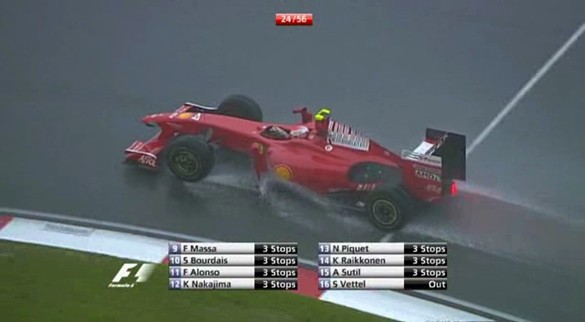 Note the way the water is spewing up around the sides of the car. On lap 31, the Race Directors called out the safety car, and one lap later they red-flagged the race. They then sat for about an hour, hoping for the weather to break. Instead, it just got worse, and for the first time since 1991, a Formula 1 race was stopped due to inclement weather.
As the race did not reach the 75% lap mark, all points scored are halved. Therefore, first place was worth 5, instead of 10, points, second is worth 4, third is worth 3, fourth is worth 2.5 points, fifth is 2, sixth is worth 1.5 points, seventh is worth 1, and 8th is worth one-half of one point. The full results list is
here
.
*DRIVER OF THE RACE
: Jenson Button. He's just won his second race in a row behind the safety car, but it's not like either was lucky. Today, Button had to make four pitstops for tires as the weather vacillated between good, awful, and frogswallower. Meanwhile, 2nd place finisher Nick Heidfeld only stopped once. Despite that, Button was
still
22 seconds in front at the end of the last completed lap.
*TEAM OF THE RACE
: Toyota. Third and fourth place, and if there had been another lap finished it would have been second and fourth. Great job for a team that needs results
now
.
*MOVE OF THE RACE
: On lap 13, Renault's HWMNBN and Red Bull's Mark Webber engaged in an amazing duel that lasted nearly two entire circuits of the track. The Renault was heavy on fuel but had KERS. The Red Bull was lighter, but had no boost button. The result was a back-and-forth battle where Webber would pass HWMNBN in one turn, and in the next the Renault would catch the Red Bull. It was only when the heavy Renault staggered wide under braking that Webber finally finished off one of the best fights in recent memory.
*MOOOOO-OOOVE OF THE RACE
: While a bovine lurks just under the surface of every driver in F1, this week they all get a pass: while everybody was sliding, spinning and generally pirouetting their high-tech cars around the circuit, the track conditions were more to blame. No, today's Mooooo-ooove goes to Team Ferrari for bringing Kimi Raikkonen in for full-wet tires five laps too early. By the time the rain DID start, he had already shredded his monsoons, even though Kimi was a full 30 seconds a lap slower than everybody else as he tried to keep some tread on them. To be fair, this
was
a calculated gamble by a team that had nothing to lose, and we don't disagree with the call... we just had to give it to someone, and this gamble is the only "mistake" bad enough to be remembered.
There's only one Driver Quote Of The Race, yet it encapsulates the entire Malaysian Grand Prix:
"What a crazy race!" - Jenson Button (
note: real quote
)
That's it for the rain-shortened Malaysian Grand Prix. Two weeks from now we'll be in Shanghai, China... see you then!
Posted by: Wonderduck at 02:55 PM | Comments (7) | Add Comment
Post contains 713 words, total size 5 kb.
1
I was thinking earlier that putting off the critical meeting until April 13 really was pretty cruel, if the decision goes against Brawn.
But if the decision goes in their favor, it means the other teams will hold off on implementing the same kind of rear end, and Button can keep kicking ass.
I know that it's impossible even at the best of times to predict what the FIA will decide in these kinds of situations, but do you have any kind of intuition about it? Assuming they really decided based on the written rules (heh heh heh) would the decision go for or against Brawn et. al.?
I really, really hope that FIA decides Brawn's rear end is legal, because it would make this the best season of racing since, well, long time ago (before I started reading your F1 updates).
Posted by: Steven Den Beste at April 05, 2009 03:50 PM (+rSRq)
2
I
think
that the FIA will rule the Diffuser Three to be legal, and that everything will stand as is.
I also think that the sky is blue, 2+2=4, and that the earth is round. But I'm not sure that the FIA does.
Posted by: Wonderduck at April 05, 2009 06:38 PM (tMdKd)
3
If I've done my homework right, deciding that the diffusers are illegal gives Massa/Ferrari one point. Clearly then, the diffusers are illegal.
Posted by: David at April 05, 2009 08:27 PM (n/RK7)
4
That's pretty cynical, David. (Which is not to say you're wrong.)
Posted by: Steven Den Beste at April 05, 2009 08:43 PM (+rSRq)
5
IMO, the time to fuss about the difusers was before the season began. Surely the Powers That Be had ample opportunity to inspect the competition for irregularities before races started being won by a team other than Ferrari. ;-)
I'm glad Button got another win, but the rain. I am really liking Brawn GP!
Posted by: Mallory at April 06, 2009 06:57 AM (3sife)
6
the time to fuss about the difusers was
before
the season began.
Ah, but at that time, nobody realized that the Ferrari couldn't go half a lap without breaking down, catching fire and melting into a small puddle of carbon fiber.
Posted by: Wonderduck at April 06, 2009 07:27 AM (tMdKd)
7
I'm a Ferrari fan and I say "screw the whiney teams". Ross Brawn has outfoxed them, and his team has out-designed them. Isn't F1 about innovation within the rules? So far, everyone that's looked at the diffuser has given it the OK... other than the teams that weren't smart enough or bold enough to give it a shot. Unfortunately for Force India, the only thing that's changed for them is that they're no longer sharing the tail end of the field with Honda. I've been enjoying watching Button's "Cinderella story" of a season, after staring down the barrel of a forced retirement. He's driven so many crappy cars for so many years... it's just fun to watch.
Posted by: madmike at April 06, 2009 10:34 AM (mV2q+)
Comments are disabled. Post is locked.
29kb generated in CPU 0.0129, elapsed 0.0706 seconds.
47 queries taking 0.0607 seconds, 283 records returned.
Powered by Minx 1.1.6c-pink.