October 18, 2009
F1 UPDATE!: Brazil 2009!
The rain held off, but could Button hold off Barrichello and Vettel? THIS is
your
F1 UPDATE! for the 2009 Grand Prix of Brazil!
*YEP
:
Congratulations to Jenson Button, the 2009 FIA Formula 1 Driver's Championship winner. His fifth-place finish clinched the title; Seb Vettel managed to finish fourth, Rubens Barrichello a sad eighth after a late tire puncture.
*OH, THE REST OF THE RACE
: A few more races, and Red Bull might have caught BrawnGP for the Constructors' Championship. They certainly gave it their best shot, with Mark Webber winning his second race of the season and Vettel turning in an excellent fourth after starting 15th, but it was not to be.
*DRIVER OF THE RACE
: Lewis Hamilton started 17th after the confused and delayed Quals on Saturday. The
confusion of the first lap
brought out a safety car, which allowed Hamilton to get into the pits, get off the bad supersoft tires and load up with gas without losing much time, switching on the fly to an early-stopping one-stop strategy. He then managed to drive a fine race, ending up with a VERY impressive third-place podium finish. Ohbytheway, with the six points he earned, McLaren has moved into third place in the Constructor's Championship, just ahead of Ferrari.
*TEAM OF THE RACE
: BrawnGP. Under a year ago, the team known as Honda was dead. Purchased by Ross Brawn with barely enough time to get any testing done, they dominated the first half of the season. While the other teams caught up with rookies in the second half, they had enough of a lead to make it a mere formality. A formality that was confirmed today when BrawnGP clinched the 2009 FIA Formula 1 Constructor's Championship.
*MOVE OF THE RACE
: There were a ton of good on-track passes today, but the one that lept out at us here at F1U! was on lap 6. Jenson Button, knowing that he had to score points if he wanted to win the Driver's Championship today, found himself behind Kazoo Nakajima's Williams heading down into turn 1 just after the restart. He held off on braking as long as he could, then slipped nicely inside Kazoo, who did try to slam the door on the Brawn. Realizing that by doing so he'd wreck them both, Nakajima quickly gave up on that plan and tried to outdrag Button through the Senna Esses, but couldn't make it happen. Button pulled away, a clean pass for sixth, another standing point, extra pressure on Vettel and Barrichello, and a declaration that he wanted the Driver's Championship
over
. Gutsy move, and an important one, to boot.
*MOOOOO-OOOVE OF THE RACE
: While Jarno Trulli's dumb attempt at a pass on Adrian Sutil, and his subsequent playground-class temper-tantrum, was a solid contender for today's Mooooo-ooove, today we're giving the award to the McLaren lollypop man. When Heikki Kovaleinninninnie came in for fuel and tires during the safety car period caused by Trulli's Mooo-contender, the Lollypop Man was more concerned with getting him out ahead of Ferrari's Kimi Raikkonen, who had also stopped. When Lollypop Man saw Ferrari release Kimi, he lifted the lollypop... and Heikki, as he was trained to do, hit the gas and left the pit... knocking two mechanics to the ground and pulling the hose off the refuelling rig. That's bad enough, but what happened next was worse: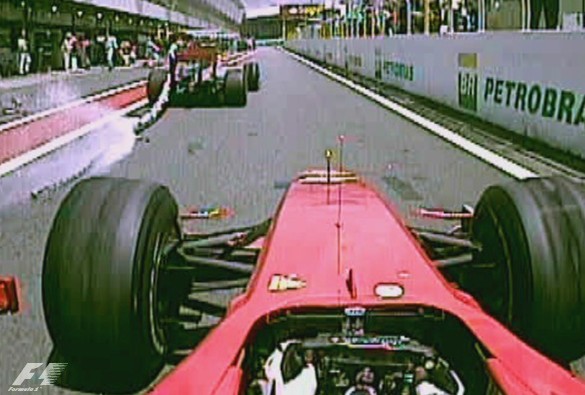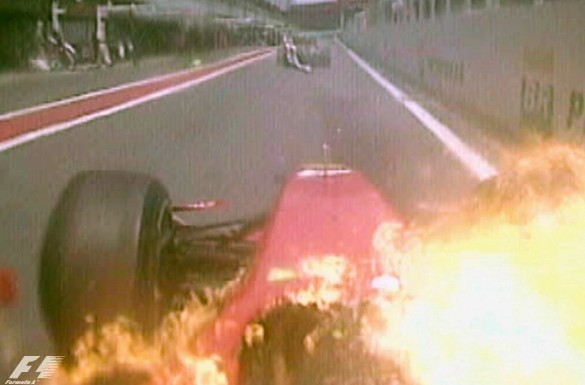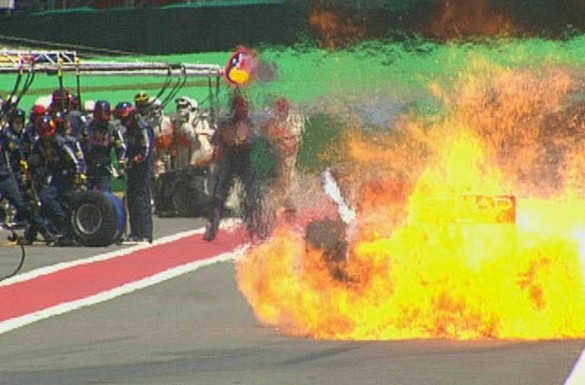 Fortunately there were no injuries, but I suspect Kimi might have had to change his fire-resistant underwear. Nice job Lollypop Man! A Moooo is you!
*DRIVER QUOTES OF THE RACE
:
"Hello? Grand Prix winner here? Interview me... hello? Anybody? And my trophy is made of light blue plastic? What the h*ll is that about???" - Mark Webber
"You'll get used to being ignored, Mark." - Robert Kubica
"Yeah. Last year, I won the Driver's Championship here in one of the most dramatic moments in F1 history, and the cameras never even looked at me. It happens, Mark." - Lewis Hamilton
"A fourth-place finish never felt so empty." - Sebastian Vettel
"
" - Jenson Button
"Mrmblmm mrlbrblllmblb rmmrrmlbl rmlrbrlrb MRRRRRRRRRRRRRMMBL!!!!!!" - Kimi Raikkonen
"I just had a pretty good race, all things considered, but nobody noticed at all. And why should they, it's not like I won a championship or anything... just two standing points." - Seb Buemi
"If Hamilton hadn't've bumped me and cut my tire, we'd still have a championship to fight for at Abu Dhabi. I must remember to compliment him on his driving skills, very soon." - Rubens Barrichello
"Um... oops?" - Heikki (
The Firestarter
) Kovaleininninnie (
note: yes, we know it's not fair to blame him for the pitlane incident.
)
"I didn't MEAN to punt Kazoo off the track. Really, I didn't!" - Kamui Kobayashi-Maru
"My teammate is beating me five ways to Sunday, my former team is obviously on the rise, my current team just lost third place in the Constructor's Championship to their main rival, and I'm being kicked out of my seat next year. I'm living my dream, man, I'm living my dream." - Giancarlo Fisichella
"Dude. Like, I drove? Around the track? And, like, I finished okay, like, y'know, like, right? Cool." - Vitantonio Liuzzi
"
My hair is a bird
. Your argument is invalid." - Lettuce Grosjean
"Nobody saw me at all today, and I can't even tell you what happened to me out there. It was just that sort of race." - NKOTT
"Kobayashi-Maru has a date with my blade. It's
Hattori Hanzo steel
, and it is very sharp indeed... I'll show him how to drive, if you know what I mean, and I think you do. And
stop
calling me Kazoo." - Kazuki Nakajima
"I never actually withdrew from the race, y'know. Sure I finished 44 laps behind, but I never withdrew..." - Nico Rosberg
"I just pitted! How can I run out of fuel on the same lap?!?!?!" - Grizzly Nick Heidfeld
"
His maneuver was dangerous. I don't know what his problem is. His reaction on the track was really low level.
" - Adrian Sutil (note:
real quote, referring to Jarno Trulli's temper-tantrum
)
"
(Sutil) pushed and pushed me on to the grass. It was a deliberate maneuver and it was very dangerous.
" - Jarno Trulli (
note: real quote
)
"AIIIIIIIIIIIIIIIIIIIIIIIIIEEEEEEEEEEEEEEEEEEEEEEE!" - HWMNBN
And with another hearty congratulations to Jenson Button and BrawnGP, we draw a close to the Grand Prix of Brazil... but we aren't done yet! Two weeks from today, we'll be back for the Grand Prix of Abu Dhabi! New track, day/night race, and lots to race for. Be here, and see you there!
Posted by: Wonderduck at 01:46 PM | Comments (11) | Add Comment
Post contains 1100 words, total size 8 kb.
1
What's the penalty for setting a fellow racer ON FIRE?
Posted by: Avatar at October 18, 2009 02:05 PM (vGfoR)
2
So far, nothing. The incident is under investigation, however, as a case of "unsafe release into the pit lane." There may be a fine, a grid spot penalty... or nothing.
Earlier this year, Red Bull had let Mark Webber into the pit lane in an unsafe manner, nearly causing two accidents in two separate incidents. They were merely warned after the first one. It was after the second time that Webber was given a drive-through penalty.
To be fair, the whole fire thing, while dramatic-looking, was very brief. The fireball lasted less than a couple of seconds; there wasn't even any visible scorching on the Ferrari. Gasoline burns
very
quickly, even moreso when it's in vapor form. Still, it could have been very bad indeed, and it was merely luck someone wasn't seriously hurt.
Posted by: Wonderduck at October 18, 2009 02:27 PM (ZgXc1)
3
Has there ever been anyone so happy to finish fifth?
I have to say that it's truly amazing that McLaren has managed to move into third place in the constructor's championship, considering their dismal performance in the early part of the season. They really did get it together on their cars about half way. I wonder what they did?
Posted by: Steven Den Beste at October 18, 2009 05:46 PM (+rSRq)
4
Looks like Heikki got handed a 25 second penalty, dropping him from 9th to 12th. Considering what might have happened, that seems rather mild. But maybe they're taking into account that it wasn't really his fault.
What always scares me about someone being engulfed in a fireball like that isn't so much skin burns or potential blindness -- they've got protective gear for that -- as lung damage. Inhaling flame ain't the best thing in the world for your health.
Posted by: Steven Den Beste at October 18, 2009 05:56 PM (+rSRq)
5
Apparently, Kimi got some gas in his eyes. In the post-race interview, he said:
"
At the pit stop, I ended up with some drops of petrol in my eye, from the fuel line stuck on Kovalainen's car and then I was engulfed in flames and blinded: I was going to stop, but luckily the flames soon went out. Even now, my eyes are still burning, but I'm alright.
" (translated from mumbles to English)
McLaren was fined $50K for the unsafe release into the pit lane, and Heikki was given a drive-through penalty post-race. That's really annoying, because the incident happened on lap 2 or 3, and the stewards didn't hand the decision down until after the race. What took them so long???
Finally, Jarno Trulli was fined $10K for his heated disagreement with Adrian Sutil, under the "conduct detrimental to the interest of motor sport" clause, since he did not leave the track immediately after his accident... that's a BIG no-no.
Posted by: Wonderduck at October 18, 2009 06:11 PM (ZgXc1)
Posted by: Wonderduck at October 18, 2009 06:15 PM (ZgXc1)
7
That's an interesting coincidence.
Posted by: Steven Den Beste at October 18, 2009 06:24 PM (+rSRq)
8
How long does it take to investigate an incident, anyway?
That was certainly one of the more exciting races of the season!
Posted by: Mallory at October 19, 2009 11:59 AM (WKx5k)
Posted by: Vaucanson's Duck at October 19, 2009 12:07 PM (XVJDy)
10
Every time I look at that first picture up there, I find myself wondering whether Mikoyan-i-Gurevich Design Bureau is sponsoring F1.
What in heck is "MIG" really supposed to be?
Posted by: Steven Den Beste at October 19, 2009 06:27 PM (+rSRq)
11
M I G is a
Swiss investment firm
, it appears. As opposed to MiG, the Russian military aircraft design bureau, which really isn't all that much of a stretch, all things considered...
Posted by: Wonderduck at October 19, 2009 11:03 PM (ZgXc1)
Comments are disabled. Post is locked.
35kb generated in CPU 0.0131, elapsed 0.1593 seconds.
47 queries taking 0.1496 seconds, 287 records returned.
Powered by Minx 1.1.6c-pink.