September 26, 2013
The OTHER Six-Wheeled F1 Cars
Mauser mentioned that Instypundito was linkin' to a six-wheeled F1 car, and asks what the deal was. Well, I'm not gonna go look to see which one he's talking about because what's the fun in that? Instead, I'm going to talk about the THREE different six-wheelers that were built for F1 purposes that
aren't
the famous Tyrrell P34 (aka "
Wonderduck's favorite F1 car
").
THREE??? Yuppers, three. Teams saw the possibilities of the P34 and, as is normal in Formula 1, decided to steal the idea and... "improve"... it. Needless to say, none of the teams in question ever actually raced their cars, just tested them. Probably the best of them was the
March 2-4-0
.
The idea behind the 2-4-0 is the exact opposite of the P34. The P34 had two small tires on either side up front to improve aerodynamics by lessening drag, which the March designer thought was kinda dumb, because the normal-sized
rear
tires were still huge sources of drag. Instead, March went with normal tires (which, it might be pointed out, weren't going to cause Goodyear headaches in developing...), but had four driven wheels in the back. The drag would be counteracted by the immense improvement in grip. It worked like a charm, except for two problems. First, it chewed up gearboxes like nobody's business. Second, the car was horribly overweight. If the team could have gotten the gearbox problem solved and put the chassis on a diet, both of which could have been accomplished eventually, there's nothing inherently wrong with the idea and no reason that it wouldn't have been successful. It was a good enough idea that
Williams
copied the concept a few years later for their
FW08B
.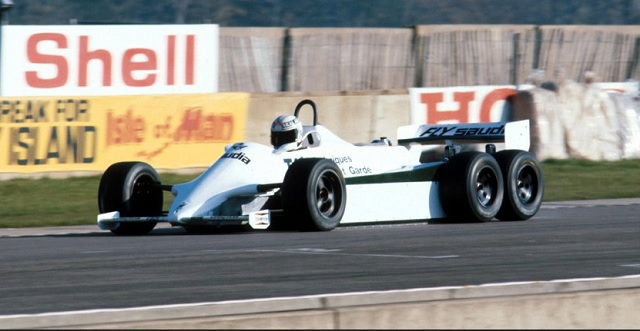 Like the 2-4-0, the FW08B never actually raced, and will go down in history as the car that drove the FIA to define a F1 car as having four wheels, with only the two rear ones being powered. Williams' designer Patrick Head said that the main reason that the FW08B was never raced was that it would have caused nightmares during pitstops. I suppose that's true, but it's more likely that the FIA just hated the idea.
Finally, we come to the
really
weird chassis, the
Ferrari 312T6
.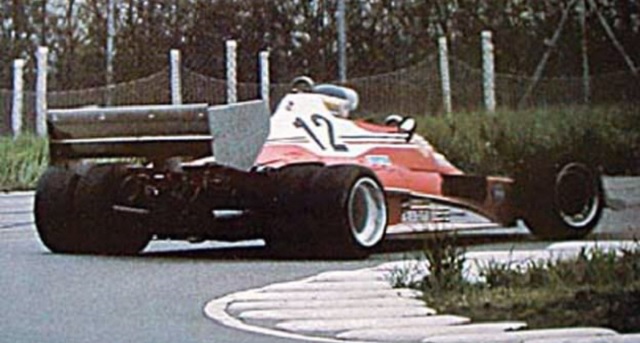 Yup, four rear wheels on one axle. I'm not sure what Ferrari thought they'd get out of this layout, particularly since it was too wide to fit the Technical Regulations. In testing, it was found to be something of a pig, handling-wise, and had a tendency to have rear-end problems. In other words, it broke easily and caught fire once. Considering that they had a double-championship season in 1977 with the normal 312T, Ferrari didn't really need to be playing around, and it was condemned to the ash pit.
And that's the story of the
other
Six-Wheelers.
Posted by: Wonderduck at 07:41 PM | Comments (6) | Add Comment
Post contains 473 words, total size 3 kb.
Posted by: GreyDuck at September 26, 2013 08:22 PM (CUkqs)
Posted by: Steven Den Beste at September 26, 2013 08:38 PM (+rSRq)
Posted by: David at September 26, 2013 11:11 PM (da+4f)
Posted by: Wonderduck at September 27, 2013 12:19 AM (dM817)
Posted by: Mauser at September 27, 2013 02:52 AM (TJ7ih)
Posted by: Wonderduck at September 27, 2013 06:03 AM (dM817)
Comments are disabled. Post is locked.
27kb generated in CPU 0.0238, elapsed 0.1066 seconds.
47 queries taking 0.0966 seconds, 239 records returned.
Powered by Minx 1.1.6c-pink.