May 28, 2017
GANBATTE ~TAKU~!!!
The last "favorite driver of The Pond", Takuma Sato, won the Indy 500!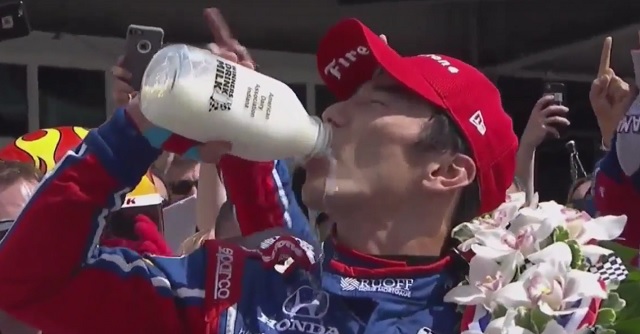 He had to get past former F1 driver Max Chilton, then keep Helio Castroneves, who was looking for his fourth Indy 500 win, behind him for a handful of laps.
In 2012's Indy 500, Sato was in second place behind Scotland's Dario Franchitti with one lap to go. He tried to go under Franchitti into Turn 1 and wound up in the wall instead. He'd never been so close before or since. Until today.
We here at F1U! aren't afraid to say we were cheering for
"Super" Sato
loudly in the final few laps. We're also not afraid to say that the Indy 500 was a damnsight more interesting than Monaco was.
Posted by: Wonderduck at 02:58 PM | Comments (1) | Add Comment
Post contains 127 words, total size 1 kb.
May 27, 2017
F1 Quals: Monaco 2017
When you take high-tech high-speed race cars, put most of the best drivers in the world behind the wheels, and drop them into the streets of a small French fishing village, weird things can happen. When those weird things occur during Quals, you get some very interesting prospects for the biggest race on the Formula 1 calendar indeed. Here's the provisional grid for the 2017 Grand Prix of Monaco:
Pos

Driver
Q1
Q2
Q3

1

Ferrari

1:13.117

1:12.231

1:12.178

2

Ferrari

1:13.090

1:12.449

1:12.221

3

Mercedes

1:13.325

1:12.901

1:12.223

4

Red Bull Racing

1:13.078

1:12.697

1:12.496

5

Red Bull Racing


1:13.219

1:13.011

1:12.998

6

Toro Rosso

1:13.526

1:13.397

1:13.162

7

Force India Mercedes

1:13.530

1:13.430

1:13.329

8

Haas Ferrari

1:13.786

1:13.203

1:13.349

9

McLaren Honda

1:13.723

1:13.453

1:13.613

10

McLaren Honda

1:13.476

1:13.249

No Time




11

Toro Rosso

1:13.899

1:13.516




12

Renault

1:13.787

1:13.628




13

Haas Ferrari

1:13.531

1:13.959




14

Mercedes

1:13.640

1:14.106




15

Not Retired
Williams Mercedes

1:13.796

1:20.529




16

Force India Mercedes

1:14.101






17

Renault

1:14.696






18

Williams Mercedes

1:14.893






19

Sauber Ferrari

1:15.159






20

Sauber Ferrari

1:15.276





Okay, let's deal with the elephant in the room first. Lewis Hamilton had been complaining ever since Thursday's practice sessions that he was having trouble getting heat into his tires, particularly the rears. This means a loss of grip, and around Monaco a loss of grip basically means your car is a mass of carbon fiber shards waiting to happen. While he notably
didn't
have a wreck, he was only 10th in Q1, over a half-second behind the leader. In Q2, he very nearly threw his Merc into the barriers at Massanet after a lurid twitch that would have left a lesser driver sitting in a chassis missing half of its suspension, much of a sidepod, and perhaps a wing or two. After that, he went back to the pits for some adjustments and got randomly selected for a weighing by the FIA. He didn't lose that much time there, but what was lost would never come back. With time running out on the session, he returned to the track for a hot lap. Through the first two sectors it looked like the team and driver had finally figured it all out. True, it wouldn't have been the fastest time ever, but it was almost certainly going to get him into Q3. But then, ahead of him at the Swimming Pool, the McLaren of Stoffelwaffle had kissed the armco and was on the side of the track in a bad state. Marshals immediately threw the waved double-yellows, which meant that everybody coming upon the scene had to abandon their lap... like Lewis Hamilton. And there was no time for another attempt.
In other interesting bits, RAIKKONEN'S ON POLE! Amazingly, this was his first pole position since 2008, some 128 races ago. His Ferrari teammate, Seb Vettel, is right next to him, just .004 of a second ahead of the remaining Mercedes of Valtteri Bottas. And if we needed any more evidence that Monaco is a place where weird things can occur, both McLarens with their wind-up motors made it into Q3... though neither will start in their provisional positions. Jenson I'm Back Button will have to take a 15-spot penalty for changing out his MGU-H and his turbocharger overnight. And Stoffelwaffle has a three-spot penalty from the last race for his accident with Felipe Not Retired Massa. It also shows that this is a place where sheer grunt is not as important as maneuverability, because let's face it, the Honda engine in the McLaren is a dog. The chassis, however... that's another story.
The race is in the morning on NBC... see ya then!
Posted by: Wonderduck at 12:27 PM | No Comments | Add Comment
Post contains 660 words, total size 21 kb.
May 23, 2017
Motorsports on TV: Memorial Day Sunday
The race fan's holiday! If you're completely insane, it's possible to go from 630am until 930pm on the couch watching 1260 miles of live auto racing in three major categories. We're only going to concentrate on two of them, however: the Grand Prix of Monaco and the Indianapolis 500. Here's the track maps:
Two more dissimilar tracks you cannot find in motorsports. Monaco, with its two mile long course, is actually a shorter lap than the one at Indy (2.50 miles). It's also somewhat more narrow, and a little bit slower. None of which detracts from the race one bit... in fact, that's exactly what makes Monaco so special: modern, high-tech, multi-million dollar F1 cars racing through the streets of a small French fishing village. Meanwhile, over in America, you've got lower-tech open-wheel cars blasting around a superspeedway at 230mph making four turns per lap and almost never touching the brakes. If one was that sort of person, one could suggest that the two tracks are perfect analogues for Europe and America. Fortunately for all involved, I am not that sort of person.
This year, of course, there's a particularly interesting reason to watch the Indy 500, in that McLaren F1 driver Fernando Alonso has decided to forego Monaco to compete in The Greatest Spectacle In Racing. He's taken to the format quite well, qualifying fifth and even holding pole for a short time. To be sure, qualifying position means little at Indy, but it's still quite the accomplishment for a rookie, particularly one that's never driven an indycar before. Alonso is hardly your run-of-the-mill rookie, it must be said, and veteran watchers of the series say that the Spaniard has a legitimate shot at winning.
Of the 33 cars in the Indy field, there are (or were) six former (or current) F1 drivers involved. Alexander Rossi, last year's winner, drove for Manor in 2015. Takuma Sato drove for Jordan, BAR-Honda and SuperAguri in a seven year career. Alonso is considered one of the best drivers in the world. Max Chilton drove for Marussia in 2013-2014. Juan Pablo (The Pope) Montoya had a six year career in F1. And Sebastian Bourdais, who will not be making the race due to a massive crash in qualifying that broke his leg and pelvis, drove for Toro Rosso in 2007 and 2008.
In any case, the NBCSN's Legendary Announce Team will be live at Monaco for the race... here's the broadcast schedules:
Thursday
Practice 2: 7am - 830am live on NBCSN
Saturday
Quals: 7am - 830am live on NBCSN
Sunday
2017 Grand Prix of Monaco: 630am - 9am live on NBC
2017 Indanapolis 500: 11am - 3pm live on ABC
2017 Coca-Cola 600: 5pm - 930pm live on FOX
All times Pond Central. Please note that Practice 2 is, indeed, on Thursday, not Friday. Monaco tradition and all that. Also note the inclusion of NASCAR's Coca-Cola 600 on the schedule. I did something like 1100 miles of the three races one year... I don't recommend it. However, if you want to try the triple-header, you now know when the third race is. F1 Update! will come along sometime afterwards... see ya there!
Posted by: Wonderduck at 10:19 PM | Comments (1) | Add Comment
Post contains 535 words, total size 4 kb.
May 13, 2017
F1 Quals: Spain 2017
A lovely if breezy day greeted the F1 Circus as they took to the track in Barcalounger for go-fast day. There were some differences to be seen however: upgrades could be spotted everywhere you looked. Mercedes had the best of them, a pair of bargeboards with titanium-tipped claws on their ends: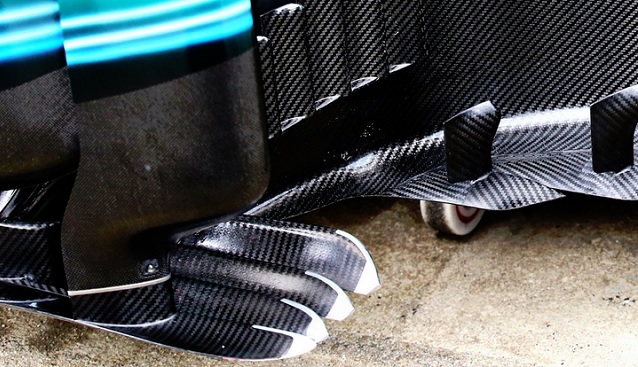 Kiss any pushy Ferrari's tires goodbye! Mercedes looked like they had recovered their teamwide mojo through the practice sessions, leading people to believe Quals would be an arse-kicking of historic proportions. On the other hand, the Red Team had to perform a near-literal miracle just to get Seb Vettel on track, as they had to do a full engine change in the two hours between the end of P3 and the start of Q1. Meanwhile, one of Red Bull's drivers was on record saying they could win... if both Mercedes and both Ferraris wrecked. So just how badly did the Silver Arrows trounce the rest of the field? Here's the provisional grid for the 2017 Grand Prix of Spain:
| Pos | Driver | Car | Q1 | Q2 | Q3 |
| --- | --- | --- | --- | --- | --- |
| 1 | Lewis Hamilton | Mercedes | 1:20.511 | 1:20.210 | 1:19.149 |
| 2 | Sebastian Vettel | Ferrari | 1:20.939 | 1:20.295 | 1:19.200 |
| 3 | Valtteri Bottas | Mercedes | 1:20.991 | 1:20.300 | 1:19.373 |
| 4 | Kimi Räikkönen | Ferrari | 1:20.742 | 1:20.621 | 1:19.439 |
| 5 | Embryo Verstappen | Red Bull Racing | 1:21.430 | 1:20.722 | 1:19.706 |
| 6 | Smiley Ricciardo | Red Bull Racing | 1:21.704 | 1:20.855 | 1:20.175 |
| 7 | Indy Alonso | McLaren Ho_da | 1:22.015 | 1:21.251 | 1:21.048 |
| 8 | Sergio Perez | Force India Mercedes | 1:21.998 | 1:21.239 | 1:21.070 |
| 9 | Felipe Not Retired Massa | Williams Mercedes | 1:22.138 | 1:21.222 | 1:21.232 |
| 10 | False Esteban | Force India Mercedes | 1:21.901 | 1:21.148 | 1:21.272 |
| 11 | Kevin Magnussen | Haas Ferrari | 1:21.945 | 1:21.329 | |
| 12 | Carlos Sainz | Toro Rosso | 1:21.941 | 1:21.371 | |
| 13 | Nico Hulkenberg | Renault | 1:22.091 | 1:21.397 | |
| 14 | Lettuce Grosjean | Haas Ferrari | 1:21.822 | 1:21.517 | |
| 15 | Pascal Triangle | Sauber Ferrari | 1:22.327 | 1:21.803 | |
| 16 | Sony Ericsson | Sauber Ferrari | 1:22.332 | | |
| 17 | Jolyon Palmer | Renault | 1:22.401 | | |
| 18 | Pleasant Stroll | Williams Mercedes | 1:22.411 | | |
| 19 | Stoffelwaffle | McLaren Hon_a | 1:22.532 | | |
| 20 | Kid Kvyat | Toro Rosso | 1:22.746 | | |
Oh. Sure, Mercedes got pole, but it was only by .051 seconds and needed Vettel to completely bollix the final chicane to get that. The top four cars are covered by less than .300 seconds. So much for Merc Upgrade Domination.
In what has to be the most unimaginable result thus far, Indy Alonso dragged his McLaren, powered by the execrable H_nda "power" unit, into Q3 and seventh on the grid. At the moment, for McLaren this is akin to the Chicago Cubs winning the World Series... long spoken of, but never occuring. Some may scoff at a mere seventh place, but considering that Alonso's teammate Stoffelwaffle was saved by a last-place start only by a Toro Rosso whose driver said "the car was not driven by me today, it was driving on its own" after being knocked out of Q1, seventh has got to feel amazing. Let's just see if Alonso can make it to the grid this week...
Race Sunday morning... see ya then!
Posted by: Wonderduck at 11:47 AM | Comments (3) | Add Comment
Post contains 490 words, total size 16 kb.
May 10, 2017
F1 on TV: Spain 2017
Short on time, but I didn't want to leave y'all hanging this weekend! We've got Barcalounger this week, here's the track map for the 2017 Grand Prix of Spain:

Last year, Spain gave us the sight of the two Mercedes taking themselves out and the youngest F1 winner ever. This year is... slightly less likely to give us such enthusiasm, but we can only hope! The big reason to watch Barcalounger is that, as the first stop on the European leg of the F1 calendar, this is where the teams bring their first batch of big upgrades. We already know that Red Bull is going to sport a bigger dorsal fin, and that McLaren is going to replace their Honda Fit engines with ones from an Accord, but what else will we see?
Whatever it is, the Legendary Announce Team will tell us about it! Here's the broadcast schedule:
Friday
Practice 2: 7a - 830a live on NBCSN
Saturday
Quals: 7a - 830a live on CNBC
Sunday
2016 Grand Prix of Spain: 6a - 9a live on NBCSN
All times nominally Pond Central. Of course, as per usual, another sterling installment of F1Update! will follow along eventually. See ya then!
Posted by: Wonderduck at 10:40 PM | Comments (2) | Add Comment
Post contains 205 words, total size 1 kb.
70kb generated in CPU 0.0147, elapsed 0.2021 seconds.
48 queries taking 0.1921 seconds, 246 records returned.
Powered by Minx 1.1.6c-pink.