August 31, 2012
F1 Practice: Belgium 2012
They say that the one thing to remember about the circuit at Spa-Francorchamps is that it's either raining or it's getting ready to rain. So it shouldn't be a surprise that the weather was rather damp for both practices today. How wet?
The most data the teams got was after the session, when the various drivers went out onto the grid to practice their race starts. The most laps anybody turned in P2 was five; the fastest lap was 2:49.354. That's nearing a minute longer than a normal lap pace. The teams realized that the only things they could learn today was how many pieces they could shatter their cars into, and stayed in the pits. There are no small offs at Spa-Francopants. We did learn
some
things today, though.
For example,
a couple of years ago
there was something of a conversation about that chalet at the top of Eau Rouge. Well, during the Legendary Announce Team's Rain Delay Theatre today, we discovered that it's actually a hotel. Yes, I'd like to stay there. No, I wouldn't want to pay for it. Something else interesting:
McLaren has done something interesting with their sidepods; my first thought when I saw this picture was an additional air vent, perhaps to glom more cooling air for the engine, or the radiators, or something. At least, that's what it looks like from the front. From the side and back, it becomes much more obvious what's going on:
It's just a modification of the bargeboards, designed to keep airflow ducted over the sidepods. Aerodynamics are just about everything in F1, and there must be some teeny tiny improvement to be gained from it. Cost? "If you have to ask..."
Quals and the race are supposed to be dry, but remember: at Spa-Francoamerican, it's either raining... or it's getting ready to rain. See ya then!
Posted by: Wonderduck at 07:38 PM | No Comments | Add Comment
Post contains 314 words, total size 2 kb.
August 27, 2012
F1 on SPEED!: Belgium, man, BELGIUM!!! 2012
*tap tap tap*
*ahem*
...is this thing on? No?
My fellow Americans, I'm pleased to tell you that I've signed legislation that will outlaw Hermann Tilke forever. We begin bombi... what?
We're live?
Welcome, my friends, to the return of F1! The long, long summer break is over, the teams have been let back into the factories, the drivers their cockpits, the media their free meals. And where better to restart the season than on the greatest circuit on the F1 calendar, Spa-Francorchamps? Let's take a look at the track map:
Over the years, I've written a metric farkton about this piece of racing heaven in the Ardennes forest, and I'm sure I'll write more in the future, but for now let's concentrate on the usual bits of information. The first thing you notice about Spa-Francopants when you're not looking at an overhead map is the elevation change.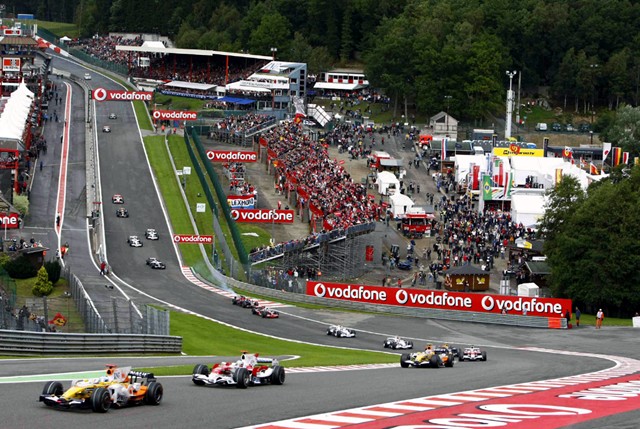 That's looking down from Radillon to Eau Rouge, and you begin to understand just what sort of hill-climbing this place entails. But, as they say in Brussels, "what goes up must come down," and Spa-Francoamerican does that with a vengeance. For example:
This is looking from Turn 09 down towards Pouhon, and it keeps plunging down until you reach Fagnes, more or less. Then you even go slightly uphill returning to the start/finish line. If you're susceptible to road sickness, this is NOT the track for you.
Fortunately for all of us, the Legendary Announce Team does not have that malady, and SPEED will be bringing us their usual sterling coverage of the entire race weekend! Let's take a look at the schedule, shall we?
Friday:
P1: 3a - 430a, streaming
P2: 7a - 840a, live
Saturday:
P3: 4a - 5a, streaming
Quals: 7a - 830a, live-ish
Sunday:
Grand Prix of Belgium: 630a - 9a, live!
On the other hand, the F1 Update! crew has been working 60 hour weeks and this one is no different, with the first football game of the season at Duck U on Saturday. Who knows what the coverage will be like for P2 and Quals? The race, though? Oh, we'll be here for it for sure! See you then... I'll bring the waffles, you bring the sprouts.
UPDATE
: We here at F1U! would be remiss if we didn't wish Bernie Ecclestone a happy wedding! The F1 Supremo/Troll, 81, married Fabiana Flosi, his 35-year-old girlfriend/marketing director last weekend. Through our contacts in Switzerland, we've had the pleasure of seeing the actual service;
here's a short clip
! Good luck, you two wacky kids!
Posted by: Wonderduck at 07:51 PM | Comments (4) | Add Comment
Post contains 432 words, total size 3 kb.
August 16, 2012
Traffic Sucks In The Tunnel (and other bits)
Still, David Coulthard seems to be making good time.
The team says he reached 190mph in the Lincoln Tunnel on this demo run to promote next year's Weehawken Grand Prix. Somewhere offscreen, there's a taxidriver cursing a blue streak.
Then there's this, which is pretty much how I feel when I hear an interview with a grumpy F1 driver:
Finally, Pastor Maldonado went home to Venezuela a few days ago and did a demonstration run in downtown Caracas. Since this is Pastor Maldonado, we know what happened next:
Gotta feel sorry for the guy... it's been weeks since he's been able to run into someone!
Posted by: Wonderduck at 08:31 PM | Comments (3) | Add Comment
Post contains 113 words, total size 1 kb.
33kb generated in CPU 0.0139, elapsed 0.1189 seconds.
46 queries taking 0.1095 seconds, 242 records returned.
Powered by Minx 1.1.6c-pink.