October 31, 2009
F1 Quals: Abu Dhabi 2009!
A quals session without surprises. Let's take a look as the grid, shall we?
The top five positions are held by five of the six race winners this season, which is exactly how it should be for a race that, effectively, means nothing. Only Kimi Raikkonen, winner at Belgium, is out of the fun.
Which, for Ferrari, is a disaster. One of the few worthwhile things still up for grabs is third place in the Constructor's Championship, between McLaren and the Prancing Horse. The two teams are separated by one point, and with Lewis Hamilton at the head of the grid, Kimi's 11th is
not
what they needed. The only saving grace for the Red Team is that Heikki Kovalaineninninnie, Hamilton's teammate, has to take a five-spot grid penalty after changing his gearbox. That'll drop him down to Giancarlo Fisichella territory, so they might have a little struggle. For what it's worth, the financial difference between third and fourth in the Constructor's standings is about $5million... not chump change, not even for a F1 team.
Second in the Driver's Championship is still up for grabs, and other than having Seb Vettel and Rubens Barrichello 1-2 on the grid, this is probably the best way for the two of them to line up. They're both on the dirty side of the track, neither have any experience with the circuit, and they've both got teammates nearby. The only difference is that Seb's got more fuel on board, by about 8kg. That gives him the advantage, but it'll be close either way.
Spare a second and feel bad for HWMNBN: this is his worst qualifying position (pre-penalty) since 2001, when he drove for Minardi.
I take it back. Don't feel bad for him in the least. When he was interviewed by Peter (Smarmy) Windsor after he was eliminated in Q1, he sounded exactly like a man who didn't give a damn. And why should he? He's going to Ferrari next season for a lot of money. A demonic convergence, right there... it'll be SO easy to hate them.
And let's talk about our polesitter, Lewis Hamilton. He pretty much dominated Quals today, setting fast time in all three sessions, and blowing everybody out of the water in Q3. Hell, he was almost three-quarters of a second faster than second-place Vettel; it was impressive enough that Sebby even made mention of it in the post-qual interview session ("I think both Mark and I were surprised by the gap to Lewis."). Now, to be fair, he does have less fuel on board, but not THAT much less: 658.5kg to 663kg for Vettel. Nope, he just had a fantastic lap, simple as that.
Gonna be a fun ending to a bizarro season... see you tomorrow!
Posted by: Wonderduck at 08:58 PM | Comments (2) | Add Comment
Post contains 596 words, total size 15 kb.
October 30, 2009
F1 Practice: Abu Dhabi 2009!
Evening at Yas Marina... actually sounds kind of nice, has a ring to it. Kinda like '
chupathingy
.' As with most practice sessions, this one was rather dull and boring. To be honest, the only reason I watched the whole thing was to get used to the new circuit.
Interesting to watch the way the falling of night affected the lighting across the track. Unlike Singapore, which uses
light trusses that follow the layout of the circuit
, Abu Dhabi is using the more familiar (and permanent) light standards, much like you'd see in a baseball stadium... just a lot more of them.
I think I actually prefer Singapore's truss system over Abu Dhabi's towers, but only because it looks cooler, like a ribbon of light taking the shape of a racetrack.. Functionally, there doesn't appear to be any difference, though; the track was brightly lighted and visibility appeared to be excellent.
I find it somewhat amusing that the system in Abu Dhabi was designed and built by
Musco Lighting
of Oskaloosa, Iowa. Or at least I did until I took a look at their website and saw that Musco may very well be
the
company for motorsports lighting setups in the world. Learn something new every day.
On track, the only real news was that McLaren was 1-2 on the timesheet, Ferrari was lousy, and Robert Kubica's engine done blowed up reeeeal good. That'll pose an interesting quandry for him, as it was the last of the eight engines he was allowed for the season. He can either install a pre-raced one and suffer no grid penalty (since it occurred on Friday), but then have to worry about reliability issues, or put in a new one and take a 10-spot penalty.
Please note that Seb Vettel has been dealing with this problem for the past three races; he's been using his Monza and Spa engines. Lord knows which he's using for here.
The last thing I'll mention here is how amazing the Yas Marina Motorsports complex is. Air-conditioned pit stalls, a first for F1. Two full sets of pits on opposite sides of the track, so the GP2 boys finally get a first-class pit lane (instead of using temporary trailers and tents, essentially). Hell, two full race control towers, which are fairly impressive structures:
And, in another first for F1, all the grandstands are covered, which makes sense considering that Abu Dhabi is kinda warm... the yearly
average
high temperature is 88 degrees, and humid. Of course, the race is sold out.
Which isn't all that impressive, when you realize that this multi-billion dollar facility seats fewer than 50000 people... 41093, to be exact. Wrigley Field in Chicago, one of the smallest ballparks in Major League Baseball, seats 41118 for baseball, and sells out 81 times a season.
Quals tomorrow.
Posted by: Wonderduck at 12:32 PM | Comments (2) | Add Comment
Post contains 474 words, total size 3 kb.
October 23, 2009
Aw, Crap: Todt Elected FIA President
Ladies and Gentlemen, your new President of the FIA,
Jean Todt
.
It's gonna be like the Emperor Mosley never left.
Posted by: Wonderduck at 07:49 PM | No Comments | Add Comment
Post contains 26 words, total size 1 kb.
October 20, 2009
We Gots Photos!
And how! Take a gander at this baby: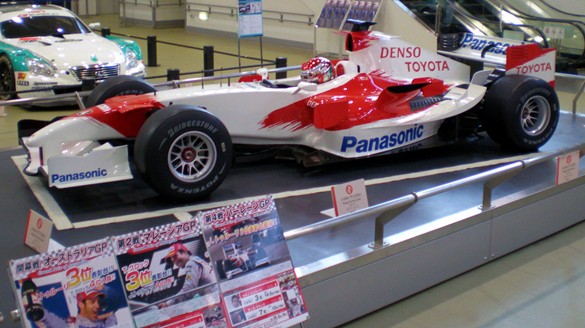 That's the TF108 Jarno Trulli drove at the 2008 Grand Prix of Japan, near as I can figure... that's certainly the one-off helmet he wore. It's probably
sans
engine, and is on slicks as opposed to the grooved tires they used last year, but it's one helluva looker!
Pete Z
kindly sent this to me a couple of days ago. He's over in Japan and visited a place called Toyota Mega Web, the
website for which
describes it as "Look! Ride! Feel! Car Theme Park!"
Sounds like a fun way to kill a few hours to me... particularly in "motorsports square", where this picture was almost certainly taken, or in the "history garage", with the GP Archive (with replicas of old F1 cars) or the
Alessandro Nannini Cafe
. The whole place is located on the manmade island of
Odaiba
, in Tokyo Bay. Tokyo Big Sight is located there, too, so it becomes a complete geek haven for a while, what with
Comiket
and all.
Hmmm... Formula 1 and anime/manga...
sounds kinda familiar
...
Thanks, Pete!
Posted by: Wonderduck at 08:34 PM | No Comments | Add Comment
Post contains 185 words, total size 1 kb.
October 18, 2009
Rain Expected for Brazil GP
...and it's supposed to be heavy. Now, the race itself would only be affected if it's ridiculously bad, but it becomes a question about the medical helicopter. If it can't fly, be it because of rain or because of cloud-cover at the hospital, the race is red flagged until it's safe again.
Racey, the official owl of Formula 1, approves.
If it DOES rain, or is a wet race, we may as well scratch Vettel out of the championship picture right now. He's set up for dry, which is why he qual'd so poorly... and rain'll just bring that problem back.
More later.
UPDATE @ 1035: As the cars make their way to the grid, there is no rain. Vettel is in the garage, reportedly with a broken bargeboard; his mechanics were looking quite exercised about something.
UPDATE @ 1045: The Red Bull mechanics
left a bag of dry ice
in one of the radiator ducts of Vettel's car as he went out for the recon lap. The bag fell out and the car ran over it, breaking some of the bodywork. The mechanics are working furiously on the grid to patch over the crack. Looks like the pressure is getting to the team as a whole...
Posted by: Wonderduck at 08:55 AM | No Comments | Add Comment
Post contains 212 words, total size 1 kb.
October 17, 2009
F1 Quals: Brazil 2009
So it rained a little bit at Interlagos today during Quals.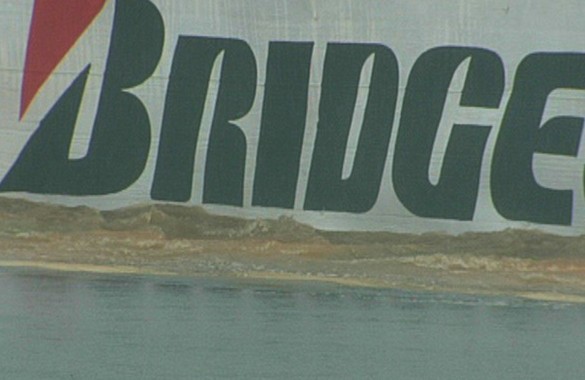 Yes, just a wee tad.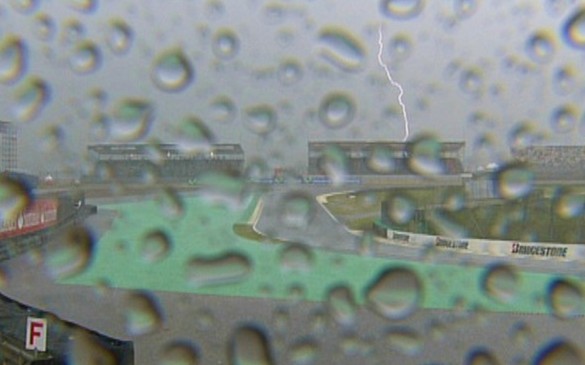 It took nearly
three hours
to get all three qualy sessions in because of the rain. The medical car, subbing for the safety car today, turned many,
many
more laps checking the track than any racer actually put on the cars. Unfortunately, I only set the VCR to run for two hours. As a result, I have yet to actually see Q2 or Q3... after Vitantonio Liuzzi ripped the back of his Force India off after hydroplaning and spinning on the front straight at the very start of Q2, a red flag stopped the session until the weather improved.
You don't usually see the axle severed from the car like that...
90 minutes later, the tape ran out before they restarted. But restart they did, despite Mark Webber, the president of the Grand Prix Driver's Association, saying
"
I don't think it was the right thing to probably start in those conditions, every driver I spoke to was of the same opinion, fortunately the right decision was made in the end, but TV drives things and we have to start
."
Here's the provisional grid:
Vettel, Heikki and Lewis are all reported to have a dry weather setup, gambling on there being no rain tomorrow. Unfortunately for Vettel, he's GOT to win to have any real chance for the driver's championship, and starting sixteenth ain't gonna make that easy for him.
To be honest, they never should have run this Quals today. There is plenty of precedent to have quals on Sunday before the race, and if there has ever been a weather-related reason to delay them, this was it.
Still, you race with what you got, and this is what they got.
See you Sunday.
Posted by: Wonderduck at 06:30 PM | Comments (3) | Add Comment
Post contains 436 words, total size 13 kb.
October 16, 2009
F1 Practice: Brazil 2009!
I watched it.
I don't care.
UPDATE: ...so here's a picture of a bird on the track.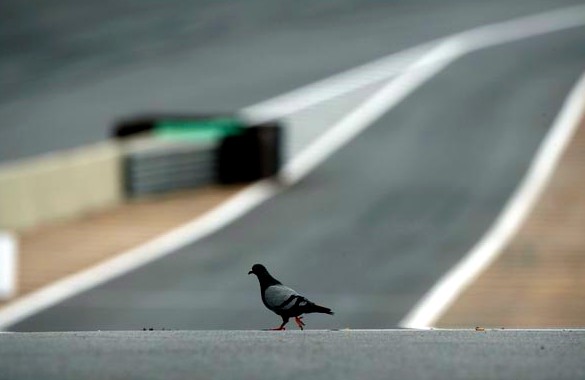 Posted by: Wonderduck at 07:08 PM | Comments (2) | Add Comment
Post contains 21 words, total size 1 kb.
October 13, 2009
F1 on SPEED!: Brazil 2009!
Brazil. Home of the 2016 Summer Olympics, Felipe Massa and Rubens Barrichello, and my least favorite track on the F1 calendar: Interlagos.
Located in the bad part of São Paolo, F1 team-members have actually been attacked by gangs of ruffians and neer-do-wells outside Interlagos' gates, most recently in 2006. Despite this, drivers for the most part are quite fond of the circuit. In recent years, the Brazilian Grand Prix (that's a lot of Grand Prix!) has been the final race of the year, and has brought us some very dramatic moments;
last year's race
decided the Driver's Championship on the very last turn, after all.
Despite that, though, I despise Interlagos.
Let's look at the map:
The circuit is laid out in a valley between two artificial lakes, which fact gives the track its original name: Interlagos literally means "between the lakes" in Portugese. The official name is Autodromo Jose Carlos Pace, after a Brazilian F1 driver killed in an plane crash.
It's the lakes that give Interlagos its best-known trait: it's
bumpy
. The weight of the lakes causes the land between to wrinkle, causing the asphalt of the track to flex. Even though there was a resurfacing in 2007, it's still the bumpiest track around. It's also one of the few on the F1 calendar that runs counter-clockwise, for what that's worth.
It's a relatively low-downforce circuit; while the mickey-mousing from turn 6 to turn 11 calls for a lot of grip, the rest of the track is high-speed and good acceleration is a must. Because of this, it wouldn't surprise me to see Force India do well here. It's not as high-speed as Monza or Spa, but it's a quick track to be sure. It's also easy on the brakes, so no fears on that front.
Bridgestone is bringing the super-soft and medium compound tires to Brazil. The new surface isn't particularly abrasive, and only turn 14 has much in the way of high-speed g-loading on the tires, so the rubber should last pretty well.
Even the engines should have an easy time of it, as only about 62% of the time is spent at full throttle. Of course, Seb Vettel is running race-used motors right now, so he's sweating every time he presses down on the gas pedal.
The one saving grace of Interlagos for me is that its basically in the Eastern Time Zone, which means a race at normal times! I'm sure SPEED's Legendary Announce Team appreciates not having to wake up at 230am for a 6am start, for example. Friday Practice will be from 12noon to 140pm, and Quals is Saturday from 12noon to 130pm.
The 2009 Grand Prix of Brazil is Sunday, LIVE, from 1030am to 1pm. It's very possible that we could see BrawnGP win both championships on Sunday, so you've gotta watch!
Oh, and VaucDuck? I've done a little bit of digging, and
Overtime Sports Bar & Grill
and
Zeke's Sports Bar
show the races. There's also something called the
San Francisco Formula 1 Group
that gathers together to watch 'em... tell 'em Wonderduck's Pond sent ya!
Posted by: Wonderduck at 08:53 PM | Comments (9) | Add Comment
Post contains 521 words, total size 4 kb.
October 11, 2009
Timo Out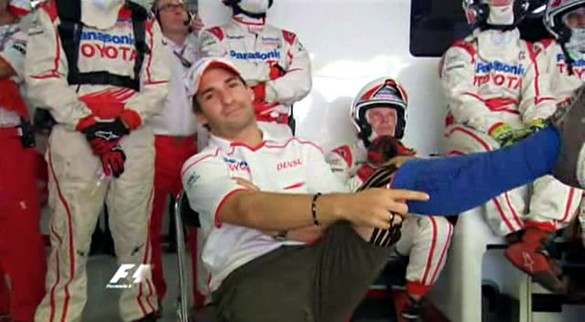 Timo Glock, the official favorite driver of Vaucaunson's Duck's wife, Geese, will not be racing at Brazil. While he was held out of the Japanese Grand Prix because of the gash he suffered to his leg in his huge shunt in qualifying, further medical tests back home in Germany revealed he
also
suffered a fractured vertebra.
This is troubling for a number of reasons, but the biggest is that this is becoming a trend for Glock. If you remember, he's suffered a couple of spine-crumbling crashes in the past. The first was at Australia in 2008:
He got off-track, then discovered what could almost be called a curb in the grass, at which point it was launched into the air. On landing, we all discovered two things: 1) F1 cars have no shock absorbers, and 2) drivers sit directly on the floor of the chassis, with no padding beneath them. The impact to his spine can only be imagined in its intensity.
Four months later, in Germany, his suspension broke and he wound up going backwards into the front straight's inside wall:
This impact was so hard that the Toyota wound up careening all the way back across the width of the track. While F1 cars have a crash structure built into the rear of the chassis, designed to absorb a lot of the impact, there's no way it can take all of it.
While he missed no time from either crash, and indeed finished a career-best second at the race following the German Grand Prix (Hungary), after both accidents there were concerns about his back.
It's possible that the previous crashes had done some unseen damage, weakening his back to where any suitable accident could do serious injury. The doctors don't seem all that concerned -- they still expect him back for Abu Dhabi-- but it's something that's got to be in the back of his mind.
Posted by: Wonderduck at 08:22 AM | No Comments | Add Comment
Post contains 320 words, total size 2 kb.
October 07, 2009
F1 News Bits
There's been some doings around the F1 world since Japan, so let's take a look!
*KUBICA TO RENAULT
: Robert Kubica, current driver for BMW, was announced today as the replacement for HWMNBN on the Renault roster next season. WIth BMW's dropping off the grid next year, Koobs has been looking for a drive. Realistically, Renault was probably the best he could have hoped for; McLaren technically has two drivers already, as does Ferrari and Brawn, though Brawn will probably drop Barrichello and might lose Button to contract woes. Other than Renault, Toyota was another possibility, though there's a question as to whether they'll be in the sport in 2010. Kubica, who was considered the best young driver in F1 until the arrival of Seb Vettel, has a historical tie to Renault, getting his first ever F1 test in 2005 with the team. Considering the scandals the team has had recently, the arrival of the Pole can't do anything other than help.
*MASSA TEST APPROVED
: Last week saw Felipe Massa get behind the wheel of a kart; next week may very well see him get behind the wheel of a F1 car. The FIA, with the unanimous approval of the other nine teams, has granted Ferrari and Massa a test session in the F2007, the same car that Slappy Schumacher drove in
his
aborted comeback. Massa, recovering from a terrible injury suffered in Hungary, is still saying that there's a chance he'll be back at Abu Dhabi, the final race of the season. And speaking of Abu Dhabi:
*ABU DHABI APPROVED
: The new Yas Marina Circuit at Abu Dhabi was given the green light today by Charlie Whiting, the FIA's official Race Director. Without his blessing, the track could not host a F1 event, but it's been cleared for the November 1st series finale. Looks like an interesting layout, too: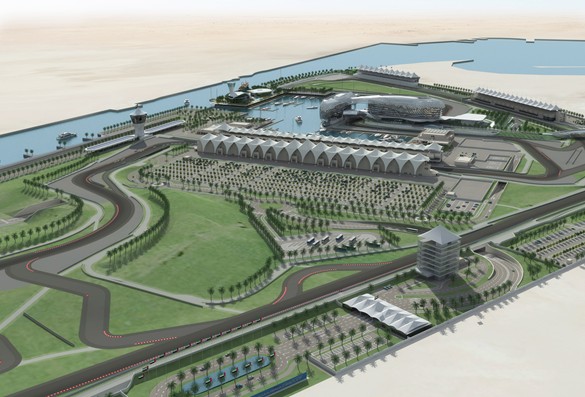 They're still doing the landscaping, but it's all expected to be completed in time for the final race weekend.
Finally, I was grocery shopping a few days back and bumped into a tower display of die-cast cars. Mostly they were sports cars, Beetles, and the like, but mixed in with the dull vehicles were F1 racers! Of course, I bought all that I could:
What's impressive is that the paintjobs are easily recognizable... well, mostly. The top car is clearly the
Toyota livery
. The middle is the
pre-Glare with Wheels-era McLaren
, but I'm having problems identifying the bottom one. My first thought was late
Ligier
, but the blue is wrong and the flames are pure fantasy. Of course, it's possible that it's just a made-up color scheme, but considering the other two being based on real liveries, I'm assuming that it's from
some
thing!
I'm stumped... any thoughts from the audience?
Posted by: Wonderduck at 09:11 PM | Comments (1) | Add Comment
Post contains 462 words, total size 3 kb.
October 03, 2009
F1 Quals: Suzuka 2009!
Now that was a weird quals session! Let's take a look at the grid, then we'll talk about it:
Okay, we've
already talked
about the goings-on in Q1, what with Webber breaking his car ahead of time and two drivers going off in the Degner Curve. It was Q2 where everything started to go pear-shaped for the event.
First NKOTT went off (say it with me) in the Degner Curve, and while it was a fierce accident, he jumped out unhurt. The session was red-flagged for eight minutes, however, while the car was craned out of the kittylitter.
Once the session restarted, Jarno Trulli was the first man out, closely followed by his teammate Timo Glock... which is why Trulli was the only man to complete a timed lap before the second red flag came out.
Glock's appeared to have steering problems as he accelerated out of the Casio Triangle and into the final turn, either because something broke or because of massive understeering due to the soft tires "chunking" in 130R. Either way, his steering wheel was cranked hard to the right to no effect when he augured into the tire wall.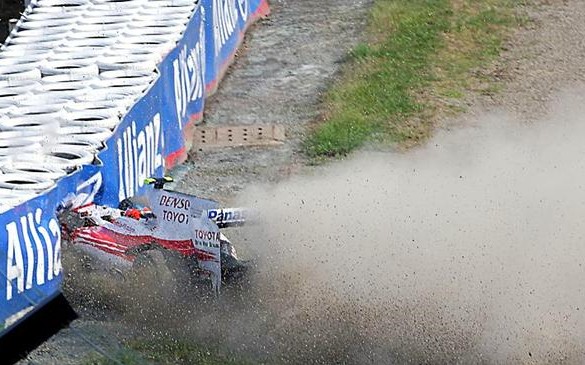 While he quickly got the steering wheel detached, it took over two minutes for the medical car to get to him, as it had to do nearly an entire lap to reach the crash site. He was removed from the car and flown to a nearby hospital, where he was treated for a cut on his leg and some back pain. The session was eventually restarted...
...when Sebastien Buemi, already a victim of a crash in Q1, lost it on the exit from the Spoon Curve and spent most of the run down to 130R grinding the right side of his car away.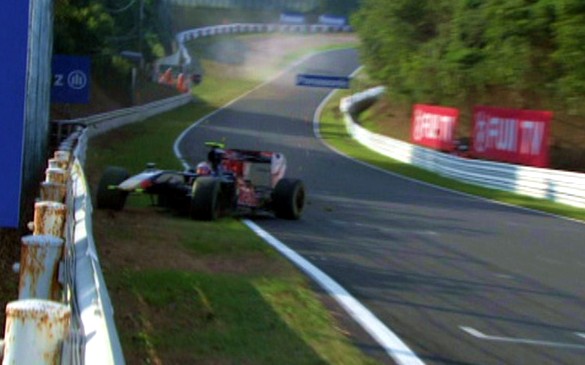 This wreck actually began back where the two orange-clad track marshals are standing, and he was pressed up against the barrier for most of the intervening space. He came to something approximating a halt some distance past the camera, then slowly took the car into the pits... all of which brought out a local yellow flag, just as many cars were bearing down on the crash site in their first, and because of the red flags,
final
hot laps for the session.
Once the session was over, HWMNBN, who was 12th and out of Q3, went and bitched at the stewards that many drivers didn't lift and slow down for the yellow flag... more about that later.
Q3 got started, and...
...oh for heaven's sake.
This time, it was Heikki Kovaleinninninninnie who got waaaaay too much curb under his chassis in (again, say it with me) the Degner Curve while on his first hot lap. The McLaren actually got airborne for a moment, then splatted into the tire wall. He was fine, but his car was broken. The red flag came out with about five minutes left in the session, throwing all the usual plans into a cocked hat. The fuel-burning laps suddenly were gone, and drivers would really only get one, maybe two shots at setting a time. After all, on this track the out-lap takes around 2 minutes, a hot lap about 1:32... if a driver gets out on track immediately, he might be able to get a second hot lap in, which is what Jarno Trulli did, but nobody else. The final results are on the grid above.
Now, back to HWMNBN's complaint. Indeed, the FIA stewards agreed with him that some cars didn't slow down as they came upon the Buemi accident, and they've handed down five five-grid-spot penalties.
The first went to Buemi himself, for not parking his car and strewing debris all the way from 130R to the pits (the part before 130R was okay; he wasn't under control then).
The next four five-grid-spot penalties were for not slowing down for the yellow flag, and they went to Adrian Sutil, Jenson Button, Rubens Barrichello.... and HWMNBN.
Methinks the gentleman doth protest too much, hmmm?
Anyway, Ross Brawn confirmed that his drivers didn't slow down. "They swerved to avoid debris, yes, but they didn't slow," said the team boss. Good show, Ross... we here at F1U! love good sportsmanship. HWMNBN, on the other hand, continued to claim that he DID slow down.
Which is why he's called HWMNBN.
Race report tomorrow!
UPDATE: More five-grid-spot penalties! Yayyyyyyy!
Timo Glock's crash was worse than everybody thought, comprehensively damaging his Toyota's chassis; if he's allowed to start the race (since he'll be in a new car, he may not be allowed to. The regs say it's okay to change the chassis before quals, but they're a little vague beyond that...), he'll be doing it from the pit lane.
Heikki Kovaleinninninnie's crash ruined his gearbox, and he'll need to take a 5-spot to change it out. Vitantonio Liuzzi, who wound up with a gearbox full of neutrals in Saturday Practice, had to change his as well, and will now be starting 24th... or last on the grid, one of the two.
The official grid has yet to be released because of all the penalties, but the good folks at SPEEDTV.com thinks it'll look like this:
1 Vettel
2 Trulli
3 Hamilton
4 Heidfeld
5 Raikkonen
6 Barrichello
7 Sutil
8 Rosberg
9 Button
10 Kubica
11 Kovalainen
12 Buemi
13 Alguersuari
14 Fisichella
15 Nakajima
16 Alonso
17 Grosjean
18 Liuzzi
Pitlane: Webber and Glock

We'll see.

Posted by: Wonderduck at 07:50 AM | Comments (9) | Add Comment
Post contains 1046 words, total size 15 kb.
October 02, 2009
Suzuka Quals Notes 2009
Q1 has just begun, and we've got a bright sunny afternoon in Japan. However, the rain during Friday practice claimed a victim in Saturday's practice. Because of all the rain, the RedBull team had no usable data and sent Mark Webber out with the ride height a little too low. He hit a bump in the Degner Curve, the bottom of the car contacted the asphalt, and suddenly he had no control at all. The car went straight on into the tire barrier, and the chassis was totaled. In fact, the damage was so bad that the team has to build him a new car altogether for the race; he'll not be participating in quals as a result and at the moment will be starting from the pit lane.
Sebastian Buemi in his Toro Rosso just lost it in the exact same place, and probably for the exact same reason. He backed it into the tire barrier a little more gently, but he has yet to re-emerge.
As I say that, Heikki Kovaleininininnie just took a wild ride... at the Degner Curve. This might prove interesting during the race.
There's another typhoon near the Philippines, headed towards Japan. The forecasters have thrown up their hands and stalked away in disgust, so nobody has the faintest idea what weather we'll have for the race.
Championship notes: If Jenson Button finishes 4th or better, he wins the Driver's Championship, no matter what teammate Rubens Barrichello does. If Red Bull doesn't outscore BrawnGP by at least 7 points, Brawn wins the Constructor's Championship... thus, the Mark Webber crash might have stuck a fork in the Red Bull hopes.
Full Qual results later!
Posted by: Wonderduck at 11:23 PM | Comments (1) | Add Comment
Post contains 283 words, total size 2 kb.
F1 Practice: Suzuka 2009!
The rain never really stopped. Until about eight minutes left in Friday's Practice 2 session, this was the fastest thing on the Suzuka track: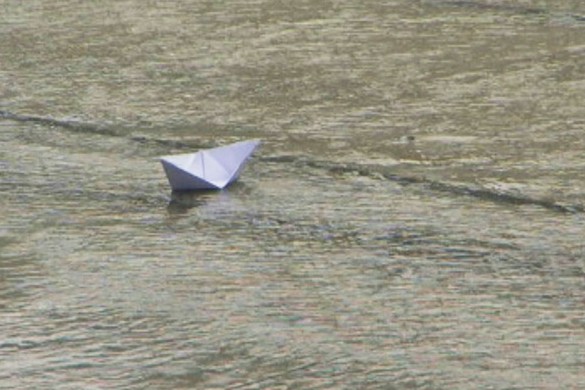 Yup, you know it's a dull session when the mechanics are making origami boats and sailing them in the pit lane. Made it most of the way down, too, until a killjoy track marshal picked it up.
Once cars finally DID make it on track, Adrian Sutil's Force India turned fast lap of the session. That's not saying a whole lot, as it was nearly 10 seconds slower than the morning session, and close to 20 seconds slower than the usual lap at Suzuka, and it sure didn't look like the teams were taking it seriously. One could almost hear the mechanics thinking "don't total the car, lad, don't total the car" as they sent their waterlogged warriors out.
So, not much to report. I'm sure there'll be more after quals... after all, the drivers can't hide in the garage then, no matter how bad the weather gets.
Posted by: Wonderduck at 12:05 PM | Comments (1) | Add Comment
Post contains 176 words, total size 1 kb.
October 01, 2009
F1 Practice 2 LIVE note
It's wet. Really, really wet. They're running on monsoon tires, there's standing water on the track, it's pouring, nobody's on track, and apparently there's a typhoon brewing in the Sea of Japan, just to make it better for everybody.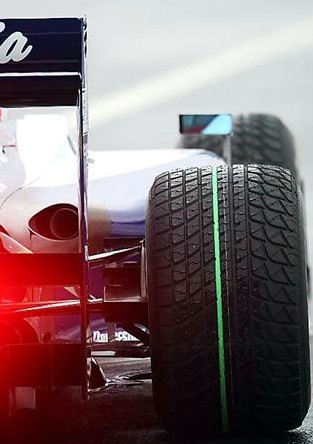 Monsoon tires. That's a helluva tread...
Forecasts say that we'll have a wet quals, and a dry race, but nobody has the faintest idea, really.
(Adrian Sutil just said that, in the wet, 130R "really requires a driver to have some balls." Smarmy Windsor just had an on-camera stroke)
Speaking of 130R, in the track preview post, for some reason I said that it was turn 14, when I knew that it was really #15, right past the bridge. Dumb mistake, sorry about that.
Since nothing is going on on-track and there's no visible break on the weather radar for a looooong time, I'm going to bed. Full coverage later.
Posted by: Wonderduck at 11:21 PM | No Comments | Add Comment
Post contains 154 words, total size 1 kb.
110kb generated in CPU 0.0229, elapsed 0.1014 seconds.
53 queries taking 0.0851 seconds, 287 records returned.
Powered by Minx 1.1.6c-pink.