March 28, 2015
F1 Quals: Malaysia 2015
Allegedly they've heard of sunlight at Sepang. If you just went by today, however, there's no way that's actually possible, as the session began with low, heavy clouds. If I saw clouds like that here at Pond Central on a Summer day, I'd be heading for the laundry room as fast as I could go. But did it actually rain? Here's the provisional grid for the 2015 Grand Prix of Malaysia:
P

Driver

Team

Q1

Q2

Q3

1

Lewis Hamilton
Mercedes

1:39.269

1:41.517

1:49.834

2

Sebastian Vettel
Ferrari

1:39.814

1:39.632

1:49.908

3

Nico Rosberg
Mercedes

1:39.374

1:39.377

1:50.299

4

Daniel Ricciardo
Red Bull Racing

1:40.504

1:41.085

1:51.541

5

Daniil Kvyat
Red Bull Racing

1:40.546

1:41.665

1:51.951

6

Max Verstappen
Toro Rosso

1:40.793

1:41.430

1:51.981

7

Felipe Massa
Williams

1:40.543

1:41.230

1:52.473

8

Romain Grosjean
Lotus

1:40.303

1:41.209

1:52.981

9

Valtteri Bottas
Williams

1:40.249

1:40.650

1:53.179

10

Marcus Ericsson
Sauber

1:40.340

1:41.748

1:53.261

11

Kimi Raikkonen
Ferrari

1:40.415

1:42.173

12

Pastor Maldonado
Lotus

1:40.361

1:42.198

13

Nico Hulkenberg
Force India

1:40.830

1:43.023

14

Sergio Perez
Force India

1:41.036

1:43.469

15

Carlos Sainz
Toro Rosso

1:39.814

1:43.701

16

Felipe Nasr
Sauber

1:41.308

17

Jenson Button
McLaren

1:41.636

18

Fernando Alonso
McLaren

1:41.746

19

Roberto Merhi
Manor

1:46.677

DNQ

Will Stevens

Manor


No Time



First things first: the 107% time was 1:46:217. Neither Manor driver brought his vehicle in under that time, so they race at the Steward's permission... which was granted, as both drivers managed to display enough pace during practice to claim they manage it. Assuming Manor can find and fix the gremlin that infected Will Stevens' car between Practice 3 and Quals, we should have a full grid on Sunday!
And what an interesting grid it is, too. Of course it rained in Malaysia; it always does. The teams had enough time for one or two flying laps before the heavens opened up and dumped a substantial portion of the Malacca Strait onto Sepang International Circuit. Lewis Hamilton was nearly caught by this, as he had problems getting his Mercedes started. Because most only got one shot, one bad twitch could cost you the session, as Kimi Raikkonen learned. After the dry laps were in the books, there was no point in going out again.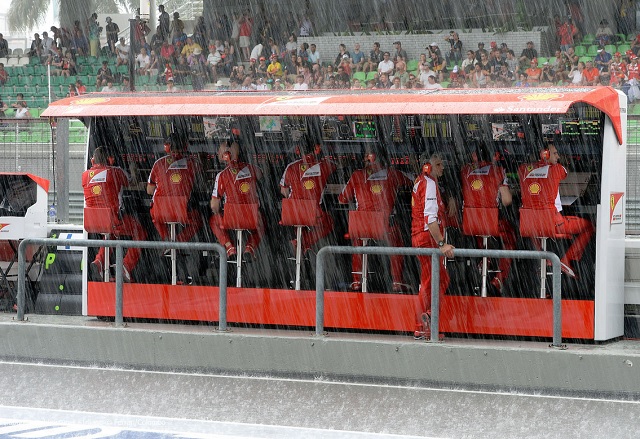 Q3 was delayed nearly 40 minutes as the Powers That Be waited for the water to stop bucketing down. This it duly did, but the track was still sodden enough for Intermediate tires (and some thought Full Wets) to be required for the entire session. In the process, we may have discovered that, at least in the wet, Ferrari can hang with the Mercs. In the dry, the Silver Arrows still have the clear advantage, though it seems to have been cut somewhat.
We'll see what the race will bring us early Sunday Morning. No idea when I'll manage the writeup, as I've a couple of other things that need to be dealt with on Sunday.
Posted by: Wonderduck at 10:26 AM | Comments (5) | Add Comment
Post contains 495 words, total size 9 kb.
March 27, 2015
March 24, 2015
F1 on NBCSN: Malaysia
With a cloud of embarrassment hanging over its head, F1 bids adieu to Australia and made its way to the next destination on the World Tour: Malaysia, and the Sepang International Circuit contained therein. Let's take a look at said circuit's track map: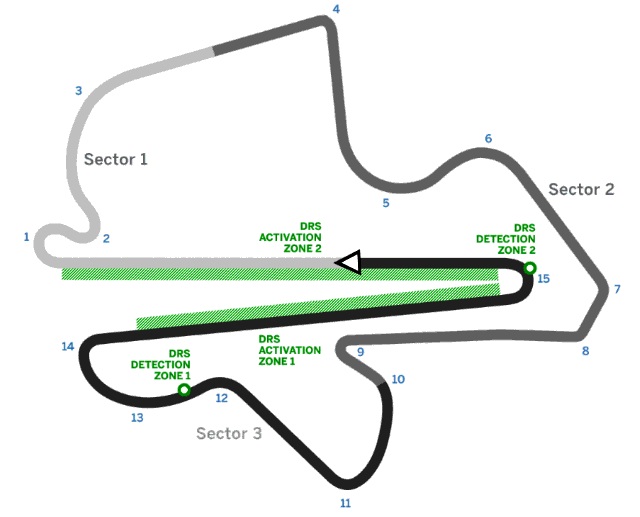 Some things never change. Since 1999, Malaysia has been dominated by the two "forever straights", separated only by a tight, low-speed hairpin. In effect this was Hermann Tilke's premiere track design, though he did technically design the A1-Ring (now the Red Bull Ring) in Austria first. It's already full of what would be come his signature tics, like the aforementioned long straights, lots of rhythm-destroying turns, and an appalling lack of feel for a racetrack. All of these would carry over to his later designs, with only Turkey truly standing as an acceptable layout.
Well, what's done is done. The circuits are here, they aren't going away anytime soon, so this is what we've got. What do often do get in Malaysia is rain. Lots and lots of rain. If we're lucky, we'll get rain this weekend. According to the forecast, there's showers scheduled on race morning, with thunderstorms in the afternoon. The question, of course, is if "the afternoon" is during the race itself. We'll see.
In injured driver news, both Valterri Bottas (back) and HWMNBN (concussion) are hopeful for returns this weekend. The Finn will do the car self-extraction test on Thursday, and if he's capable of that, he'll be driving. The Spaniard, however, went through a battery of tests this weekend, and will undergo a final medical assessment from the FIA on Thursday as well. I'd expect to see them both racing on Sunday.
Finally, here's the TV schedule for NBCSN's coverage this weekend:
Friday
P2: 100a - 300a live
Saturday
Quals: 400a - 530a live
Sunday
2015 Grand Prix of Malaysia: 130a - 400a live
As always, times are in Pond Central. Also as always, NBCSN's scheduling is brought to us by Zap2It, which means it's frequently wrong, and constantly impossible to read.
And, completely off-topic, here's this year's World Endurance Racing entry from Audi: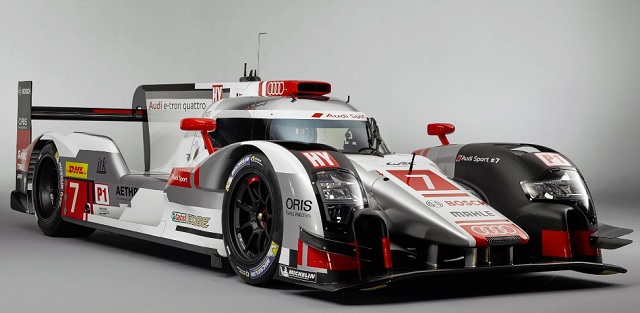 Yes, please, very much so.
Posted by: Wonderduck at 08:55 AM | Comments (16) | Add Comment
Post contains 361 words, total size 3 kb.
March 14, 2015
F1 Quals: Australia 2015
If it's Saturday in Melbourne, it must be qualifying for the Australian Grand Prix! How will this season go? We should begin to get an idea after this, the first time it all really counts... let's take a look at the grid:
| P | Name | Team | Q1 | Q2 | Q3 |
| --- | --- | --- | --- | --- | --- |
| 1 | Lewis Hamilton | Mercedes | 1:28.586 | 1:26.894 | 1:26.327 |
| 2 | Nico Rosberg | Mercedes | 1:28.906 | 1:27.097 | 1:26.921 |
| 3 | Felipe Massa | Williams | 1:29.246 | 1:27.895 | 1:27.718 |
| 4 | Sebastian Vettel | Ferrari | 1:29.307 | 1:27.742 | 1:27.757 |
| 5 | Kimi Raikkonen | Ferrari | 1:29.754 | 1:27.807 | 1:27.790 |
| 6 | Valtteri Bottas | Williams | 1:29.641 | 1:27.796 | 1:28.087 |
| 7 | Daniel Ricciardo | Red Bull | 1:29.788 | 1:28.679 | 1:28.329 |
| 8 | Carlos Sainz | Toro Rosso | 1:29.597 | 1:28.601 | 1:28.510 |
| 9 | Lettuce Grosjean | Lotus | 1:29.537 | 1:28.589 | 1:28.560 |
| 10 | Pastor Maldonado | Lotus | 1:29.847 | 1:28.726 | 1:29.480 |
| 11 | Felipe Nasr | Sauber | 1:30.430 | 1:28.800 | |
| 12 | Junior Verstappen | Toro Rosso | 1:29.248 | 1:28.868 | |
| 13 | Daniil Kvyat | Red Bull | 1:30.402 | 1:29.070 | |
| 14 | Nico Hulkenberg | Force India | 1:29.651 | 1:29.208 | |
| 15 | Sergio Perez | Force India | 1:29.990 | 1:29.209 | |
| 16 | Marcus Ericsson | Sauber | 1:31.376 | | |
| 17 | Jenson Button | McLaren | 1:31.422 | | |
| 18 | HWMNBN'DSI | McLaren | 1:32.037 | | |
| DNS | Will Stevens | Manor | No time | | |
| DNS | Roberto Merhi | Manor | No time | | |
Yeeeesh. As if last season wasn't bad enough, Mercedes is picking up 2015 right where they left off in 2014, with another front-row lockout. Polesitter is a full 1.4 seconds ahead of the first non-Mercedes challenger, Williams' Felipe Massa, and about a half-second ahead of his teammate Nico Rosberg. The two Ferraris had relatively dull (but good!) Quals sessions. Meanwhile, Red Bull pretty much wants to strangle engine manufacturer Renault. First, Riccardo had his first engine (of four for the year!) die during Practice, then his second is "practically undriveable", full of weird holes in the engine mapping. That's why teammate Daniil Kvyat is so far down the grid, and why Ricciardo nearly missed Q3.
Sauber has to be relieved that Felipe Nasr qual'd 11th, considering the nightmare they've put up with this week. Indeed, he was looking like he'd go through into Q3 until Toro Rosso's Carlos Sainz bumped him out at the last moment. Too, Force India has to be pleased with their results in Quals. Sure, they aren't high up the grid, but they had very little track time with their new car and it's looking to be solidly reliable. Particularly early, reliability is almost as good as speed: if the car can't finish a race, it doesn't matter how fast it is. However, a reliable car can
evolve
to become quick. A special tip o' the cap to Junior Verstappen, who became the youngest person to qualify for a F1 race today at the ripe old age of 17. Seven-frickin'-teen.
Really, the only team that has any reason to be unhappy is McLaren. Sure, Manor didn't manage to get their cars running at all this weekend (reportedly it took four hours on Friday just to get the car's flashing rain light to function with the new software), but a month ago the team didn't exist and their pieces were being sold away. Just being in Australia as a team, having a
chance
to get running, is a win for Manor. But McLaren is a different story. In Q1 their best time was set on the soft-rubbered Option tire. It was nearly three seconds behind Lewis Hamilton's fastest time in Q1 on the slower medium Prime tire. They were the slowest through the speed traps, about 10mph behind the fastest chassis, the Williams. They've not even done a full race distance in the new chassis... hell, they've not even done as much as 13 laps at once. To call this a disaster for the legendary McLaren/Honda combination is perhaps understating the case. While there's plenty of time for the car to improve, this start makes one wonder how they can.
Late news from Melbourne! After Quals on Saturday, Valtteri Bottas was taken to hospital suffering back pains. They actually began during the Quals session, but he drove through them. He and the team await the diagnosis, and currently his drive on Sunday is in doubt. If he can't go, the team will not be allowed to replace him, and we'll have a 17-car grid for the race.
Race is late-night Saturday/early Sunday here at The Pond... see ya in the AM.
Posted by: Wonderduck at 11:38 AM | Comments (6) | Add Comment
Post contains 708 words, total size 11 kb.
March 13, 2015
F1 Practice 1+2 Thoughts And Sauber: Australia 2015
First off, news has come down that Giedo van de Garde has temporarily withdrawn his various motions and notions, so as to allow Sauber F1 to actually race this weekend. This also has the side-effect of allowing Sauber Team Principal Monisha Kaltenborn to leave Australia once the weekend is over. There are two things behind this, undoubtedly. First, the lawyers on both sides must have come to some sort of agreement regarding compensation for the aggrieved driver. The wonder of it all is how the cash-strapped team could guarantee anything along those lines. Second, it became crystal clear that van de Garde would never drive for the team. Oh, make no mistake, the courts could have said "yes he is" and he'd be named... but when he walked into the team paddock yesterday for his seat fitting, every team mechanic walked out. Every. Single. One. I don't care what the judges and lawyers and bailiffs say... if your mechanics hate you, you aren't racing. You wouldn't make it to the end of the pit lane before breaking down. So there you go: Sauber is racing in Australia. More on this to come, clearly.
As far as the two practice sessions went, there are four conclusions to be drawn:
1) Mercedes will do it again. They were a second clear of the next best teams, and they weren't even trying hard. Expect a repeat of 2014, except maybe more wins.
2) Ferrari might just be back. From all appearances, the SF15-T is a much better drive than last year's F14T. It might be on-par with the Red Bulls, which means it could, in theory, be contesting for podiums and wins. In theory. In practice, with three teams (Red Bull, Williams and Ferrari) jousting for second-best, someone's gonna lose out.
3) Expect nothing from McLaren. The team is having serious problems with their new Honda engines. Combined with faults of some kind, the MP4-30 had Jenson Button saying that they might do well to start 18th on race day. There are only 20 cars, and two of them are Manor chassis that have yet to turn a wheel in practice or in anger. That's how bad it is for McLaren right now.
4) Engine problems may doom everybody. Daniel Ricciardo's Red Bull had an engine change after P1 yesterday. Felipe Massa's Williams had a water leak that may lead to an engine change as well. Cars only get four "power units" to last 20 races, and
this
is happening
now
? Oh boy... Manor might actually be in the BEST shape; their 2014 power units are at least a mature technology now, with well-known flaws and foibles.
P3 and Quals coming up later tonight.
Posted by: Wonderduck at 07:49 PM | Comments (2) | Add Comment
Post contains 459 words, total size 3 kb.
March 12, 2015
Sauber Situation, Manor Mayhem
While we wait for Practice 1 to air here in the States, I want to touch on a couple of items that might cut the number of running cars this weekend to 16, instead of the scheduled 20.
First and easiest to deal with is Manor, the former Marussia. Their cars are in the paddock and the team is beavering away, but there has reportedly been an operational snag. As you'll remember, the team went into receivership and their assets prepared for sale. This past December saw
an auction
of much of their stuff, but importantly some of their things were withheld despite having been listed. This included all of their IT layout, something desperately needed to run the car at the track. Of course, the team didn't know there would be a last-minute reprieve, so they had to prepare their computers for sale, so they scraped everything off the hard drives. Reportedly, they've had problems getting the reinstalled and/or rewritten code to mesh with the Ferrari engines... meaning the cars won't start. I did sneak a peek at the Practice 1 results, and neither car set a timed lap. Unfortunate, but unsurprising.
Even more unfortunate is the disaster looming over at Sauber. We actually first discovered there was a hint of a problem last year when Jennifer Becks,
ridiculously cute
girlfriend of Adrian Sutil
tweeted out
during the USGP weekend that it appeared that the team had signed a third driver for the two race seats in 2015. There's nothing wrong with having three drivers, but one of them is supposed to be declared a reserve. Time went on, nothing was clarified, and then it was announced that the team had signed a
fourth
pay driver as well! Marcus Ericsson and Felipe Nasr were eventually announced as the race-day drivers, and all seemed fine for much of the off-season. Until former F1 driver and 2014 Sauber test driver Giedo van der Garde stood up and in effect said "hey, I've got a contract with the team for a race seat, what the heck is going on?"
There's no question that Sauber was in desperate financial straits at the end of last season. Clearly what the heck was going on was that the team signed two drivers that brought more sponsorship money (and/or were willing to pay more for the seat) than van der Garde, simply to stay alive. Then, quietly, Sutil apparently mentioned that he's got a contract as well. Van der Garde, however, is pushing the matter, and rightfully so. He's got a legal contract, after all. He took the team to court last week... and won. Of course, the team appealed the ruling saying, in effect, that it'd be dangerous for him to be allowed to drive the car at such a late date... after all, it's been set up for Ericsson and Nasr.
That was, of course, a stupid argument: new drivers step into F1 seats all the time. The court agreed with van der Garde, ordering the team to allow him to drive and pay his court costs to boot. The team clearly doesn't want to have him drive, and contempt of court proceedings are actually underway in Australia, with the team ordered to provide a list of assets in the paddock. In theory, if the team doesn't let him drive, van der Garde could end up owning all of the race assets of Sauber. Team Principal Monisha Kaltenborn, herself a lawyer, has been summoned by the court, while van der Garde's legal team is
calling for her imprisonment
. Reportedly, she hasn't been seen for a while, and one source is claiming there are
court bailiffs at the Paddock
looking for her.
Not surprisingly, the team did not run in Practice 1, either.
I'll keep you informed.
Posted by: Wonderduck at 10:14 PM | Comments (1) | Add Comment
Post contains 636 words, total size 4 kb.
March 09, 2015
F1 on NBCSN: Australia 2015
Like a big, hungry, pissed-off grizzly bear dragging itself out of its hibernation cave, the growls of Formula 1 have begun to emanate from the south-eastern tip of Australia. Melbourne is the location, the Albert Park circuit the destination for the ten teams contesting the 2015 Formula 1 season. Let's take a look at the track map for this historic circuit:
Just as the Cincinnati Reds used to open the baseball season with the first game of the year, so too does Australia have primacy of place on the F1 calendar, and the few times that hasn't been the case have felt weird. I've often said that the Albert Park circuit is the perfect starting track for season, for it's pretty much *everything* you could want out of a track. Tight, twisty sections that test the maneuverability of a car? Yep, it's got it. High-speed parts? You betcha. Heavy braking? Oh yes. Fast sweeping turns that strain the downforce levels? Surely. God's Slot Car Track will provide. Plus it's a nice-looking location, to boot.
The only thing that prevents it from being the perfect circuit is a lack of elevation change. It may not be billiard-table flat, but it's awfully close. It's a tough layout for both driver and car. It's considered a street circuit, as it runs along permanent roads through the park. As such, it has many of the problems you'll find in places like Monaco... motor oil dripped into the surface, for example... but without any of the bumps and blemishes you'd expect from a street track, as the entire place was reprofiled and resurfaced to make it as smooth as any permanent layout, despite only being used one weekend a year. Throw in the first time running the cars "in anger," and you get the potential for exciting weekends for some teams.
And despite all predictions, we'll have ten teams on the grid. Marussia fought its way out of receivership and will show up in the pit lane despite no testing, running a heavily modified version of last year's chassis, with Ferrari supplying 2014 engines. That can't be good as far as being a legit challenger goes, but at least the team is on the rid. They're operating under the parent name "Manor Motorsports," which has always been the name on the racing entry, though Virgin and more recently Marussia has been the team name. The equipment carriers still have the "Marussia" logo on them, as do the shirts of the team members receiving them, but my guess is that Manor will be the final name.
One driver that WON'T be on the grid for Australia is McLaren's HWMNBN. During testing a few weeks ago, the Spanish driver was involved in a relatively simple accident, banging into a wall with the side of the car at around 80-90 mph. While otherwise unharmed, he suffered a concussion with unconsciousness and some amnesia to boot. He has not been cleared to return to driving activities yet, and the possibility of missing the next race in Malaysia as well can't be ignored. Concussions are nothing to be sneered at, and caution should always be used concerning them. There's been a lot of conspiracy theories floating about the accident, primary amongst them that he was shocked to unconsciousness by a malfuctioning ERS, but McLaren denies this. Kevin Magnussen, one of McLaren's 2014 drivers and now their reserve, will be in the seat until HWMNBN is okay'd to race once again.
NBCSN will once again be providing coverage of the weekend with the Legendary Announce Team in full throat. Since this is a special event, the first race of the year, it appears that we're getting expanded coverage, too! They're showing up P1 and P3... take a look at the schedule, understanding that you'll want to double-check it on your end before you trust any of it. Zap2It, which powers NBCSN's online schedule system, is slightly less ergonomic than your average steel I-beam.
Thursday/Friday
P1 & P2: 1130pm - 2am (P1 probably timeshifted)
Friday/Saturday
P3: 1130pm -1230am live
Quals: 2am - 330am live
Saturday/Sunday
Grand Prix of Australia: 1130pm - 200am live
All times are Central Pond Time. Add one hour for Wyoming, Delaware. Subtract an hour for Wamsutter, Wyoming. Remember, all you residents of Coos Bay, Oregon, that you're two hours behind The Pond.
So there we are. And there you are. And here I am. Someone will see you sometime.
Posted by: Wonderduck at 03:36 PM | Comments (4) | Add Comment
Post contains 746 words, total size 5 kb.
77kb generated in CPU 0.0243, elapsed 0.1036 seconds.
51 queries taking 0.0868 seconds, 279 records returned.
Powered by Minx 1.1.6c-pink.