June 23, 2012
F1 Quals: Europe/Valencia 2012
A beautiful day dawned over the harbor and docks of Valencia as the F1 Circus headed out to figure out who would start where for the 2012 Grand Prix of Europe. What was the result? Let's take a look at the provisional grid:
Yup, Sebby Vettel is on pole, joining Lewis Hamilton as the only drivers this season who have headed the timesheet twice. It's his third consecutive Valencia pole to boot. Lewis Hamilton joins him on the front row, making it look like nothing's changed. But that's where it all begins to go pear-shaped, at least as far as history goes. Only Jenson Button could have been expected to have been one of the top runners last year, and he's but ninth. Around him are both Force Indias, and ahead of him are the likes of Gandalf, Lettuce, Metropolitan, Wonderboy and Mumbles. Names like HWMNBN, Slappy and Mark Webber didn't even make it to Q3, and a technical difficulty meant the latter didn't even make it to Q2.
Yes, it's a weird grid, which is good. However, the front of the grid is the same as it often is, and that's not good. With passing at a premium here, seeing Vettel up at the front of the grid puts a chill in the heart, and puts the Different Winner streak in jeopardy. We can only hope that Lettuce makes the leap!
You may notice that Tim O'Glockenspiel has an ugly "DNS" before his name. Unfortunately, he was taken to a hospital overnight with a stomach ailment. There's some question as to whether he'll be okay to race on Sunday. If he is, he may not be allowed to start; that'll be up to the stewards. Darn shame.
Race is tomorrow morning, but we won't get to see it here in the US until 11am on FOX. Ah, the wonders of tape-delay. See you then!
Posted by: Wonderduck at 09:06 AM | Comments (4) | Add Comment
Post contains 484 words, total size 16 kb.
June 22, 2012
F1 Practice: Europe/Valencia 2012
Welcome to beautiful Valencia!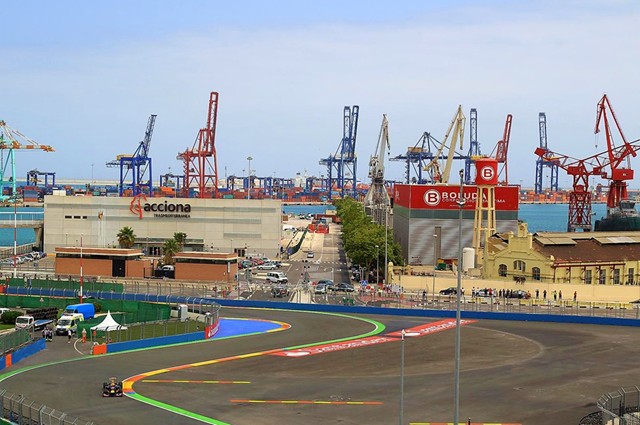 Ahhhhhhhhh, you can just
smell
the ambiance! Why wouldn't we want to race here?
Lots of lock-ups all day as drivers tried to come to grips with the green, dusty asphalt, but it became an official session when Pete Rose stuck his HRT into a tirewall will some violence. It ain't real until you've got a dead HRT somewhere one the side of the road.
Reportedly, the weather at Valencia today was about 12 degrees cooler than they're expecting on Sunday. Of course, this played hob with the tires, and pretty much binned any sort of setup tests the teams may have been planning. So, yay, I guess. Nobody will know what they're doing! That should make Sunday even more (ahem) exciting.
Sebby Vettel was fastest on Friday, which means nothing, of course... except that he's won the last two races here. I know that practice results have zero relevance to anything on Saturday or Sunday, but it doesn't fill my heart with warm fuzzies to hear that he's again faster than all. I dunno about you guys, but I'd really like to see an eighth winner in eight races. I think we could legitimately see 10 for 10, though I'm not holding my breath.
Quals tomorrow morning, see ya there!
Posted by: Wonderduck at 04:55 PM | Comments (3) | Add Comment
Post contains 219 words, total size 2 kb.
June 19, 2012
F1 on TV!: Europe 2012
After a brief sojourn to North America for the Canadian Grand Prix, it's back to Europe for the second of the F1 Circus "home" races. This time we find ourselves in Valencia, Spain for the so-called Grand Prix of Europe. Let's take a look at the track map:
Welp, there's no beating around the bush: this track sucks. There's yet to be a good race at this so-called "street circuit" that runs around the harbor the America's Cup defense used a few years back. Except it has none of the hallmarks of a street track: the road is wide and smooth, the warehouses are far from picturesque, even the turns in the technical section are more like a standard Tilke abomination than a street race. Forget about passing, because he Mickey-moused the whole darn thing... prior to the 2011 race, there were only four known passes in three races. It's telling that the most memorable features of past races is Mark Webber's impromptu flight and Kamui Kobayashi holding up the entire field (earning his nickname "Gandalf" in the process). In other words, an accident and no passing. Sound like a good track to you? Yeah, me neither. Well, the bridge crossing is photogenic at least.
If you like catchfencing, at least. Well, we'll take what we can get, and hope for rain. One good thing, I suppose: in 2011, we had no retirements from the race, meaning all 24 cars finished... a F1 first.
Just think, this is one of the NATIONAL broadcast races, too. Good call, FOX. Well, at least we've got the Legendary Announce Team doing their usual coverage. Here's the schedule:
FRIDAY
3a-430a: P1 streaming
7a-840a: P2 live on SPEED
SATURDAY
4a-5a: P3 streaming
7a-830a: Quals, plausibly live, on SPEED
SUNDAY
1030a-11a: Pre-race show, tapedelayed on SPEED
11a-1p: 2012 Grand Prix of Europe @ Valencia, tapedelayed on FOX
1p-130p: Post-race, tapedelayed on SPEED (after race, time may vary)
This is how we here at F1U! will willingly spend our Sunday. Yay us! See ya then!
Posted by: Wonderduck at 06:38 PM | Comments (3) | Add Comment
Post contains 343 words, total size 2 kb.
June 09, 2012
F1 Quals: Canada 2012
First let me extend apologies for the delay. F1U! Central has been without internet since 11am and it's only just come back. There was a brief power outage, presumably caused by the heat, and while everything else restarted (or was off for so little time that the outage wasn't noticed), some vital piece of electronica did not.
Now then, to the joys of F1. Here's the provisional grid for the 2012 Grand Prix of Canada:
Fastest in all three sessions of Qualifying, it's clear Mr Vettel was on something of a mission today. Accomplished, I presume, though I suspect he has plans for Sunday as well. One gets the feeling that the team needed this. They had been receiving flak for the past week as the RB8's floor had been ruled illegal after Monaco (no penalty, change before Montreal), and just the other day their wheel hubs had been found to be against the rules (something about them being aerodynamic aids and helping to cool the brakes, change immediately or risk exclusion). One could imagine Red Bull was feeling somewhat... abused... going into today.
Other than that, Jenson Button used all his super-soft tires just to get into Q3, including one set that he flat-spotted so badly they're completely unusable. Expect him to go forever on the soft tires he's currently on. He got to Q3 only by the (lack-of-)grace of Mer Maldonado. The Williams driver was on a very hot lap at the end of Q2... indeed, he looked to be faster than Vettel... until he reached the Wall of Champions. What followed was a broken rear suspension and a looping, spinning save of the highest level, bringing the FW34 to a halt without any more damage.
As much as it pains me to admit, Ferrari looks very quick this weekend. I don't know if they'll have anything for Vettel or not, but I'd expect to see HWMNBN on the podium at the end of the race.
F1U!, as mentioned before, will be delayed while I am attending a birthday party in Chicago. Again, if someone wants to volunteer to do the Update! this race, let me know in the comments. Otherwise, the Update! will be along when it's done... probably Monday night.
Posted by: Wonderduck at 05:04 PM | Comments (1) | Add Comment
Post contains 542 words, total size 17 kb.
June 08, 2012
F1 Practice: Canada 2012
The skies looked to open and dump rain in massive amounts upon the Ile Notre Dame all day. This never occurred. There were three major incidents during the two practice sessions, however, two of which brought out red flags. In P1, Heikki Kovaleinninninnie whapped the wall in Turn 9, doing bad things to the right side of his Caterham.
Later during P2, Bruno Senna got it
very
wrong going through the final chicane and wound up going backwards into the Wall of Champions. The car then rotated and smashed into the wall with the front of the chassis, scattering bits and pieces of the Williams hither and yon.
The third incident occurred at the end of P1, when HRT's Pete Rose ran over his lead mechanic during a practice stop. Craig Stubley was loaded into an ambulance with what was being treated as a broken leg. As it turned out, he escaped serious injury, getting away with bruises and a wrenched knee. Phew!
As far as actual racing went, McLaren's Lewis Hamilton was the fastest around the track in both sessions. Red Bull had some... interesting... sensors mounted to their cars.
Air flow sensors, they tell us. There were also a multitude of cameras strewn about the cars, looking at various bodyparts as they flexed and bent under the passage of air. You can also see some flo-viz paint on the rear of the car (the neon yellow/green stuff behind the sensor). Ferrari had enough flo-viz on their rear wings to make them glow green, not to mention enough to screw up the t-bar cameras of every car that got behind them.
Finally, as you know Montreal is hard on brakes. How hard?
About that hard. Quals in the afternoon, see you afterwards!
Posted by: Wonderduck at 08:05 PM | No Comments | Add Comment
Post contains 297 words, total size 2 kb.
June 06, 2012
F1 On TV!: Canada 2012
Yes, you read that right: F1 on TV, not "...on SPEED!" It's that time of year once again, where coverage of the F1 Circus here in the US moves to FOX, though fortunately enough the Legendary Announce Team goes with it. And where does the coverage go but to Montreal's Circuit Gilles Villeneuve, the home of the Grand Prix of Canada! Let's take a look at the track map:
Usually the terrain dictates the shape of the track, and nowhere is that more evident than here. The track is built on a man-made island in the middle of the St Lawrence River, which is narrow at one end and wide at the other. Most of the circuit is closely bordered by walls, leaving little margin for error anywhere. Perhaps this is what Felipe Massa was referring to last race when he said that the Canada track was "very similar to Monaco."
Because in no other way is this track similar to Monaco. It's fast, but also has an incredibly slow hairpin in Epingle (which sounds like a potato chip). Brakes are at a premium around here, and indeed, this is the only place I've seen the carbon/carbon brakes used in F1 actually explode from overuse. If there was ever a place on the F1 calendar where a brake change would be appropriate, it'd be here. Of course, that'd take too much time for the value, so no... and besides, the old brakes would probably end up setting fire to something.
So it's a narrow, fast, dangerous circuit, and one that has traditionally given us a good race. Here's the scheduled coverage times for the weekend:
FRIDAY
9a - 1030a: P1 streaming
1p - 240p: P2 live on SPEED
SATURDAY
9a - 10a: P3 streaming
12noon - 130p: Quals plausibly live on SPEED
SUNDAY
1230p - 1p: F1 Prerace live on SPEED
1p - 3p: Grand Prix of Canada live on FOX
3p - 330p: F1 Postrace live on SPEED
This is where I'd normally say that F1Update! will be all over the weekend like fleas on a dog, but I can't this time around. On Sunday I'm attending a surprise birthday party in Chicago. To get there on time, I'll be leaving right around the time the race starts, and even if I just stay a couple of hours, I won't be getting back until 830pm or so.
So either 1) I get the F1U! up when I do, or 2) I find a volunteer to write it for me. Whaddya think, any volunteers?
UPDATE
: Forgot to mention... on Monday night, some guy named Seb Vettel is scheduled to be on
Late Night With David Letterman
. Supposedly, he'll be driving the impending New Jersey circuit in a regular car with Dave, who is of course a part-owner in the Rahal-Letterman IndyCar team. Should be good for a chuckle; I'll probably do a write-up on it.
Posted by: Wonderduck at 08:42 PM | Comments (3) | Add Comment
Post contains 490 words, total size 3 kb.
73kb generated in CPU 0.0442, elapsed 0.1497 seconds.
49 queries taking 0.1217 seconds, 255 records returned.
Powered by Minx 1.1.6c-pink.