December 29, 2011
F1 2012 Silly Season (ALMOST) Over!
It's been a while since I paid much attention to goings-on in the Formula 1 world, I know. While I was having lunch with Ph.Duck today, he asked me to give him an update on the news of the Grand Circus... and I couldn't do it! I've really kinda stopped reading up on F1 over the past month. But no more! Let's get caught up on the hithering and yonning of that form of motorsport that we love so much!
The biggest news is that the Silly Season is almost over! 22 of the 24 seats for the 2012 F1 season have been filled. Only two teams still have open seats. Shall we take a look at the driver lineup as we know it?
Unsurprisingly, some teams are running with the same drivers as in 2011.
Red Bull
(Vettel and Webber),
McLaren
(Button and Hamilton),
Ferrari
(HWMNBN and Massa),
Mercedes
(Slappy and Rosberg),
Sauber
(Gandalf and Perez) and
Caterham
-who-was-Lotus (Kovaleinninninnie and Trulli) have made no changes. These choices all make sense. Sauber's pair show promise (and Sergio Perez has enough sponsorship money via
Carlos Slim
to buy a team to boot), and Caterham-nee-Lotus' drivers are a great combination of intelligence and speed, perfect for a newer team.
Renault, which is now
Lotus
, not to be confused with Caterham who
was
Lotus, has brought former F1 World Driver's Champion Mumbles Raikkonen back into the sport. He'll be teamed with young Lettuce Grosjean, who we saw for a half-season in 2009... where he failed to impress. However, the past two years have been kind to the Swiss-born Frenchman. He was Pirelli's prime tire-tester in 2010, and he won the GP2 series championship in 2011.
Force India
is bringing back one of their 2011 drivers for the new season. The surprise is that it ISN'T Adrian Sutil. Instead, we'll be seeing another year of the Paul di Resta Experience. He'll be joined by Nico (The Incredible) Hulkenberg, who we last saw sitting on pole at Interlagos in 2010 for Williams. In 2011, he was FIndia's reserve driver, so he'll just step right in.
During the 2011 season, both
Toro Rosso
drivers (DJ Squire and Seb Buemi) were rumored to be losing their seat at one time or another. It was assumed that only one would be axed to make way for up-and-comer Jean-Eric Vergne. While it's true that Vergne has taken one of the seats,
both
2011 drivers got it in the neck. Teaming with Vergne will be Daniel Ricciardo, who we saw with HRT for the back half of 2011, taking over from Narain Kittylitter. To me, this is the biggest surprise so far. Both DJ Squire and Seb Buemi are good enough to drive in F1, and like Hulkenberg last season, both are deserving of a drive. To date, neither have one.
Virgin is changing their name for 2012, becoming
Marussia F1
... and in case you're wondering, Marussia is Russia's first sports-car manufacturer. Tim O'Glockenspiel will be returning for the 2012 season. He'll be joined by French rookie Charles Pic. Pic finished fourth in GP2 last season, and reportedly looked good in the New Driver's Test at Abu Dhabi... good enough that he was given two full days behind the wheel, instead of the day-and-a-half originally scheduled.
Williams
is the first of the teams that still has an opening. Pastor Maldonado, who drove with the team in 2011, has one drive locked up. The seat held by Rubens Barrichello last year is the one that remains open. His contract has expired, and Williams hasn't shown any interest in resigning him. With Adrian Sutil, DJ Squire and Seb Buemi still on the market, they're guaranteed a talented, experienced driver if that's the way they want to go. They could also go for a sponsorship-heavy newbie driver, which might be for the best. There were reports of funding shortages last season for Williams, a sad state of affairs for such a legendary F1 marque.
Finally,
HRT
has the other free seat. In the offseason, they signed Pedro de la Rosa (aka "Pete Rose"), who will be 41 as the season starts, to be their lead driver. To be blunt, this is probably the greatest off-season move of any team... including the return of Mumbles Raikkonen. Pete Rose, who we last saw in a one-off appearance for Sauber at Canada in 2011 (filling in for the severely concussed Sergio Perez), has a reputation for being the World's Greatest Test Driver, having filled that position for McLaren for most of the past decade. He's also had a few half-seasons as a full-time driver, most recently in 2010 with Sauber. He'll be a great fit with HRT, who needs an experienced, skillful wheelman if they're going to catch up to Caterham and become a "real team." Their second seat will almost certainly go to the driver with the biggest wallet.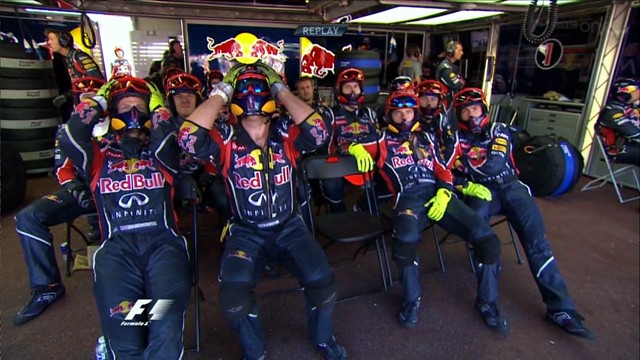 Two seats, many many drivers: it's like a multi-million dollar game of Musical Chairs!
Posted by: Wonderduck at 10:31 PM | Comments (5) | Add Comment
Post contains 834 words, total size 6 kb.
29kb generated in CPU 0.0202, elapsed 0.5204 seconds.
45 queries taking 0.5103 seconds, 236 records returned.
Powered by Minx 1.1.6c-pink.