August 28, 2008
RIP Phil Hill
(photo courtesy The Cahier Archive)
The only American-born racer ever to win the F1 Driver's Championship, Phil Hill, passed away today at the age of 81 from complications of Parkinson's Disease.
In 1961, he had one of the greatest years in driving ever. He won two Grands Prix (Italy, Belgium), finished second twice (Dutch, British), and third twice (Montreal, Germany) to clinch the F1 Championship. He also won the 12 Hours of Sebring and the 24 Hours of LeMans that year, along with becoming the first man ever to lap the Nurburgring's imposing Nordschleife in less than 9 minutes.
After his racing career, he wrote for
Road & Track
magazine, doing road tests and articles about classic cars and racing in general.
He won at LeMans three times overall, three times at Sebring, the 1000km Nurburgring twice, and had three Grands Prix victories overall.
Hill was inducted into the International Motorsports Hall of Fame in 1991.
F1 UPDATE! would like to express our deepest condolences to Phil's family and friends.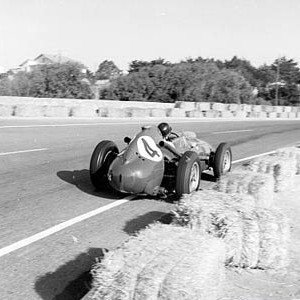 Posted by: Wonderduck at 10:24 PM | Comments (2) | Add Comment
Post contains 173 words, total size 2 kb.
August 23, 2008
F1 Quals: Valencia 2008!
With the sky ominous and occasionally sprinkling, the track at Valencia really seemed to come alive for today's qualifying session. As predicted, the new circuit played hob with all teams, throwing their usual precise machinations into a cocked hat. As an example, McLaren almost always manages to get their drivers on the course last in the closing stages of Q3. This is a great advantage, as they then know exactly what they have to do to get pole, and can see what the other teams are doing ahead of their cars.
Not today. Lewis Hamilton went out near the middle of the pack, allowing the Ferraris, the BMW of Robert Kubica, and his own teammate to snipe away at his final time. The provisional grid looks like this:
| Pos | Driver | Team | Q1 | Q2 | Q3 |
| --- | --- | --- | --- | --- | --- |
| 1 | Felipe Massa | Ferrari | 1:38.176 | 1:37.859 | 1:38.989 |
| 2 | Lewis Hamilton | McLaren-Mercedes | 1:38.464 | 1:37.954 | 1:39.199 |
| 3 | Robert Kubica | BMW Sauber | 1:38.347 | 1:38.050 | 1:39.392 |
| 4 | Kimi Räikkönen | Ferrari | 1:38.703 | 1:38.229 | 1:39.488 |
| 5 | Heikki Kovalainen | McLaren-Mercedes | 1:38.656 | 1:38.120 | 1:39.937 |
| 6 | Sebastian Vettel | STR-Ferrari | 1:38.141 | 1:37.842 | 1:40.142 |
| 7 | Jarno Trulli | Toyota | 1:37.948 | 1:37.928 | 1:40.309 |
| 8 | Nick Heidfeld | BMW Sauber | 1:38.738 | 1:37.859 | 1:40.631 |
| 9 | Nico Rosberg | Williams-Toyota | 1:38.595 | 1:38.336 | 1:40.721 |
| 10 | SeaBass | STR-Ferrari | 1:38.622 | 1:38.417 | 1:40.750 |
| 11 | Kazoo Nakajima | Williams-Toyota | 1:38.667 | 1:38.428 | |
| 12 | HWMNBN | Renault | 1:38.268 | 1:38.435 | |
| 13 | Timo Glock | Toyota | 1:38.532 | 1:38.499 | |
| 14 | Mark Webber | Red Bull-Renault | 1:38.559 | 1:38.515 | |
| 15 | Nelson Piquet | Renault | 1:38.787 | 1:38.744 | |
| 16 | Jenson Button | Honda | 1:38.880 | | |
| 17 | David Coulthard's Chin | Red Bull-Renault | 1:39.235 | | |
| 18 | Giancarlo Fisichella | Force India-Ferrari | 1:39.268 | | |
| 19 | Rubens Barrichello | Honda | 1:39.811 | | |
| 20 | Adrian Sutil | Force India-Ferrari | 1:39.943 | | |
While only Massa managed to beat out Hamilton's final time, it sure wasn't for lack of trying by the other drivers. Massa, Kubica, Kimi and Heikki all came home after Hamilton claimed provisional pole. McLaren had to be gnawing their fingernails to the quick when the others were throwing up fast sectors all over the place.
The surprise of the day has to be Sebastian Vettel and Toro Rosso. Both of the team's cars made it to Q3, with Vettel ending up 2nd fastest in Q1, and fastest of all in Q2. SeaBass, historically no slouch at all on street courses, also did a nice job though the Q3 results don't show it. The disappointment, though, had to be the senior Red Bull team of Webbo and The Chin. Either their engines just don't put out the horsepower to deal with their junior team, or their drivers were intimidated by the track. Whichever way you look at it, a bad day for them for sure.
So a new track, a new face on row three, and a BMW between the Red Team and the Glare With Wheels. Should be an interesting run to turn 2 tomorrow!
Posted by: Wonderduck at 03:05 PM | Comments (1) | Add Comment
Post contains 462 words, total size 12 kb.
August 22, 2008
F1 Practice: Valencia 2008!
Okay, I'm starting to come around on this new circuit. Earlier, with just the silent footage to judge from and only one car on course, I didn't find it to be a particularly
interesting
layout. After seeing 20 F1 cars whipping around Valencia, however, it's a lot more attractive. A LOT more.
My first impression of the track being like Melbourne needs to be corrected, too. If you took the DNA from both Monaco and Montreal, then did some weird gene-splicing experiments (since all other problems in the world have been taken care of), you'd end up with Valencia. Twisty, curvy, but with some high-speed sections followed rapidly by brutally slow hairpins, and some promising passing areas to boot. There's some potential here, folks.
Bridgestone brought the soft and supersoft compounds to the party, and it doesn't look like there's going to be any out-of-the-ordinary wear issues (unless you're Nico Rosberg, who at one point flat-spotted his tires so badly after a spin that you could SEE the flat spots as the car was moving at 160mph). It turns out, however, that the tire manufacturer is somewhat concerned about the bridge, of all things. It turns out that it's not your usual span, but a swinging bridge that splits in half to clear the way to the harbor, and there's a gap of about a half-inch between the two pieces. That's fine for your everyday street tire, but for a race tire going at 130-140mph? There may (or may not) be a lot of blowouts come raceday.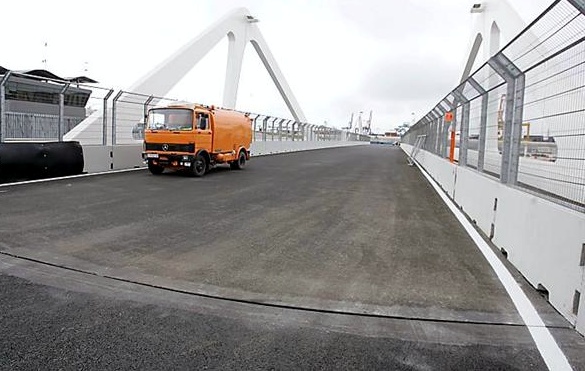 Not the most interesting picture, I admit...
Of course the track was very, very green, and very, very dusty. Pit boxes had to be swept all day just to allow the cars to have a little bit of traction. However, as the layout rubbers in, the times will drop. Nobody seemed to have any real problems learning the circuit, either.
I'm getting excited about this race. Sure, some of it is because we haven't had a race in three weeks, but I think this circuit promises big things. Since it's new, I'm going to treat it as if it's a wet race: all bets are off, and nobody knows what's going to happen. If it actually rains, though, not only are all bets off, but the casino is closed.
Quals Saturday, be here or be somewhere else.
Posted by: Wonderduck at 08:19 PM | Comments (8) | Add Comment
Post contains 398 words, total size 3 kb.
August 17, 2008
F1 on SPEED!: European Grand Prix at Valencia 2008
Now that the F1 vacation is drawing to a close and the teams are loading up the transporters, it's time for us to put our race caps back on and take a look at the first of the two new circuits on the calendar, the street course at Valencia, Spain.
Usually when you think of street tracks, you think twisty and very, very slow. With 25 turns, Valencia certainly qualifies for the "twisty" part, but hold on a second! If you look at them, there's very few of the speed-killing, 1st-gear-loves-me type of turns (three, to be exact: numbers 10, 17 and 25), though the 12-25 complex is overall not visibly quick.
Unlike Monaco, however, this track is fast. They're expecting the F1 cars to be hitting over 200mph before braking for 12, and just slightly slower than that on the run-ins to turns 2 and 17. It's also wider and (unfortunately) flatter than Monaco, so there shouldn't be too many times that cars can't physically get by one another. Still, like any street circuit, there is little to no runoff area, with the track bordered by concrete barriers, so if you make a mistake here, you've got a broken car. The exceptions to this are turns 10, 12, 14, 17 and 20, all of which have some extra space (but not all that much). There's even a short bridge here, on the short straightaway between turns 9 and 10, which I predict will be the track's signature.
There's recently been some running on the layout, the most appropriate for our purposes being a F3 race. What's really nice about that is that we now have some hot lap footage from their practice sessions! A well-annotated video can be found
HERE
. Open it in a new window, and watch it with the track map handy. Early fears were that the new asphalt could not handle the stress may have been proved correct, but weak spots were identified and either have been or are being fixed, so that shouldn't be a problem... they hope.
After watching the footage, it doesn't really
feel
like a street circuit. You're only running in built-up areas from around turn 22 to turn 5. After that, you're going around a harbor area. To me, the track is kind of like Melbourne. Technically a street circuit as well, Melbourne runs through a park area on city roads blocked by armco barriers... and while the layouts are completely different, the two tracks just seem the same.
I'm not sure I'm overly fond of Valencia's track, to be honest. Something feels... off... about it to me. Like Hermann Tilke tried to force it to be one of his
Adventure
circuits ("You are in a maze of twisty little passages, all alike") but couldn't quite manage it. That's the beauty of new tracks! I wasn't sure I liked Turkey, either, but now it's one of my favorites.
But to find out for sure, we have to watch, and that's where our friends from SPEED come in! Coverage begins with one of the most important practice sessions ever live on
Friday
, from
7am to 840am
. It'll be only the second time the teams have been on track, and while simulations are nice, nothing beats putting rubber to the road.
Saturday
, from
7am to 830am
, brings us plausibly live coverage of the first ever Quals sessions. I expect to see a LOT of action, with all cars on track as much as possible, which is different from the more established circuits. Drivers have to learn the course, after all; again, simulators help, but it's not quite the same.
And then comes raceday!
Sunday
, from
630am to 930am
, the Legendary Announce Team will provide coverage for the first ever F1 race from Valencia, Spain! It's been a long wait, but the F1 Circus is back on track. Expect a wide-open field for this one; new circuits give the advantage to the team that can give the best setup in limited running. Expect Ferrari and McLaren to do well, of course, but BMW-Sauber may well struggle: their car appears to be tough to get right at the best of times, with lots of accumulated data to work from. Honda's test driver drove in a GT-series race here, so he'll be able to give the team a lot of good advice. Everybody else? Crapshoot! There'll be a replay on Monday, from 1130am to 2pm as well.
This should be interesting, to say the least, and the F1 UPDATE! team will be along for the whole ride!
Posted by: Wonderduck at 09:47 PM | Comments (3) | Add Comment
Post contains 770 words, total size 5 kb.
August 02, 2008
F1 Quals: Hungary!
It's hard to imagine, but it's almost been a year since the last time McLaren had a front-row lockout. Well, no more, as the Glare On Wheels are 1-2, and Ferrari is sweating bullets. Oh, Felipe Massa performed adequately enough, locking down third on the grid, just ahead of BMW's Robert Kubica. Kimi Raikkonen's sixth place performance, however, is completely unacceptable for
that
team on
that
track. Unless there's some sort of miracle (and it's not going to rain), the Kimister is screwed, and his championship chances are fading quickly. I'm
so
broken-hearted.
But the big performance driver of the day has to have been Toyota's Timo Glock. It's not a huge surprise that a Toyota is far up the grid, but it's usually Jarno Trulli's, but not this race. Glock spent the entire day sitting towards the top of the timesheets, and indeed was 2nd quickest in Q2, which makes it the second quickest on the day. Who knew? Of course, he's probably got two laps of fuel on board, but still, it's a great performance for the Glockenspiel.
The provisional grid:
| Pos | Driver | Team | Q1 | Q2 | Q3 |
| --- | --- | --- | --- | --- | --- |
| 1 | Lewis Hamilton | McLaren-Mercedes | 1:19.376 | 1:19.473 | 1:20.899 |
| 2 | Heikki Kovalaininninnie | McLaren-Mercedes | 1:19.945 | 1:19.480 | 1:21.140 |
| 3 | Felipe Massa | Ferrari | 1:19.578 | 1:19.068 | 1:21.191 |
| 4 | Robert Kubica | BMW Sauber | 1:20.053 | 1:19.776 | 1:21.281 |
| 5 | Timo Glock | Toyota | 1:19.980 | 1:19.246 | 1:21.326 |
| 6 | Kimi Räikkönen | Ferrari | 1:20.006 | 1:19.546 | 1:21.516 |
| 7 | HWMNBN | Renault | 1:20.229 | 1:19.816 | 1:21.698 |
| 8 | Mark Webber | Red Bull-Renault | 1:20.073 | 1:20.046 | 1:21.732 |
| 9 | Jarno Trulli | Toyota | 1:19.942 | 1:19.486 | 1:21.767 |
| 10 | Nelson Piquet Jr | Renault | 1:20.583 | 1:20.131 | 1:22.371 |
| 11 | Sebastian Vettel | STR-Ferrari | 1:20.157 | 1:20.144 | |
| 12 | Jenson Button | Honda | 1:20.888 | 1:20.332 | |
| 13 | David Coulthard's Chin | Red Bull-Renault | 1:20.505 | 1:20.502 | |
| 14 | SeaBass | STR-Ferrari | 1:20.640 | 1:20.963 | |
| 15 | Nico Rosberg | Williams-Toyota | 1:20.748 | | |
| 16 | Grizzly Nick Heidfeld | BMW Sauber | 1:21.045 | | |
| 17 | Kazoo Nakajima | Williams-Toyota | 1:21.085 | | |
| 18 | Rubens Barrichello | Honda | 1:21.332 | | |
| 19 | Giancarlo Fisichella | Farce India-Ferrari | 1:21.670 | | |
| 20 | Adrian Sutil | Farce India-Ferrari | 1:22.113 | | |
Two streaks were broken today, however. Unless there's a penalty of some sort, Adrian Sutil will be starting dead last on the field for the first time in his career. Then there's the case of Grizzly Nick Heidfeld. For the first time since... last year?... he didn't make it out of Q1. Kinda makes you wonder why he's lost it when his teammate is fourth, doesn't it?
I really want this to be a good race. I also really want a million dollars. I have a feeling neither is going to occur in the near future. Still, F1 UPDATE! will be here tomorrow, as usual. However, it will be later than normal: Vaucaunson's Duck will be coming by to watch the race, but it won't be until mid-afternoon, Pond time, and then we'll probably have dinner afterwards. So, we'll be late but we'll be here... you be too.
Or... something like that, at least.
Posted by: Wonderduck at 09:18 AM | Comments (7) | Add Comment
Post contains 475 words, total size 10 kb.
August 01, 2008
F1 Practice: Hungary!
As is usual with practice, it was dull, boring, and really uninteresting. In fact, it was so bad that I didn't watch all of it. Hamilton was the fastest in P2, which means nothing, just like Ferrari being fastest in P1 means nothing.
Ferrari brought out their version of the long dorsal fin, which would be interesting if anybody really knew what it did. In F1, if someone does it, sooner or later everybody does it, and this year, it's the long fin.
Now, if you ask the teams, they'd probably say something like "it smooths the airflow over the rear wing." Uh-huh. Sure. I'd believe that on the RedBull cars, since the fin almost goes all the way back to the wing, but Ferrari's? It's got a huge cutout in it, much larger than the others.
In other bodywork news, in P2 McLaren took a cue from Honda, and debuted...
...handlebars on the nose.
That's just embarrassing. It's obviously done SO well for Honda, but I guess the team decided they need more downforce for Hungary. To be fair, everybody needs more downforce here, but c'mon. If there's any justice, they'll not run it during quals or the race.
See you Saturday for Quals!
Posted by: Wonderduck at 10:07 PM | Comments (2) | Add Comment
Post contains 208 words, total size 1 kb.
68kb generated in CPU 0.0222, elapsed 0.1694 seconds.
50 queries taking 0.1577 seconds, 264 records returned.
Powered by Minx 1.1.6c-pink.