October 29, 2012
F1 on SPEED!: Abu Dhabi 2012
Would anybody be surprised if I said that the only attraction remaining in this season for me was the US Grand Prix? No? Good, now that we've gotten that clear, we've got one race standing between us and Austin, and that's the 2012 Grand Prix of Abu Dhabi. Here's the track map:
It's undoubtedly a fine place to take a fast car out for a drive. It's even a good track for series like the Australian V8Supercars. But for F1? Over the years, its proven to be too flat, too smooth, too friggin' wide, and as a result, too dull. Oh look! Hermann Tilke does it again! Like many of his circuits, there's absolutely no flow to it. You're just going from point A to point B, here's a hairpin, go to point C, hairpin, then here's the twiddlybits at the end that prevent anybody from doing anything other than keep the car on track. But the hotel lights up nice and purty.
It doesn't have to be this way... even a track built on a pool table can be good: look at Silverstone, with its five feet (maybe) of elevation change. Or Australia, with its half-foot of height difference between the highest point and lowest. I don't know why I do this to myself... it's so frustrating.
The circuit itself runs towards the low end of mid-level downforce. That final sector... the twiddlybits... needs a lot of grip to get a good time, but the rest of the circuit is all high speed and testosterone. The place is easy on tires, not hard on brakes, and I don't think we've ever seen an engine go kablammo here. It comes down to who can get in front, because once there, it's difficult to pass. I see a Vettel victory again, and maybe another pole-to-flag to boot. God help us.
I can pretty much confirm that SPEED.com has killed off their F1 forums, meaning I no longer have access to the official times of when the streaming occurs... so here's what I've got:
FRIDAY
P2: 8am - 930a Live
SATURDAY
Quals: 8am - 930a vaguely live
SUNDAY
2012 Grand Prix of Abu Dhabi: 630a - 9a live!
If we're lucky, it'll even be right. F1Update!'ll be here, right along with SPEED's Legendary Announce Team, bringing you all the action(?) as it happens, give or take a few hours. We'll see ya then!
Posted by: Wonderduck at 06:50 PM | Comments (2) | Add Comment
Post contains 407 words, total size 3 kb.
October 27, 2012
F1 Quals: India 2012
For a brief instant in Q3, there was a window of opportunity for somebody...
anybody
... to derail the Seb Vettel Express, as he had a moment of excitement that required him to come into the pits and stake the whole session on one hot lap. Did any of the other members of the Circus step in and bring his reign of terror to an end? Here's the provisional grid for the 2012 Grand Prix of India:
Nope. It's Red Bull's third front-row lockout in a row, and things look good for the young German's fourth race win in a row on Sunday. Make no mistake, the RB8 is kicking the field's collective diffusers now, and if something doesn't happen quickly, the Driver's Championship is going to be Vettel's again. There's something eerily telling about the way the first three rows wound up, with the Number One driver from Red Bull, McLaren and Ferrari leading their respective Number Twos. I don't know why I think that's important, I just do.
As far as Qualifying sessions go, this one was. Not particularly exciting nor dull, it was just there... particularly since the pole-winner was practically preordained, what with the way Sebby's been dominating here all weekend: he was the fastest in P1, P2, P3, second-best in Q1, and fastest in Q2 and Q3. In point of fact, he's never been below 2nd in any session EVER here at Buddh International Circuit. Yes, it's a small sample size, but still.
Weather looks hot and clear tomorrow, so it may be all we'll have to deal with is dust. We'll find out in the morning, see you then for F1Update!
Posted by: Wonderduck at 03:27 PM | Comments (4) | Add Comment
Post contains 445 words, total size 17 kb.
October 26, 2012
F1 Practice: India 2012
All right, I'm going to be honest with you all: I'm tired, grumpy, annoyed and really don't feel like writing much about the Seb Vettel Show that took place at the Buddh International Circuit today. So instead, I'm just going to touch on a few little data points and go take a nap.
First, it appears that the Grand Prix of Weehawken is on hold until 2014. I gather there was some really hopeful thinking amongst the organizers, particularly on the financial aspects. So back it goes another year, undoubtedly much to the pleasure of the Grand Troll himself, Bernie Ecclestone, who despises the concept of the United States as a race destination. Hell, for all I know he hates the concept of the United States, period, except for our dollars... those, he loves.
Second, I struck gold today. While I might not be going to the United States Grand Prix in the middle of November, I know someone who is. Indeed, not only is he going, he's getting
paid
to go! See,
the Circuit of the Americas chose a company called Sodexo
to do the food and beverage stuff for all the races, particularly the F1 race. Well, Sodexo also does the food service at Duck U. Anyway, they're bringing something like 80 of the company's most experienced college/university foodservice managers in for the race, including Duck U's. Our man Dan is going to be running the Turn 15 shebang, but he's going to have some time to experience the race... and I've already handed him all my credit cards and said "I need souvenirs."
Finally, on today's 2nd Practice broadcast, Will Buxton, the Legendary Announce Team's on-site reporter, dropped a Zsolt Baumgartner reference... and he might have gotten the joke from me! See, he said that Seb Vettel had planned to have his helmet be a duplicate of Felix Baumgartner's (the Red Bull-sponsored superskydiver) helmet, "but the painters got it wrong and did a duplicate of Zsolt Baumgartner's." Cue lots of hilarity amongst the L.A.T., and lots of HEY!ing from me. See, we know that Buxton reads Reddit...
he did a "Ask Me Anything" there a couple of weeks ago
... and when Felix did his jump from the edge of space, I submitted a thread to the F1-subreddit entitled "
Even with the Red Bull skydive, there's still only one Baumgartner that matters.
" Sure, it's not a direct rip-off, but that's still the only time I've seen a Felix/Zsolt juxtaposition anywhere... until Buxton made the connection today.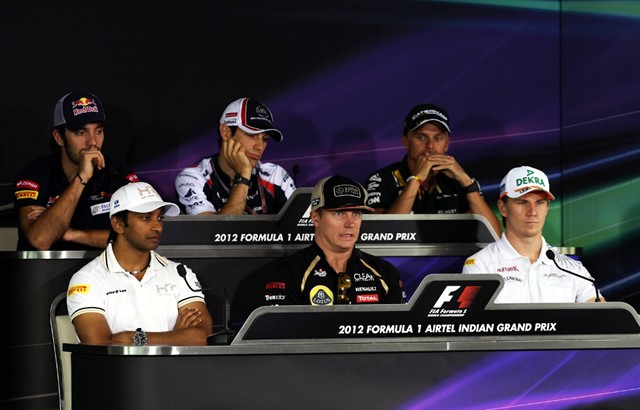 Quals in the morning. See ya there.
Posted by: Wonderduck at 07:59 PM | No Comments | Add Comment
Post contains 429 words, total size 3 kb.
October 22, 2012
F1 on SPEED!: India 2012
SPEED's death march trudges on. Reports are coming out now that the Legendary Announce Team may not even finish out this season, and that SPEED isn't going to make a big deal out of the GP of Austin. While I understand their logic ("Hey, we're outta here in a few months, what does it matter?"), it's a slap in the face of all of their fans. Potentially. But hey, enough of that... let's talk about the second ever Grand Prix of India! Let's take a look at the track map:
Proof that Hermann Tilke can design an interesting race track when given some terrain to work with, the Buddh International Circuit in Greater Noida, Uttar Pradesh, India is... well, actually, it's a lot like Korea and Abu Dhabi, but with one major difference. Altitude change. There's about 45 feet in height difference from the start/finish line to Turn 3 alone. Sure, it's no Spa-Francopants, but very little is. Last year, the circuit was very dusty, meaning that one got off the racing line at serious risk of flaming death. With luck, that will have been dealt with this time around.
Turns 3 and 15 are blind, with 15 having a drop-off at the end of it. The long run from Turn 3 to 4 goes downhill to around the halfway point, where it then begins to climb up again. The track's big party piece, though, is the Turn 10-11-12 complex. If you remember Turkey's Quad-8, it's kinda like that, except this one is banked, uphill, and faster. It also has two distinct lines through it, or at least it would have if it hadn't've been so dusty last year.
It's a low-end of medium downforce circuit that isn't particularly hard on tires. Some of the curbs ARE hard on suspensions, however, as Felipe Massa learned last year. In fact, the rumblers of Turn 8 have officially been named "Massa's Curbs". We've not gotten a reaction from the Brazilian yet, though one probably can imagine that it's not going to be particularly positive. Brakes aren't abused much here, but the engine does get a lot of full-power running.
At least for this race the Legendary Announce Team will get to do their stuff in the professional manner we've become accustomed to. Unlike SPEED's website, which has apparently decided to make finding out any information about the program times as difficult as possible; take everything below with a grain of salt.
THURSDAY
P1: 1130p - 1am streaming
FRIDAY
P2: 330a - 500a live
SATURDAY
P3: 1230a - 130a streaming
Quals: 330a - 500a not quite live
SUNDAY
2012 Grand Prix of India: 400a - 630a live
Consult your local guide. I don't think I'll be liveblogging P1. See you here on Friday!
Posted by: Wonderduck at 06:12 PM | No Comments | Add Comment
Post contains 465 words, total size 3 kb.
October 13, 2012
F1 Quals: Korea 2012
It wasn't raining at Yeongam, but it sure looked like it was going to as the clock started on Q1. Wonder of wonders, it stayed dry the entire session, making it two days in a row... something of a record for this track! So how did the weather (or lack thereof) affect the grid order? Let's take a look at the provisional grid for the 2012 Grand Prix of Korea:
A Red Bull front row lockout of the only circuit they didn't have pole position on last year has got to be pleasing to the team. Sebby Vettel, on the other hand, looked distinctly morose at the fact that he wasn't the one leading the pack. That honor went to Australian Mark Webber, whose RB8 threw a scare into the team when it seemingly developed some engine unhappiness just before Quals began. Obviously it couldn't have been all that serious, but it might be something to look for come race day.
Behind those two teammates come a pair of ex-teammates, Shiv Hamilton and HWMNBN. Of course, the Ferrari driver is leading the championship, and will be desperate to get beyond Vettel, who sits second in the fight. Shiv stands fourth in the race for the driver's championship, just behind Kimi Raikkonen, who's fifth on the grid.
So what this all means is that the top five drivers in the points race are in the top five positions for the race. That seems fitting, doesn't it? What seems horribly wrong is that the sixth place driver, Jenson Button, was eliminated in Q2 by a poorly timed yellow flag. Yes, it happens, and realistically he didn't have much of a shot at the championship, but it's a shame nevertheless.
In other doings on the grid, Charles ToothPic will be starting from somewhere near Seoul's Gangnam district after using his ninth engine of the season. Since there's a limit of eight engines per car per year, he'll suffer a 10-spot grid demotion. Narain Kittylitter had a rather dramatic loss of brakes in Q1 and was unable to set a time; he'll race at the Steward's discretion. Seems like it'll be approved as he set acceptable times in practice, but one never knows. Slappy Schumacher earned a reprimand for impeding another driver during P2. He cut across the nose of Pete Rose's HRT, then brake-checked him for some supposed slight. The reprimand is his second of the year for the same offense... one more, and he earns an instant 10-spot penalty. That'd be quite the way for his his career to end, no?
Finally, terrible news for F1 fans here in the US. After this season is over, SPEED will no longer be carrying the broadcasts for the racing we love so much. The broadcast rights were won by NBC, which
doesn't
mean that the races will be on the network... more likely, they'll be on NBCSports... which Pond Central does
not
get. Worse still, it seems likely that the Legendary Announce Team will be no more... dammit. SPEED itself will become FOX's 24-hour sports channel, designed to compete with ESPN. No more twenty hours of coverage for LeMans. No more V8 Supercars. No more motorcycle GP. No more F1.
What will we here at F1U! do? Right now, we're not worrying about it; there's five more races to go in
this
season. The GP of Korea is Sunday morning; we'll see you there!
Posted by: Wonderduck at 01:27 AM | Comments (4) | Add Comment
Post contains 739 words, total size 18 kb.
October 11, 2012
F1 Korea 2012 Practice 1: Liveblogging!
About a minute late to the party, but I'm here! If you'd like to follow along with me, direct your browser to
SPEED Streaming
and refresh The Pond from time to time! As in the past liveblogging sessions, the session is 90 minutes in length. I'll be using the time remaining as the time notation: if you see (1:02:30), that means 27.5 minutes have gone by in the session. Read from (1:30:00). Your mileage may vary. Ask your doctor if Wonderduck's Pond is right for you. Burma Shave.
(SESSION START) Problem with having no commentary: you don't know why exactly a Williams was sitting in the pit lane, half-in and half-out of its garage. Weirdness abounds here at Korea... it's not even raining!
(1:26:44) Man, I've got a lousy feed tonight... everythings blocky and ick... and freezing. If things don't clear up soon, I'm going to have eye cancer.
(1:25:20) Lettuce Grosjean is about to get on track... everybody, hide the women and children!
(1:23:11) Well, that's a little better... I shut down the stream window and now it's much prettier.
(1:21:02) Radio call to Seb Vettel: "Check if your steering is symmetrical left-to-right." Wow, now
that
would be a sucky problem to have at 180mph... unsurprisingly, Seb immediately comes into the pits.
(1:17:45) Silly HWMNBN, that's not how you sit in a chair!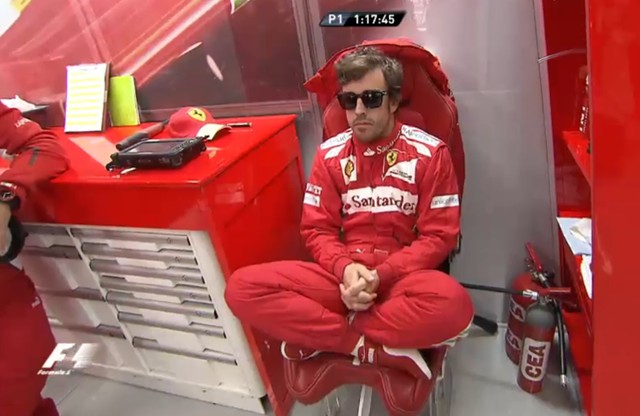 Still probably more comfortable than anything you or I could afford...
(1:14:23) Well, that's something you don't see at every racetrack in the world: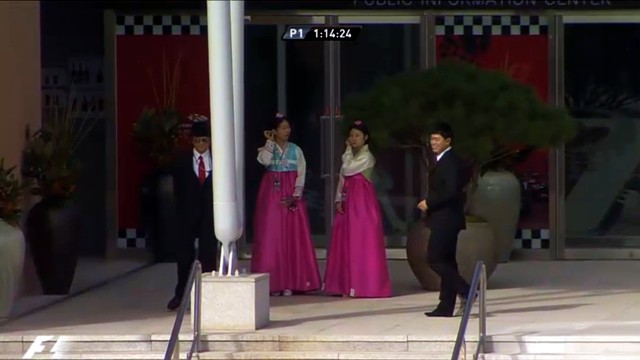 Pity, that.
(1:10:37) Most cars are in the garage right now. We're getting a lot of "B-Roll" footage. What's that, you ask? Why, this: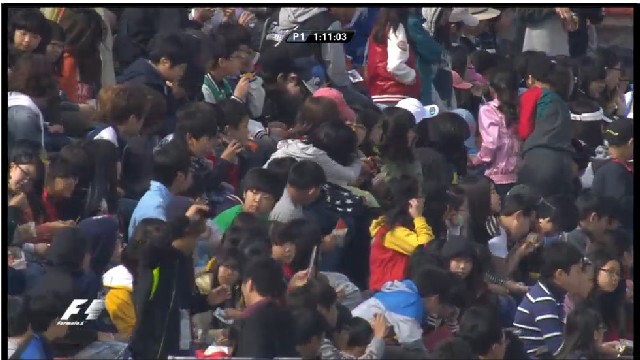 Smell the excitement! Or is that kimchee?
(1:08:17) As reader "metalshields" points out, it IS like a ghost town as compared to Japan. What I didn't tell you is that picture at (1:10:37) is the entire crowd.
(1:05:21) Jenson Button goes to the top of the timesheets. Don't get excited, he's only the second driver to post a time.
I'm gonna hide the rest of this in the "more" section!
more...
Posted by: Wonderduck at 07:03 PM | Comments (1) | Add Comment
Post contains 1083 words, total size 8 kb.
October 08, 2012
F1 on SPEED!: Korea 2012
Another week, another race! This time, the trade winds blow the Ship of F1 to Korea, land of kimchee, bulgogi, M*A*S*H*, taekwondo, and the Korea International Circuit, home to the 2012 Grand Prix of Korea! Let us take a look at the track map:
So, yeah, there it is. Pretend I have something favorable to say about it, okay? It's a challenge for the teams to get right, how about that? Sound good? The track goes through three long straights before switching to a spilled-spaghetti-style circuit with nary a straight line in sight. There's only two real overtaking locations out there, at Turns 1/2 and Turn 3. After that, you're on your own on any attempt and don't come crying to us when you find yourself sitting on a pile of carbon fiber instead of a car.
There was a lot of screaming about the pit-lane being unsafe at the first race, and they did a little bit of cosmetic work for 2011. However, it still requires a car entering the pits to slow down...
on the racing line
... in a 150mph corner. But wait, the pit lane gets even better! The exit spits cars out on the
outside
of Turn 1, right where a skidding car coming down the front straight could run right into it. Of course, it would never happen, right?
Oh wait.
..
The fact is, we don't really know how this track runs yet. In 2010, we had the deluge. In 2011, it was mostly dry, and apparently the weather in Korea this time of year can cough up anything at any time. We shall see... for it's a track built about two inches above the water table, on reclaimed swampland. The moisture from a drizzle will never go away, let alone anything heavier.
Fortunately, the Legendary Announce Team will do their usual sterling job helping us to understand what's going on! Let's take a look at SPEED's schedule for race weekend, shall we?
THURSDAY
P1: 8p - 930p streaming
FRIDAY
P2: 12mid - 140a live
P3: 9p - 10p streaming
SATURDAY
Quals: 12mid - 130a plausibly live.
SUNDAY
2012 Grand Prix of Korea: 1230a - 3a live
F1U! will liveblog P1 for sure, maybe P3, perhaps Quals. The miserable day I had Sunday after staying up late to watch the Japanese GP basically tells me that I'm too old for that sh*t anymore. But be right here! You know you want to!
UPDATE: This just in... playing at the F1 Rocks! festival in Korea will be PSY. Yep, F1 goes Gangnam Style. You know what that means...
...what it means is that Formula One Management has put in a copyright claim and had it taken down. Feh.
Posted by: Wonderduck at 06:09 PM | Comments (1) | Add Comment
Post contains 457 words, total size 3 kb.
October 06, 2012
F1 Quals: Japan 2012
An overcast sky hung low over the Suzuka International Racing Circuit as Quals got under way, a shocking contrast to the beautiful sunny day we had for both Friday practice sessions. The good news is that there wasn't even a hint of rain in the sky, so we had an unimpeded run for pole today. Let's take a look at the provisional grid for the 2012 Grand Prix of Japan:
Oh look, Seb Vettel is on pole in Japan, what a shock. This is the fourth season in a row he's been the top qualifier at Suzuka. Right next to him, we find his teammate Mark Webber, making this the first Red Bull front row lockout of the season. What a difference a year makes; last year at this time there had been
seven
such performances by Red Bull. Roughly a half-second behind the leader, we find Jenson Button,
de facto
lead driver for McLaren... except he's got a five-spot grid penalty. As you may remember, Shiv Hamilton wound up out of the race at Singapore with a failed gearbox. It turns out that Button's gearbox had the same problem, it just hadn't yet reared its ugly head. McLaren made the decision to change his gearbox, resulting in the grid penalty. This promotes Gandalf Kobayashi into third place on the grid, the best starting position ever for a Japanese driver in his home race.
Nico Hulkenberg gets the same penalty as Button; Slappy Schumacher has been slapped with a 10-spot penalty for his overrun attack on Jules Vergne at Singapore. For quite some time in Q1, it was looking like Slappy would be starting from somewhere in the vicinity of Hokkaido. It wasn't until he completed his final flying lap in that session a full minute after the session ended that he wasn't 24th.
A late spin in Q3 by Kimi Raikkonen killed off a bunch of drivers' final runs for pole; HWMNBN in particular has stated that he was probably going to get 3rd on the grid before the yellow flags forced him to back off. Speaking of Kimi, after the session he was asked what happened. His response: "I spun." When asked about the impact his spin had on the other drivers, he said "I don't care about the others." Thanks for that, Kimi.
So that's the grid for Japan! The race is at 1230a Sunday, so while I may stay up for it, I don't think I'll be able to do the F1U! until Sunday morning... still and all, we'll see you right here then!
Posted by: Wonderduck at 01:28 AM | Comments (1) | Add Comment
Post contains 597 words, total size 17 kb.
October 04, 2012
F1 Japan 2012 Practice 1: Liveblogging!
(Pre-Session) And it's another attempt at liveblogging! This time we find ourselves at Suzuka International Circuit for the first free practice session for the 2012 Grand Prix of Japan. It all gets under way at 8pm Central Pond Time, and if you'd like to follow along with me, direct your browser to
SPEED Streaming
and refresh The Pond from time to time! As in the past liveblogging sessions, the session is 90 minutes in length. I'll be using the time remaining as the time notation: if you see (1:02:30), that means 27.5 minutes have gone by in the session. Read from (1:30:00). Your mileage may vary. Ask your doctor if Wonderduck's Pond is right for you. Burma Shave. And now we wait...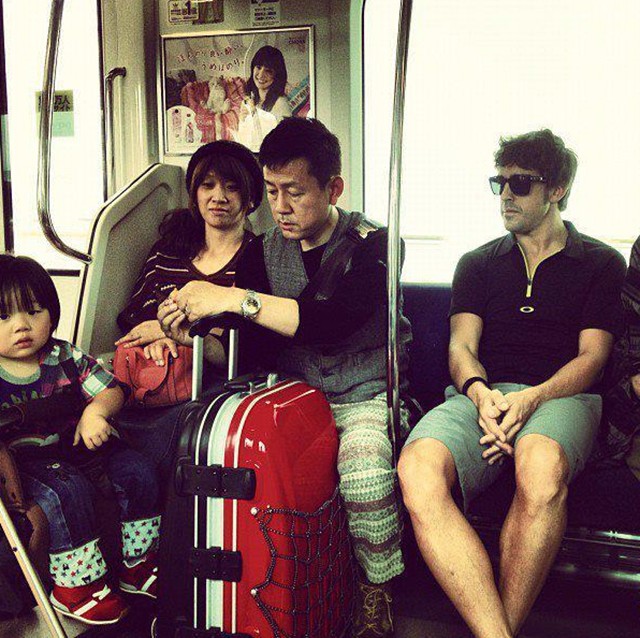 While HWMNBN terrorizes a Japanese family on a train, I suppose I should say something about the announcement that Slappy Schumacher has decided to retire (again) at the end of the season. It's no great surprise, to be honest. His comeback was singularly unsuccessful, to be honest. One podium, no poles, no victories in three years... and his teammate consistently outperformed him. That's not a good thing at all. He's surely helped Mercedes get their team off the ground, but... *shrug* He's still one of the best ever, and he should be remembered that way, but he probably shouldn't have come back. Any bets on him winding up in DTM or LeMans?
(1:30:00) And we're green! First on the circuit is... exactly who you'd think it'd be in Japan, Gandalf Kobayashi! Good news, FujiTV is not providing the world feed this year! This means we won't be watching Gandalf the entire time, even if he's in 18th.
Further updates will be below the More...
more...
Posted by: Wonderduck at 06:12 PM | Comments (7) | Add Comment
Post contains 1396 words, total size 10 kb.
October 02, 2012
Jenson Button: Just Geeky Enough To Like
I stopped rooting for a specific driver when Zsolt Baumgartner's career came to a halt. There was a short resurgence when I realized that Takuma "Suicide" Sato was insane, but it ended when he left Formula 1. Similarly, the part of me that cheered for one team only died when Minardi took its final bow. It twitched a bit when SuperAguri took its place on the grid, then stopped moving for good the day that team shut down (and had pieces of their cars sold to the highest bidders).
I say all of this so you, my readers, do not take this as my designating someone as my favorite driver, but Jenson Button has cemented himself as a-okay in my book. Why, you ask? Well, here's his new twitter profile picture: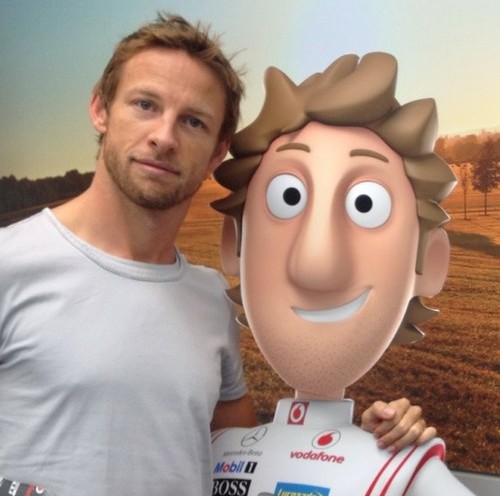 For some reason, I just can't see Seb Vettel or HWMNBN doing something like this, can you?
Posted by: Wonderduck at 06:06 PM | Comments (5) | Add Comment
Post contains 155 words, total size 1 kb.
111kb generated in CPU 0.0399, elapsed 0.1383 seconds.
52 queries taking 0.113 seconds, 274 records returned.
Powered by Minx 1.1.6c-pink.