July 25, 2015
F1 Quals: Hungary 2015
Hungary. Joy. Here's the provisional grid for the 2015 Magyar
Nagydíj
:
Pos.
Driver
Team
Q1
Q2
Q3

1

Lewis

Hamilton

Mercedes

1:22.890

1:22.285

1:22.020

2

Nico

Rosberg

Mercedes

1:22.979

1:22.775

1:22.595

3

Sebastian

Vettel

Ferrari

1:23.312

1:23.168

1:22.739

4

Daniel

Ricciardo

Red Bull

1:24.408

1:23.230

1:22.774

5

Kimi

Räikkönen

Ferrari

1:23.596

1:23.460

1:23.020

6

Valtteri

Bottas

Williams

1:23.649

1:23.555

1:23.222

7

Kid

Kvyat

Red Bull

1:23.587

1:23.597

1:23.332

8

Felipe

Not NasrMassa

Williams

1:23.895

1:23.598

1:23.537

9

Embryo

Verstappen

Toro Rosso

1:24.032

1:23.781

1:23.679

10

Lettuce

Grosjean

Lotus

1:24.242

1:23.805

1:24.181

11

Nico

Hulkenberg

Force India

1:24.115

1:23.826




12

Carlos

Sainz

Toro Rosso

1:24.623

1:23.869




13

Sergio

Perez

Force India

1:24.444

1:24.461




14

Pastor

Maldonado

Lotus

1:23.895

1:24.609




15

Fernando

Alonso

McLaren

1:24.563

No Time






16

Jenson

Button

McLaren

1:24.739






17

Sony

Ericsson

Sauber

1:24.843






18

Felipe Not Massa

Nasr

Sauber

1:24.997






19

Roberto

Merhi

Manor

1:27.416






20

Will

Stevens

Manor

1:27.949





For what seemed the first time all season, the Mercedes were actually forced to use their soft tires in Q1, lest they be bumped from quals altogether. There's a huge performance gap between the soft and hards this time, two seconds or so... it's usually half that. Other than that, though, nothing particularly exciting went on. Oh sure, Red Bull seems to have made good use of the past three weeks, looking awfully racy as a result, but with Merc domination it all seems somewhat futile.
Probably the highlight of the session was Fernando Alonso's car failing towards the start of Q2. Feeling like he had a chance to make it to Q3, it took his lame car as far as it could go... just short of the pit-in. When it stopped? He hopped out and pushed. Soon, he had an entourage.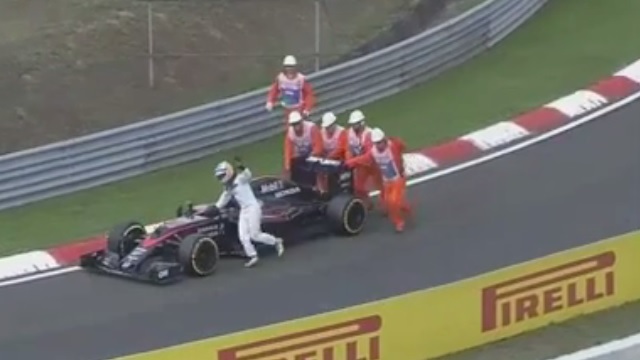 Yes, that's Alonso waving to the fans while steering his car with one hand while at a fast jog in a firesuit on a 95 degree day with high humidity. Yes, that's also a cheeky trackworker waving to the crowd, too. It almost pains me to point out that the second his car came to a halt on-track it was ineligible to continue the session, but that's just me.
So. Race tomorrow morning. F1U! sometime after. Then the summer break, one month until the next race. See ya then!
Posted by: Wonderduck at 09:44 AM | No Comments | Add Comment
Post contains 387 words, total size 24 kb.
July 20, 2015
F1 on TV: Hungary 2015
So. Not only do we next travel to Hungary, my least favorite track on the Formula 1 calendar, it's going to be the site various Bianchi tributes. It's going to be a long, sad race weekend. Here's the track map:
"Monaco without the glamor", they call it. Originally designed to be a street circuit running through Budapest, when that fell through the promoters reportedly just took planned circuit's layout and moved it to a natural bowl nearby. Perhaps unsurprisingly, a street circuit without any streets doesn't, in fact, work all that well. It's usually hot, often dusty, the track is boring, and it only coughs up a good race when it rains. It's even better when it rains heavily here at Pond Central, because then there's a chance my satellite feed will go out.
Here's the alleged TV schedule for the coverage of the race. I say "alleged" because I'm having problems figuring out just what's going on with it...
FRIDAY
Practice 2: 6pm - 730pm on NBCSN. No, that's not a typo, I really do mean "PM".
SATURDAY
Quals: 7am - 830am live on CNBC
SUNDAY
2015 Grand Prix of Hungary: 630am - 9am live on CNBC
Check your local listings; all times Pond Central.
The FIA has announced that they'll be retiring car number 17 from consideration of future use, in honor of Jules Bianchi. As you may or not be aware, as I've tended not to mention it much, F1 drivers now get to choose their car number when they join the sport; it then sticks with them until they retire. So if you choose, say "23" when you're a Sauber driver, you're still 23 when you move to Ferrari. The only variant to this is the reigning World Driver's Champion... he has the option of using number "1", and while traditional, it isn't mandatory; Lewis Hamilton, for example, is NOT using it this year. Instead, he's using his #44.
There's a rumor that the paddock will do a minute's silence on race day in honor of their fallen comrade. I'm sure that will happen; I'm wondering what else will be done. The race after that Awful Weekend in 1994, the first two spots on the grid were painted in the national flags of Senna and Ratzenberger, and pole position was really #3 on the grid. I like that idea, to be honest.
Speculation is flying around what Ferrari will do. In times of mourning, such as the death of Pope John Paul II, the team has raced a red car with no logos of any sort and a black nose. As a member of their Young Driver's program and tapped to drive for the team a lot sooner, rather than later, I wonder if they'll do that again. The black stripe on the nose is quite understated and classy, I think. I'm sure the rest of the field will have the #17 on their cars, or some other similar tribute to Bianchi. Manor, on the other hand, has been tight-lipped. The team that owes its very existence to his driving, what will they do? Guess we'll find out on Sunday. See yo then.
Posted by: Wonderduck at 11:58 PM | Comments (3) | Add Comment
Post contains 532 words, total size 3 kb.
July 18, 2015
Jules Bianchi 1989 - 2015
Somewhat inevitable news from the Formula 1 community as Jules Bianchi, driver for Marussia last year, passed away at Centre Hospitalier Universitaire in Nice, France, today. He was 25.
As we all remember
, he suffered massive head trauma in
his terrible accident at Suzuka
this past October. He never regained consciousness after the crash. In the months that followed, there had been some positive signs: taken off the respirator, breathing on his own, squeezing of hands, that sort of thing, but even the most optimistic thoughts on his recovery made for grim reading.
He was a better driver than the car he was given. After being a karting champion, he won the French Formula Renault series in 2007, finished third in Formula 3 Euroseries in 2008, and in 2009 won nine out of 20 races to take the F3 championship. When
Felipe Massa had his accident
, Ferrari considered having him fill the seat; instead, he wound up signing with their Young Drivers program and became a test driver. In 2010 and 2011, Bianchi would finish third in GP2, while in 2012 he got his break in F1 as a Friday driver for Force India. In 2013, Marussia picked him up and gave him a drive, for which act he repaid them with a 13th place finish that secured the team a 10th place finish in the Constructor's Championship and the prize money that came with it.
It was in 2014, however, that Bianchi showed his talent level. Taking a lackluster car
from 19th on the grid at Monaco
, he wound up surviving the twisty, narrow streets and despite a penalty, finshed eighth. Alas, another penalty wound up dropping him to ninth. Either way, he still managed to do something nobody else had managed or has yet to duplicate: score points for Marussia. These points would ultimately provide the team with enough prize money to continue into 2015. Drivers that score points for backmarkers usually turn out to be something special, and there's no question that Jules Bianchi was destined to drive for Ferrari, possibly as soon as 2016. Instead, he becomes the first Formula 1 driver to die from race-related injuries since Ayrton Senna in 1994.
We here at Wonderduck's Pond send our condolences to
the Bianchi family
, his friends, and the F1 paddock as a whole. Next week's race in Hungary should be a somber one, to say the least.
Posted by: Wonderduck at 06:09 PM | Comments (2) | Add Comment
Post contains 406 words, total size 3 kb.
July 04, 2015
F1 Quals: Great Britain 2015
About as perfect of a summer's day as you could ever hope for in England welcomed the Blundering Herd to Silverstone today. Low 70s and brilliant sunshine made for perfect track conditions. The only fly in the ointment was a rather stiff and gusting breeze that made for interesting handling problems for these cars, delicately balanced between grip and control... or kittylitter and tears. Here's the provisional grid for the 2015 Grand Prix of Great Britain:
Pos.
Driver
Team
Q1
Q2
Q3

1

Lewis

Hamilton

Mercedes

1:33.796

1:33.068

1:32.248

2

Nico

Rosberg

Mercedes

1:33.475

1:32.737

1:32.361

3

Felipe Not Nasr

Massa

Williams

1:34.542

1:33.707

1:33.085

4

Valtteri

Bottas

Williams

1:34.171

1:33.020

1:33.149

5

Kimi

Räikkönen

Ferrari

1:33.426

1:33.911

1:33.379

6

Sebastian

Vettel

Ferrari

1:33.562

1:33.641

1:33.547

7

Kid

Kvyat

Red Bull

1:34.422

1:33.520

1:33.636

8

Edward James Olmos

Toro Rosso

1:34.641

1:34.071

1:33.649

9

Nico

Hulkenberg

Force India

1:34.594

1:33.693

1:33.673

10

Daniel

Ricciardo

Red Bull

1:34.272

1:33.749

1:33.943

11

Sergio

Aragones

Force India

1:34.250

1:34.268




12

Lettuce

Grosjean

Lotus

1:34.646

1:34.430




13

Embryo

Verstappen

Toro Rosso

1:34.819

1:34.502




14

Pastor

Maldonado

Lotus

1:34.877

1:34.511




15

Sony

Ericsson

Sauber

1:34.643

1:34.868




16

Felipe

Not Massa Nasr

Sauber

1:34.888






17

OFTDHWRHN

McLaren

1:34.959






18

Jenson

Button

McLaren

1:35.207






19

Will

Stevens

Marussia

1:37.364






20

Roberto

Merhi

Marussia

1:39.377





We had a rash of qualifying laps thrown out all day, thanks to the Stewards cracking down on exceeding the track limits. Turns 9 and 18 were the main sources of offense, and it came close to costing Seb Vettel progression to Q2. Something like 11 drivers had lap times disallowed, some multiple times (Pastor Maldonado, we're looking at you...).
Other than that, however, it was very close to being a bog-standard Quals session. Only the mild surprise of having Williams lock out Row Two is somewhat different. This really is the sort of track that fits the Williams chassis to a T: medium downforce with fast, fast sweeping corners. As the FW37 appears to have a problem with downforce acquisition, not being limited in comparison to the other teams at this track plays right into their hands. Throw in the Mercedes power unit, and you've got the recipe for a nice finish tomorrow.
Not "race winning", but nice. Ain't nobody beating the Mercs tomorrow, and my guess is that only a RPG is going to stop Lewis Hamilton from winning his home race again.
Race on Sunday morning... we'll see you sometime thereafter with the F1U!
Posted by: Wonderduck at 02:00 PM | Comments (3) | Add Comment
Post contains 419 words, total size 25 kb.
82kb generated in CPU 0.0191, elapsed 0.0987 seconds.
47 queries taking 0.0845 seconds, 245 records returned.
Powered by Minx 1.1.6c-pink.