June 29, 2010
June 26, 2010
F1 Quals: Europe @ Valencia 2010
Red Bull and McLaren are the only teams to have claimed the top spot in qualifying this season, and in the first two practice sessions, neither showed much in the way of continuing that streak. Will this be the first race this year where one of those two worthies
aren't
on pole? Let's look at the provisional grid for Sunday's Grand Prix of Europe, Valencia style:
Nope. Vettel came up off the mat and slugged his way to his first pole in a while, much to the annoyance of his teammate, Mark Webber. There appears to have been a huge wedge driven between their relationship; they
completely
ignored each other in the time just after the session and during interviews. It used to be that they would shake each other's hand, joke around, that sort of thing. That could prove telling later in the season.
The surprise of the session has to be the performance of Williams. They got both of their cars into Q3 for the first time this year, and last year's winner here, Rubens Barrichello, was outqualified by his substantially less experienced teammate. Nice job, guys.
For a while there, Robert Kubica looked as if he would be the one to punt the traditional to the curb. Alas, it was not to be, as the oomph of the big teams came out late in Q3. Still, for a minute there... ah well, so it goes.
Most amusing to me was the struggles of one Slappy Schumacher. He only
just
managed to get out of Q1, and as can be seen above, didn't accomplish the task in Q2, finishing quite low in the session. His teammate, Nico Rosberg, also failed to make it out of Q2, making one wonder if Mercedes has "lost the plot" all of a sudden. One could argue that they never actually
had
the plot, but that's for another day.
Force India hasn't lost the plot, but they
have
lost the spending war. As the other big teams have made huge improvements (blown rear wings, moving their exhausts, etc etc etc), FI hasn't been able to spend the cash to do the same. The result, of course, is that they're no longer likely to make it to Q3. Darn shame, that.
And in the battle of the cripples, Lotus continues their dominance. Please note that all the new teams would have made the race under next year's 107% rule, by a couple of seconds to boot. So much for that.
Race tomorrow on Fox, meaning I won't be watching it until 11am Pond Central time... F1U! will be sometime thereafter. See ya then!
Posted by: Wonderduck at 02:01 PM | No Comments | Add Comment
Post contains 602 words, total size 15 kb.
June 25, 2010
F1 Practice: Europe @ Valencia 2010
I dunno folks, I just dun. Other than Felipe Massa bringing out a red flag by spinning and stalling, there just wasn't much to talk about during Friday's 2nd Practice at Valencia. Oh, sure, there was a little incident right at the very end when Slappy Schumacher slowed down to crawling speed without looking in his mirrors, causing Lewis Hamilton to have to take immediate evasive action or end up perching his McLaren on top of the Mercedes, but even that ended up as a non-event. Hamilton did the old "what the hell?" gesture with his right hand, Slappy apologized afterwards, and all is right with the world.
Except that HWMNBN ended up on the top of the timesheets. Great for the promoters, good for the people of Valencia, annoying for everybody else. Well, perhaps we'll have more interesting things to speak about after quals in the morning...
...otherwise it's gonna be a looooooong weekend, and not in a good way.
Posted by: Wonderduck at 06:57 PM | Comments (7) | Add Comment
Post contains 167 words, total size 1 kb.
June 23, 2010
Red Hot F1 Rules Changes!
Hold on to your seats, boys and girls, because it can't get more exciting than this! The FIA has made some changes to both the Sporting and the Technical Regulations for the 2011 F1 season, and everything is going to be thrown into a cocked hat!
Okay, no, not really, but there's some important stuff in there.
First off, and least important of the bunch, the FIA World Council has granted Dutch-born Chinese-registered driver
Ho-Pin Tung
a provisional Super License, based on his career resume. Now, I've seen Ho-Pin Tung race a few times and to be brutally honest, we may just have the second coming of
Fast Yuji Ide
here. I can't imagine any team wanting to take a shot at him, but stranger things have happened before... like Yuji Ide. Anyway, the granting of a Super License to someone who hasn't technically qualified for one isn't unheard of; you may remember
I mentioned last season
that that was probably how Slappy Schumacher would be allowed to take over Felipe Massa's seat.
In response to Lewis Hamilton's qualifying session at Canada, where he did Q3 on so little fuel that he had to push the car back to the pit lane, the rules now state that a car has to be driven back to the pits. What happens if the car has a breakdown after quals? Who knows? The rules don't say.
The minimum chassis weight has been increased from 620kg to 640kg. I haven't heard any reason for this, but I assume it has something to do with the jumbo-sized fuel bladder needed for a no-refueling race. That's nothing but a guess though, so don't take it as gospel, fact, or even anything even slightly informed.
After Slappy Schumacher's little tete-a-tete with HWMNBN in the last corner at Monaco, where he passed under Safety Car conditions, the FIA decided to clarify the rules. To whit, now it is explicitly
verboten
to do what Slappy did, as opposed to the way it was written previously which allowed for "differing interpretations" of the rules.
Now on to the big stuff. We knew that Bridgestone was no longer going to be the tire provider for F1 next year, but nobody knew who'd be taking their place. I personally was rooting for
Hoosier Tires
, if only because I'd love to hear some of the drivers try to pronounce "hoosier", but it was not to be. Instead, the FIA went with the safe choice of
Pirelli
. Don't get me wrong: calling them "safe" isn't a knock. Pirelli has been making racing tires for decades and that experience has got to serve them in good stead. Maybe the FIA got free copies of the Pirelli Calendar?
The FIA has also decided to do away with the "F-Duct" system for next year. Eh, no big loss in my book, though it
was
a clever idea. They've also brought around a whole new set of rules for "movable bodywork," meaning the adjustable front wings that we've had for a couple of seasons. I'll let the FIA press release explain it:
From 2011, adjustable bodywork may be activated by the driver at any time prior to the start of the race and, for the sole purpose of improving overtaking opportunities during the race, after the driver has completed two laps. The driver may only activate the adjustable bodywork in the race when he has been notified via the control electronics that it is enabled. It will only be enabled if the driver is less than one second behind another at any of the pre-determined positions around each circuit. The system will be disabled the first time the driver uses the brakes after the system has been activated. The FIA may, after consulting all the competitors, adjust the time proximity in order to ensure the purpose of the adjustable bodywork is met.
Who the what now?
In plain english, after the second lap of the race a driver can use moving wingthingies when he's closing in on another car. It can be used until the driver hits the brakes, at which point it's disabled until the FIA's electronic sensors reenable it. Basically, it's another attempt to make passing easier... kinda like KERS, except this time it's only the trailing car that can use it.
Unless the leading car is also close behind another car of course, but we won't get into that right now. My head hurts enough as it is.
Finally, in response to Ferrari president Luca di Montezemelo's incessant bitching about the backmarkers being a hazard to all the fast cars (which is his way of saying "my drivers can't figure out how to pass them"), the FIA has decided to reinstitute the fabled 107% Rule. Now, many of my readers are looking puzzled right now, while some old hands at the F1 Circus (Pete, Flotsky) are probably high-fiving their cats. Grab a cup of coffee and I'll explain.
Once upon a time, there were lots of teams trying to race in F1. In fact, there were so many that invariably there weren't enough spaces on the grid for them. So, the F1 nabobs created a "pre-qualifying" round where the teams would have to qualify to qualify. To do so, a driver would have to set a time within 107% of the fastest lap. In other words, if the fastest lap was turned in at 1 minute, 40 seconds (or 100 seconds), if you couldn't do at least a 1:47 you weren't even allowed to race. This made it quite possible to have only one car in a team make the race, or (very rarely) have a star not be able to make it for one reason or another. With much of the detritus cleared away, you'd then go off and qualify with whomever was left... and if there were more than 26 cars, the 27th and below were booted.
So now, even though we've got less than a full grid of 26 cars, if a HRT (say) can't get within 107% of the fastest lap in Q1, they won't be allowed to race... except for certain circumstances. Y'see, the FIA reserves final judgement in this matter, so if they want to, they can allow a car in if it showed speed in one of the three practice sessions. So stop annoying your cat.
Posted by: Wonderduck at 08:57 PM | Comments (5) | Add Comment
Post contains 1063 words, total size 7 kb.
June 21, 2010
F1 on TV: Europe 2010
Yes, that's right, we're coming up to the Grand Prix of Europe. The title of the race was created as a way to get two Grands Prix into one country without confusing the two. Perhaps not oddly, for quite some time the Grand Prix of Europe was in Germany... unsurprisingly, since the biggest star in the sport at the time was Slappy Schumacher. The title moved across the continent to Spain after HWMNBN became the cock of the walk, which is where we find it now, in Valencia! Let's look at the track map...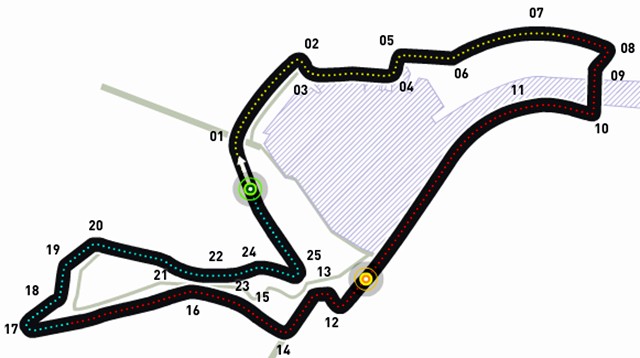 Back in
2008
when the layout was first used, we had such hopes for this circuit. It was a new street circuit, and those always prove interesting, right? Yes, well, not so much... it turned out to be another Hermann Tilke snoozefest. Unless, of course, you count
the death of a bird
as excitement. In
2009
, we had such hopes for the circuit, what with the new aero rules and all. Yes, well, not so much. It turned out that the Tilke ooze had stuck, and we got nothing but red-hot pit stop action.
So we should be expecting more of the same for 2010, right? Well, normally I'd say yes, but I have a little secret. You see, Duck U Vice President of Operations "The Screwdriver" was in Valencia one week ago, and he went on a little souvenir hunt for yours truly. He got to see the barriers being put in place around the "twisty bits" complex, which he found highly interesting, and his intent was to bring back a poster for me. He didn't get it however, as it was raining the entire time and the poster would have turned to soggy paper.
So we know that it's not impossible that we could get rain, and as we sit here on Monday the F1 website says it'll be foggy at racetime. Other weather-related websites are suggesting that it'll be clear and hot, but we'll go with F1's legendarily accurate (*snort*) weather forecasting for now. Because that's about the only way we'll got a non-snoozer of a race in Valencia.
Oh, it's not a bad layout, all things considered. It looks like it
should
be a winner, and visually it has its moments, like the bridge between Turns 9 and 10, but in reality? It's a dog. It's very wide for a street circuit, which should provide a lot of passing opportunities, but there just aren't many. In some ways, it's very much like Canada's Circuit Gilles Villeneuve, in that it's a high-speed layout (a high-speed street circuit?) with lots of very low-speed turns. The difference, of course, is that Canada doesn't have a technical section, whereas the "twisty bits" in Valencia definitely qualifies.
Bridgestone is sending the Supersoft and Medium compound tires along, just like Canada, and we all know how well
that
turned out. A big difference, though, will be the surface of the track. Where Canada was brand-new, Valencia has a well-used (though not by F1 cars), somewhat rough, asphalt. Combined with the higher air temperatures, that should make it easier for the tires to come up to a useful grip level. To counteract that, however, you get the oil and other crap dumped on the road by everyday traffic. Call it a wash, at least to start the weekend.
TV coverage of that weekend begins with SPEED's live broadcast of Friday's Second Practice, from 7a to 840a. Saturday brings us plausibly live coverage of Quals, from 7a to 830a.
Sunday, we'll see the 2010 Grand Prix of Europe from Valencia, Spain, on your local Fox affiliate, from 11a to 1p Central Pond time. That's about 4 hours worth of tape delay... aren't we lucky? To make matters better, Legendary Announce Team chief honcho, The Varsha, will not be participating in this weekend's activities, as he'll be anchoring SPEED's coverage of one of the Barrett-Jackson collector car auctions.
Of course, the F1U! team will be all over this race like a cheap suit... don't miss a syllable of it!
Posted by: Wonderduck at 08:24 PM | Comments (1) | Add Comment
Post contains 683 words, total size 4 kb.
June 15, 2010
Random F1 Picture
Yes, there's a car under there.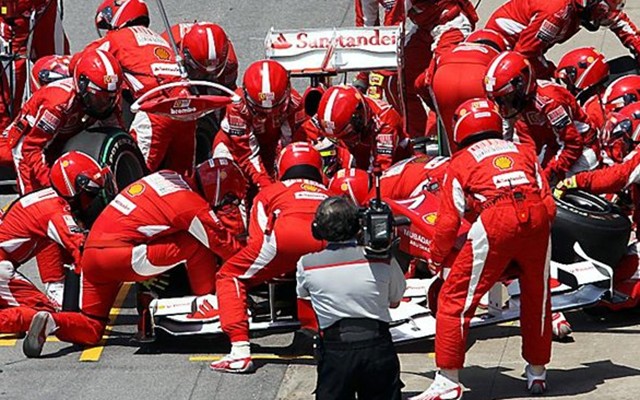 "Peetshtop."
Posted by: Wonderduck at 10:46 PM | Comments (5) | Add Comment
Post contains 10 words, total size 1 kb.
June 12, 2010
F1 Quals: Canada 2010
FINALLY!
For the first time this season, a Red Bull is
not
on pole. It took a last-gasp lap from Lewis Hamilton to kick them out of the first spot on the grid, done on the super-soft tires and with so little fuel on board that Lewis had to literally push the car back to the pits, but they did it.
But then, this
is
Formula 1 so there just had to be speculation that Hamilton would be penalized for running out of fuel. Since he did not return to the pits within
X
amount of time, he was in violation of Article 15.1 in the Sporting Regulations. In theory, he could have had his fastest time ruled invalid. Instead, he was reprimanded and given a $10000 fine; chump change in F1 terms.
However, this won't be a McLaren walk in the park. Both Webber and Vettel are on the "hard" compound (actually the medium rubber), which is the tire that the teams universally prefer this weekend. The softs are a smidge faster, but are dying off after about six or seven laps while the hards are more durable. Bridgestone is saying that the teams will pretty much have to stop twice for tires this race, that there's no way a car can stretch the tires to last the whole distance. Of course, there's rain forecast so that might throw everything into a cocked hat, but at the moment I'd have to lean towards the Red Bulls.
A laugh and a shot to the ribs to Slappy Schumacher who couldn't do better than 13th and just as easily could have been a lot farther down than that. It might not get much better from now on as it sounds like Mercedes has run out of cash for developing the 2010 car. In F1, if you're standing still, you're falling behind. Wave bye-bye to Slappy for this year, kids.
A special "yahoo!" goes to the Force India team. Both cars in the top 10, which might be the first time they've done that (I'm not sure about Spa, last year). Certainly it's the first time this year! I knew they were fast.
But today goes to McLaren and Hamilton! Nicely done, lads.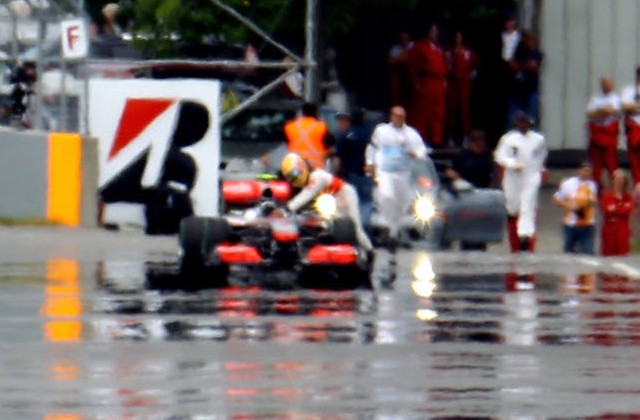 Posted by: Wonderduck at 05:07 PM | Comments (3) | Add Comment
Post contains 533 words, total size 15 kb.
June 11, 2010
F1 Practice: Canada 2010
It's no secret that Friday practice sessions aren't really very exciting. I watch them mostly to get myself refamiliarized with the layout of the circuit and how the cameras are placed, so I'll know where we are at any time during the broadcast ("Ah, there's that Allianz sign with the small tear, this is Turn 5"). But, by the Holy Shifter of St Fangio the Quick, was this a bloody
dull
practice! Seb Vettel had the fastest lap, followed by HWMNBN and Nico Rosberg, but McLaren's duo of Hamilton and Button could only manage 9th and 11th, respectively.
The biggest news out of the session was the track itself. Over the past two years, the organizers resurfaced the Circuit Gilles Villeneuve, with the result that it's
incredibly
slippery. Lewis Hamilton went so far as to say that it was like being on an ice rink. Of course, part of that is because the track is only used for a few race weekends a year. The other part is that it's been raining all week in Montreal, and whatever rubber that's been laid down on the surface has been washed away. The drivers are discovering that you have to allow three laps minimum to get the tires up to racing temperature when at some places, like Monza or Turkey, they're ready before your first lap is done. The Legendary Announce Team's new voice from the pits, Will Buxton, said that he saw a Toro Rosso come in after five or six laps and the tires still looked brand new.
Low heat equals low grip. Low downforce settings on the car (Canada is second only to Monza in the low downforce category) also equals low grip. Combined with a slippery surface, we saw a lot of cars wobbling all over the place. And don't think it's going to get any better as the weekend goes on. We're looking at rain both Saturday and Sunday. Sweepers, man your brooms, there's gonna be a lot of carbon fiber scattered around the Ile Notre Dame after the race.
Finally, I wanted to show y'all what I was talking about when I mentioned that the cars came awfully close to the Wall of Champions. How close?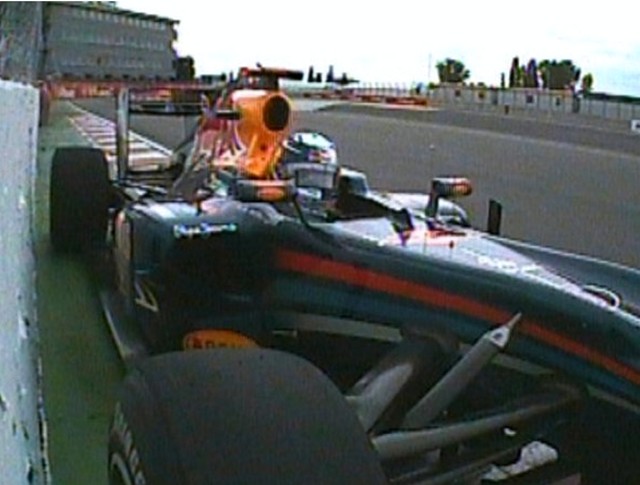 About that close.
For Montreal, that's a lot of run-off space, by the way. Most of the circuit is lined with walls, much like Monaco. There's about a foot of space between the edge of the track to the walls; if someone hits them, you get a ping-ponging effect that almost always guarantees a Safety Car. In fact, this is the place the Safety Car was invented.
Quals tomorrow afternoon via tape delay, thanks to ARCA and Craftsman Truck Series races. See you then!
Posted by: Wonderduck at 04:38 PM | Comments (5) | Add Comment
Post contains 458 words, total size 3 kb.
June 07, 2010
F1 on TV: Canada 2010
Yep, that's right: F1 on TV. You know what that means... it means we're in that four-race stretch where Formula 1 is shown on a major network, but tape-delayed. Whee. Except for this week as the F1 Circus has returned to the Circuit Gilles Villeneuve on the Ile Notre-Dame, a manmade island in the St Lawrence River, in Montreal. And this will be an interesting study in F1 racing for more reasons than one. "Why", you may ask, "is that?" All will be revealed in due time, Sparky, but first! It is time for... the track map!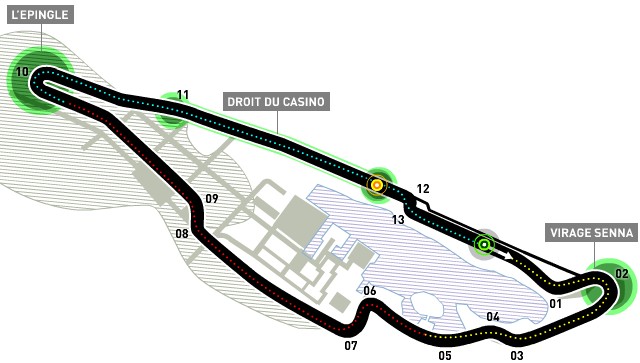 Montreal is what I'd call a "classic track", meaning that it's not a Hermann Tilke "Adventure" circuit ("
You are in a maze of little twisty passages, all alike
"), and here's where it gets interesting. You see, the Circuit Gilles Villeneuve was off the calendar in 2009, meaning that this'll be the first time the new-spec cars will have been here. Last year, every race was an exciting voyage of discovery as to how the low downforce, slick tire-shod chassis ran on each track. Of course, this year the teams have a years' worth of experience on most of the circuits, with two exceptions. One exception is the new layout in South Korea, a Tilke circuit. The other exception is Montreal. Exciting!
This circuit is well known as being murder on brakes. Turn 10 is the true killer here. You see, F1 brakes are designed to run at ridiculously high temperatures: 1000ºC. From Turns 1 thru 7, that's not a problem, the carbon brake discs stay right where they're supposed to. But then comes the run from Turn 7 to the hairpin Turn 10, which is nearly as slow as Monaco's Loews Hairpin. The catch is that, during that high-speed sprint, the brakes cool dramatically then, when the driver stomps on the "stop in a hurry" pedal, the heat builds up so rapidly that a thin layer of the carbon disc actually melts, or "glazes" the brakes, reducing the stopping efficiency, and of their ability to dissipate heat. That means you have to apply more force to the brakes to slow down, which increases heat buildup, which means more glazing. Repeat 70 times. This means that over the length of the race, the brakes get
too
hot. This is the only circuit where I've seen a brake disc actually explosively shatter. The run from Turn 2 to 6 has a similar effect, though reduced, as does the streak from 10 to the Turn 12/13 chicane.
If there's one spot on this circuit that people remember, it's that chicane. Cars routinely come within a few inches of the outside wall as they come out of it, and the curbs are... um... aggressive. If you catch too much of the curb on the inside of 12, you get thrown into that wall, which is lovingly emblazoned with the slogan
Bienvenue au Québec.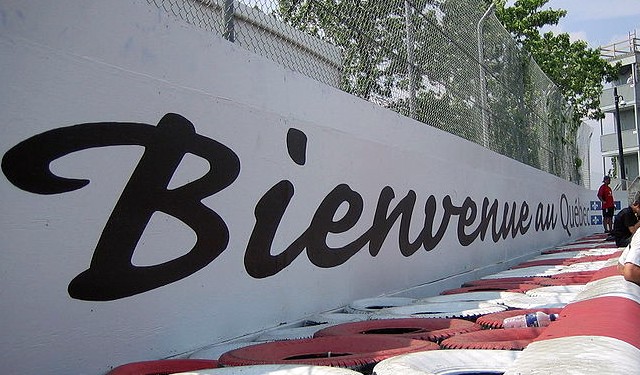 Because of all the drivers that have left their suspensions here, it's known as the "Wall of Champions."
We'll find out who'll be the lucky driver to join the list beginning on Friday with LIVE coverage of Practice Session 2 on SPEED from 1pm to 240pm. We'll get Quals on serious tape delay because of NASCAR stuff on Saturday from 330pm to 5pm, also on SPEED.
The race itself will be LIVE on Sunday from 11am to 1pm, but on your FOX affiliate. Check your local listings for times in your area, as they
do
have to option to move it around. Also, don't expect any pre-race coverage, and next to no post-race stuff either. For that, keep it here for F1U! There will be a replay on SPEED on Tuesday, from 11am to 1pm. (All times Pond Central)
Luckily for all of us, the Legendary Announce Team will be providing their usual sterling analysis for the race. Don't miss it, it'll be a blast!
Posted by: Wonderduck at 08:06 PM | Comments (3) | Add Comment
Post contains 656 words, total size 4 kb.
96kb generated in CPU 0.0215, elapsed 0.1656 seconds.
52 queries taking 0.151 seconds, 279 records returned.
Powered by Minx 1.1.6c-pink.