September 30, 2012
F1 on SPEED!: Japan 2012
When the F1 Circus rolled into Suzuka International Race Circuit last year, Seb Vettel clinched his second driver's championship. What a difference a year makes, eh? This year, he's 29 points behind HWMNBN and 16 points ahead of Kimi Raikkonen... ain't gonna be no coronation here! While the fanatical Japanese fans miss out, it's great for all of us. I suspect that only Italians at Monza are more crazy about F1 than the Japanese at Suzuka. And why not? It's a fantastic circuit! Let's take a look at the track map:
F1's only figure-eight circuit; fortunately, there's a bridge involved. Really, if I didn't have such love for Silverstone and Spa, Suzuka would probably be my favorite circuit. It's untouched by Tilke's talons, staying more-or-less the same since it opened in 1962. The only changes made were the addition of the Casio Triangle, 130R being modified, and Degner being turned into two separate and distinct turns. Other than that? May as well be Showa 37 all over again!
Really, there's little to dislike about Suzuka. There's no "mickey-mouse" turns here, they all exist for reasons
other
than to slow the track down. And what turns! The S-Curves are a rhythm section that if you get even the slightest bit wrong, will wreck your lap, yet are relatively quick. The original Degner must have been a monster at speed; instead, 8 and 9 are still crazy tough. Turn 12 is taken at nearly 180mph, leading into the unending, off-camber, narrowing-radius Spoon. 130R is even faster than 12, taken right around 190mph and might be more of a test of a driver's courage than Eau Rouge these days... and only the bravest or most foolhardy attempt to pass here. The Casio Triangle chicane is the most likely passing place, and often enough ends up with carbon fiber shards flying. It's a truly great track. There's even some altitude change with a gentle increase from the S-Curves until 130R, when it drops back down to the Triangle.
One thing we learned last year is that the new surface is tough on tires. The option tires lasted only 8-10 of the 53 lap race. As we're aware, though, Pirelli has toughened the tires up this season, but it's not going to make that much of a difference. I'd expect two or three stops during the race... unless it rains. That's the big elephant in the pit lane, of course... we've had heavy rains here before, sometimes heavy enough to postpone entire sessions. 2010 was the last time we saw the Great Suzuka Boat Races down the pitlane, but it's always possible. Obviously it's still early, but there's a chance of rain on race day.
Fortunately, the good ronin of SPEED's Legendary Announce Team will be bringing us all the coverage. As I'm posting this early, I haven't found the streaming schedule for P1 and P3, but here's what I DO have:
Thursday/Friday
P2: 12midnight - 145a live
Friday/Saturday
Quals: 12midnight - 130a plausibly live
Sunday
1230a - 3a Grand Prix of Japan live
Of course, F1U! will be all over the coverage as well; once we find out when streaming takes place, we'll probably try and liveblog. See ya here!
Posted by: Wonderduck at 08:39 PM | Comments (1) | Add Comment
Post contains 541 words, total size 4 kb.
September 28, 2012
Silly Season Starts Slammingly (...and other news)
Even before the F1 summer break had begun, rumors began to percolate that Lewis Hamilton, 2008 world champion, was beginning to "consider his options," as his contract with McLaren expires at the end of the 2012 season. To be honest, I gave them no credit... why would he even consider leaving the team that almost literally raised him? Everybody knows the true story of how a 10-year old Hamilton walked up to McLaren team principal Ron Dennis and declared "I want to race for you one day...". Three years later, The Team From Woking signed him to their Young Drivers program. He's been with McLaren ever since, has won 20 Grands Prix, finished one point behind in the championship in his rookie year of 2007, and as previously mentioned won the 2008 championship.
But the rumors persisted. He was tabbed to be driving for Ferrari, McLaren, Mercedes, Lotus, even Force India's name popped up once or twice in the grapevine. The only major team he was never attached to was Red Bull; their lineup was set for 2013 a while ago. Those of us noticing these things realized that HWMNBN was being nice about having Hamilton as a teammate, and taking digs at McLaren in the process: "I improved when I left McLaren, no reason he wouldn't if he drove for Ferrari." Nobody believed Force India would legitimately be in play, and Lotus seemed disinterested, probably for financial reasons. Those of us who remember 2007 saw no way that Hamilton would seriously consider having HWMNBN as a teammate again, no matter how much the Spaniard tried to sweet-talk him... one must remember that Satan is a great deceiver. Which left McLaren and Mercedes as the only real contenders.
And that's where the real problems began to arise, because Mercedes had a tie to the Brit as well; McLaren has had Mercedes engines his entire career, and his Young Driver's program contract was not with McLaren, but with both McLaren AND Mercedes. Furthermore, with Slappy Schumacher's unretirement looking more and more like a mistake, the German team has been looking for someone to perhaps replace the 7-time world champ, and were willing to throw a LOT of money at the right person... and there was only one driver of such high cachet available. Even with that, nobody really believed that Hamilton would leave McLaren. In the past, he's proven himself to be much more interested in
winning
than in money. To be sure, he's certainly not allergic to earning a dollar, but one got the distinct feeling that he'd drive for free if it got him into a car that'd give him a serious chance to win.
Nobody seriously thinks that Mercedes is at the same level as McLaren... but in recent times, The Team From Woking has shot itself in the foot during races, hurting his chances to win... bad pit stops, reliability problems, terrible strategy decisions, all of these have cropped up of late. At the most recent race in Singapore, another technical fault cost Hamilton an almost-guaranteed win. However, it hasn't been all one-way; Hamilton had had fairly public temper tantrums, culminating with him tweeting out telemetry data showing the performance difference between his car and Jenson Button's at Spa. Which brought us to this week, when things really began to heat up. Last night, reports began to come in that he'd be announcing a move to Mercedes today. I chose not to post about it until it became official, because it's F1... stuff like that can change on whim. Well, today it occurred: Lewis Hamilton has signed a three-year contract said to be worth up to $100million with Mercedes AMG Petronas F1 team.
To say this has shaken loose the 2013 driver seat scramble would be something of an understatement. Slappy Schumacher is now without a drive, and his F1 career may very well be over. McLaren on Monday said that they "had no Plan B" if Hamilton left because they couldn't believe he'd leave. Well, it appears they developed a Plan B awfully fast, because today the team announced that current Sauber driver Sergio Perez will replace Hamilton in 2013. To say that choice is a surprise is something of an understatement. Not that he's a bad driver, far from it.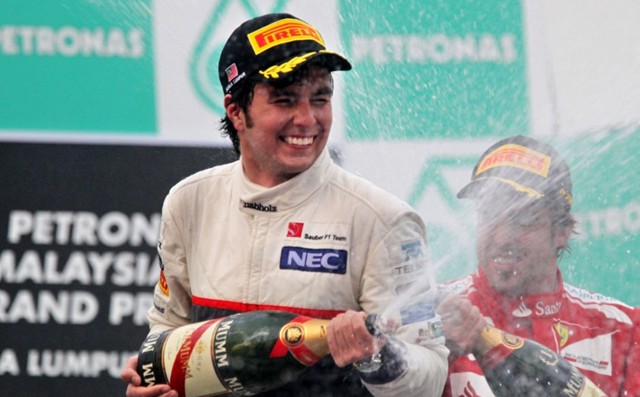 But "Checo" is a Mexican driver, sponsored by Telmex and had a contract with the Ferrari Driver Academy, their "young driver program." Of course, Ferrari and McLaren have an institutional hatred of each other, and Vodafone, McLaren's primary sponsor, competes directly with Telmex. It was definitely unlikely that he'd contract to McLaren, but there you are. With three podium finishes for midpacker Sauber this season in only his second year of F1, he's probably the best available option out there. The Swiss-based team has yet to announce his replacement for the 2013 year. The next name to pay attention to is Felipe Massa... the odds of him being let go from Ferrari might be 50-50 and pick 'em, but for one thing. Seb Vettel is rumored to have an out-clause in his contract with Red Bull that would allow him to leave in 2014... for Ferrari. HWMNBN is going nowhere, so it seems unlikely that the team from Maranello would sign anybody for only one season; look for Massa to be back in 2013, then out in 2014. Which is a shame; he'd be a nice fit back with Sauber where he started his career. Romantically, there's also a thought that Slappy Schumacher would sign a one-year deal with Ferrari, then retire again. While an intriguing idea, I don't think it's going to happen... putting that much evil all in one place seems impossible.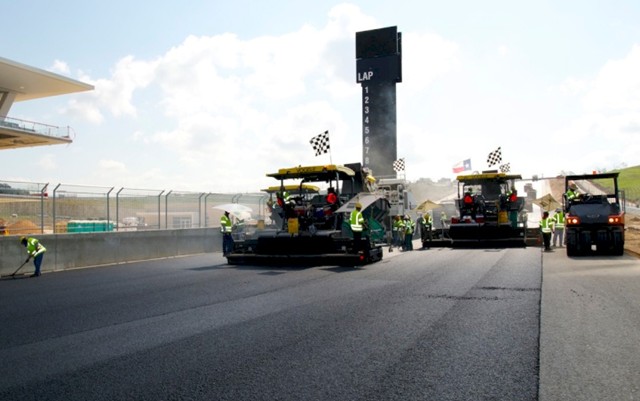 In other news, the Circuit of the Americas in Austin, Texas announced on September 21st that they had completed laying the asphalt for the circuit, and for all intents and purposes were ready for November's race. It took just over four months to pave the 3.4 mile circuit to FIA standards, with three layers having been put down. More importantly, a couple of days ago FIA Technical Supremo Charlie Whiting inspected the track and approved it for Grade 1 racing, the highest level possible. Certainly there's still stuff to do; landscaping, race curbing, striping and the like, but there won't be any last minute panic the way there was at Korea or India.
Finally, good news from the 2013 tech regulations. The frighteningly ugly stepped noses of this year's cars (which, I'll admit, have kinda grown on me) will be going away next year. Or, more correctly, they'll no longer be visible, which isn't quite the same thing. See, the stepped nose is still required to be present... it's a safety device, after all... but it'll be allowed to be masked by an aero-neutral cover. I guess Luca di Montezemelo's whining at the start of the season over how ugly the cars were actually accomplished something for once.
Posted by: Wonderduck at 07:37 PM | Comments (5) | Add Comment
Post contains 1164 words, total size 8 kb.
September 22, 2012
F1 Quals: Singapore 2012
Seb Vettel and Red Bull made it three-for-three in the Practice sessions; nobody could even
touch
the world champ. So Quals are a foregone conclusion, right? Let's take a look at the provisional grid for the 2012 Grand Prix of Singapore:
Okay, if you didn't see that one coming, you either haven't been reading this blog for long, or you know me too well. It's McLaren's fourth pole in a row, with Hamilton earning three of them. After P2, he said he felt he had another half-second to pull out of the car, and it seems that he managed that. I'm trying to figure out if it's a surprise that Maldonado took second place; he's very quick, but he's also very uncontrolled. I'm stunned that Paul di Resta managed to do so well on this track... where Singapore seems to cater to the Red Bull strengths, it also seems to hit all the Force India weaknesses. Or so I would have thought. Everybody has an eye cocked on 8th on the grid, though... Lettuce Grosjean is back from his one-race ban. He's saying that getting Monza off has taught him a lesson, and he'll be a better driver for it, but
oy
. Could he have been dropped in a more dangerous spot? And by dangerous, I mean "for everybody around him."
Everybody else is basically where we've come to expect them, though Kimi in 12th is a little low. For the most part, it's shaping up to be a normal lineup. With the narrow track bordered by concrete walls and essentially zero runoff area, there's been at least one safety car every year here in Singapore, so it might come down to the driver that benefits the most from this year's... and who brings it out. We shall see tomorrow, and F1Update! will be all over it! See ya then.
Posted by: Wonderduck at 10:02 AM | Comments (2) | Add Comment
Post contains 481 words, total size 17 kb.
September 21, 2012
F1 Practice: Singapore 2012
Y'know, I watched the live coverage of P2 around 10a, then went out to run errands, get some groceries, have lunch, then came home... and kinda forgot to do the writeup, took a nap, and here I am at 8pm. Oh yeah, writeup! Well here it is! Better late than never, amirite? To be honest, there's not a whole heckuvalot to write about, but let's get right to it!
Red Bull's Sebby Vettel led both P1 and P2, which A) shouldn't be a surprise because this is pretty much the perfect sort of track for the RB8; and 2) probably doesn't matter a whit. It wasn't like the performance gap was huge; though it was .311 in P2 over Jenson Button, that was on one "qualifying style" lap. When you look at the full-fuel-load laps, there's nothing between the Red Bulls, McLarens and Ferraris. However, Vettel does have one advantage for this race that nobody else has:
A LIGHT-UP HELMET!
...
That's right. Sebby has a blinky-LED helmet. I
so badly
want it to be hooked up to the KERS system, so that it only lights up when he presses the go-fast button. Actually, it seems like they've kinda gone insane over at Red Bull. After all, there's also this:
It goes without saying that Red Bull's pit stop times have gone up.
Really, the biggest news today is that 2013's provisional calendar has been released... and at least for 2013, Valencia is gone. It's apparently going to be alternating with Barcalounger as the location of the GP of Spain, so we'll see it in two years... and with its disappearance, the "Grand Prix of Europe" designation goes away as well.
In its place? TWO Grands Prix here in the USA. The Grand Prix of America, aka Grand Prix of Weehawken and I don't care what it's officially called, will be June 16th... the weekend after Canada. Meanwhile, the second running of the United States Grand Prix will be November 17th, the penultimate race of the year. Expect ridiculously heavy coverage of both here at The Pond.
Right, Quals in the morning and we'll see you then!
Posted by: Wonderduck at 07:37 PM | Comments (1) | Add Comment
Post contains 361 words, total size 2 kb.
September 17, 2012
F1 on SPEED!: Singapore 2012
There are other street circuits on the F1 calendar, but there is only one night race. This week, the F1 Circus makes its way to the island city-state of Singapore!
There is no other race where the cars look as good as Singapore, glittering like jewels under the 1600 lighting units. There's also no circuit that's as flat-out physical as this one, what with the incessant heat and humidity that comes from being located 85 miles north of the equator. Let's take a look at the track map: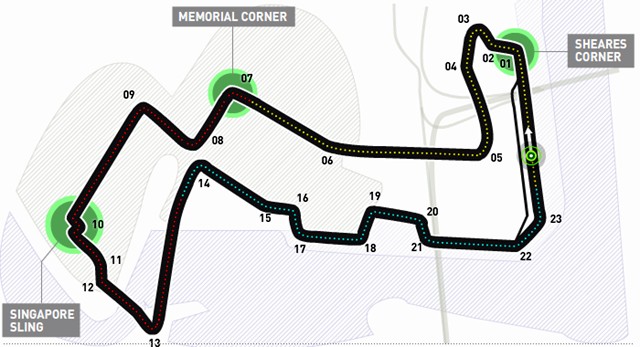 The biggest complaint the drivers have with the Marina Bay Circuit is that it's very bumpy, and no less a name than Lewis Hamilton has said that Turn 10 ("The Singapore Sling") is the worst turn in F1. The curbs there are quite high and can get you airborne and into the barriers in a flash, and the entry to the turn has been narrowed as well, making it even more difficult to get through.
As a whole, this is the second-slowest track on the calendar, just behind Monaco. Coming after two very fast, very low-downforce races, the teams now have to change to a high-downforce setup. Because of the necessity of riding the curbs (except for Turn 10!), the car suspension is usually set softer than average, to keep the car on the ground as much as possible. The brakes get a heavy workout here, not so much because there's a heavy braking zone (there isn't) as because of the constant stop-and-go nature of the layout. The brakes never get much of a chance to cool off as a result, requiring heavier use of the brakes, meaning they get hotter still... and so on. Finally, in the past tire wear has been rather elevated around here. With Pirelli reformulating their rubber to last longer, we really don't know what's going to happen, but it's a fair guess that it'll still be rough on the tires.
One thing to keep in mind is that, since the race is being run under the lights, it's a whole different look through the helmet for the drivers. There is no single light source (i.e. The Sun), and the lights themselves are a different color temperature as well. As a result, you need different shading through the visor. Ferrari's HWMNBN has a new helmet for the race, as found via his twitter feed:
He really needs to stop being such a goofball, otherwise he's in danger of losing his nickname.
Fortunately for all of us, the Legendary Announce Team is 100% professional 100% of the time, and they'll be providing their special brand of coverage on SPEED! this weekend. Here's the schedule:
Friday
P1: 430a - 6a streaming
P2: 830a - 1010a live
Saturday
P3: 5a - 6a streaming
Quals: 8a - 930a live-ish
Sunday
630a - 9a: 2012 Grand Prix of Singapore, live.
There's rain scheduled all weekend, which shouldn't be a surprise, because it's always scheduled to rain in Singapore. The question is "will it rain during the race?" My memory may fail me, but I can't remember a wet race the previous four seasons (searching, searching, searching... nope, never!), despite forecasted rain all four years. We'll see, but I'd
love
to see a wet night race.
See you Friday!
Posted by: Wonderduck at 06:21 PM | No Comments | Add Comment
Post contains 551 words, total size 4 kb.
September 12, 2012
The Unsung Hero Of F1
The last fatality in Formula 1 was Ayrton Senna in 1994. That tragedy spurred the switch to safety features in F1, like the HANS device, the slower tracks, larger run-off areas, better helmets, improved cockpit security, better wheel tethers, and on and on.
One of the men who pushed these changes through wasn't a driver, but he took the green flag for every race from 1978 to 2004. His name was Professor Sid Watkins, and he was the official Formula 1 Safety and Medical delegate, head of the F1 on-track medical team and first responder in the case of an accident, and a world-renowned neurosurgeon.
It was at Watkins' insistence that every F1 race has a medical car, a medevac helicopter, and full emergency medical services at the track, just in case of the worst. Drivers such as Rubens Barrichello, Mika Hakkinen, Gerhardt Berger and others owe their lives to his direct action, and every driver who's in a wreck that looks unsurvivable (Mark Webber's flip, for example) can give him a tip of the helmet for helping keep them alive. While he retired from his race post in 2004, he became the president of the FIA Institute for Motor Sport Safety, a group that has done more to keep racers alive than probably any other.
Professor Sid Watkins passed away today. He was 84. His job was to keep F1 drivers alive, and he was very,
very
good at his job.
(Update: a good article about his career
is here
.)
Posted by: Wonderduck at 08:24 PM | No Comments | Add Comment
Post contains 256 words, total size 2 kb.
September 08, 2012
F1 Quals: Italy 2012
When a Ferrari driver wins a race, the church bells in Maranello ring in celebration. When a Ferrari driver does something good at Monza, all of
Italy
takes notice. So are the tifosi being deafened by bells pealing across the nation? Let's take a look at the provisional grid for the 2012 Grand Prix of Italy:
diResta has a five-spot grid penalty for a gearbox change. Maldonado has two five-spot penalties for his actions at Spa-Francorchamps.
It's very quiet in Italy this afternoon... not only has Ferrari not gotten pole, but the hated McLaren has locked out the front row completely! Row two is entirely ex-Ferrari drivers: Slappy Schumacher moves up after DiResta's penalty, and Felipe Massa*. I suspect the tifosi are... confused over what to do when it comes to Slappy. I mean, he's not driving for the Prancing Horse, but he had some small amount of success with them; do they cheer him, boo him, or clap politely? I'm pleased to say that I don't expect him to win tomorrow, so my head is not about to explode.
No surprise regarding the performance of the Red Bulls, they just aren't great on tracks that need ultimate high speed, and yes, I'm aware that Vettel won here last year. That was the RB7, a car that could honestly be placed in the conversation for "best F1 car of all time." It wouldn't win, I don't think, but it needs to be considered (the
McLaren MP4/4
is my vote for best, by the way: 15 wins out of 16 races, and 10 of those races were MP4/4s finishing one-two). The RB8 hasn't shown anything resembling that level of ability this year.
One disturbing problem shaping up this year is that Monza's surface is noticeably less smooth than it has been in the past. Gandalf Kobayashi says that he nearly lost control of Shadowfax in P3 today...
driving down the front straight
. There's been a number of gearbox problems as well; HWMNBN had his crap out on him yesterday, Paul diResta changed one last night, and his teammate at Force India, Nico Hulkenberg, had his fail going into the first chicane on his first flying lap in P1. We know that everything on a F1 car is machined to the most exacting tolerances possible, but nothing moreso than the gearboxes. These are devices that can be disrupted by
overly-powerful electrical wiring
under the track, for heaven's sake. Hitting them with weird physical vibrations, such as one might encounter on a newly bumpy Monza, is probably a
great
way to turn them into a handful of hate and metal shavings. So reliability may be an issue on Sunday, too.
Finally, a milestone has been reached in F1 this year: this was the first time this year that Narain Kittylitter outqualified his teammate! Next up, Kittylitter wins Monza.
Okay, maybe not. See you tomorrow!
*
yes, I'm aware Massa still drives for Ferrari. For now.
Posted by: Wonderduck at 12:22 PM | No Comments | Add Comment
Post contains 660 words, total size 18 kb.
September 07, 2012
F1 Practice: Italy 2012
Okay, y'all, I'm gonna tell you the truth: I haven't watched Practice yet, and truth be told, I probably won't tonight. Near as I can tell, however, I'm not missing much of anything at all. Oh, sure, HWMNBN killed his gearbox with 20 minutes left in P2, and the Red Bulls have no speed whatsoever, but other than that, it was just a lot of lapping. At least it looked good: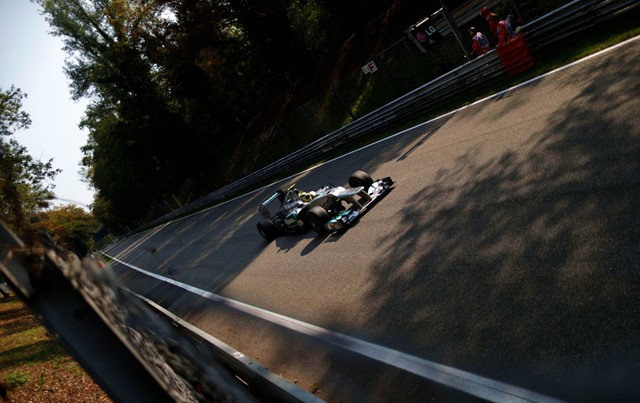 See? A lot of folks think Monza is the best looking place to see a race, and it's hard for me to disagree when I see pics like that. So Quals will be coming along in the morning, and I'll be there for that for sure!
In other news from the F1 world, Luca di Montezemelo apparently didn't care for the canapes in the FIA hospitality tent today, because he's saying that Ferrari could pull out of Formula 1. Again. Ferrari has threatened that every year I've been a fan, and probably every year since dirt was new. Note to Luca: threats only work if there's a chance they'll be followed up on.
We had a F1 first today in P1, when HRT let Chinese driver Ma Qing Hua take the wheel. All I know about him is that he won the China Touring Car Championship (1600cc Division) in 2011, and he's got the square-root of fark-all success in open-wheel racing, and nearly as little experience. Either he's got awfully deep pockets, or he's some sort of prodigy. I'm betting on the pockets.
Here's a name we haven't heard about in a while... Robert Kubica, injured well over a year ago in a terrible rally car accident, is apparently going to be returning to competition this weekend! Yay! In a rally car race in Italy. Oh. Hm. Well, it's good to hear that he's racing again. He probably won't ever be back in F1, but considering
the injuries he suffered
, any racing has got to be considered a bonus.
Finally, there's a lot of griping amongst the drivers about the track condition. Specifically, Slappy Schumacher is complaining about the run-off bumps at the Variante Della Roggia, saying that if someone hits them after suffering a brake failure, the driver will surely suffer a broken back. Osteoporosis is a terrible thing, Slappy, and I'm sorry to hear that you're suffering from it. Mostly because I'm almost a year older than you. He does have a point, though. F1 cars have no suspension to speak of, no shock absorbers, and a driver basically sits directly on the floor of the chassis; hitting a bump at speed
must
hurt.
See you Saturday for Quals!
Posted by: Wonderduck at 07:57 PM | Comments (5) | Add Comment
Post contains 446 words, total size 3 kb.
September 04, 2012
Custard's Back!
Lotus has made a decision on who will be replacing Lettuce Grosjean for the Grand Prix of Italy... ladies and gentlemen, put your hands together for Custard d'Ambrosio!
Okay, I'm being cruel. It's hard for a rookie driving a Virgin to look impressive in any way, shape or form, I know that, and of course I cherry-pick the worst picture I could find. Still, his little tete-a-tete in the Hungarian pit lane last year was the first thing that leaped to mind. d'Ambrosio isn't horrible, and as the third driver for Lotus, he's not going to be completely fish-out-of-water. I don't expect him to do
well
, mind you, but he won't completely embarrass himself. And hey, this'll be the first time he's had a good car under him; maybe he'll surprise us.
I doubt it, but that's why it's called a surprise.
Posted by: Wonderduck at 07:48 PM | No Comments | Add Comment
Post contains 144 words, total size 1 kb.
September 03, 2012
F1 on SPEED!: Italy 2012
There are four classic tracks remaining in Formula 1. The ridiculously confined street circuit, Monaco. The birthplace of the sport, Silverstone. The longest, hilliest circuit, Spa. And then there is the fastest track, the immortal Monza, the home of the Grand Prix of Italy. Let's take a look at the track map: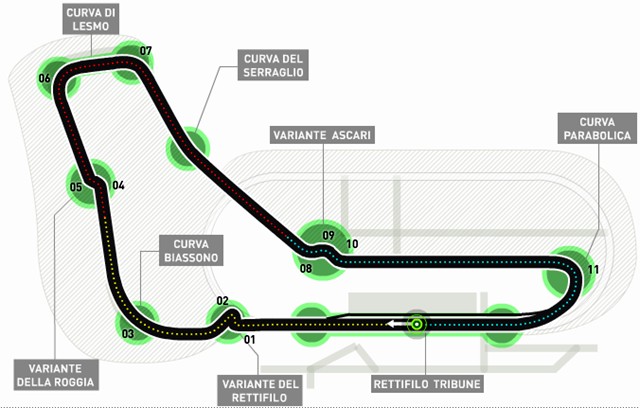 It's changed since those early days, shortened and slowed by the removal of some parts of the circuit, the addition of some chicanes, all in the name of safety. Having said that, this is still the track that's the hardest on engines, with a full 80% of the lap spent at full throttle. If a team could legally run a car without wings, this is where it would happen.
It used to be that the rear wings on F1 cars at Monza were more suggestions than actual downforce-creating devices. Now with the introduction of DRS, teams actually carry a little bit of wing in comparison to, say, 2009 or 2010. As it is, though, there's still remarkably little downforce used at Monza, all in the quest for straightline speed.
Which of course means that when you DO need to turn, it takes a lot of talent to keep the car on the circuit. Parabolica is a particularly evil location; you break hard to enter, then accelerate all the way through a decreasing radius turn. This is made all the worse when you realize you're doing this in a car that, at the best of times, is trying to cause you grievous personal harm as it runs along the ragged edge of traction. Taking Parabolica without the usual amount of downforce must be...
exciting
.
Fortunately, the Legendary Announce Team will be bringing us all the excitement as they always do! Let's take a look at the weekend schedule:
FRIDAY
P1: 300a - 430a streaming
P2: 700a - 840a live
SATURDAY
P3: 400a - 500a streaming
Quals: 700a - 830a plausibly live
SUNDAY
2012 Grand Prix of Italy: 630a - 9a live
Of course, F1 Update! will be all over it like a cheap suit on rice. See ya then!
Posted by: Wonderduck at 07:50 PM | No Comments | Add Comment
Post contains 355 words, total size 2 kb.
September 01, 2012
F1 Quals: Belgium 2012
It doesn't need to rain for rain to affect results. For example, with both Friday practices washed out, the teams were desperate for data to work with in preparation for today's bright and sunny Quals session. The result was... well, predictably unpredictable. Let's take a look at the provisional grid for the 2012 Grand Prix of Belgium:
There are moments in time that are just completely mind-blowing. This isn't one of those moments, but it was quite surprising to discover that this is Jenson Button's first pole in 61 races. That's Monaco 2009, if you're counting... the year he won his Driver's Championship with BrawnGP. The person joining him on the front row, Gandalf Kobayashi, has a couple of bullet points today: it's his first time on the front row, and he equals the best qualifying position for a Japanese driver in F1 history.
Then there's Akhoond Maldonado starting third... except he's not. He was handed a three-spot grid penalty for impeding Nico Hulkenberg in Q1. That promotes pre-Quals favorite Kimi Raikkonen to third place. The buzz up and down the pit lane is that Lotus is ready to win, and more importantly, is able to do so. Sergio Perez will start right behind his Sauber teammate; that's got to be the best result the team has had since BMW left... and perhaps the best they've had in my viewing history?
Clearly the second biggest surprise on the day must be Seb Vettel in 11th after getting the boot in Q2. He didn't miss by much, but he did miss, which is essentially unheard of. Again, not completely mind-blowing, but surprising indeed. A welcome one, truth be told.
Mark Webber and Nico Rosberg both get five-spot penalties for gearbox changes.
The excuse that "nobody had data" to explain Sauber's performance, or Vettel's absence, or Kimi's location on the grid, is a little shady. Sauber and Lotus have both been really quite good over the past few races, and it was just a matter of time for them to burst out. The surprise may be that it's taken so long.
As to who's going to win on Sunday? Button or Raikkonen
must
be the favorites... Jenson because he's the polesitter, and Kimi because, well, if he finishes at Spa, he wins. He's had four finishes here, and he's won all four of them. If I had to bet? I'd go Kimi... but I'd find another bookie and put money on Button, too. I'd also do a flyer on the Saubers, just because.
That's not the most unlikely top three I could imagine, but it's awfully close.
See ya Sunday!
Posted by: Wonderduck at 05:02 PM | Comments (1) | Add Comment
Post contains 606 words, total size 18 kb.
118kb generated in CPU 0.0406, elapsed 0.6092 seconds.
50 queries taking 0.586 seconds, 266 records returned.
Powered by Minx 1.1.6c-pink.