November 22, 2008
"Serious, Not Life-Threatening."
Red Bull Racing's Mark Webber suffered "serious, but not life-threatening" injuries while participating in his charity event, the Mark Webber Pure Tasmania Challenge. During the mountain bike leg of the 250km race (which also includes kayaking, abseiling, whitewater rafting and trekking), Webber was hit head-on by a
Nissan X-trail
SUV. He was airlifted from the scene and taken to the
Royal Hobart Hospital
, Tasmania.
While early reports stated that he had multiple fractures to his arms and legs, it's since been revealed that he had broken both bones in his right leg. He's already undergone surgery to set the breaks, and it's expected that a rod will be have to inserted in the leg later.
One of Webber's managers, Geoff Donahue, reported that there are no concerns about the Red Bull driver missing any of the F1 season, which begins in March with the Australian Grand Prix in Melbourne. "It's unfortunate, but accidents happen. He's in good spirits and starting the road to recovery. If any positives come out of this, you'd fully expect him to be ready and willing, not only for his pre-season requirements with Red Bull Racing but also for the Formula 1 season proper."
It doesn't take much imagination to think that Webber will miss quite a bit of off-season training time, and will surely need to go through some intensive rehab just to be able to get the leg into the cockpit. Until that happens, nobody can be entirely sure just how the injury will affect his driving.
The driver of the X-trail was reportedly given a breath test at the scene, and no charges will be pressed. Acting Sergeant Jon Ford said there was no way a car could have built up speed along the gravel road. "It's just one of those things," he said. The road was not closed for the bike race. The X-trail was not damaged in the incident.
This is just a darn shame. Webber is one of the good guys in F1, and heir apparent to the title of "The Chin," replacing the recently retired David Coulthard.
Webber's chin in better times
Of course, we'll keep you updated as more information becomes available.
Posted by: Wonderduck at 09:25 AM | Comments (1) | Add Comment
Post contains 379 words, total size 3 kb.
November 17, 2008
SuperAguri Sighting!
During tonight's episode of
Top Gear
(Season 12, episode 03, for those reading sometime in the future), the lads were given a challenge: make what is essentially a minivan as quick as a
Mitsubishi Evo 10
... on a budget of 9000 quid.
After new brakes, a new suspension, removing the roof and windows and replacing them with thin plastic, servicing the engine and putting on new tires (or tyres as they would call them), they were still about eight seconds off the pace of the Evo around the Top Gear track.
Then Jeremy Clarkson said, "Hammond, did you say you bought a spoiler the other day?"
"Well, at a charity auction, yes."
"What type of one?"
"A Formula 1 cars', actually."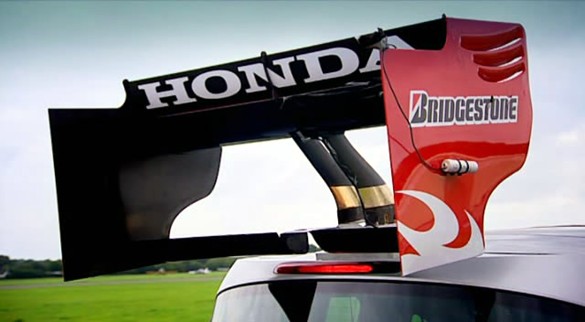 Yep. That's the rear wing off a SuperAguri F1 car.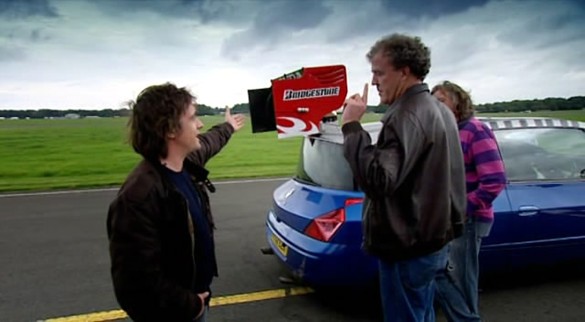 It
added
a second to the time.
Seems appropriate, that.
Posted by: Wonderduck at 12:31 AM | Comments (4) | Add Comment
Post contains 143 words, total size 1 kb.
November 05, 2008
Tidbits and Stuff About Hamilton's Championship.
The ratings numbers for various countries' viewing of the Brazilian Grand Prix have come out, and some of them are truly mindblowing. 9 million tellies were tuned into the race in England for a market share of 42%... and towards the end, it was 13.1 million. In Germany, it was 8.8 million and 31.5%. France, 5 million, 25% share. By way of contrast, Super Bowl XLII had a 43% share this past January, with 97 million viewers... in one (large) country.
Lewis Hamilton returned to the McLaren factory today to a raucous welcome by the staff... and a letter of commendation from the Queen:
"To Lewis Hamilton esquire, I'm delighted that you succeeded in winning the Formula One World Championship to become the youngest-ever champion. I send you my warmest congratulations on your remarkable and historic achievement.
(Signed) "Elizabeth R."


He's just finished the first year of a five-year contract with McLaren, worth a reported 75 million pounds, or at current exchange rates, $121 million. That's $24 million a year, or more than every MLB player in 2007 except for Alex Rodriguez of the Yankees. However,
one PR rep thinks
that he's set to clear one BILLION pounds over the length of his career, what with endorsements and all.
Not too bad for a 23-year old.
As one might expect, Ferrari is trying to be gracious in defeat... and not quite accomplishing it. Luca di Montezemelo, president of Ferrari, praised Hamilton by saying "
He was a very powerful rival, and his win, close though it was, was well deserved." He then called for the F1 points system to be changed so that wins are worth more in the championship... in which case, his driver, Felipe Massa would have won.

Stay classy, Ferrari. Like your driver, Massa, who wants to congratulate Hamilton in person.



UPDATE

: This past February, Golf Digest Magazine printed a chart that revealed that Tiger Woods had made around $770 million dollars (in winnings and endorsements) going into the 2008 season, and predicted that he'd break the $1 billion dollar mark by 2010. Considering that Woods lost most of the season due to injury, tack another year onto that number, so 2011. He'd have played for 16 years at that point. Eventually, he'll move to the Seniors League (or whatever it's called), and keep earning money into his 50s or 60s.

Lewis Hamilton's driving career probably won't last more than 15 years or so, but they might conceivably earn similar monies in a similar timespan. The parallels between the two are intriguing. I wonder if some (very!) deep-pocketed company will ever cough up the money to have them both appear together to sponsor some item... probably a car of some sort.
Posted by: Wonderduck at 10:59 PM | Comments (1) | Add Comment
Post contains 459 words, total size 3 kb.
November 01, 2008
F1 Quals: Brazil 2008
What the hell was THAT?

Here's the provisional grid, discussion after:
Pos
Driver
Team
Q1
Q2
Q3
1
Felipe Massa
Ferrari
1:11.830
1:11.875
1:12.368
2
Jarno Trulli
Toyota
1:12.226
1:12.107
1:12.737
3
Kimi Räikkönen
Ferrari
1:12.083
1:11.950
1:12.825
4
Lewis Hamilton
McLaren-Mercedes
1:12.213
1:11.856
1:12.830
5
Heikki Kovalaininnie

McLaren-Mercedes

1:12.366

1:11.768

1:12.917
6
HWMNBN
Renault
1:12.214
1:12.090
1:12.967
7
Sebastian Vettel
STR-Ferrari
1:12.390
1:11.845
1:13.082
8
Grizzly Nick Heidfeld
BMW Sauber
1:12.371
1:12.026
1:13.297
9
SeaBasss
STR-Ferrari
1:12.498
1:12.075
1:14.105
10
Timo Glockenspiel
Toyota
1:12.223
1:11.909
1:14.230
11
Nelson Piquet Jr

Renault
1:12.348
1:12.137


12
Mark Webber
Red Bull-Renault
1:12.409
1:12.289


13
Robert Kubica
BMW Sauber
1:12.381
1:12.300


14
David Coulthard's Chin

Red Bull-Renault
1:12.690
1:12.717


15
Rubens Barrichello
Honda
1:12.548
1:13.139


16
Kazoo Nakajima
Williams-Toyota
1:12.800




17
Jenson Button
Honda
1:12.810




18
Nico Rosberg
Williams-Toyota
1:13.002




19
Giancarlo Fisichella
Force India-Ferrari
1:13.426




20
Adrian Sutil
Force India-Ferrari
1:13.50
The Ferraris did exactly what they needed to: Massa on pole, Kimi directly behind him on the grid (which is almost certainly better than being 2nd for this race; it's the clean side of the circuit, and he can protect Massa's back). But, and here's the question, how are they set up for the rainstorms that are supposed to be headed Sao Paolo's way?

I have no idea what sort of strategy McLaren is trying, however. Conventional Wisdom sez "short-fill Hamilton, so he can get on the front row and avoid any kerfluffle that'll form going into Turn 1." Well, if that's what the plan was, it didn't work for beans. Not only didn't he make it to the front row, he wound up on the wrong side of the SECOND row, with Jarno freakin' Trulli in front of him. There's no question that he's set up for a dry track; he was fighting a twitchy car all day. For some teams, that's a sign of a bad chassis (see: Honda), but for the McLaren, that's just the team cranking off the rear wing and letting the driver run on the very edge of the envelope. That's where the car is the fastest, but you need a really good driver to do that. Fortunately, Lewis Hamilton only needs to finish 5th or better to win the driver's championship, but he's pushing it right now.

My guess is that Trulli's Toyota is running on fumes and a prayer, particularly considering the relative performance of teammate Glockenspiel. Either that, or Toyota decided to split their setups for the weather that's predicted to be coming on Sunday, with Glockenspiel having the wet settings.

Kovaleinninninnie has a problem. His job is to support his teammate for the championship. The best way for him to do that is to let Lewis stay ahead of him, but Hamilton is on the dirty side of the track. In a vacuum, Heikki would just make sure his teammate gets a better start than he does, but though Interlagos may suck, it's not a vacuum. HWMNBN is next to the junior McLaren, positively drooling over the possibilities of a bad start for either silver car. So Heikki has to keep the Renault behind him. As if all of that wasn't enough, McLaren is eleven points behind in the constructor's championship; the team needs a 1-2 finish from their boys to have a legit chance there. So Heikki has to stay behind his teammate but ahead of HWMNBN, while driving hard for the front of the grid. Sure, no problem.

There's no question who the crowd is backing in this matchup: hometown boy Massa. He's grown up at Interlagos, literally. He was born, raised, and makes his home in Sao Paolo. He got his start in racing at the karting track at Interlagos, yadda yadda. For the Paoloians, a perfect result would be a Massa-Barrichello-Piquet (Brazillians all) podium, with Hamilton finishing 21st.

Well, we'll see what happens on Sunday, the final race of the 2008 season. See you then!
Posted by: Wonderduck at 11:05 PM | Comments (1) | Add Comment
Post contains 659 words, total size 12 kb.
46kb generated in CPU 0.014, elapsed 0.1269 seconds.
48 queries taking 0.1165 seconds, 244 records returned.
Powered by Minx 1.1.6c-pink.