April 21, 2012
F1 Quals: Bahrain 2012
Teams are bunkering in their hotels. F1 personnel are commuting to the track in convoys and are being instructed to move in groups only. The government is preventing journalists from entering the country. Protest groups are calling for a massive march on the circuit for race day. Must be Bahrain, which means it's time for Quals! Here's the provisional grid for tomorrow's Grand Prix of Bahrain:
Yup, Sebby Vettel is back on pole, but don't panic; this quals session wasn't exactly what you would call normal. We've got a confluence of factors going on this race: the heat of the track, mixed with the grippy asphalt (originally imported from a quarry in England) and the new rubber compounds Pirelli has used has made the soft tires a little fragile. How fragile? How about "you get three hot laps before they fall off the cliff" fragile? Everybody was using used, or "scuffed", tires for their first runs in Q3 or not doing the first run at all. Then during the second hot runs (or
only
hot run in some cases), everybody made errors during the lap, locking up a tire, going off-track... nothing horrible, but just enough to let someone with a clean lap get pole. That was Vettel, for the first time during the day showing good pace.
HWMNBN didn't even bother to set a time in Q3, electing to protect his tires for the race. The same can be said for
Force India
's Paul di Resta who kept it in the garage. Undoubtedly the big surprise of the session was Mercedes making a strategic error in Q1 with Slappy Schumacher. He had a decent but not great time, but the team decided to keep him in the pitlane to protect tires instead of sending him back out. And then the track "came alive," and the times began to plummet. At the last moment, Caterham's Heikki Kovalainninninninnie pushed him below the bubbleline and out of Quals. Later, Slappy said the car had problems with the "mystery vent" on the Mercedes' rear wing, but that seems too convenient. Nope, they just screwed up.
Speaking of screwing up, it's time to call out Formula One Management, or FOM. They're the people in charge of television coverage, and their boss Bernie Ecclestone has apparently decided to show
Force India
what happens when you express legitimate concerns about your safety in a country in the middle of extensive unrest. Not once did we see a
Force India
car on screen (save for the tail of one disappearing offscreen left while the camera focused on another team) during the entire Quals session... despite Paul di Resta getting his
Force India
into Q3. This strategy, of course, has backfired and actually drawn
more
attention to
Force India
and their very real concerns. A round of sarcastic applause for FOM... I wonder if they'll stick with the policy during the race?
Ah, the race. This could turn out to be very interesting with the tire situation being so awful... and of course, there's the spectre of the protests hanging over everything. I don't know what Sunday will bring, but F1U! will be all over it. Keep your fingers crossed, and we'll see you there!
Posted by: Wonderduck at 09:01 AM | Comments (3) | Add Comment
Post contains 708 words, total size 18 kb.
April 20, 2012
F1 Practice 2: Bahrain 2012
Despite growing tensions and serious problems showing their ugly face, we have Formula 1 racing in Bahrain this weekend. And before you race, you practice... even though it's clear that most of the citizenry on that island nation don't want it, the teams don't want to be there, and the international community is unhappy about it.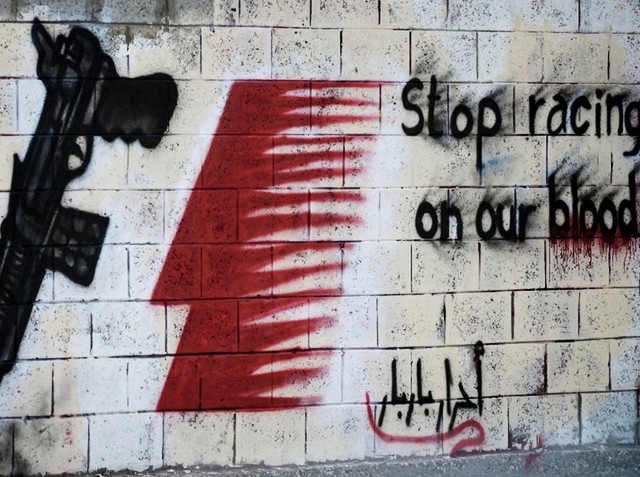 When you get graffiti that clever, you know there's a serious problem... or the art students are rioting, one of the two. In this case, there's a serious problem. The government has prevented journalists from Sky News, the AP, Agence France-Presse, CNN, and Reuters from entering the country to report on the unrest, while allowing sportswriters to cover the race. There was a 10000-person protest on Friday just north of the track. A protest group called "The Coalition of the Youth of the Feb 14 Revolution" has called for "three days of rage" during the F1 weekend. The police/security forces are out in force, and have a heavy presence at the Bahrain International Circuit.
On Wednesday, four Force India mechanics were caught up in a protest that turned into a violent clash with the police. The explosion of a molotail caught their van, though they were able to escape without damage or injury. Two of the mechanics subsequently decided they had had enough of the "Peaceful Kingdom of Bahrain" and have returned to England. During Friday's practice sessions, Force India decided they were best served by not running during P2 and getting back to the hotel... for "logistical reasons." If one were to read "logistical problems" as "security fears", you'd be closer to the mark. They'll be there for Quals and the race, but Nico Hulkenberg became the latest driver to come out and openly question why they're in Bahrain. "
We shouldn't have been put in this position. Whether it is right or not I don't really know. It's difficult to say. I am not a politician, I am a Formula 1 driver, but it should not really be happening should it?
" Ph.Duck points out that there's a huge political aspect here, as India and Bahrain are apparently long-time close allies.
Hacker group
Anonymous
promised to turn the official F1 website "into a smoking crater in cyberspace." Shortly thereafter, it was DDOS'd into oblivion for a few hours.
Bernie Ecclestone came out and showed his thoughtful, calm side when he said to the press "I think you guys want a story, and if there isn't a story you make it up as usual. Nothing changes. I can't call this race off. Nothing to do with us. The national sporting authority in this country can call the race off. You can ask the FIA if they can."
I'll admit to feeling sick about this race weekend. I won't be comfortable until it's completely over, the teams are on the planes back to England, and the sport has moved on towards Spain. Until then, I'll be worried for the safety of the drivers, mechanics, and team members. The nightmare, of course, is a protestor managing somehow to get a RPG close enough to take a shot, likely at a McLaren (which team is roughly half-owned by a Bahraini investment corporation). A molotail would also ruin someone's whole day as well. Hell, a thrown water bottle could kill a driver... one of the worst moments of the 2005 US Grand Prix fiasco was when a spectator, in a moment of anger, displayed an arm better than Nolan Ryan's and put a full water bottle within a few feet of Rubens Barrichello's Ferrari. So many things could go wrong that I barely want to
watch
this thing. *shakes head* F1U! will be here though, fingers crossed and hoping it all goes well.
Quals in the morning.
Posted by: Wonderduck at 08:55 PM | No Comments | Add Comment
Post contains 633 words, total size 4 kb.
April 16, 2012
F1 On SPEED!: Bahrain 2012
So after the excitement and exhilaration of China, we find ourselves heading to the Kingdom of Bahrain for the first grand prix there since 2010. Let's take a look at the track map.
As you can see, it's a Hermann Tilke track, carved out of the desert like a bunker carved out of a hillside. Unlike some Tilkedromes, like Malaysia or China, this one doesn't really have much in the way of a personality. There's no long, long double straightaways like Malaysia, no hope of a great race like we've had three years running at China. However, the huge run-off areas do give
wonderful fields of fire for the soldiers to gun down protesters from
the drivers a sense of confidence that a single mistake won't cost them the race.
This is not a good thing. There should be some penalty for making an error, but in Bahrain, there's nothing of the sort.
The minefields are beyond the grandstands.
There's no elevation change to speak of, so the
tanks can't go hull-down
race just feels endless... everything looks the same. Turn 9 feels like Turn 4,
except that one has a machine-gun nest and the other a mortar position
leading me to wonder just how the drivers keep their concentration. It's a mystery to me.
As it is, the good folks at SPEED will be bringing us their usual sterling coverage of the
riots
entire race weekend. Here's the schedule:
FRIDAY:
P1: 2a-330a streaming
P2: 6a-740a live
SATURDAY:
P3: 3a-4a streaming
Quals: 6a-730a plausibly live
SUNDAY:
Grand Prix of Bahrain: 630a - 9a live
While all of us here at F1Update! Central believe that the sport we love is making a terrible mistake by running this race, we feel it's our duty to our readers to provide the "excellent" writeups that we bring to any F1 weekend. If they're racin', we're watchin'.
We'll see you then.
Posted by: Wonderduck at 08:14 PM | Comments (3) | Add Comment
Post contains 321 words, total size 2 kb.
April 14, 2012
F1 Quals: China 2012
The 2012 F1 season to date has hinted that it was on the verge of deserving its own nickname. 2011 was Vettel's Year. 2009 was Bizarro Season. After today's Quals for the Grand Prix of China, I hereby declare 2012 as The Season Of Wackiness. Here's the provisional grid for the race:
Nico Rosberg has long been thought to possess a surfeit of talent. For the whole of his career, however, he's hidden his light under a bushel. To be sure, he's had five podiums, including a 2nd place in 2008's GP of Singapore, but that doesn't match the predictions made for him. He's certainly never had a pole position. Until now. He turned one hot lap in Q3, then parked his car in the garage and let everybody take shots at him... and nobody really came close. So not only does Rosberg earn his first pole position, and Mercedes their first pole since St Fangio the Quick did it in the 1955 Italian Grand Prix, he earns the pole and still has a completely fresh set of soft tires for the race to boot. The past two races, the Mercedes W03 has shown great pace in Quals, but fades away during the race... are we going to see the same tomorrow? We'll find out tomorrow, obviously, but this seems... different.
With Lewis Hamilton dropping to 7th after his gearbox change penalty, Slappy Schumacher makes it a front-row lockout for the Silver Arrows. It's good to see Gandalf Kobayashi sitting in third with Mumbles Raikkonen right behind in fourth as well... unexpected, but good. Really, to be honest, the entire top 10 looks like someone just picked positions at random. How cool is that?
The big news is what happened in Q2. Two-time World Driver's Champion Seb Vettel set a time, then put his feet up in the garage and had a danish, confident it would hold up and get him through the knock-out session. As his time slowly moved down the grid, there was no panic or even reaction... save to get another danish. Then suddenly, there were a couple of minutes left and Vettel was 11th. He made it onto the track and even got to turn a hot lap, but to no avail: he'd been knocked out. He's actually been on pole here in China for three consecutive years before this.
Here's a stunning thought... if either Mercedes driver wins on Sunday, there'll be amazing reactions. Either a driver gets his first ever win... or Slappy gets his record-extending 92nd win. I'm not sure which I'd rather see. God help me.
It's gonna be a helluva race tomorrow! See ya then.
Posted by: Wonderduck at 07:11 AM | Comments (5) | Add Comment
Post contains 617 words, total size 18 kb.
April 13, 2012
F1 China Practice 3: Liveblogging!
(PRE-SESSION) Okay, this time for sure! It looks like
we'll have a Bahrain GP
this year, more's the pity. Money trumps human decency, I guess. *shakes head* Enough politics, lets get to the racin'. Or the practicin', as the case may be.
F1Fanatic has a good roundup of reactions
to the announcement regarding the Bahrain GP. It's not pretty. They're burning Bernie in effigy. Which just means they're like most F1 fans around the world.
(60:00) And we're off. It's not raining, more's the pity.
(58:20) I wonder if the teams think we'll be getting rain soon, however. Nearly the entire field hit the track within the first 90 seconds. They usually straggle out; if there's rain coming, they'd go out to get some dry laps under their belt. Who knows?
(56:31) Oh. Installation laps only. I should have known. Seriously, if someone with talent would rather do this, let me know.
(54:26) Just like that, the circuit is empty of cars. Oh boy, this'll be exciting! Red-hot garage action!
(52:51) Speaking of red hot....
Thermal camera shot... that's the front-left tire in the lower right corner, and that big red blob above it is the engine. Always interesting to see.
(48:19) A HRT takes the field! Now we'll see some
real
action.
(45:03) Or not. Two minutes of crowd shots, paddock look-ins, and one brief moment of a patch of grass. All of which are, apparently, more interesting than a HRT to the FIA producers.
(41:24) My feed seems to be crepe tonight. I'll go a minute, then the video pauses, then it continues on like nothing happened. Weird.
(39:40) THERE we go! HRT in the runoff area, and nearly to the kittylitter. It's now an official practice session.
(37:55) While it's not raining, the thin sunlight the track is getting isn't doing much in the way of heating of the tarmac. Nico Rosberg was just crying about having both under- and over-steer, sometimes in the same corner. The team came back with "the track is cold, deal with it."
(35:15) Vettel is having brake problems. He went into a corner, applied the brakes, and the clampers on the front-right corner didn't release until he was all the way through. That's not good at all. His radio call was not amused.
(33:27) Lots of people standing around, staring at the offending wheel. Not so much working going on, however.
(30:00) Half the session gone. HWMNBN has made an appearance, positioning himself in 10th. the bells in Maranello are silent.
(28:44) Oooh, Mr Director, I
love
it when you cut from one McLaren T-bar camera to the other like that... it feels so art-schooly!
(27:03) HWMNBN jumps up to 8th on the timecharts. Somewhere, Enzo Ferrari is whirling dervishly in his grave.
(24:44) Good: Kimi Raikkonen is in 4th. Bad: Over a second behind the fastest lap. Ugly: looks like he has a sparkler dragging under his car. Might have to raise that ride-height, lads.
(23:01) Oooh, Mr Director, I
love
it when you slow us a super-slo-mo replay of Lettuce Grosjean having a spin... it looks so film-schoolish!
(20:56) Nico Hulkenberg just pegged the meter at 4.8G at the end of the back straight. From what I've read, that'd be awfully uncomfortable. Now do it multiple times a lap, over 50-odd laps or so. We'll pick up your head after it falls off, trust us.
(18:24) And HWMNBN has improved his time yet again... and still fallen to 12th place.
(15:00) 45 minutes gone, still no sign of Vettel. I'm gonna go out on a limb and say that the brake thing is a concern.
(13:13) There are now only two cars on track, Webber and Button. Mr Director is showing us neither of them.
(12:45) Red hot mechanic action. THRILL to the sight of a
Renault
Lotus mechanic trying to remove a brake housing! With a hammer, it looks like.
(10:19) To be fair, "hit it with a hammer" is a valid mechanic's device.
(9:09) Button is now #1 on the timesheets. Meanwhile, the wind howls outside my balcony.
(7:50) Oh look, it's Felipe Massa in his last practice session before he's canned from Ferrari! No pressure, Felipe!
(7:04) Radio call to Slappy Schumacher: "We're looking for consistent fast laps. No slow laps, no slow laps." THAT'S what HRT has been doing wrong all this time, they're supposed to be doing FAST laps! It seems so obvious in hindsight!
(4:23) So this kid, Hamilton? He's pretty fast, yeah.
(2:43) Vettel's back... still in 8th, though.
(0:38) HWMNBN is now 18th. Good.
(0:00) Invisible F1 car!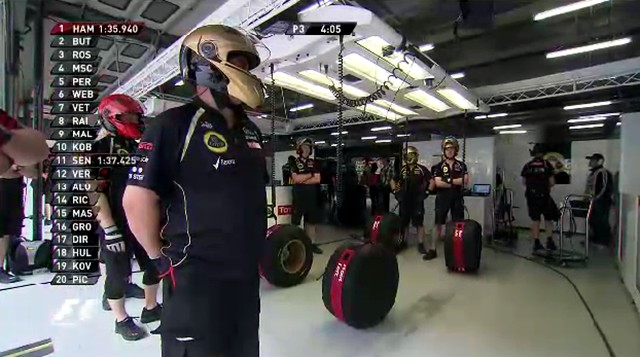 (SESSION OVER) Hamilton, Button, Rosberg, Schumacher are 1-4 on the session's timesheets. Four Mercedes-powered cars in a row. Oof... not looking good for the rest of the field, is it? Fortunately for everybody else, Hamilton has that 5 grid-spot penalty coming for changing his gearbox.
Quals sometime tomorrow afternoon! See ya then (unless I get up really early to go to work)!
Posted by: Wonderduck at 08:55 PM | Comments (3) | Add Comment
Post contains 834 words, total size 6 kb.
April 12, 2012
F1 China Practice 1: Liveblogging!
(PRE-SESSION) So we're here, after three weeks of downtime. Seems like forever, honestly. What sport are we talking about again? While we've been asleep, the F1 Circus has been active as usual, adding new aerodynamic fiddlybits here and there, while trying to keep anybody from noticing. Meanwhile, the wailing and wringing of hands over Bahrain's human rights violations may just keep F1 away for a second straight year... that news will be coming down soon enough, probably before Quals.
(The liveblogging is now located underneath the "more" button.)
more...
Posted by: Wonderduck at 08:55 PM | No Comments | Add Comment
Post contains 510 words, total size 4 kb.
April 08, 2012
F1 On SPEED!: China 2012
And we're back to the Circus! After what will be a three week layoff, the teams have made their way to Shanghai for the third race of the year, the Grand Prix of China. Let's take a look at the track map for the Shanghai International Circuit...
Hermann Tilke's stink is all over this one, it's true. As much as I'm not particularly fond of the layout, there's no doubt it's given us some really good races in the past few years... heck, in 2010 it was
the race of the year
. With this season's lack of predictability, who knows what we're gonna see this time around? Let's hope it's a good one, because it might be our last race for another month.
There is a growing movement to cancel the Grand Prix of Bahrain again this year; the government is still doing Very Bad Things to the citizenry, the protestors have vowed to cause nightmares aplenty at the Grand Prix, the teams are twitchy about their safety... in other words, exactly like last year. The GP of Bahrain is scheduled for 4/22. The next race after it is Spain, on May 13th. Well, if nothing else, the teams'll have plenty of time to put their changes on the cars before Catalunya.
Makes for a rather disjointed season, though. F1U! will be around, doing our best to keep the readers interested, though. Fortunately, we'll have the aid of the good burghers of SPEED's Legendary Announce Team, bringing us all the action. Here's their schedule for coverage:
Thursday
Practice 1: 9p - 1030p streaming
Friday
Practice 2: 1a - 240a live
Practice 3: 10p - 11p streaming
Saturday
Quals: 1a - 230a plausibly live
Sunday
Grand Prix of China: 130a - 4a live.
All times are Pond Central. Subtract two hours for San Francisco, add an hour for New York, and whatever time you feel like making it on the Moon.
I might be attempting a liveblog for P1, and will definitely do so for P3. The Quals writeup will be late; there's a registration event at Duck U Saturday, and I'll have the Bookstore open from 10a to 3p to serve the incoming fledgelings.
We'll see you right here then!
Posted by: Wonderduck at 09:54 PM | No Comments | Add Comment
Post contains 375 words, total size 3 kb.
84kb generated in CPU 0.0628, elapsed 0.1996 seconds.
48 queries taking 0.1749 seconds, 257 records returned.
Powered by Minx 1.1.6c-pink.