October 23, 2010
It's Raining In Korea! (UPDATE #10)
It's raining at the Korea International Circuit, 24 minutes before the lights go out. Cars are spinning during the recon lap... we just saw a shot of Felipe Massa moving at maybe 40mph, on full wets, and still skidding sideways off-track.
Of course, the dust/dirt off-track is now mud. Oy.
This might prove to be a nightmare race. Fun, yes, but a nightmare.
Oh, and HWMNBN's engineers found a leaking waterpump in his Ferrari. They're working replacing it right now. They'll get it done, but will it hold together? Yeesh.
UPDATE
: There's a 10-minute delay to the start, and it'll begin behind the Safety Car. Rain is supposed to stop in about an hour or so. Hoo-hah.
UPDATE 2
: Lap 3, and the race is Red Flagged. The cars have stopped on the grid, and we're halted until the the powers that be decide that the rain has stopped enough. To be honest, even running behind the safety car must have been terrible. HWMNBN called back to the pit wall, claiming that this was "the worst conditions (he's) ever driven under." This race might just be called.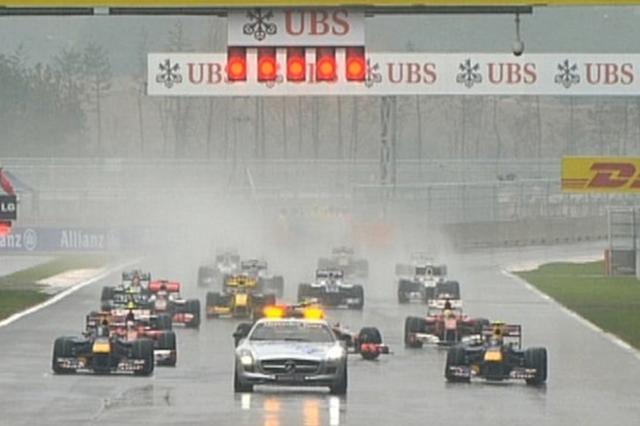 UPDATE 3
: The race will be resumed at 205am Pond Time! They'll do one more lap under Safety Car conditions, and they must be on full wet tires (not that anybody would be silly enough to do anything else *coughferraricough*, of course), but then they'll be really running for the first time. Now we're up against the setting sun, will they get it in before it gets too dark to race.
UPDATE 4
: Here we go, and Berndt Maylander leads them all into Turn 1... but we're racing again.
UPDATE 5
: Still behind the Safety Car. The asphalt is to blame here; it's got a higher percentage of oily bitumen than normal, so the water is just floating on top of that. Slappy just spun off.
UPDATE 6
: Lewis Hamilton just radioed in: "The track is good, improving all the time!" The sun is to begin setting in about 40 minutes, or about 3am Pond Central time. This is getting ridiculous.
UPDATE 7
: 12 laps in, some parts of the track look okay, but the two long straights may as well be swimming pools. Still, the Legendary Announce Team make a good point: "we've raced in worse." Lucas di Grassi just set fast lap, with a blistering 2m36sec. Still behind the Safety Car.
UPDATE 8
: Hamilton: "Start the race." McLaren Pit Wall: "We don't think other drivers have the same enthusiasm, Lewis." How much fuel does Berndt Maylander have?
UPDATE 9
: Greengreengreen! Real racing now on Lap 18.
UPDATE 10
: Race over after three hours, with the last laps run in the dark. No F1U! until after I get some sleep, but it was an...
interesting
... experience.
Posted by: Wonderduck at 11:40 PM | Comments (3) | Add Comment
Post contains 470 words, total size 3 kb.
F1 Quals: Korea 2010
With overcast skies casting a dull flat light over the Korea International Circuit, the track looks quite different, but will it drive any differently? That's what we're here to find out! The provisional grid for the first ever Grand Prix of Korea:
In some ways, one almost has to feel badly for HWMNBN. The Ferrari is far and away the best balanced of the cars around this circuit. The Red Bulls are fastest around the twisty bits, but are nearly six mph slower than the McLaren on the straights. The McLaren is supreme in Section 1 (the three straights), but aren't quite as nimble as the Red Bulls through the rest of the layout.
The Ferrari isn't as fast as the McLaren through the speed trap, and not as spry through the fiddlybits, but it's just behind the leaders in both categories. Normally, that'd be more than good enough to take a pole position, but today the Red Bulls ripped off ridiculously fast laps after the Q3 timer had expired (but they still counted as the laps started with time remaining). The crushing bit for HWMNBN had to be that Vettel and Webber set their laps just after he claimed pole with the fastest time of the weekend... at least, to that point.
Meanwhile, Lewis Hamilton was seen shaking his head in the garage... he's almost a half-second slower than Vettel and has got to be thinking his chances for the World Championship are almost completely gone now. Button's situation is even worse now, and he pretty much needs a miracle to occur for him to repeat as Champ. Maybe a huge pileup going into Turn 1 that claims the first three rows.
It appears that the driver's pleas did not fall on deaf ears. Turn 16 has been modified a smidge so it isn't launching cars into the stratosphere anymore, which is a very good thing. They did something to Turn 18 as well, so it no longer kicks a mushroom cloud of dust onto the circuit every time a car runs over the curbs. These are good things, but the Legendary Announce Team reported that the concrete curbs at some other places around the track are beginning to collapse. Sounds like a busy day is in store for the track crew. At least the asphalt isn't ripping up as was predicted... supposedly they used a special quick-curing asphalt. It only takes a few days to solidify, but is more slippery than normal. Fair tradeoff, I think.
So we're looking at a three-horse race tomorrow, I think. Can the Ferrari build up enough time on the straights to defeat the Red Bull advantage on the curves? For that's what it comes down to... and that's Team McLaren's only hope as well.
We'll see you here sometime after the race with the F1U!
Posted by: Wonderduck at 12:57 AM | Comments (3) | Add Comment
Post contains 635 words, total size 16 kb.
October 22, 2010
F1 Thoughts: Korea 2010
P2 was much like P1, just with more rubber on the track. Lap times fell until about 10 minutes left in the session, when all the teams shifted from car setups to doing tire runs. Remember how I said the simulators were forecasting 1:44 lap times? Mark Webber topped the second practice session timesheets with a 1:37.942. Real life is more realistic than simulators.
Anyway, tire wear is going to be
huge
on Sunday. Nobody expected this, but the option tires are practically falling apart after a few laps, suffering heavy heavy graining after just a couple of laps. It's not just limited to one or two teams, with everybody from Red Bull to HRT having the problem. Perversely, the tire wear is occurring because the circuit is so slippery. Think of it like this. Let's say (and I'm making numbers up here) that a F1 car travels four feet every time the tires make one full revolution. That's on a normal circuit, like Silverstone or Monza, in the dry of course. At Korea though, the track is so slippery that tires need to revolve 1-1/2 times to go four feet... obviously the tires will wear faster. That's an exaggeration, but it gives you an idea of the problem. It also doesn't help that the tires need to work harder to get through the turns, sliding more than at other places.
Speaking of turns, if there's going to be any wrecks on Sunday, look for them to occur at Turn 16. It's a relatively simple left-hander, normally no problem, but the inside curb at Turn 16 is actually below track level. This is completely the opposite of any curbing on any non-banked turn on any track anywhere. If it was designed that way, then Hermann Tilke had to have been drunk at the time. More likely however is that the track surface has settled.
Much like Swamp Castle in
Monty Python and the Holy Grail
("When I first came here, this was all swamp. Everyone said I was daft to build a castle on a swamp, but I built it all the same, just to show them. It sank into the swamp. So I built a second one. That sank into the swamp. So I built a third. That burned down, fell over, then sank into the swamp. But the fourth one stayed up."), Korea International Circuit was built on marshland, just barely over the level of the water table. The marsh was drained, but it can't be the most stable terrain to build on. As a result, this track is
bumpy
, much like the way Interlagos in Brazil is bumpy. Not just at The Elephant, but all over the Korean layout there are rough patches (and a weird hill on the left side of one short straight. Not all the way across, just on one side). It appears likely that Turn 16 has sunk into the swamp, so to speak... and it's the cars that'll fall over.
Also, the drivers universally decry the pit entry at Turn 18. It's a relatively fast turn, leading onto the front straight, but cars entering the pits have to slow waaaay down on the circuit before they get into the pit lane run-in, which is narrow and twisty. I can easily see an accordion effect causing wrecks as someone slows up to go to the pits, the next car behind slowing to avoid him, and someone else plowing into that car. Or someone needs to dodge a pit-bound car, and failing.
All that being said, I find that I actually rather
like
this racetrack. It has personality, unlike most Tilke layouts. There's a lot of little elevation changes in the twisty part of the circuit, and of course there's The Elephant. It looks like it'd be a lot of fun to drive on. Is it going to be a good track to actually
race
on? That, we won't know until Sunday... I can see it easily being a horrible F1 track. But if you could just take a car, maybe a
Lotus Evora
, and go for a fun track day? Korea International Circuit would be
GREAT
!
Quals at midnight, writeup'll be sometime Saturday.
Posted by: Wonderduck at 08:24 PM | Comments (1) | Add Comment
Post contains 704 words, total size 4 kb.
October 21, 2010
F1 Practice 1: Korea
1:28:00 - Hello, and welcome to the first ever F1Update Liveblog! We're looking at the first practice session for the new Korean Grand Prix. We're two minutes in, and so far nobody has crashed!
1:25:45 - First radio transmission from the runners. Toro Rosso's NKOTT called in and said "It's a very dirty track, very very slippery." As expected, of course. The place looks like the grand prix circuit in Australia, just without any of the scenery and a lot of construction work around.
1:20:00 - After an initial flurry of activity, suddenly it looks like nobody is on track. NKOTT just went into the pits, and his tires were just covered with dust. Hideously so, like he went for a run in the desert or something. Here, take a look:
1:16:00 - Kubica is on track, and every so often he's hitting dust puddles... including one right at the start/finish line. Pitlane seems narrow-ish.
1:12:30 - Button out on track for the first time, looks like he's driving very gingerly. Then again, everybody is. And it's an installation lap, just to make sure everything's working. I expect a lot of that for the first every now and again.
1:09:43 - HRT takes to the field! DJ DNF looks... well, slow.
1:06:47 - ...and DJ DNF becomes the first to go off-track.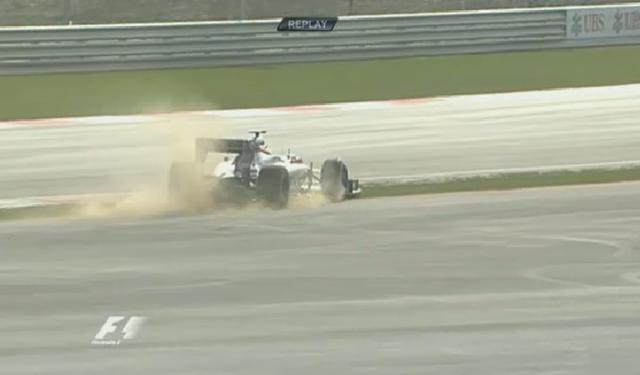 1:02:30 - Looks like playtime is over, and the teams are starting to get down to the business of figuring this place out. Gawd, but there's a lot of bare dirt visible...
0:58:05 - ...and Jarno Trulli becomes the second off of the day. Getting quite a bit of traffic out there now, starting to see just how the track races. Initial impression: poor, particularly through the "city" section.
0:52:52 - Felipe Massa becomes the third victim of the slippery track. See, it's not just the crappy cars! The Ferrari is actually one of the more stable runners out there, but Massa looked like he was ice skates.
49:50 - Who told HRT that "pigment-spill brown" was a good color?
46:08 - There's a strange little hillock at the end of the second straightaway, like they paved over an elephant or something. Terrible place for it, right in the braking zone for the hairpin (I think. It's hard to tell without a trackmap handy), and it's bumpy as all hell. I could see an accident occurring there, even on a grippy track.
42:01 - Nope, it's the end of the looooooong straight. Still a weird spot for it though. Nico Rosberg went over it and almost looked like he was going to fly out of the cockpit.
41:07 - Gandalf Kobyashi just had an off... in the pit entry. Oy. Nah, this asphalt isn't slippery at all.
34:03 - The Elephant isn't the only elevation change on this track. Actually, there's a surprising amount of little rolls and dips around the place... kinda nice, actually, and quite unexpected. The Demon Tilke seems to prefer to scour the landscape down to a pool-table-like smoothness.
29:21 - The simulators were predicting a laptime of around 1m44s or thereabouts. Jenson Button just did a 1:43.096... then put it in the dust.
27:14 - I must say, the feed has bee BUFFERING 22% n pretty good so far.
24:45 - If you can avoid looking anywhere but the track itself, the Korea International Circuit looks pretty good. But then you see a camera shot of two piles of dirt and a crane...
23:33 - Yellow flag!
22:00 - Looks like Bruno Senna either had his rear suspension break on him, or it broke when this happened:
Pretty impressive high-speed spin... good thing there's a lot of run-off area there. Bad news is that it's taking FOREVER for the marshalls to get it craned away.
17:31 - Yellow flag is gone after six minutes or so... at Monaco, the thing would have been back in the pitlane after that long.
14:33 - Nico Hulkenberg did a 1:42.678 for fast lap honors so far... then Rubens Barrichello, his teammate, did a 1:42.800 (I think it was, it flashed up so quick) for 2nd fastest. Could Williams have FINALLY gotten it right, with three races left? Or are they just looking good because nobody has a clue yet?
10:55 - Allskate, everybody allskate. Place looks like I-90 near O'Hare on Friday afternoon.
4:16 - Button does a 1:41.940. The sims are looking a little shabby...
0:44 - Hamilton pulls a 1:40.887. Great googly moogly.
0:00 - I suspect I know what the drivers will say. They'll be positive and upbeat, but I suspect in private they'll have some serious reservations about the circuit. As for me, it looks like a great track to drive on, but to race? Not so much. Hamilton, Kubica, Rosberg, Vettel, Button, Slappy, Webber, Heidfeld, Hulkenberg and Barrichello are your top 10 for the first practice session fast laps. I think that might be legit, in fact. After all, you probably won't be sandbagging on this track; nobody knows the place!
I wonder about the attendance... look at this:
Yes, it's first practice, but the stands are empty. Still, the four or five people who showed up got a decent show.
So, P2 in just about 2.5 hours, and I won't be liveblogging that... not even sure if I'm to watch it until tomorrow morning. Hope you enjoyed this, the Pond's first ever LiveBlog, and stay tuned for more coverage later!
Posted by: Wonderduck at 07:02 PM | Comments (4) | Add Comment
Post contains 914 words, total size 6 kb.
Time For Some F1 Fun
While we're waiting for the First Practice session from Korea, which I intend to liveblog, here's a little something funny for ya.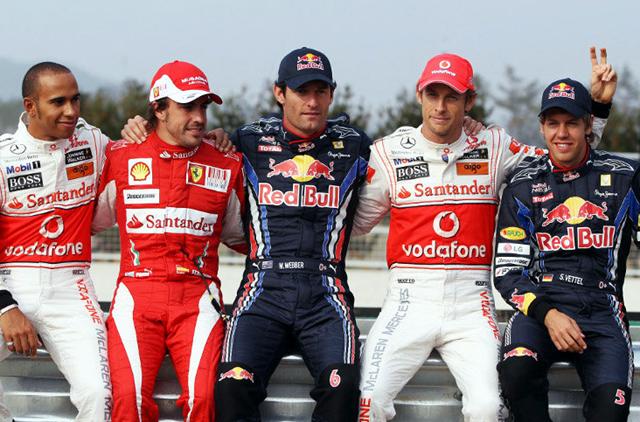 What are these five drivers thinking, I wonder?
Hamilton: *snert*
HWMNBN: I don't like being touched by men.
Mark Webber: I
really
need to find a loo...
Jenson Button: Look cool and professional... that's it...
now
!
Seb Vettel: What's so funny?
Liveblogging will commence right around 8pm Central Pond Time.
Posted by: Wonderduck at 05:57 PM | No Comments | Add Comment
Post contains 77 words, total size 1 kb.
October 20, 2010
Well Of COURSE! How Could We Be So Blind?
We have it on good authority that everything will be a-okay for the Grand Prix of Korea on Sunday. Who says? Why, a personage who has absolutely nothing riding on the way the track handles, has no vested interest in the success of the race:
Hermann Tilke. Yes, the designer of the Korea International Circuit
hisownbadself
has come out saying that the race will be exciting. Hully-gee, how could we have been so blind as to have ever thought that there'd be some problems with the race?
Tilke: "
I think on Friday the track surface will be very, very slippery because it is brand new. That means you will probably see some spinning.
" Gosh, ya think? Thanks for the update, Mr Track Designer! It's not like spinning and crashing in practice might be a problem or anything, though it would be exciting, in a NASCAR sort of way.
Tilke: "
And, it will not be easy to find the set-up for Saturday and Sunday because the track will change a lot. That means some drivers will make the wrong set-up choice, because you are going to have to second guess what is the right way to go.
" So expect an HRT to be on pole, because their car is so bad a screwed-up setup won't make a difference. Still, that'd be exciting, I guess.
Tilke: "
After some practice the track will improve a lot, because they lay down their rubber, and that will produce some grip. But off the ideal line it will be very slippery - a big challenge for drivers.
" In other words, expect a processional, because nobody will dare get off the driving line for fear of ending up somewhere around Jeju-teukbyeoljachido. Exciting indeed... everybody loves a parade!
Tilke: "
The main systems will work fine, but maybe here and there, there might be some small things that are not working.
" Like asphalt coming up in foot-long chunks. Or curbs turning into red-and-white painted gravel the first time a car bounces over them. Or missing drain covers. All of those things spell raw, unadulterated
excitment
with a capital 'E'!
Tilke: "
And because the track is not tested, as it got ready very late, there will probably be a few surprises as well. But all the main things will be okay.
" Everybody loves surprises, particularly someone driving a F1 car at 190mph! I guess it's a good thing that there practically no grandstands, since otherwise they'd sell you the whole seat, but you'll only be using the edge. I'm so excited, and I just can't hide it... I'm about to lose control, and I think I like it!
So there you have it! Hermann Tilke assures us that Korea will be the bestest race on the calendar evar!!!1!11!!@!eleventy!!!
And if you can't trust Hermann Tilke, who
can
you trust? I mean, really?
Posted by: Wonderduck at 07:27 PM | Comments (4) | Add Comment
Post contains 481 words, total size 3 kb.
October 19, 2010
F1 on SPEED!: Korea 2010
The F1 Circus pulls into a brand new venue this week, the Korean International Circuit at Yeongam. There's been a terrible amount of hand wringing regarding the condition of the layout over the past month or so, but how will it
really
run? We're about to find out! Let's take a look at the track map: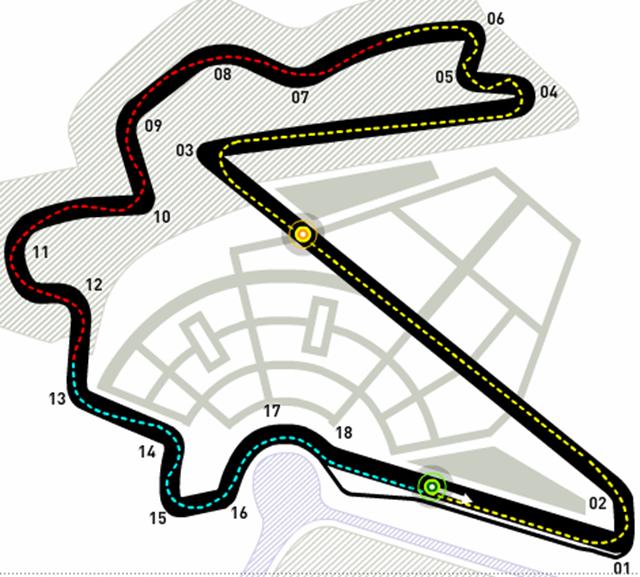 A brand new course is always an exciting time for F1, as nobody has any idea what to expect. While
eyewitness reports
from Yeongam are
somewhat troubling
, they're mostly referring to ancillary subjects though two things from reader David's forum are worry-making. Missing drain covers, for example, remind me of the
Chinese Grand Prix of 2005
, when Juan Pablo Montoya lost out on a podium finish when a loose cover broke his car. Failing curbs might do the same thing.
Then there's the track surface itself. Fresh asphalt is going to be slippery, which'll play hob with downforce levels. Predictions have the teams setting their cars up like it was Suzuka, sacrificing top speed for grip. Yeah, that long straight looks drool-worthy, but there's a lot of curves in the back half of the track and being fast there will pay off more in the long run. Lord knows how the tires will respond... I'm
assuming
that Bridgestone will be conservative with compound choice here, perhaps bringing the hard and soft rubbers. The teams have high-tech simulators, and have been "driving" around the layout for the past month, but there's only so much a sim can tell you. Yes, you'll know the best line through the track and how long you'll be at full throttle, but until the cars take the track for the First Practice session, they won't
know
.
Fortunately, we've got SPEED and the Legendary Announce Team to guide us through the whole weekend. The best news of all is that we'll be able to see that first practice session, Thursday night from 8pm to 930pm, on
speedtv.com
. I'll be watching, for sure! After that, coverage shifts to the network, with Second Practice coming from 1159pm to 140am Thursday night to Friday morning. Thankfully, I've got Friday off from the Duck U Bookstore due to "Fall Break"!
Qualifying is Friday night, beginning at 1159pm and rolling until 130am Saturday morning. Finally, the broadcast of the first-ever Grand Prix of Korea will begin at 1230am Sunday morning, going until 3am. There will be a replay from 330pm to 6pm Sunday afternoon as well.
We'll probably be watching a F1 race taking place in a construction site, but it's a F1 race nevertheless! Of course, F1Update!'ll be all over it all weekend, and we'll see you here then!
Posted by: Wonderduck at 04:39 PM | Comments (7) | Add Comment
Post contains 449 words, total size 3 kb.
October 12, 2010
Korea Is A Go!
After two days of inspections, Charlie Whiting, the FIA's Head Of All Things Technical, has given the Korean International Circuit a "satisfactory" grade in his report to the powers that be. He walked the entire track, checking such things as curbing, asphalt smoothness, safety and runoff areas, facilities and the like, and proclaimed it suitable to be raced upon.
And he's probably right. It just
looks
like a construction area. All we really care about is the track itself, the rest of it is just for show... like Monaco.
It's amazing what ISN'T there, however. For their track simulation, the creators of the new
F1 2010
video game had access to the same CAD blueprints that the builders used. Here's the result:
Well, perhaps the Koreans will pull off a miracle in the next two weeks, make the place actually look and feel professional. Maybe they can borrow some North Korean "workers"...

Posted by: Wonderduck at 05:13 PM | Comments (9) | Add Comment
Post contains 156 words, total size 1 kb.
October 09, 2010
F1 Quals: Japan 2010, Take Two
The skies above Suzuka are reported to be sunny and clear, and the Quals for the 2010 Grand Prix of Japan went off without a hitch! Here's the provisional grid:
Pretty dominant performance for Seb Vettel, what with being fastest in every session. This would be Red Bull's first front-row lockout since Hungary. Lewis Hamilton would have been in great shape to run with the Bulls, but his five-spot grid penalty for a gearbox change will drop him back to 8th. It'll be interesting to find out what happened to Massa, particularly when his teammate is so much farther up the grid.
Any interesting details will have to wait until I actually see the session, of course, which won't be shown on SPEED for another 90 minutes. Of course, F1 Update! will be all over the race. If anything particularly blogworthy occurs, we'll pop in with a live update. Gonna be a late night here at Pond Central...
Posted by: Wonderduck at 08:33 PM | Comments (3) | Add Comment
Post contains 322 words, total size 13 kb.
Slow Boat To Japan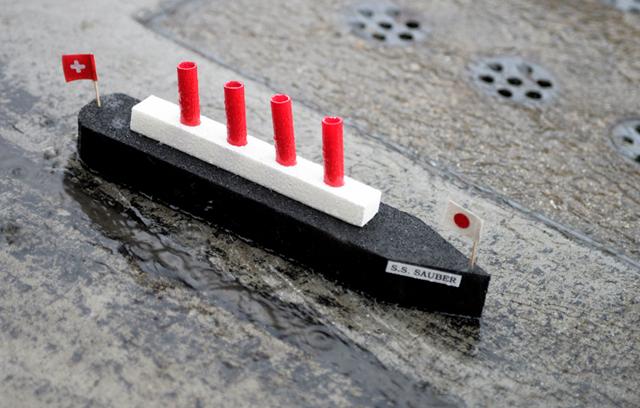 Best looking of the entries for the Great Suzuka Pit Lane Boat Race. Also the slowest, which isn't all that surprising considering Switzerland's naval status (
the America's Cup not withstanding
).
News from Suzuka is good. Looks like there's only light rain in the area, though with four or five hours to go, that can change. Right now however, there's no doubt that Lewis Hamilton is seriously thinking about drowning himself. He'll be taking a five-spot grid penalty for a gearbox change. Seems there was a little bit more damage than the team thought after his little encounter with the wall. It's amazing how fast one's view of a driver's chances can change... right now, Hamilton is pretty much being given up for dead by everybody, yet he's still in third place in the Driver's Championship. Wacky.
In one other bit of news, they've
finally
laid asphalt at the Korea International Circuit, host of the first Grand Prix of Korea in two weeks. Unfortunately, it was laid down on Friday, and it takes time for asphalt to cure. For everyday use by streetcars, bus traffic and trucks, it's only a short time. For the stresses a F1 car will put on the asphalt, however, it's substantially longer... longer than they've got. A couple-three years ago, the surface at Montreal was literally being ripped up by the high-downforce cars in the curves. They patched the track in time for the race, but then the patches tore up. Fortunately, no cars were damaged by the chunking, but it could have been a disaster if someone had driven into one of the... call them 'potholes'... at speed. F1 Tech Honcho Charlie Whiting is scheduled to inspect the track on Monday, after which a decision on the race will be made.
You realize that, in theory, we might go six weeks between F1 races? If they cancel Korea, and Japan is washed out, that's exactly what'll be happening... unless they reschedule Suzuka and move Korea to, say, the Mt Fuji circuit. Bring back the Pacific GP!
Back after qual results are up!
Posted by: Wonderduck at 12:36 PM | No Comments | Add Comment
Post contains 351 words, total size 2 kb.
October 08, 2010
F1 Quals: Japan 2010 (LIVE COVERAGE!)
According to the Legendary Announce Team, the rains came a couple of hours after Friday's second practice... and hasn't stopped since. In between then and now, it's either bucketed down or poured. As the cameras went live for Quals, the session was delayed for 30 minutes, with an announcement on what was going to be done at that point in 20. Saturday's practice session was for all intents and purposes a washout.
The weather is supposed to break sometime in the night Suzuka time.
UPDATE @ 1218am
: The safety car went out on track, and
it
was having problems. The big problem is that Suzuka actually has elevation changes, so the water flows downhill, towards the start/finish line. Degner in particular is a swamp, but many places have deep standing (or worse,
flowing
) water. The full wet tires are incredible pumps, blowing water out of their deep treads in prodigious amounts, but when the puddles are deeper than the tread depth they may as well as just be slicks... and that's the situation we're in. The FIA just announced that there's no decision as of yet, and there'll be another announcement around 1am Pond Central time. This isn't going to end well.
UPDATE @ 1237am
: SPEED is replaying Practice 2. Realistically, there's no way they can do quals today. This isn't the first time this has happened. In 2004, quals were hit by a tropical storm, the track was evacuated, and they ran the session on Sunday morning. So what happens if they decide not to run quals? The rules say if multiple drivers fail to set a time, their qualifying position will be the order in which they tried to set a lap, and then the order in which they left the pits. Failing that, car number order will be used to decide grid positions. Since nobody could try to set a time, and nobody left the pit lane, it'd go by car number, which means that Jenson Button would be on pole with his teammate second... but don't expect that to happen.
UPDATE @ 1am
: Another 30 minutes have been added to the announcement time. It's still pouring at Suzuka, and it's starting to get awfully dark.
UPDATE @ 105am
: We have racing! Okay, it's in the pit lane, but still...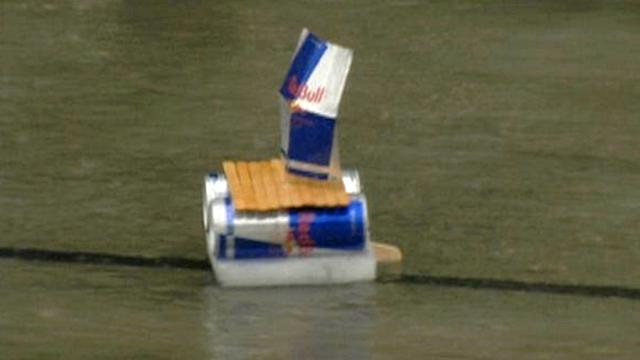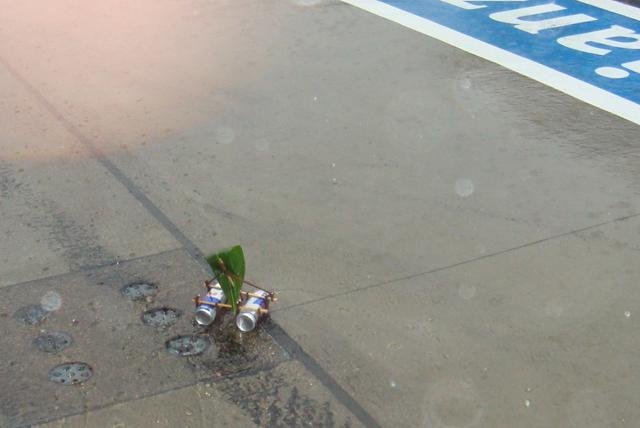 UPDATE @ 130am
: Qualifying has officially been postponed until 10am Sunday Japan time. That's approximately 6pm Pond Time, and SPEED will not be doing live coverage. Instead, they'll be running it at 11pm, right before race coverage. We'll be bringing qual results when they happen!
Posted by: Wonderduck at 11:16 PM | Comments (3) | Add Comment
Post contains 434 words, total size 3 kb.
F1 Practice: Japan 2010
When you're involved in both the Driver's and the Constructor's championship races this late in the season, many things have to go perfectly to have any sort of chance. The driver has to be supremely confident in both his skills and those of the team. The team has to be able to count on the driver to handle any new upgrades they throw onto the car and give them solid feedback on what works and what doesn't. Particularly in this day and age of testing bans, it's imperative for updated cars to get as many laps on track as possible during the practice sessions.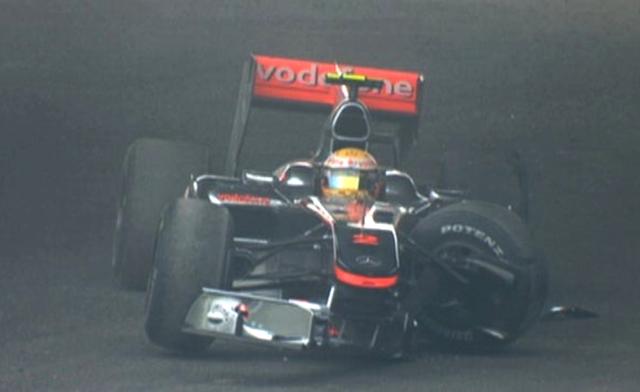 So when McLaren's Lewis Hamilton sent his MP4-25, festooned with the most upgrades of any car on the grid, sailing off track and into the wall during Friday's morning practice session, the team had to be crushed. The rather violent impact had torn off the front left suspension and trashed the brand new nose rather completely. That Hamilton, who has finished only one of the past four races, had only turned nine laps to that point meant that the team needed the reigning Driver's Champion, Jenson Button, to set off and run lap after lap to gather data on the new upgrades, tire wear, fuel consumption, and anything else you could think of, rather than splitting the duties with his teammate. This he did with his usual professionalism... until he went off track at the same place Hamilton did. That he managed to keep it off the wall, despite getting airborne as he rode over the curbs, was impressive as all get-out. It also turned out to be desperately important, as Hamilton only made it back on track with seven minutes or so left in Q2.
Just down the pit lane from McLaren, the boys from Red Bull were circulating endlessly around Suzuka. They didn't bring more than a couple of upgrades to the race, but one could argue that they don't need to. In any case the obvious reliability of the RB6 chassis, mixed with Seb Vettel's topping of the timesheets, would seem to make them the prohibitive favorites for Sunday's race, particularly as Ferrari didn't seem to be showing much more than an average pace.
But then there's the weather forecast. As has often been said, rain is the great equalizer in Formula 1, and boy is there rain scheduled for Saturday. The Legendary Announce Team said that the FIA nabobs were saying that up to two inches of precipitation could be in the offing, with the worst of it happening smack dab in the middle of Quals. Now, a little bit of the wet is usually a good thing for a F1 race. It throws an element of unpredictability, of randomness, into the scenario and opens the door for all sorts of wacky things to occur... but nothing is helped by having the contents of the Inland Sea suddenly transfer itself onto the Degner Curve.
We'll find out what happens in just a few hours!
Posted by: Wonderduck at 07:55 PM | Comments (4) | Add Comment
Post contains 506 words, total size 3 kb.
October 04, 2010
F1 on SPEED!: Japan 2010
From the slow, twisty, narrow Tilkefied Singapore street circuit, the F1 Circus now transitions to one of the oldest tracks on the calendar, the fast, smoothly flowing,
Haruhi

-appearing
, Suzuka Circuit. Located on the east coast of Japan, the track is one of the big favorites of the drivers, ranking up there with Silverstone and Spa-Francopants. It's also one of the wetter races on the calendar, with rain being more the rule than the exception. Let's take a look at the circuit map for this wonderful track: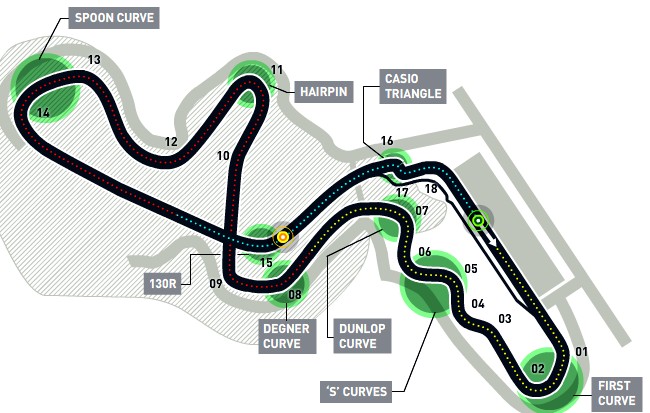 Suzuka is notable for being the only figure-of-eight layout on the calendar, not that you would know it from TV coverage, and truthfully the bridge section flashes by so quickly you barely notice. The circuit contains two or three legendary "named" turns.
130R
is arguably the fastest turn in F1, one of the few that's taken flat-out at the end of a long straight. To say it's a stern test of a driver's mettle is an understatement. Alas, it's no longer
the fearsome 130meter radius
(hence '130R') single bend that it used to be, turning it into a double-apex bend of 85m and a 340m immediately after. This made it easier to navigate, but not all that much, and it's still a rough turn.
Then you have the
S Curves
. If there's a better example of a 'rhythm section' on a race track anywhere in the world, I've never seen it. Drivers say it's essentially a horizontal rollercoaster, and if you mess up the line at the entry, you've just blown your entire lap as you struggle to toss the car around the bends. On the other hand, if you get it
right
you've just opened the door for all sorts of wonderful things like a quick run to the third of the named turns: Degner.
Degner
doesn't seem to be anything special, just a gentle-ish bend to the right. However, last year Turn 08 earned a dark place in everybody's heart with four separate accidents located there during
Quals
. High curbs, a bump in the track, resurfacing that ended just short of Degner... take your pick as to why there were so many wrecks in 2009, but it's possible that the gremlins will still be there this year. Cross your fingers...
Weather is forecast to be rainy all weekend, just to add another level of excitement to the already challenging circuit. F1's weatherpeople have been pretty lousy at predictions this year, though, so it's really anybody's guess what it's going to be doing come race day.
One really nice feature of Suzuka is that the race is at a decent time here in the US. Coverage begins on Thursday from 1159pm to 140am Friday, with LIVE pictures of 2nd Practice. Quals are from 1159pm Friday to 130am Saturday morning.
The 2010 Grand Prix of Japan coverage is Sunday morning from 1230am to 3am, with a replay from 130pm to 4pm for all you people who actually, y'know, sleep. All times are Pond Central, so Vaucaunson's Duck, you're getting the race at 1030pm on Saturday... you lucky bastard. Maybe you can convince Dr John to watch it, eh?
Finally, SPEED has started to stream coverage of Friday's 1st Practice live on their website! For Japan, the whole thing starts at 9pm at
speedtv.com
. For those that read the F1Updates! but don't own a TV, here's your chance to actually see some Formula 1 running. Now, the Legendary Announce Team doesn't commentate during these, so it's just ambient sound... which is great, too.
Of course, F1U! will be all over this race weekend... we'll see you then!
Posted by: Wonderduck at 09:21 PM | Comments (5) | Add Comment
Post contains 607 words, total size 4 kb.
120kb generated in CPU 0.0274, elapsed 0.6875 seconds.
56 queries taking 0.6675 seconds, 304 records returned.
Powered by Minx 1.1.6c-pink.